Which is better to visit, San Diego Zoo or Safari Park? I've compared more than a dozen factors for you including park size, ticket price, what's included, animals, tours, and more to help you make up your mind.
Visit San Diego Zoo instead of Safari Park if you can't see both. They're each worth it. But the Zoo's a better deal because parking's free. You'll see more animals in less time. It's closer to downtown, has better food & weather. However, go to Safari Park if you want different, unique experiences.
If you make purchases through the links in this post, I may be compensated. Read my Advertising Disclosure for more info. Thanks! ~ Nancy
*Save with a secret promo code on each San Diego Zoo or Safari Park 1-Day Pass. Go any day. Go directly to the gate. Click HERE to get your code, instructions & discounted tickets by email. By clicking the link above you agree to receive an automated email message. Valid only at aRes Travel, San Diego's local authorized ticket seller. Read my full privacy policy.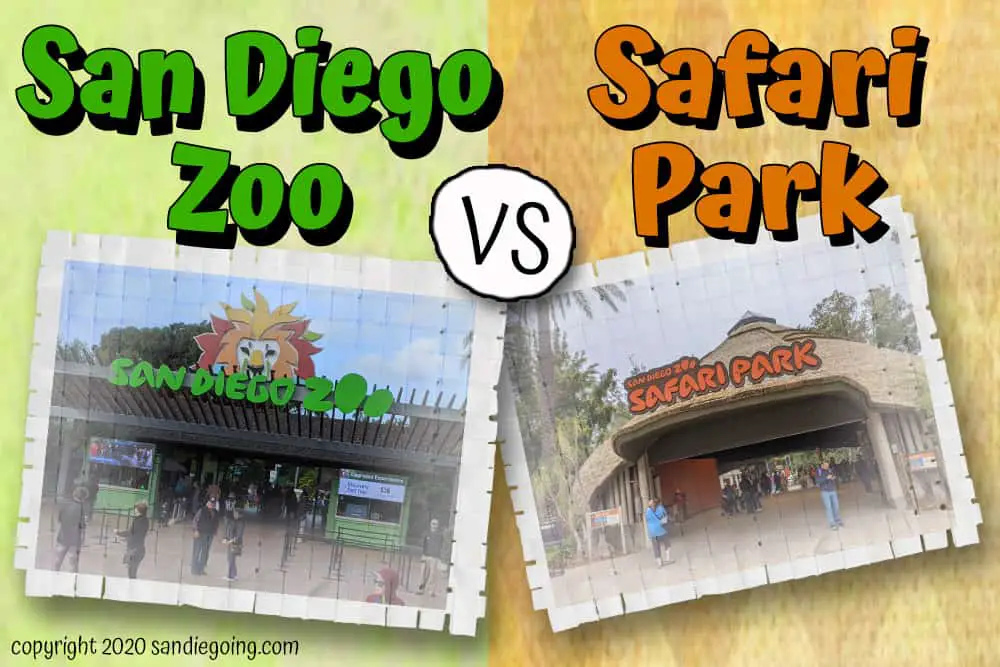 As a long-time member of San Diego Zoo Global (I remember when Safari Park was Wild Animal Park), and a certified animal nut I know that a quick summary is not going to convince you one way or the other. So I've gone into detail in this article about the major differences between both zoological parks. Because your time is precious and you deserve to have a wonderful time in San Diego.
Get $20 off! Buy 2-Visit Passes for San Diego Zoo & Safari Park. (Save $10 per park visit)
Safari Park's Bigger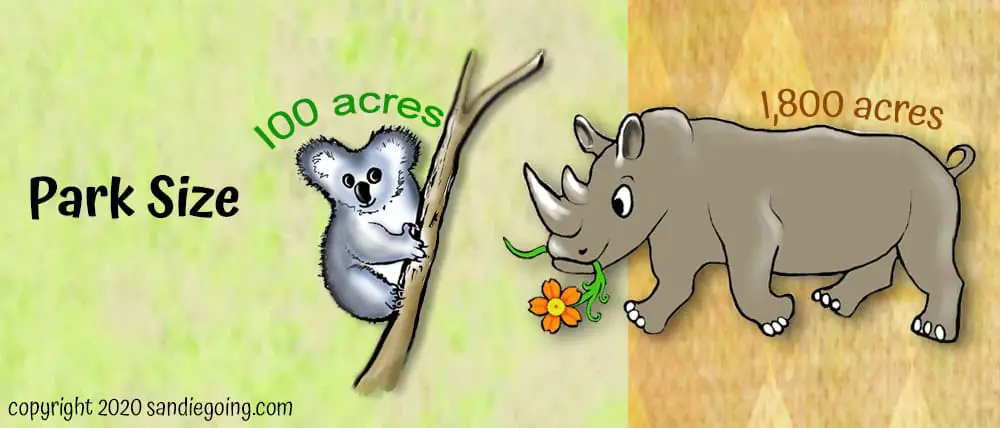 Safari Park is much larger than the San Diego Zoo. The raw land area figures are:
Safari Park is 1800 acres
Zoo size – approximately 100 acres
But don't let the HUGE size of Safari Park make you think that it's too much to see in one day.
You'd think that if it takes 3 to 4 hours to see the 100-acre Zoo, it should take a LOT longer to see the 1,800 acre Safari Park. Right? But the San Diego Zoo Global FAQ" says, "we recommend a minimum of three to four hours to see some of the Zoo and a minimum of four to six hours to experience a portion of the Safari Park."
Why recommend such a short period of time to see Safari Park?
Because the area accessible to the walking public in Safari Park is only about 20% larger than the Zoo. I outlined the perimeter of the public areas for both the Zoo and the Safari Park on Google Maps. And then I let the Google Maps tool calculate the two areas.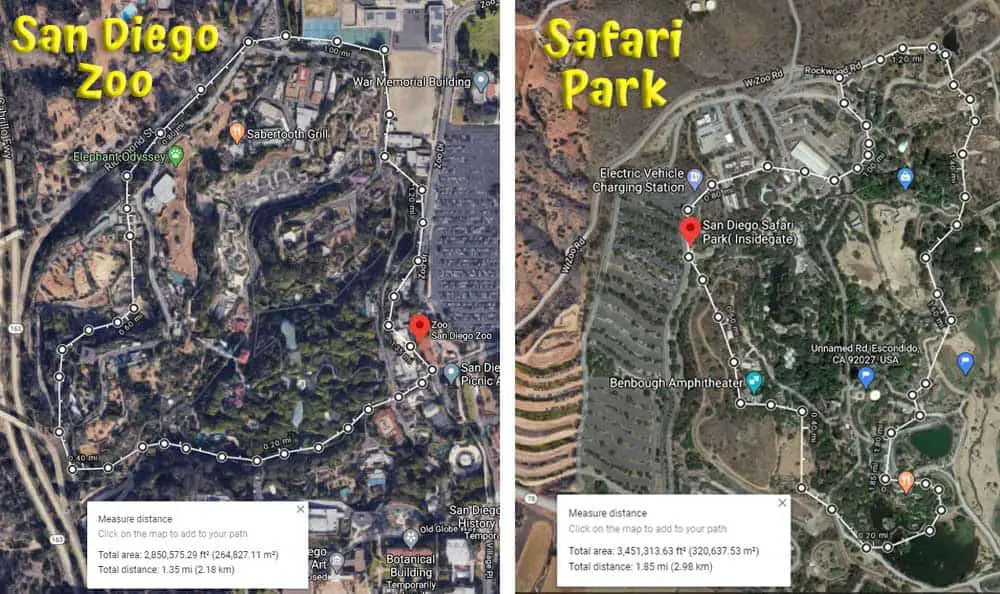 San Diego Zoo Walking Areas = 65.44 acres (2850575.23 ft²)
Safari Park Walking Areas = 79.2 acres (3,451,313.63 ft²)
Safari Park is very large. Half of the land is set aside in perpetuity for habitat conservation for local wildlife and plants of the highly endangered Southern California Coastal Sage Scrub.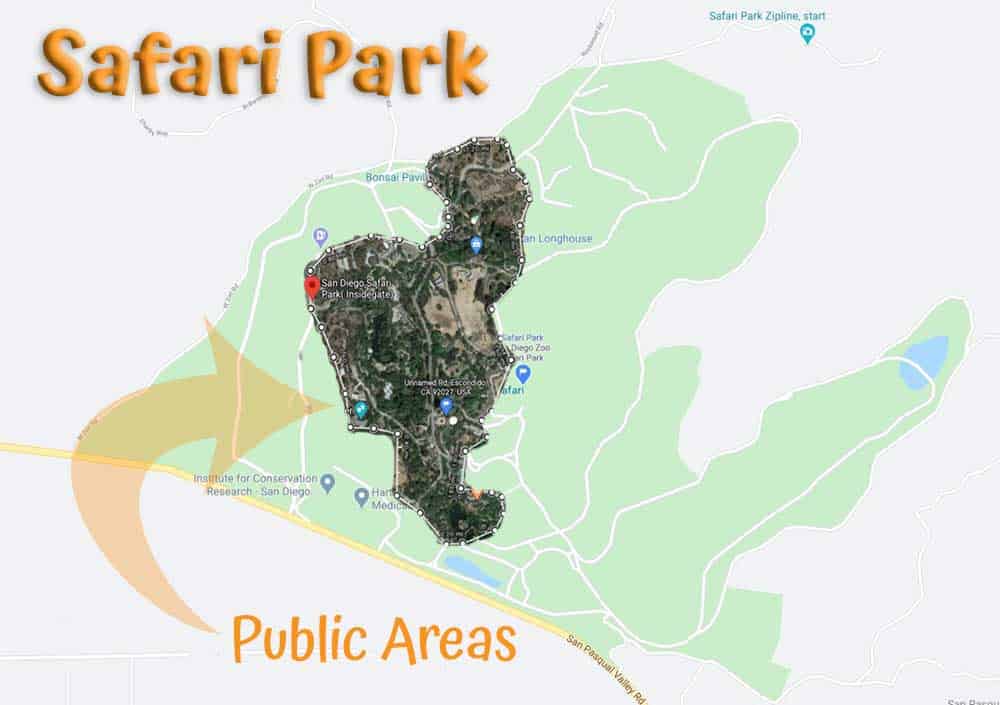 And of the remaining 900 acres, only about 80 are open for the public to walk in. The other 780 acres are their famous large field exhibits that are only accessible via guided truck tours or the Africa Tram. Or they are closed to the public entirely.  Safari Park (San Diego Wild Animal Park) was established as a breeding and conservation facility and the land use reflects this. 
Ticket Prices Are Equal…Almost

Ticket prices at the gate for both San Diego Zoo and Safari Park are equal. The major difference between the two is that parking is free at the Zoo. At Safari Park there's a parking fee.
If you're interested in finding authentic discounted tickets, passes, and coupons to either attraction, I've written two pages for you:
Here are the most recent ticket prices that you'll pay at the gate:
$71 for adults (age 12 or older)
$61 Children (aged 3 to 11)
Children under 3 are free
But you don't have to pay the full gate price. Ares Travel, my favorite local San Diego authorized ticket seller sent me a discount coupon code to share with you.
Click HERE and I'll immediately email the code and the links where to use it. This is a one-time-only email. You are NOT signing up for a million emails, or ransoming a Nigerian prince.
They've also got discounted package offers. One of them is the San Diego Zoo, San Diego Zoo Safari Park & SeaWorld San Diego Ticket Combo Deal. Buying this bundle gets you into all 3 of the major San Diego animal attractions and saves $35 per adult off the price if you'd booked them all separately.
San Diego Zoo's More Worth Visiting

San Diego Zoo tickets are a better deal. There are a greater number of exhibits featuring animals and plants from all over the globe and there are more "rides" free with your admission. But Safari Park is well worth a visit also because it's not the usual zoo experience. It feels more spacious. You wander through the animals' habitats rather than observing them in cages. For more on why I feel that way visit my "Is San Diego Safari Park Worth It?" page.
What Do You Get With Your San Diego Zoo Ticket?
FREE PARKING. Parking is free at the San Diego Zoo. I suggest you get there early in the morning because otherwise, you might be parking rather far out in the free parking area. If for some reason you are arriving later (maybe the Summer Nighttime Zoo?), there's overflow parking by the Navy hospital. A free shuttle will take you from that location to the Zoo and back to your car.
There is also valet parking available. On a busy day, it might be worth it.
*Save with a secret promo code on each San Diego Zoo or Safari Park 1-Day Pass. Go any day. Go directly to the gate. Click HERE to get your code, instructions & discounted tickets by email. By clicking the link above you agree to receive an automated email message. Valid only at aRes Travel, San Diego's local authorized ticket seller. Read my full privacy policy.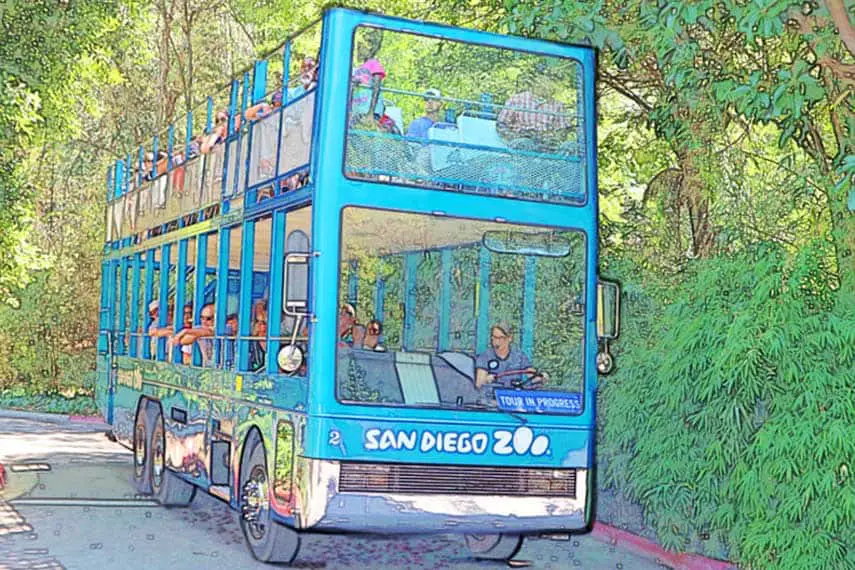 GUIDED BUS TOUR
I highly recommend the guided zoo bus tour. It takes 25 to 35 minutes. It will give you a quick overview of the zoo. 
There are two situations where I wouldn't recommend it. The first is if you have a very active toddler. They probably won't want to sit still that long. 
The second is if you have a favorite animal that you want to photograph first thing in the morning. In that case, run over to the animal that you want to take pictures of and then return for the bus tour.
KANGAROO EXPRESS BUS
The Kangaroo Bus is a time and energy saver. It starts running at 10:30 AM. It goes in a loop through the middle and along the outer edge of the park closest to Hwy 163. The route goes from Urban Jungle down the steep Center Street hill where the bears are. Then from stop #2 by the snow leopards, it will take you up the steepest section of Park Way to stop #3. That's at the edge of the Northern Frontier. Between stops  #3 and #4 by the meerkats, the terrain is flat. 
SKYFARI AERIAL TRAMWAY
This gondola ride takes you from nearby the Children's Zoo across the canyon to Elephant Odyssey. It's got great views of the Zoo, Balboa Park, and the Downtown San Diego skyline. It's also a great way to rest and cool off.
KEEPER TALKS
These free-with-entry talks are given by the keepers and cover many species from polar bears and lemurs to giraffes. Unfortunately, their scheduling has been disrupted by the Zoo's efforts to prevent COVID-spreading crowds. Check for the schedule at the Guest Services/Ticket & Tours booth near the Zoo entrance just across Front Street.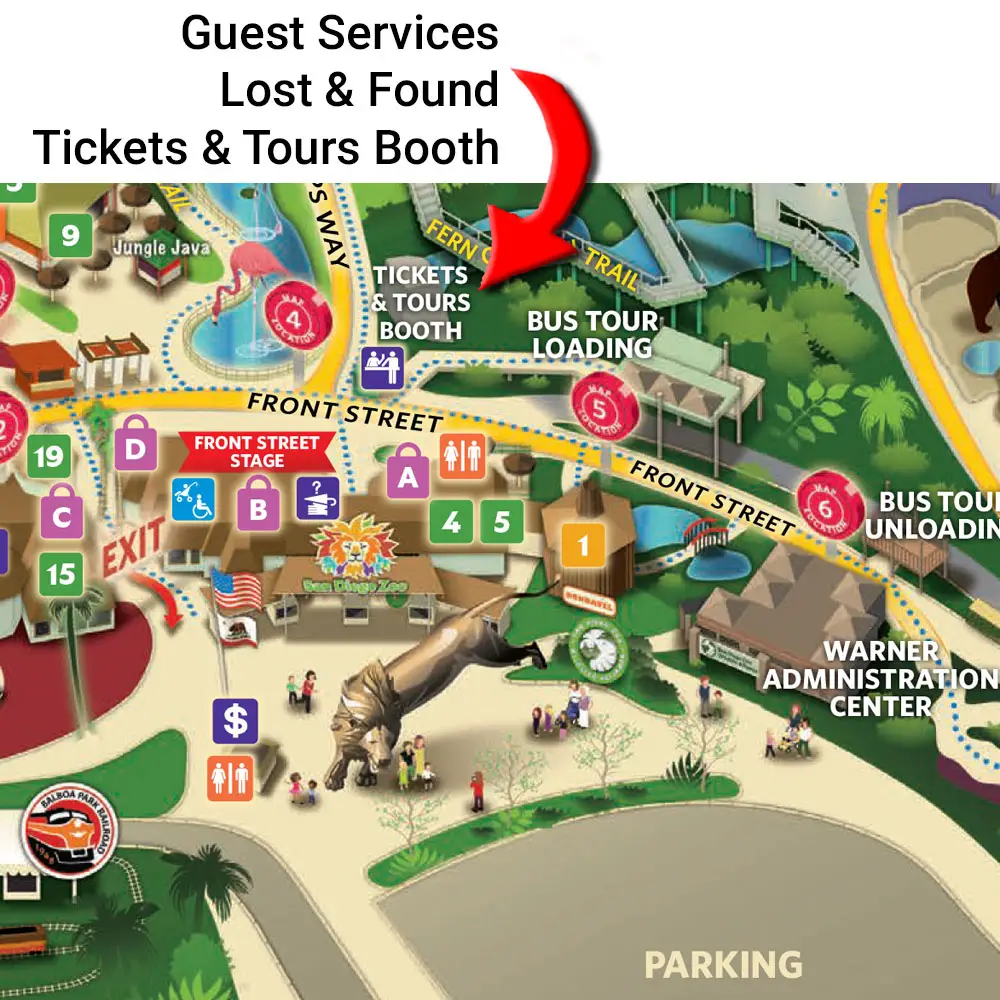 ANIMAL ENCOUNTERS
These presentations are an opportunity for you to see some of the Zoo's animal ambassadors. You never know what type of animal will appear. I've seen huge Eurasian owls, cheetahs with their dog companions, chatty parrots, and many others. 
These presentations take place in two spots. One location's at the Front Street Stage which is on your left as you enter. The other is at the Rocks Box stage within the Africa Rocks exhibit which takes about 25-30 minutes to walk to from the entrance.
EXHIBITS
The San Diego Zoo is divided into eight "Zoo Zones." They are designed to bring together both animal and plant species that live in specific types of climates and habitats throughout the world.
Outback – the stars of this zone are cute koalas. But there are also kookaburras, Tasmanian devils, wallabies, and other exotics from the land down under.
Asian Passage –  Don't skip this just because the giant pandas went home to China in 2019. Go there to see the red pandas which are like upscale, fashionista raccoons. They were always a lot more active than the giant pandas and I never really understood why they didn't get more attention. And then spend some quality time admiring the beauty of the Amur and snow leopards. They nap a lot as all cats do. But they're so elegant, even when they're asleep. 
Africa Rocks This exhibit really does. There's so much to see here. I love the lemurs and their fossa predators. Plan to spend lots of time watching the penguins zoom around the local leopard sharks in the underwater viewing area of the aquarium in their Penguin Habitat at Cape Fynbos. The space is cool and shaded with plenty of benches. It's very popular on hot days. And sometimes the penguins are curious enough to stop and watch the children. 
Lost Forest This area's biggest stars are the troop of western lowland gorillas. But my favorites are the orangutans. When they're relaxing and having a snack they look like orange-haired gurus contemplating the secrets of the universe. But there's much more to see here; Malayan tigers, exotic okapi, the occasional spot-necked otter, and Allen's swamp monkey playing tag.
Urban Jungle There seems to be very little rhyme or reason to the types of animals that you'll find here. It's home to a grab-bag of animals including the cheetah animal ambassadors and the endangered one-horned rhino. It's also the location of the interactive "Animals in Action" paid experience where you'll get a chance to interact with different types of critters, sometimes even rhinos. Click HERE for daily discounts on "Animals in Action".
My favorite in this section is the Masai giraffe herd exhibit. This is one of the only giraffe exhibits that I've seen where you are standing very close to them — on the same level. As you tilt your head back, and back, you realize just how TALL these gentle giants are. You can also feed them for a very reasonable cost.
Northern Frontier The west Skyfari boarding point is here. It's also home to the rulers of the tundra, polar bears. But they aren't very regal, they're clowns. They enjoy diving off rocks and surprising each other, batting around enrichment items, and eating junk food. Ok. Their "junk food" is carrots. But since the polar bears can't digest them, it's like us chewing sugar-free gum. The arctic foxes are adorable too.
Elephant Odyssey Take a trip back in time to California's Pleistocene epoch 12,000 years ago through animals that exist today. Some died out here but thrived elsewhere. See how elephants, lions, jaguars, condors, secretary birds, condors, camels, and capybara are all connected by their ancestral roots here in San Diego. There are great opportunities for unique photos of your kids (or you) riding a 10-foot long ancient lion or about to be eaten by a huge predatory bird. 
Discovery Outpost – This is the most varied section of the zoo. Skyfari's east boarding point is here. View entertaining and informative animal shows at the Wegeforth Bowl. You'll find tiny jewel-like hummingbirds next door to 8-foot-long Komodo dragons. Many more reptiles can also be found here.
SHOWS
Until the Children's Zoo and Wegeforth Bowl renovations are complete there are only limited presentations outside of the Bowl. 
The 4D Theater is a paid experience that many think is not worth the price. The presentation is SHORT, less than 15 minutes. The 3D screen's small, so you're likely to be way off to one side or the other. The 4th dimension is smell, temperature changes, and getting water squirted on you (worth it on hot days?). The seats don't move, they vibrate. And the wait can be up to an hour on peak days. 
What's Included With Safari Park Tickets?
To sum it up, your Safari Park admission ticket includes anything that doesn't have "Safari" in its title. Any activity or experience that does is something that you will need to pay extra for (the exception is riding the Conservation Carousel which requires an additional $6 fee). That's the short explanation. I've written EVERYTHING you need to know about it here at, "What's Included In San Diego Safari Park Admission Tickets?"
Parking Costs Extra – Unlike at the Zoo, parking is $15 per vehicle; $20 for RV parking. Preferred parking is available on weekends and holidays for an additional $18 ($15 + $18 = $33 total to park in preferred parking).
Save with a secret San Diego Safari Park promo code on each 1-Day Pass. Go any day. Go directly to the gate. Click HERE to buy. Enter the code at checkout. You will get your tickets by email.
*By clicking the link above you agree to receive an automated email message. Valid only at aRes Travel, San Diego's local authorized ticket seller. Read my full privacy policy.
Here's a list of exhibits and activities that are included with your Safari Park Admission ticket:
ANIMAL EXHIBITS
One of the great things about San Diego Safari Park is the way that they've gone to great lengths to blur the boundaries between you, their animals, and the landscape beyond. Here are some of my favorites:
Lion Camp – I love watching the lions watching the antelope watching them from the large field enclosure next door. These lions aren't the usually bored cats you see at most zoos. They're either fully engaged in observing the potential 'meals' in the fields or they're napping. And when they're snoozing they are sometimes right up against the glass where you can take great selfies or compare the sizes of their paws to yours. 
Tiger Trail – It's lush and beautiful. It's more like you're in the cage rather than the kitties. If you're lucky the tigers will be stalking YOU. I spend way too much time here. If you want to know why you should spend time there read my page on the "11 Coolest Reasons to See San Diego Safari Park Tiger Trail"
Walkabout Australia – The platypuses are a San Diego Safari Park must-see! They're the only ones on exhibit outside of Australia in the entire world. This exhibit requires a bit of patience and careful observation. They're quick. And almost everyone is surprised by how they look and move.
They also have tree kangaroos. Heck, I didn't even know that kangaroos lived in trees.
Bob and I were lucky enough to be there the day that the 2nd Matschie's tree kangaroo born at Safari Park ventured out of Mom's pouch.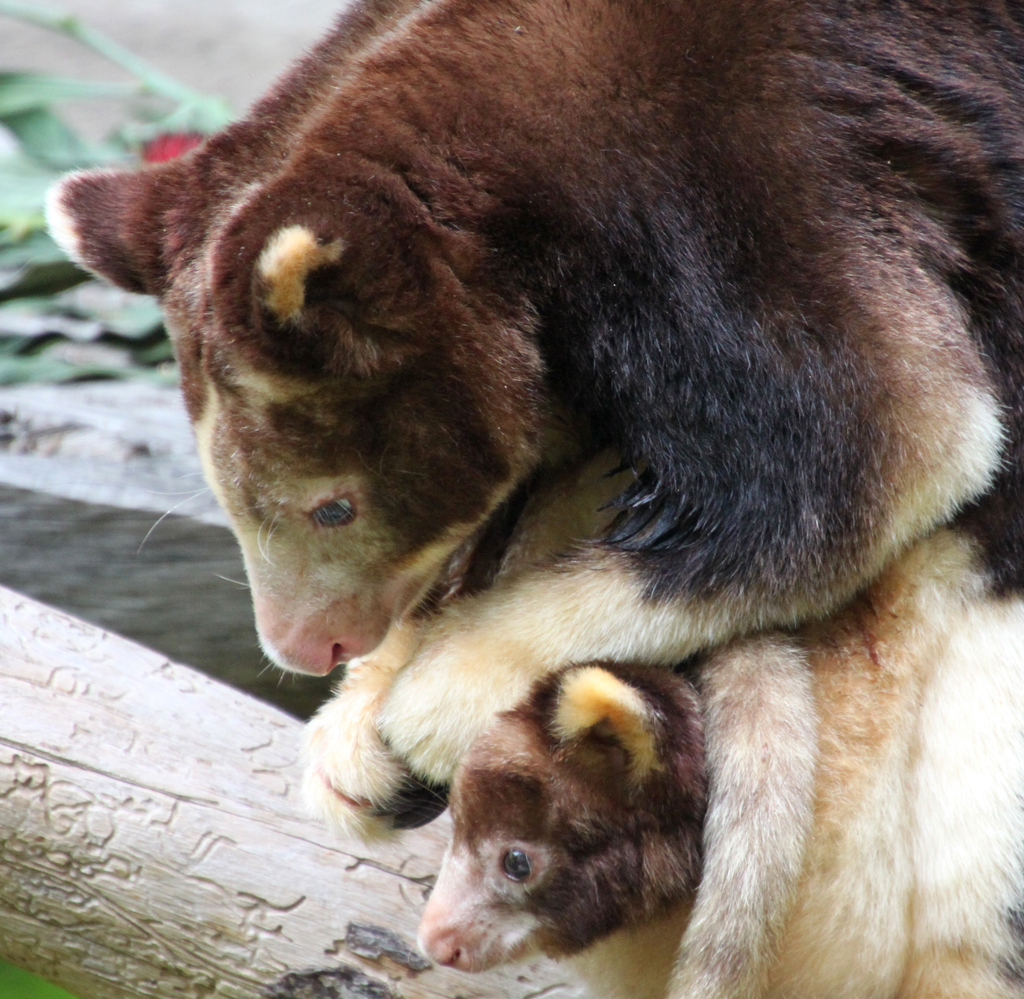 Arona, her mother, welcomed her offspring Kidori into the world after a gestation period of 44 days. At birth, the joey was just about 1 inch (2.5 centimeters) in size, fitting snugly in Mom's pouch. It took nine months for Kikori to venture out of her mother's pouch.
These long-clawed, mahogany and cream-colored tree kangaroos weigh 25 pounds at the most. Their whorly, dense fur sheds water easily. And their superpower is that they can jump an amazing 60 feet to the ground without injury.
But wait, there's more to Walkabout Australia. Wander into the Kangaroo Walk and you'll be surrounded by a mob of 'roos, wallabies, and cute baby joeys. There's nothing that brings smiles to faces faster than a young bounder with a case of the "zoomies". They're ricocheting furry ping-pong balls. 
It may be possible to pet the wallabies and kangaroos. It depends upon whether the COVID restrictions have been lifted. Ask if it's ok. And if it is don't wander off the paths chasing them. You'll never catch them anyway.  Be patient and let them come to you. And yes, they're as soft and woolly as they look. For more information, check out my page on touching or holding the animals at San Diego Zoo and Safari Park. 
San Diego Safari Park Activities and Rides
AFRICA SAFARI TRAM
I love the Africa tram. I could ride it all day.  It takes you on a 25-30 minute ride through several of the large open area enclosures. These enclosures have multiple different species in them and they interact as they would in the wild. One of the things you will see is how all the animals look to the giraffes to be their lookout. Once the giraffes start running, everybody runs. And you then see this wave of animals flying over the hills and then they all just stop for no apparent reason. 
There are no predators in the large enclosed exhibit fields. But the herbivores can see, hear and smell the nearby lions and cheetahs. It keeps them on alert and surprisingly appears to help to increase the number of babies.
CHEETAH RUN
This is a must-see event. I've seen it hundreds of times. It never gets old. Ask a red-shirted volunteer after you enter the gate when it's scheduled (usually around 3:30 PM). Arrive at least 30 minutes ahead of time. The best places to watch are at the beginning of the course and at the end. That varies depending upon which way the cheetah runs on that day. So find a place on the bridge by Savanna Cool Zone, or on the path below Balloon Safari. 
Or treat yourself and pay for reserved viewing right alongside the track. It's usually priced under $20. Reserved tickets can be purchased right before the event at the kiosk. You get a prime view of the running cheetah for usually one, but sometimes two sprints. And the keeper spends time in front of this area with the cheetah so you can ask questions before and after a run.
FREQUENT FLYERS BIRD SHOW
This free-flying bird show never fails to amaze me because the birds can fly away any time they choose. And they obviously don't. 
I like it because you get to see large birds in flight close enough overhead that if you stretched up your hands you'd touch them (specifically NOT ALLOWED by the way…) You'll enjoy it. And the birds seem to be having as good a time as the audience. Spoiler Alert: The star of the show is not a bird. But you'll love him anyway. 
TIGER KEEPER TALK
The Sumatran tigers get pampered with treats while showing off their impressive teeth, claws, size, and other adaptations. Keepers that know them best will clue you in on how they safely work with these big cats. If you're lucky you'll see a tiger standing at a full vertical stretch just a few feet away from you. Even though the Sumatran subspecies is one of the smallest of tigers, they're unexpectedly intimidating when they're on their hind legs going for a treat.
TRAINING TALK
This short training session for the longer Frequent Flyers Bird Show is well worth your time. It's always a smaller, more intimate group than the bird show. You never know which birds will be brought out for training, so it's never the same. I've seen everything from silently flying owls to scurrying guinea hens. Sit down and put your feet up. It's a good break from walking. 
Safari Park Has Better Tours?

San Diego Safari Park has a larger variety and number of tours than the Zoo. They range from traditional relaxed guided walks to the adrenaline-pumping Flightline Safari zipline.  This makes it a better destination for those who may be bored with traditional zoos, like teenagers.
San Diego Zoo Tours – How Many, Prices, Descriptions
Guided zoo tours that require a fee in addition to the admission price are called "Upgraded Experiences" by San Diego Global.
San Diego Zoo Tours Price Range
$55 and up per person.
Prices are variable by season and days of the week. Zoo admission fee is separate and required for all tours.
How Many San Diego Zoo Tours Are There?
There are 6 different types of tours available at the Zoo. To find the best tour for you, check out my article HERE it has more in-depth descriptions and comparisons
San Diego Zoo Tour Descriptions
Inside Look Tour – ($89+) 90 minutes. There are 6 different Inside Look Tours focusing on different Zoo Zones and animals. Check HERE for daily discount deals for SanDiegoing readers from aRes Travel — San Diego's local authorized ticket seller.
Surprise Tour
Polar Bears and Friends
Giraffes and Friends
Baboons and Friends
Wild Canines and Friends
Penguins and Friends
Animals In Action Experience – ($89+ per person) 1 HOUR. You'll get a behind-the-scenes look at some animals that are not on exhibit to the general public. You'll also have some feeding and training opportunities. Unfortunately, you'll probably not be able to touch the animals.
Click HERE for daily tour discounts for SanDiegoing readers from aRes Travel.
Crazy About Cats – ($92+ per person) 90 minutes. See the zoo's most amazing felines before they start their cat naps! You start this morning tour at 8:30 AM before the official Zoo opening. You may see a jaguar, lion, tiger, mountain lion, fishing cat, leopard, ocelot, or serval. No guarantees about which particular species you'll see. Hey, they're cats after all. But you will be able to meet one special wild cat up close!
Early Morning Cheetah Experience ($92+ per person) 90 minutes. See one of the cheetah animal ambassadors up close while they run and play with their trainers. This cart tour will also visit other African animal exhibits at the zoo as well as some off-exhibit areas. 
Discovery Cart Tour ($55+ per person) 1 HOUR. If you don't have much time, but want to see the plants and animals at San Diego Zoo through the eyes of an insider, this is the tour for you. This 60-minute tour takes you through 70% of the park in a small covered cart. Ask as many questions as you'd like and stop for better views and photographs of your favorite animals.
Exclusive VIP Experience – Spend up to 5 hours ($675+ per person) in a customized tour that is built around your interests by zoo professionals. Explore off-exhibit areas. And if you wish you can have many animal interactions. Just tell them what you want.  And yes, a sit-down lunch is included. 
Safari Park Tours – How Many, Prices, Descriptions
Guided tours within San Diego Safari Park that are offered for extra payment in addition to your admission fee are called 'Safaris'. 
How Many Types Of San Diego Safari Park Tours Are There?
There are 7 types of paid tours, called Safaris, available at San Diego Safari Park. Some have different options that allow you to concentrate on your favorite animals or habitats. Altogether there are more than 15 different tour variants. 
Price Range
$55+ per person. Some Safaris are priced by the group.
Prices vary by day of the week and season. Safari Park admission fee is separate and required for all tours.
SAN DIEGO SAFARI TOUR DESCRIPTIONS
I'm going to write a short description of each tour type here. But for more information on which of the many different options is best for you please read my article titled,  "What's the Best San Diego Safari Park Tour?" It includes reviews of each tour plus a chart that compares them all by price, duration, and age limits.
Wildlife Safari Tours – (1 HOUR for $89+ or 90 minutes for $109+ per person). There are 3 different types of tours that take you into large African and Asian multi-species animal enclosures in an open-air covered truck.. There's always a shade cover, plenty of seating, and almost too many great photo opportunities. You also may get a chance to feed giraffes. The different options are: Wildlife Safari (1 hour), Twilight Wildlife Safari (90 minutes), and Deluxe Wildlife Safari (90 minutes).
Click HERE for discounted tour deals for SanDiegoing readers from aRes Travel, San Diego's local authorized ticket seller.
Sun-Up Cheetah Safari Tour – (2 HOURS for $99 per person). Get early entry into Safari Park to meet your experienced guide. See a cheetah run at top speed from a prime viewing location. Then go for brunch at the Watering Hole at Kijamii Overlook.
Cart Safari Tours – (1 HOUR for $55+ per person) Asian or African Cart Safari with guide to carry you around the field enclosures. Animal feeding & photo opportunities. Carts carry only 9 people, good for special family outings and small groups that want to stay together. 
Behind The Scenes Safari – (90 minutes for $89+ per person) Get an insider's view of Safari Park via cart and walking. Three different options: Elephants & Friends, Rhinos & Friends, and Canines and Conservation. 
Click HERE for daily tour deals for SanDiegoing readers from aRes Travel, San Diego's local authorized ticket seller.
Roar & Snore Safari – ($149+ per person) Sleepover at Safari Park in a tent. Animal presentations, behind-the-scenes access, meals, campfire (s'mores!) & cash bar. I'd do this every weekend if I could.
Ultimate Safari – (5-HOURS tour is $675+ per person) Create a Safari Park tour customized to your interests and desired activities. You must book at least 3 days in advance. 
Flightline Safari (1 HOUR for $77+ per person) 2/3rds mile zipline ride includes orientation session and "fledgling" flight. 
Check HERE for daily tour discounts for SanDiegoing readers from aRes Travel.
Balloon Safari ($18+) Helium balloon ride rises 400 feet above the Park for wonderful views of the animal herds and the San Pasqual Valley.
If you love wolves you may want to take an hour detour to the California Wolf Center. There you can take tours that will give you close-up views of gray wolves and even the very endangered Mexican gray wolf. Check out my article HERE.
San Diego Zoo Takes Less Time to Visit

Exploring San Diego Zoo is quicker than Safari Park. But both could be all-day attractions. Here's the minimum time you should allocate for each according to the San Diego Zoo Global FAQ page: 
Zoo 3-4 hours
Safari Park 4-6 hours
San Diego Zoo's Closer to Downtown

The San Diego Zoo is much closer to downtown than Safari Park. It's only 3 miles from the center of downtown San Diego. 
It will take you about 6 minutes by car from downtown to the zoo. It's also public transit accessible. To ride the bus from downtown to the Zoo take the # 7 University & College line and get off at Park Blvd. & Zoo Place. Then walk about 4 minutes (0.2 miles) west to the Zoo entrance.
Safari Park is 35 miles north of downtown in Escondido. Travel time by car to San Diego Safari Park is 45 minutes each way. Public transportation takes almost 2 hours…one way. Taking a bus to Safari Park is just not practical for most people.
Unfortunately, I've seen the results of mistaking the two animal attractions. On several occasions, I've had to tell people trying to meet friends at the "zoo" that they're more than 35 miles away from the San Diego Zoo because they're at San Diego Zoo Safari Park. Oops! 
San Diego Zoo Has More Animals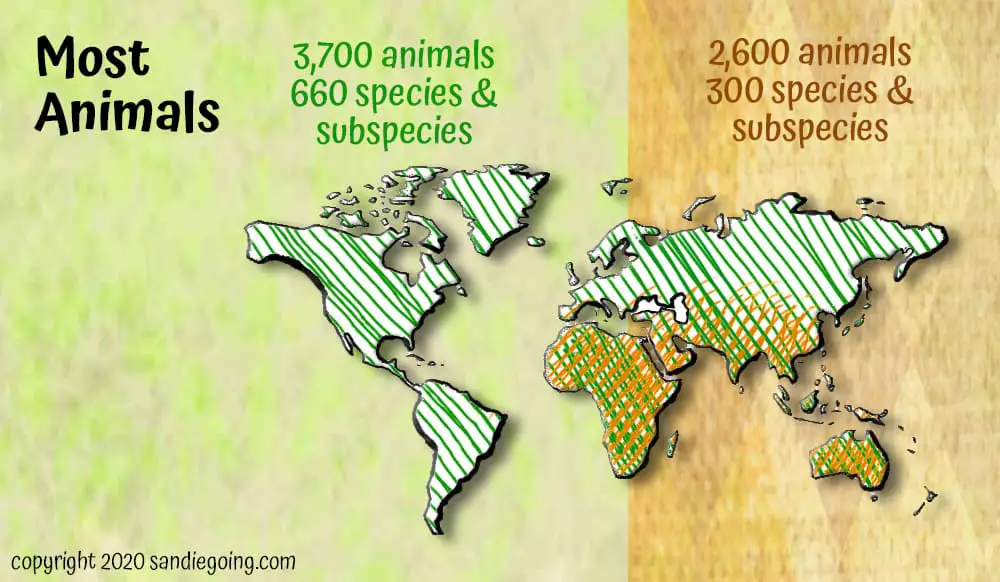 The San Diego Zoo in Balboa Park has more individual animals, and more species and covers more earth habitats than the Safari Park. 
San Diego Zoo – The zoo has approximately 3,700 animals in its collection. They represent more than 660 different species & subspecies. It also has almost 700,000 specimens of rare and endangered plant species. Their collection comes from all over the globe
Safari Park – The northern San Diego county branch of the San Diego Zoo has about 2,600 individual animals and 300 species & subspecies. The plants number about 1.3 million. Both the animal and plant collections are focused on Asia and Africa at Safari Park. 
Source: San Diego Zoo Global FAQ: "Tell me a bit about the San Diego Zoo",  "Tell me a bit about the Safari Park" and "Plants of San Diego Zoo Global".
Safari Park Has Easier Walking

The Safari Park is less demanding physically. It has fewer steep hills for you to navigate than the San Diego Zoo does. The biggest elevation change at Safari Park is between the Lemur Walk and the Balloon Safari and Lion Camp. But don't worry. There's an elevator there to take you up and down if you don't feel like getting your cardio by taking the stairs. 
San Diego Zoo has more hills. It's built around a steep canyon. There are mechanical alternatives to trekking the elevation changes, they just take a bit more time. There's an elevator, the Kangaroo Bus (and the Skyfari aerial gondola ride when renovations are complete) to help you get around. I usually don't take them because I like the workout.
San Diego Zoo Has Better Food

San Diego Zoo has better food because of Albert's Restaurant. You'll enjoy a fine dining experience with daily chef's specials, vegan & gluten-free choices & a full bar. This hidden gem has a lushly planted outdoor patio and a waterfall that makes it great for a special occasion. I wrote more on this page, "Where to find the best food at San Diego Zoo?". 
The best food at Safari Park is at the Watering Hole at Kijamii Overlook. It's a sit-down full-service dining experience that's a couple of giant steps above usual theme park fare. But the food's still pre-prepared, so Albert's at the Zoo comes out as a better restaurant. 
On the plus side, Watering Hole entrees are big enough for two to share. It's got a full bar and an AMAZING view of one of the large field enclosures. You'll feel like you're sharing your table with rhinos, giraffes, and antelope. I've reviewed all of the eateries at Safari Park on this page titled, "Where's the Best Place to Eat at San Diego Safari Park?"
San Diego Zoo Has Better Weather

The San Diego Zoo has milder weather year around. Safari Park has greater temperature extremes because it's located almost 20 miles from the ocean's temperature moderating influence. That location is more likely to be hotter in the summertime. You can see it in the monthly temperature comparison graph below that I created using data from the National Oceanic and Atmospheric Administration.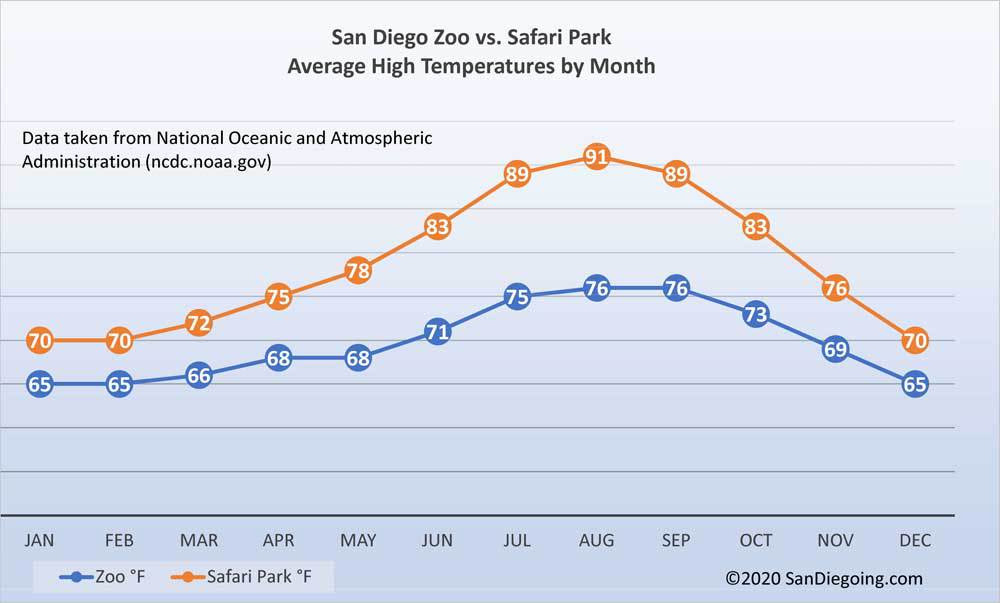 San Diego Zoo's Better For Toddlers

San Diego Zoo's better if you've got toddlers. Don't get me wrong, you can have a great time at Safari Park with your little tyke. But the Zoo's MUCH better because: 
Wildlife Explorer's Basecamp is a kid's paradise. I wrote an article at the link.
It's smaller, there's less ground to cover with tiny tot strides
The exhibits are closer together
Animals are a bit easier to see because the enclosures are smaller
The Zoo's within Balboa Park. If your tot gets tired of all the animals, you can distract them with a train ride or a splash in a fountain. 
For more details, I've covered all the pros & cons thoroughly on this page about "San Diego Zoo vs Safari Park for Happier Toddlers (& You!)".
Safari Park's Better for Babies & Infants

The Safari Park's just a cheetah's whisker better than the San Diego Zoo if you're with a baby in a stroller. There are fewer steep hills to push a pram up. It's more friendly for nursing moms because It's a bit less crowded and there are many secluded benches where you can give your young one a quick snack. There is also a nursing station at Nairobi Village. 
Safari Park Is A More Unique Experience
Safari Park is "different". It's not the usual zoo. You hear that time and again on forums and review sites. And I agree. Granted, the San Diego Zoo is a great zoo and I love spending time there. But at Safari Park the animals are in more natural, expansive settings. And because of that, you feel freer also. It's weird but true. 
Safari Park's less a destination and more of a journey. You are more active and engaged at Safari Park than at the Zoo. You can wander through kangaroo enclosures and a petting zoo to have closer animal encounters. You can sit and have lunch while you watch tigers.
Check out my page on what's best to see and do at San Diego Zoo Safari Park for more information on activities, like riding a zipline, getting high in a balloon, or feeding giraffes and rhinos on a Caravan Safari. Some of the things you can experience at San Diego Safari Park cannot be duplicated except by hopping a plane to Africa.
San Diego Safari Park is definitely a more unique experience.
Closing Thoughts
San Diego Zoo is better for many people than Safari Park. This was a hard post for me to write because I very much prefer the Escondido preserve. I've done my best to present this listing of the major differences fairly. I hope that this article helps you make up your mind about whether San Diego Zoo or Safari Park is better for you to visit.