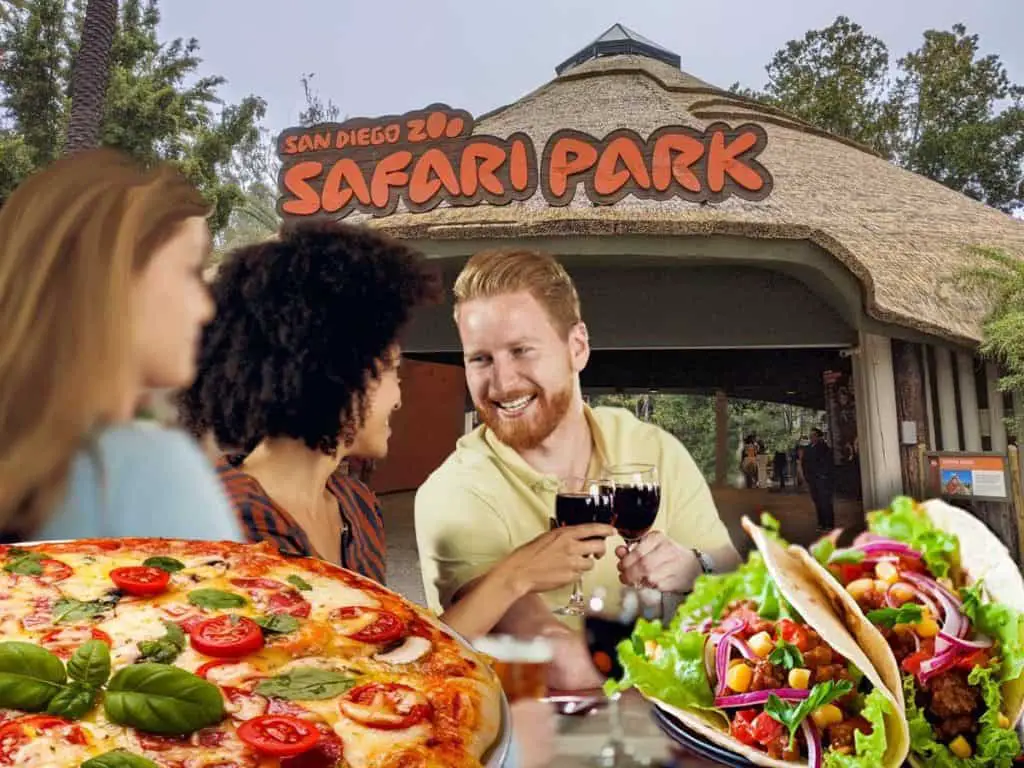 Surprise! There's a sit-down restaurant at Safari Park with appetizing food, full bar & amazing views. But it may not be the best choice for kids, breakfast, vegans, or eating nearby before or after your visit. So which one's best for you?
The best restaurant in San Diego Safari Park is The Watering Hole at Kijamii Overlook. They've got a wide menu of appetizers, sandwiches, and salads. Prices are moderate at $15 – $20 for lunch per person with full table service and bar. Entrees are big enough to share. And the view is outstanding!
Read on for more of what to expect from The Watering Hole. But good as it is, it can't be the best choice for everyone. So I've also collected info on the other eateries within San Diego Safari Park and nearby.
(Going to San Diego Zoo too? Here's an article that I wrote on where to find the best food at the Zoo.)
IMPORTANT: All of the park's restaurants can close early or may never open depending upon how many people are attending that day. Call 760-747-8702 on the morning of your visit to make sure that your eatery choice will be open for you.
Nancy Ulrich is an Amazon Associate. As an Amazon Associate, I earn from qualifying purchases. I am compensated for referring traffic and business to Amazon and other companies linked to on this site. Please read my Advertising Disclosure for more info. Thanks!
Save with a secret San Diego Safari Park discount code on each 1-Day Pass. Go any day. Go directly to the gate. Click HERE to buy. Enter the code at checkout. You will get your tickets by email. This code is only good at aRes Travel, the San Diego-based authorized ticket seller.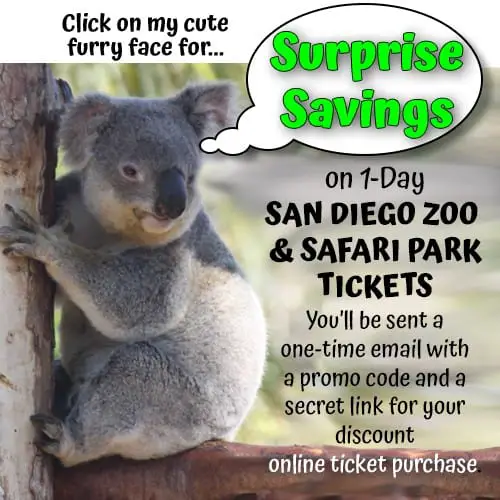 Why the Watering Hole is the Best Place to Eat at Safari Park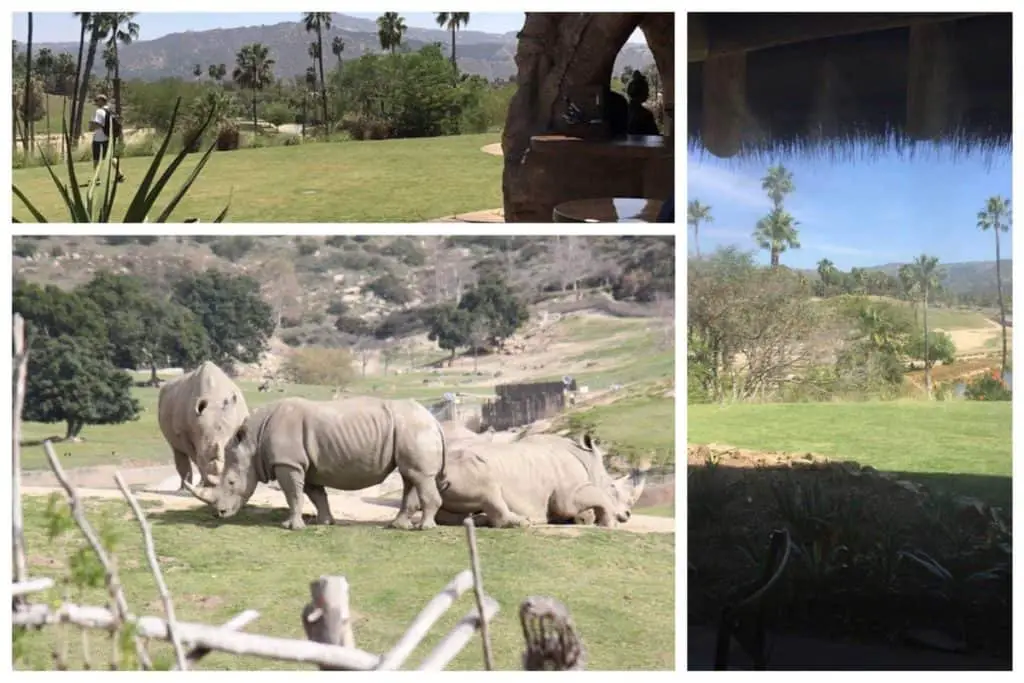 The View is Spectacular
This restaurant has some of the most spectacular scenery in San Diego. There's 180 degree views overlooking the Safari Park's African Plains enclosure. No fence blocks your sight lines to rhinos, giraffes, wildebeest, many different types of antelope and the cape buffalo bachelor herd. Want to see more animals while you're dining? Go to Africa.
Our waiter pointed out the Thompson's gazelles. He called them "cheetos" because they're the cheetah's favorite snack in the wild. 
There are no elephants out there. According to the FDA, the Safari Park needs to maintain a certain percentage of shade trees for the animals. The elephants would knock that percentage down to zero within a week. That's why they are confined to Elephant Valley.
Watering Hole food is unexpectedly good!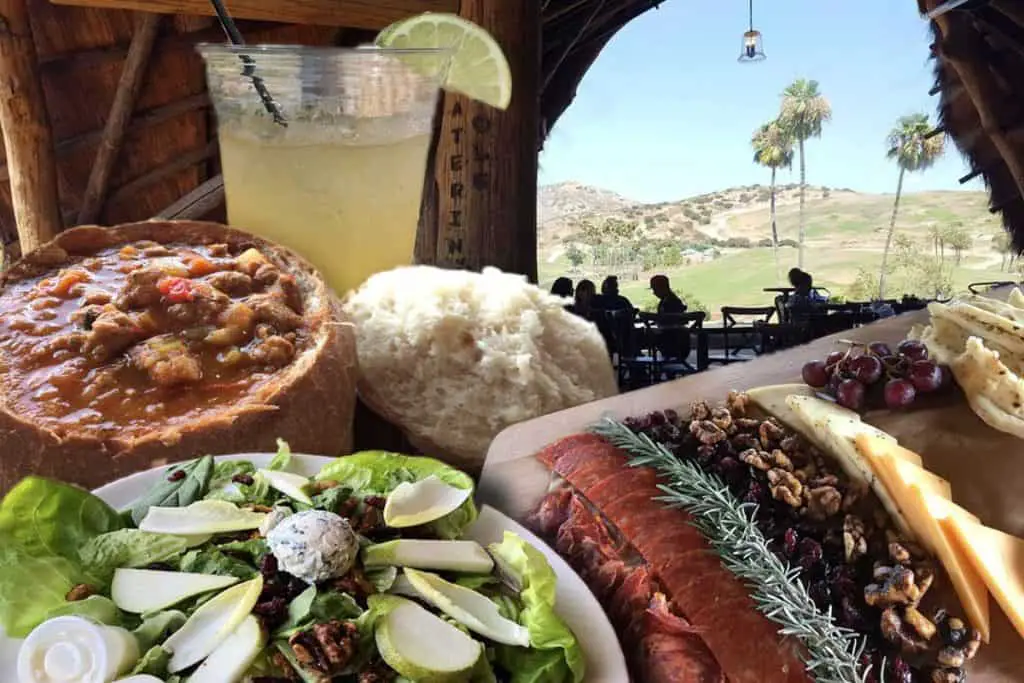 You'll have a much better meal than you'd expect at a major tourist attraction. It's giant steps above the standard fare of hot dogs and burgers. It's tasty, solid, adult fare and definitely not fast food.
Here's a shortlist of dishes that I copied from their menu (see their latest posted menu here). This list WILL CHANGE so don't howl at me like a gibbon if you don't see your favorite on the menu when you go to eat there:
Monday – Friday starting at 11:00 AM
Dueling California Hummus & House Pita Chips
Artichoke Dip & House Pita Chips
Rhino-sized Pretzel with Pub Mustard and Bacon Beer Cheese Dip
Upscale sandwiches: tri-tip, Club Croissant
Beef short-rib street tacos
Berry Fields salad with berries & candied pecans, goat cheese 
Watering Hole Power Bowl – chipotle lime red quinoa pilaf, black beans, avocado, corn, cheese and a lotta other stuff. Yumm…
South Africa Durban Bunny Chow (100% bunny-free!) curry chicken & veggies in a bread bowl (I'm trying this next time!)
Kids meal – PBJ sandwich, Mac N Cheese, crackers, carrots, beverage
Desserts – Cookie skillet & vanilla ice cream. Malva South African cake & vanilla ice cream.
Weekend Brunch Opens at 9:30 AM
Artichoke Dip
Avocado Toast
Exotic Fruit Platter
Rhino-Sized Pretzel
South Africa Durban Bunny Chow
Breakfast Entrees – including French Toast, LARGE breakfast taco, Monte Cristo Sandwich
Lunch Entrees – Berry Fields salad, short rib melt, piled high chicken BLT
Dessert – Malva cake & vanilla ice cream
Ask your waiter for vegan or gluten-free options.
The Watering Hole has a full bar. The Baobab Tree Bar (see the photos below in the building and decor section) has a good selection of local craft beers, some on draft & wine.
Check out the special cocktails made just for that location. They had a Serengeti Sunrise with coconut rum, orange juice, pineapple, and grenadine that looked tasty. But if you're going to watch rhinos from your table, you might want one of their Charging Rhino drinks (California citrus vodka, lemon juice, simple syrup, and kiwi puree) instead.
The Watering Hole's medium priced…for San Diego
Expect to spend between $15 – 20 for lunch per person for entrees unless you're going to split them. And most of the plates are big enough for two. It will cost more if you order wine, craft beer, or cocktails.
It's uncrowded, but accessible
It's midway through the park and away from the most heavy crowds. It's relatively easy for people with mobility issues to get to. Take an ADA bus from the Ranger Base (at map marker #2). The bus will let you off by Lion Camp. There's a slight downhill and then a mild incline up to The Watering Hole.
There's full table service
The servers are friendly and knowledgeable about the food, drinks and animals outside. All seating is under a breezy open-air pavilion. The covered patio construction provides plenty of shade. In the heat of summer there are water misters and fans to keep you cool.  
It's kid friendly
The grassy area in front of the restaurant between the covered eating area and the animal exhibit will keep your small critters corralled. They can run around like crazy without driving you there. 
The building and decor are exotically beautiful
The building was designed by Hubble and Hubble, an architectural company established by San Diego artist James Hubble and his son. They specialize in green structures that honor the earth and use natural, local materials whenever possible. 
The architectural style is modeled on traditional Cameroon African mud brick thatched huts. The (few) walls look as if they were hand formed with the occasional hand print embedded in the rough surface. 
Belly up to the Baobab Tree Bar for a beer. The building's designers modeled it on some real trees in Africa and Australia with hollow insides that are used as meeting places.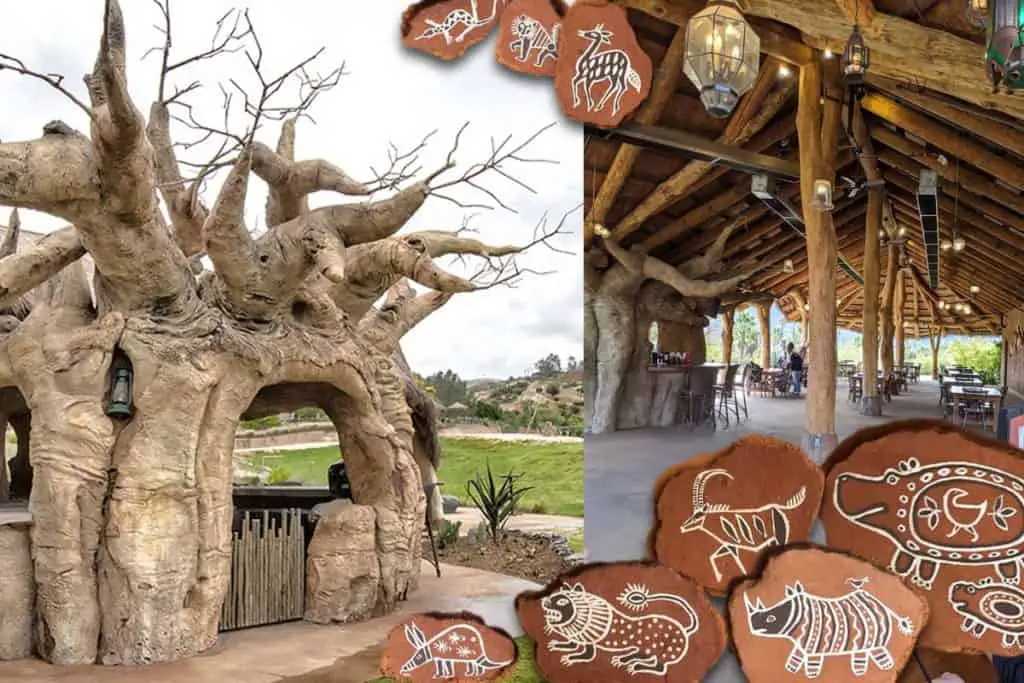 If you look up once you're inside the Watering Hole you'll see polished timbers holding up a steeply pitched wood. There's a "thatch" roof outside. It's not really straw or reeds. No one at Safari Park is crazy enough to make roofs with dried grass in Escondido. That would be like building a roof with unlit matchsticks.
There are gender neutral bathrooms. There's also a large family bathroom for changing babies.
Summary-Why The Watering Hole's the Best Food at Safari Park
The food at The Watering Hole is definitely the best at the Safari Park, but it's not 5 star outstanding. However you aren't paying top dollar either. Service can be slow. Kids may be noisily running everywhere. But there's usually enough room to allow you to pick a seat away from the noisier groups. 
But most people that go to The Watering Hole to eat would go back again. There's something magical about sharing a meal with rhinos…
NOTE: The Watering Hole is popular for weddings and corporate events so definitely check to see if it will be open when you get there.
The Best Places to Eat Breakfast in Safari Park
Thorntree Terrace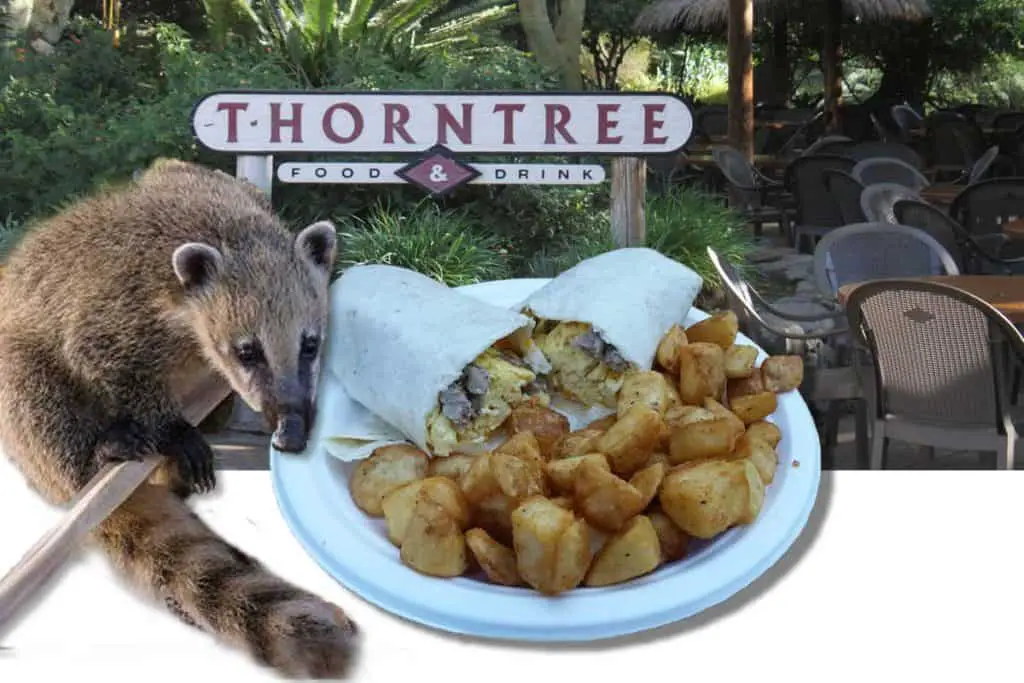 Breakfast's served until 10:30 AM. You'll find breakfast burritos, burgers, sandwiches, bowls, bagels, muffins, and cinnamon rolls. Bob & I split a breakfast burrito and country potatoes. We were full afterward and we're both tall people. Check out their menu here.
There's plenty of shaded seating at tables behind the restaurant.
The best part is watching the coatimundi pack chase each other through the tree while you munch. Think of a cross between a racoon and a monkey and you'd have something like these wily acrobatic wizards of South America. 
Safari Coffee Outpost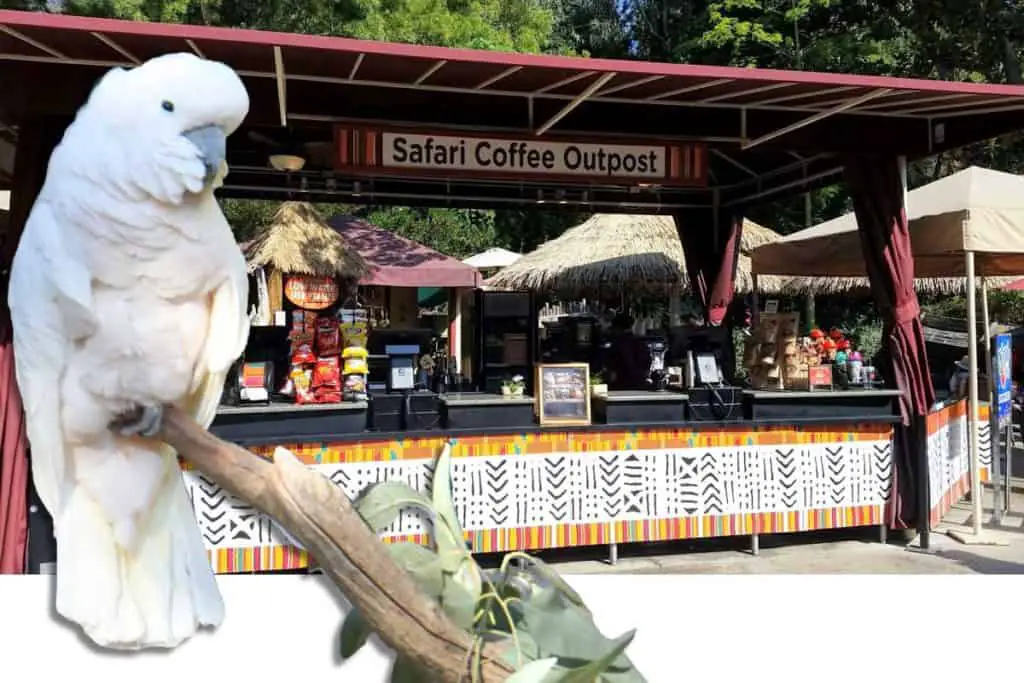 You can buy espresso drinks, nitro coffee, mini donuts and snacks here. Sometimes the public is allowed inside up to this point before the official park opening.
And if you happen to succumb to the temptation of coffee and sweets, great! Remember that when you buy at Safari Park you're a 'hero for wildlife.' So toss the diet out the window. Buy two of everything!
Sit at the tables behind the Outpost and say hi to Max the Salmon-crested Cockatoo. He loves it when people talk to him. His squawks sound like he's laughing with you.
The Best Places to Have Lunch in Safari Park
If you're arriving around lunchtime
Thorntree Terrace. Close to the park entrance at Safari Base Camp. Lunch menu: Rice bowls, salads, wraps, burgers, salads, and a selection of local craft beers, some on draft. 
Congo Kitchen. My second choice at the Base Camp. They often have an outdoor grill cooking up some tasty street tacos and nachos. 
Barking Deer Pizza & Beer. The name says it all. But there's no seating. Find a table behind Thorntree Terrace and watch the coati as you munch your pie.
If you're halfway through Safari Park try these eateries
Choose The Watering Hole if you're looking for the best experience. It's a bit of a trek to get there, but the food is the best at the park and the ambiance can't be beat.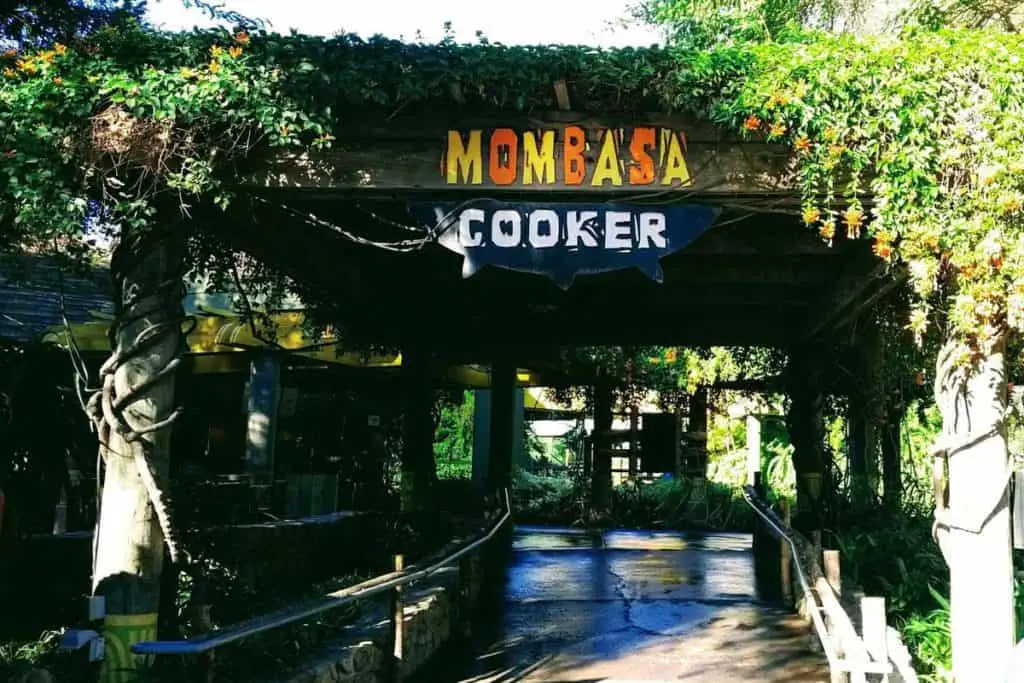 Mombasa Cooker. BBQ, burgers, salad entrees, kids meals, an outrageously LARGE corn dog. A reasonably priced flight of local craft beers. Their menu is shown here.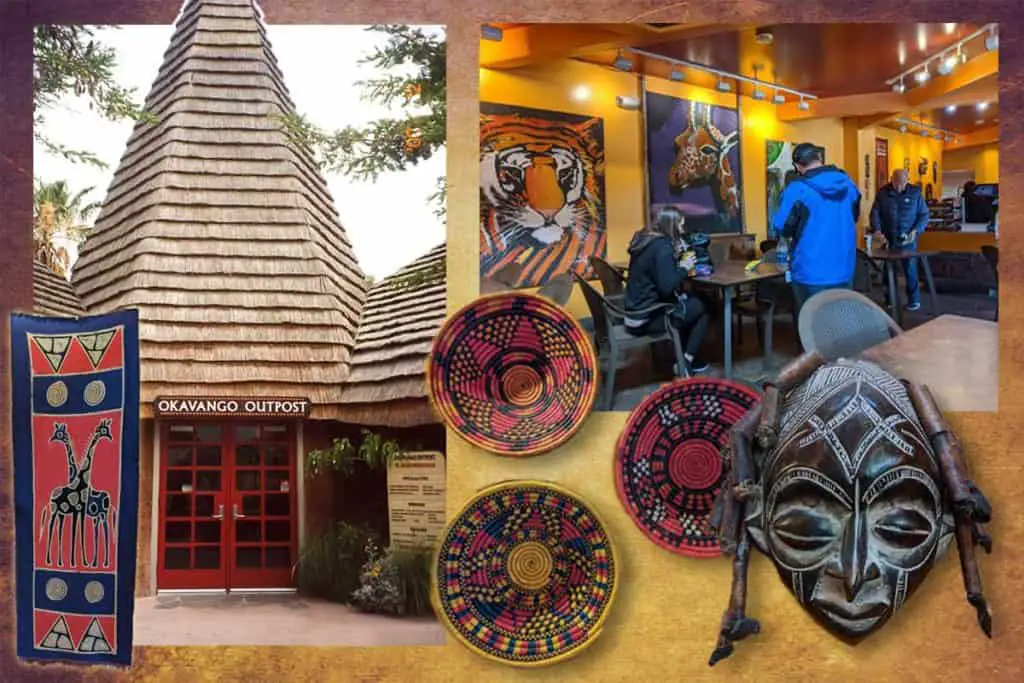 Okavango Outpost. Panini, wraps, salads, soup, nachos, kids meals and local craft beers (see their menu here). If you like the artwork, masks & baskets hanging on the walls, buy them! Check for price tags or ask the counter workers.
There's some inside seating in this restaurant. But try the outdoor patio seats because they overlook the African Loop lagoon. In the spring and early summer the trees are loaded with nesting white egrets. Some trees have so many nests that they look white from a distance. The egrets are local freeloaders who've come to hatch their young by the good fishing grounds provided by the park.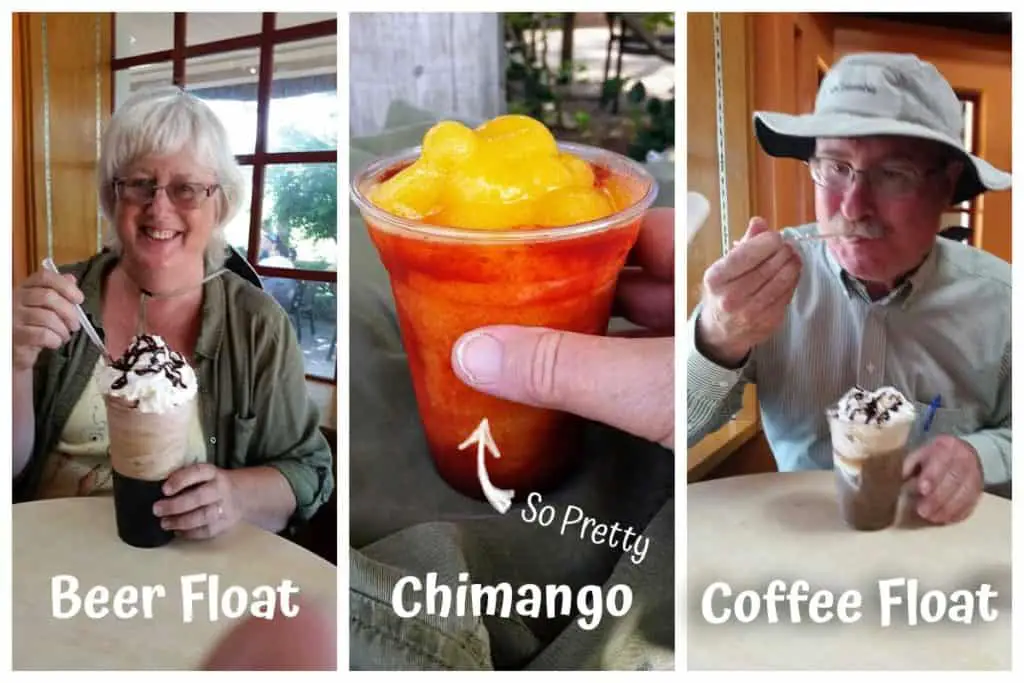 Drinks at Okavango Outpost. For something a little different, try the Chimango drink. It's mango sorbet, chamoy sauce, lime juice and chili powder. Slightly spicy and altogether delicious on a hot day. Chimango is definitely a San Diego thing.
Are you an adventurous beer lover? Try the mega-sized beer float with chocolate sauce decadently spread over ice cream and whipped cream floating in a hearty dark ale. 
Coffee drinks!  For those who want the ice cream float without the booze, try the coffee float instead. It's a rich and chilly caffeine buzz that's big enough for two, but you probably won't want to share. 
3 Best Places at Safari Park to Eat with Kids
These 3 Safari park restaurants and food stands have adjacent playgrounds. You can sit down and leisurely enjoy your meal while watching your little critters burn off calories.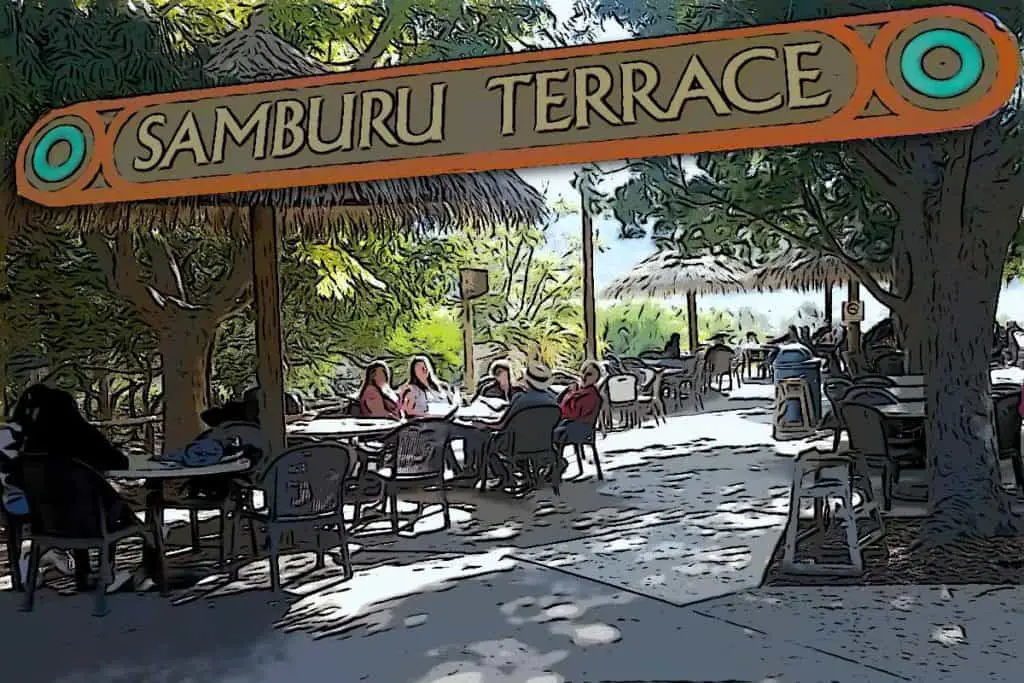 Samburu Terrace – Primary advantage? It overlooks the Samburu Jungle Gym. Feed the kiddos a Kids Meal or a burger then send them off to play. You can keep an eye on them while you're sitting in the shade, eating a relaxed meal and sipping a cold beverage or craft beer. Entrees include various south of the border dishes, nachos, loaded salads and a decent vegan black bean burger (here's their menu). Location: At map marker #8.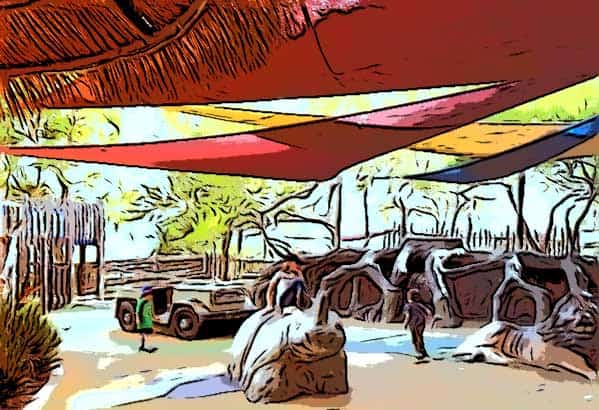 Kibo Cones and Snacks – Grab some hot dogs, soft-serve ice cream, churros and snacks for the kids. Then head over to the nearby Oasis Deli for sandwiches, salads and soup for the grown-ups. There's limited indoor seating at Oasis Deli and lots of comfy patio furniture where the adults can watch the kids eat and play pirate on the Amani Likoni. It's a play structure built in the shape of an ancient Egyptian barge. Location: Close to map marker #6.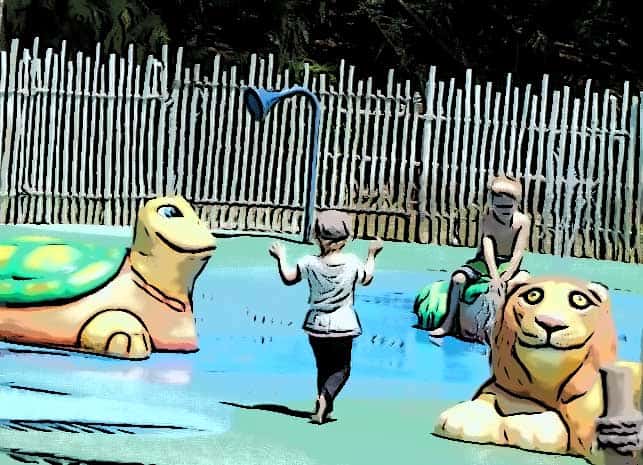 Lion Camp Slush and Snacks – Choose this one if the weather is beastly hot. It's right next to the Savanna Cool Zone where the kids (and maybe you also) can play among the animal statue water fountains. The Cool Zone surface is soft, squishy and wet so children can play safely. The menu is limited to hot dogs, and salty snacks like pretzels and popcorn. Cold drinks like flavored slushies, carbonated beverages and beer make this a favorite stop for those who need a break from the heat. Location: Close to map marker #14.
Eating Cheap (on a Budget) at Safari Park
Can you bring food into Safari Park?
YES! If you're on a budget you can bring your own food and beverages. Carry them in backpacks, purses or in your child's stroller or wagon. No coolers, straws, glass bottles or alcohol allowed. 
All Safari Park food venues will gladly refill your water bottles for free.
5 Tips to save if you can't bring your own food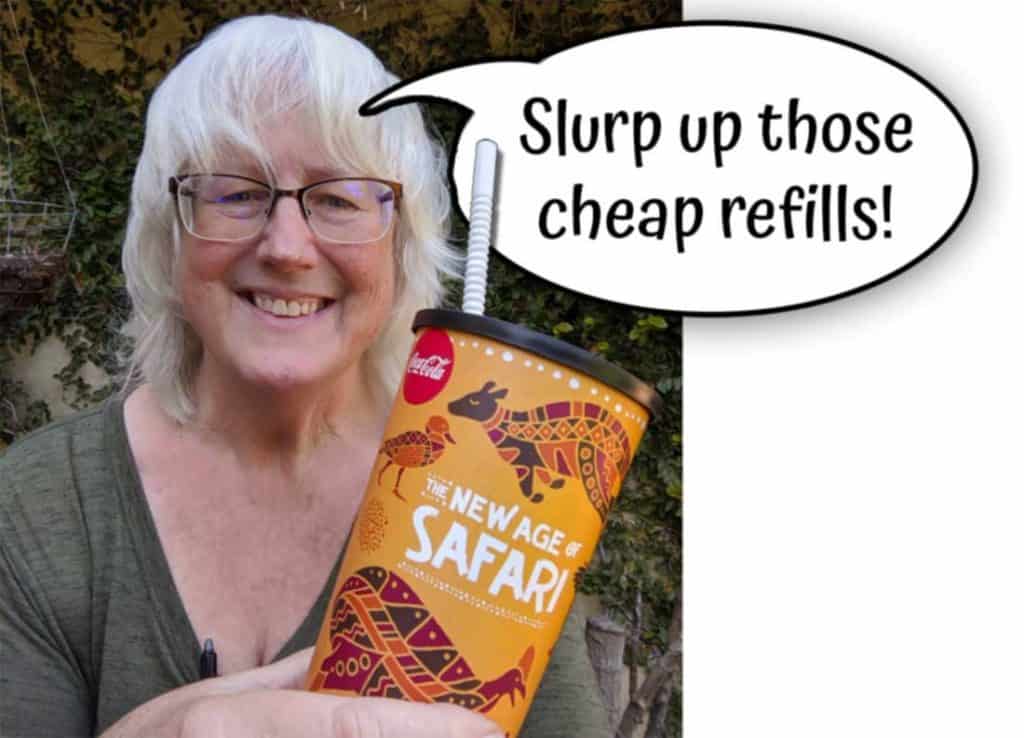 Buy a Fountain Beverage or Iced Tea at any of the food stations and keep the cup & straw all day. Refills are about $2. 
Congo Kitchen and Lion Camp Slush and Snacks have hot dogs and a decent pretzel. They're cheaper than most options in the park and the kids will love them.
If you've got a group of 5-6 people, share the Barking Deer Family Meal. It's 2 pizzas, a salad and 4 large fountain drinks. At around $40 it's not cheap, but it is a lot of food. There's no seating there, so go to Thorntree Terrace and get a table in the shade behind that restaurant.
Share plates. Most entree, wraps and salad plates at Safari Park can feed two. 
Drink a couple of cups of water before your meal. It will fill you up and help you stay hydrated in the Escondido heat.
Best Outdoor Dining at Safari Park
Landscape views
The best views at Safari park restaurants are at The Watering Hole and the Rift Sand Bar.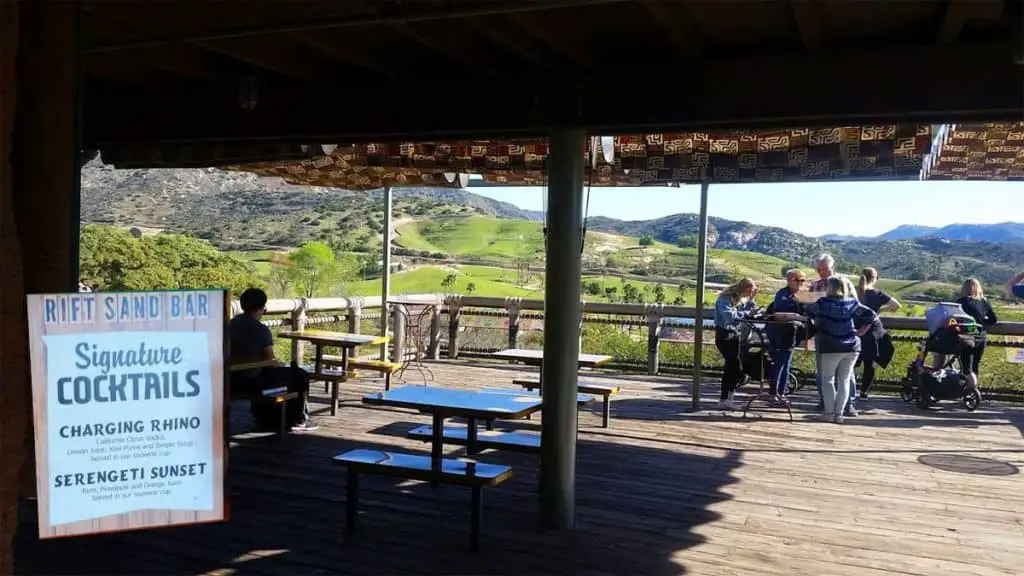 The Rift Sand Bar is a small snack shop located at the top of the elevators that take you down to Africa Woods and Lion Camp. There are a few shaded tables. The menu is limited to basic snacks, some sandwich wraps and wine & spirits. But the high elevation view of most of the Park and the San Pasqual valley is drool-worthy. 
Water views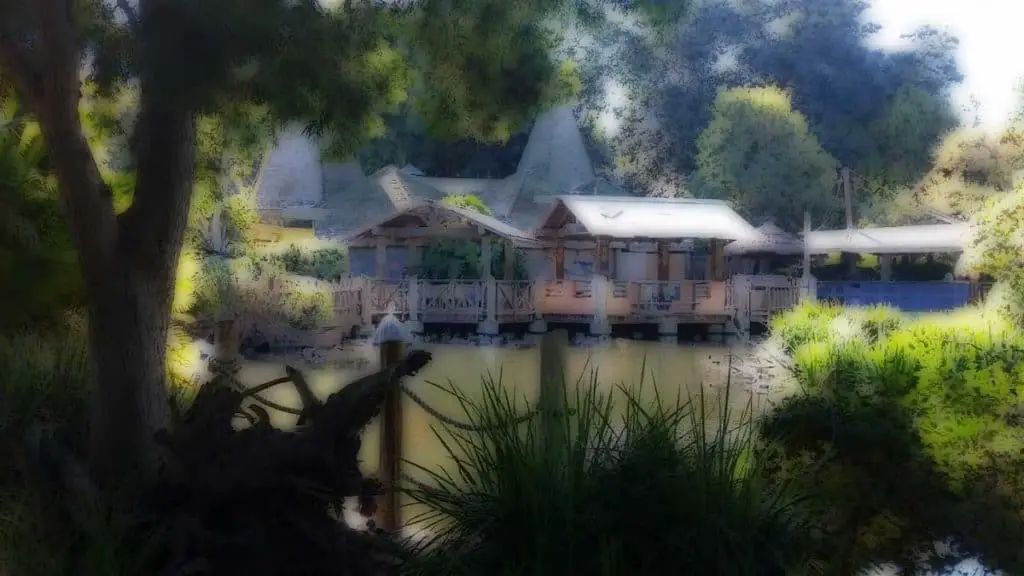 The best places to eat with a water view in Safari Park are behind Mombasa Cooker and Kibo Cones and Snacks. hcirluycnan Order your food and walk around to the sunny tables in the back. Want shade? There are also plenty of tables inside Mombasa Pavilion. Most of the time you can get a spot overlooking the lagoon and the island with a pair of shoe-bills.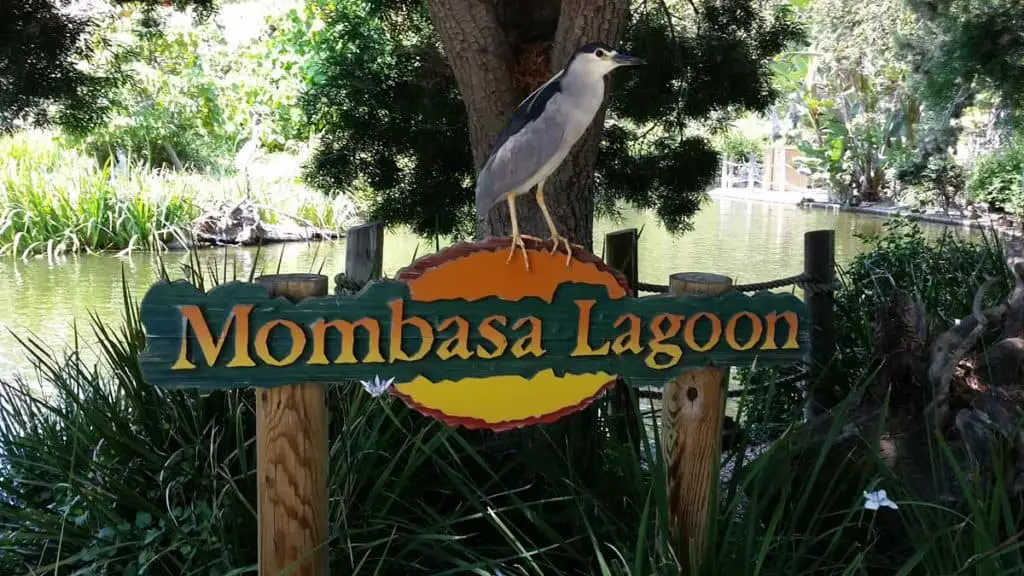 The water is teeming with birds from the African ducks and geese to the freeloading local coots, mallards and egrets. 
Do They Serve Alcohol at Safari Park?
All of these dining venues at San Diego Zoo Safari Park serve draft/craft beers:
Thorntree Terrace 
Barking Deer Pizza & Beer
Congo Kitchen 
Mombasa Cooker
Oasis Deli
Macan Market
Sheared Sheep
Watering Hole at Kajamii Overlook (full bar)
Raptor's Nest (also wine & spirits)
Samburu Terrace
Rift Sand Bar
Lion Camp Slush & Snacks
Okavango Outpost
There's Gluten-free and Vegan Food at San Diego Safari Park
7 restaurants offer both vegan and gluten-free menu choices at Safari Park. They are scattered throughout the park. Since they also serve other food, these are good choices for everyone in your group.
Thorntree Terrace
Mombasa Cooker
Oasis Deli
Sheared Sheep
Watering Hole at Kijamii Overlook
Samburu Terrace
Okavango Outpost
Valentines Day Dinner at Safari Park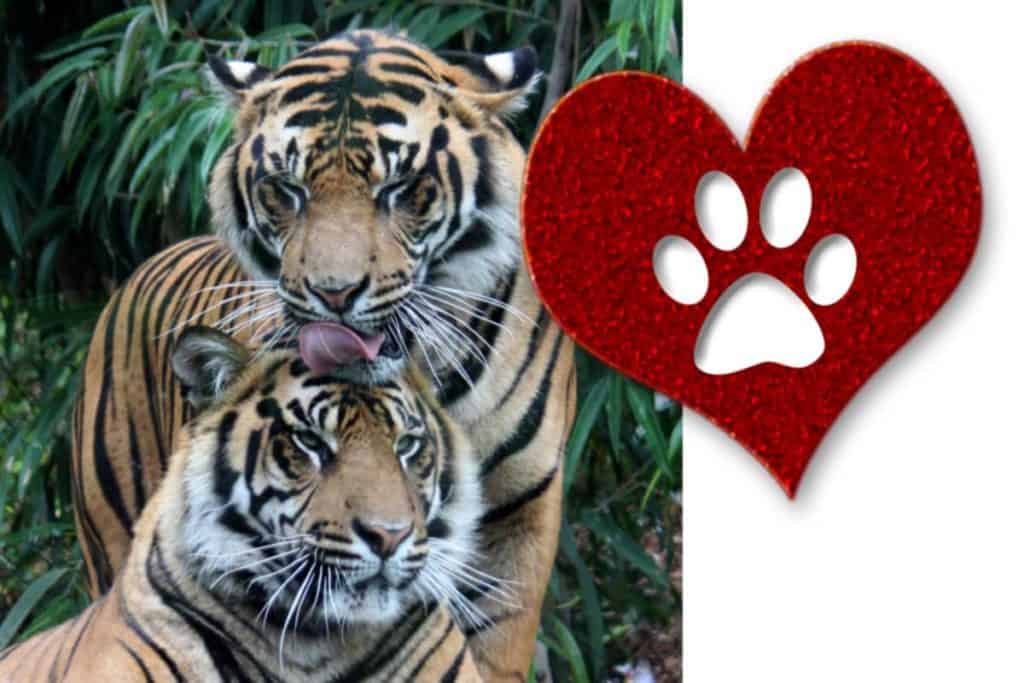 Have a wildly romantic time at the annual Valentines Day Dinner at San Diego Safari Park. This exotic couples' dinner usually takes place under the vaulted faux thatched roof of Hunte Nairobi Pavilion. Turn left at map marker #2.
You can expect a visit from one of the animal ambassadors (sometimes a cheetah), a no-host bar, and a four-course gourmet meal prepared by the Safari Park Chef. 
Check-in usually begins shortly after 5pm. Expect to pay around $120 per couple. This event always sells out. Starting in mid-January check online at the Safari Park Dining Events page or call 619-718-3000 for information. 
Best Restaurants Near San Diego Safari Park
Fast food nearby
The closest fast food restaurants are located in the Westfield North County Mall.
Burger King
Chipotle Mexican Grill
Potato Corner (various styles of fries, chicken tenders & wings)
Cross Highway 15 and turn right into the Plaza del Lago Center and you'll find:
Subway
McDonalds
Chito's Taco Shop
Rock on Pizza
Best breakfast place close to Safari Park
Broken Yolk Cafe in Westfield Mall – The mall is right off Highway 15, so it's very convenient. And parking is easy.
I'll eat their Golden State Benedict anytime I can get it. It has the usual poached eggs and hollandaise sauce. But they add tomato, avocado (this IS San Diego, after all…), applewood smoked bacon and a zippy sriracha drizzle. Bob likes their chicken fried steak breakfast.
Nearby restaurants with great lunches
Personally I'd go into Safari Park and order lunch at The Watering Hole, Okavango Outpost or Thorntree Terrace and consider the little extra expense my gift to wildlife world-wide. But if you're hungry before you get to the park or want something very different afterwards try these:
Burger Bench – Unhinge your jaw-thick burgers with fresh local ingredients. You can upgrade to Impossible, Halal, or grass-fed Wagyu beef patties. Slurp down creatively flavored hand-made milkshakes. You must try the truffle fries or tots.
Chan Dara Thai Café – Large tasty portions for a reasonable price tucked away in an anonymous strip mall. Lunch specials for under $10. Try the See-Eyew Noodles, Phad Thai,  and the yellow curry. 
The unusual Angel Wings are worth a try. They're chicken wings without the bones, stuffed with crab meat, ground chicken and noodles. They're deep fried and served with cucumbers in a sweet plum sauce.
Careful with the spices at this restaurant. Level 4 is jalapeno, which is too much for me. 
Best Restaurants for Dinner near Safari Park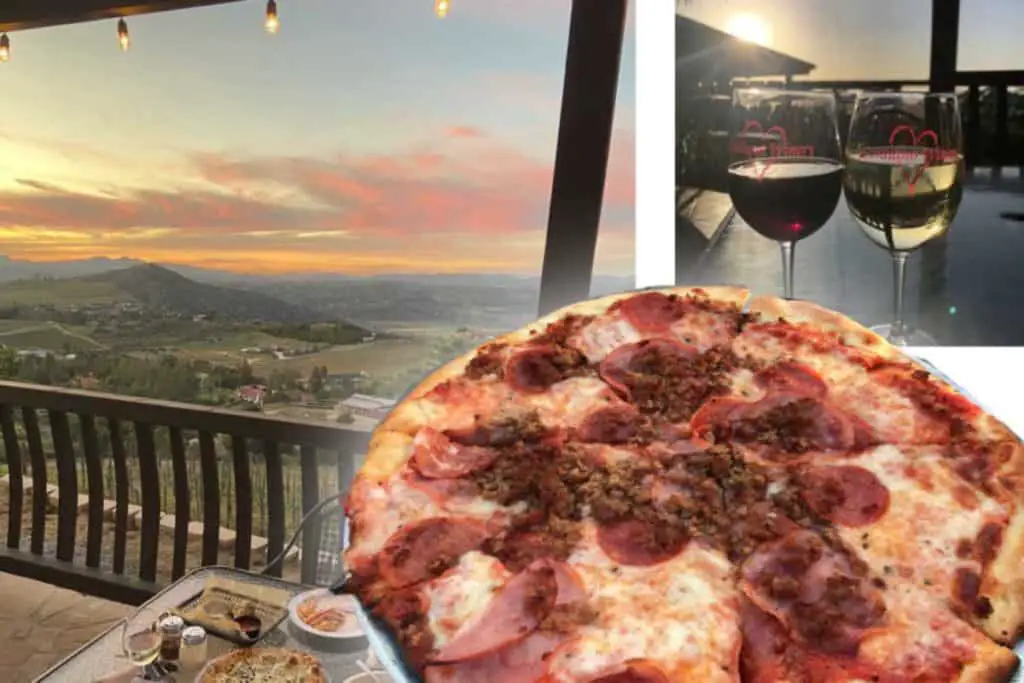 Cordiano Winery – It's a smidgen less than 2 miles as the crow flies from Safari Park. 9.5 miles on twisty country roads if you don't have wings and have to get there by car. But the views, the pizza ($16-18) and wines are worth the drive. 
The rest of the entrees are also generously proportioned. Pastas are $13-14 each. They've also got appetizers and desserts. Unfortunately they're only open Thursday thru Sunday. 
Vintana Wine + Dine – It's a bit expensive, but perfect for a special night out. You enter through a Lexus dealership and go to an elevator which deposits you in the restaurant's bar. There's great views both from the inside and out on the patio. 
But the food's the real star. Delicious from appetizers to dessert. Try the Brie Wheel. Steak & lobster cooked just right. The key lime tarts are just tart enough. And they make popovers! It's taken me years to get mine to pop consistently, and doing it hundreds of times every night? Respect! 
Closing Thoughts
Never worry about finding something that you'll enjoy eating at Safari Park. There's plenty of options for everyone. Click on the following page link if you're wondering what to see and do at Safari Park when you're not eating. Bon Appétit San Diego Safari Park style!