The California Wolf Center and the Nature Store and gift shop in Julian are exciting destinations for animal lovers in San Diego. But you need to prepare for your visit or you may be disappointed or even find yourself in danger.
Here's my California Wolf Center Julian guide to the best tours, discounted tickets, and coupons. Plus what you'll find at the Nature Store & gift shop.  Discover what to do nearby, and where to eat. It also includes tips on best visiting times, what to bring, taking great photos, and staying safe.
Read on for more of what we've learned from our visits to this alpine wolf sanctuary and the surrounding areas.
If you make purchases through the links in this post, I may be compensated. Read my Advertising Disclosure for more info. Thanks! ~ Nancy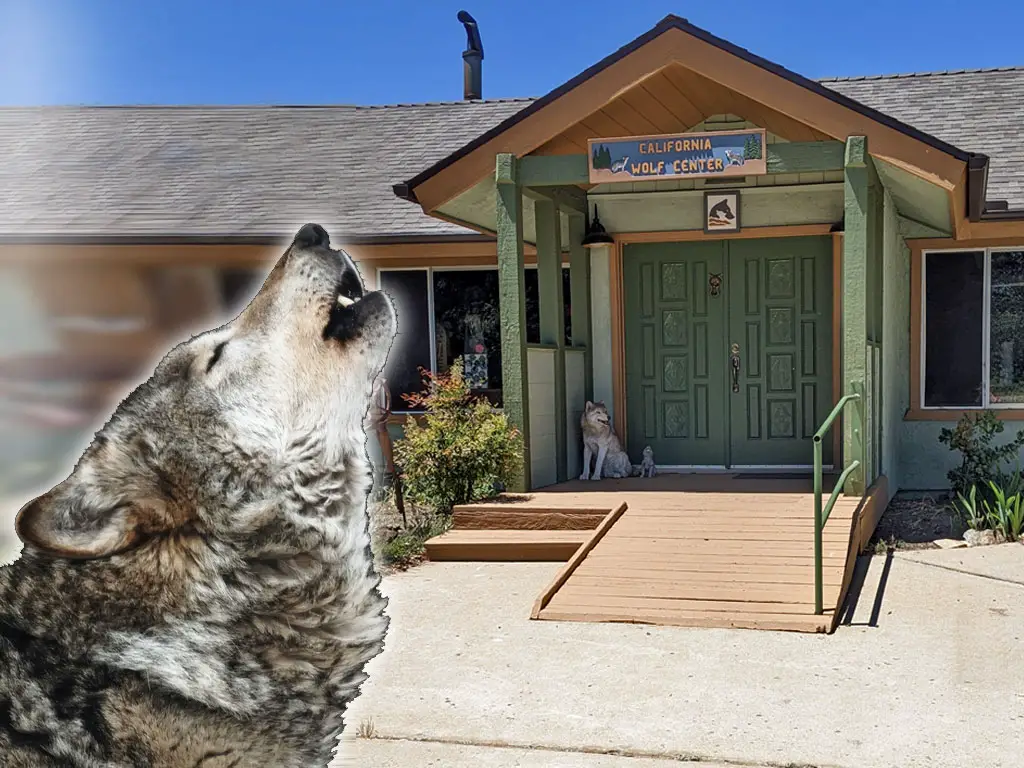 California Wolf Center Conservation Facility – Tour Tips
Tour Registrations Are Required At California Wolf Center
You must preregister and pay for a tour reservation at the Julian wolf center. You cannot just show up and look at the wolves. And they do not do individual tours unless you want to book a Private Group Tour.
There are three different tour types.  Below you'll find a chart comparing all of the California Wolf Center tours by cost and availability. 
| WOLF CENTER TOURS | DAYS | PRICE |
| --- | --- | --- |
| – Wolf Conservation Tour | Fri – Mon | $30/guest |
| – Behavioral Enrichment Tour | Fri – Mon | $45/guest |
| – PRIVATE Wolf Conservation Tour | Mon – Fri | $250/group up to 6 people |
| – PRIVATE Behavioral Enrichment Tour | Mon – Fri | $350/group up to 6 people |
| – Special Event Tours | Sat or Sun (once per month) | Check website for $$ |
What's the Best Tour At California Wolf Center?
The Behavioral Enrichment tour at the California Wolf Center's Conservation Facility is recommended over the Wolf Conservation tour. With the 60-minute enrichment experience, you'll see more active wolves and photo opportunities for a small extra fee. 
On the Behavioral Enrichment tour, you'll see both ambassador wolf packs. But you're more likely to see other natural behaviors besides sleep. That's because the guides provide the wolves with 'enrichment'. Translation: they bribe them with meaty treats, smelly stuff, and other items that the canines can't resist investigating.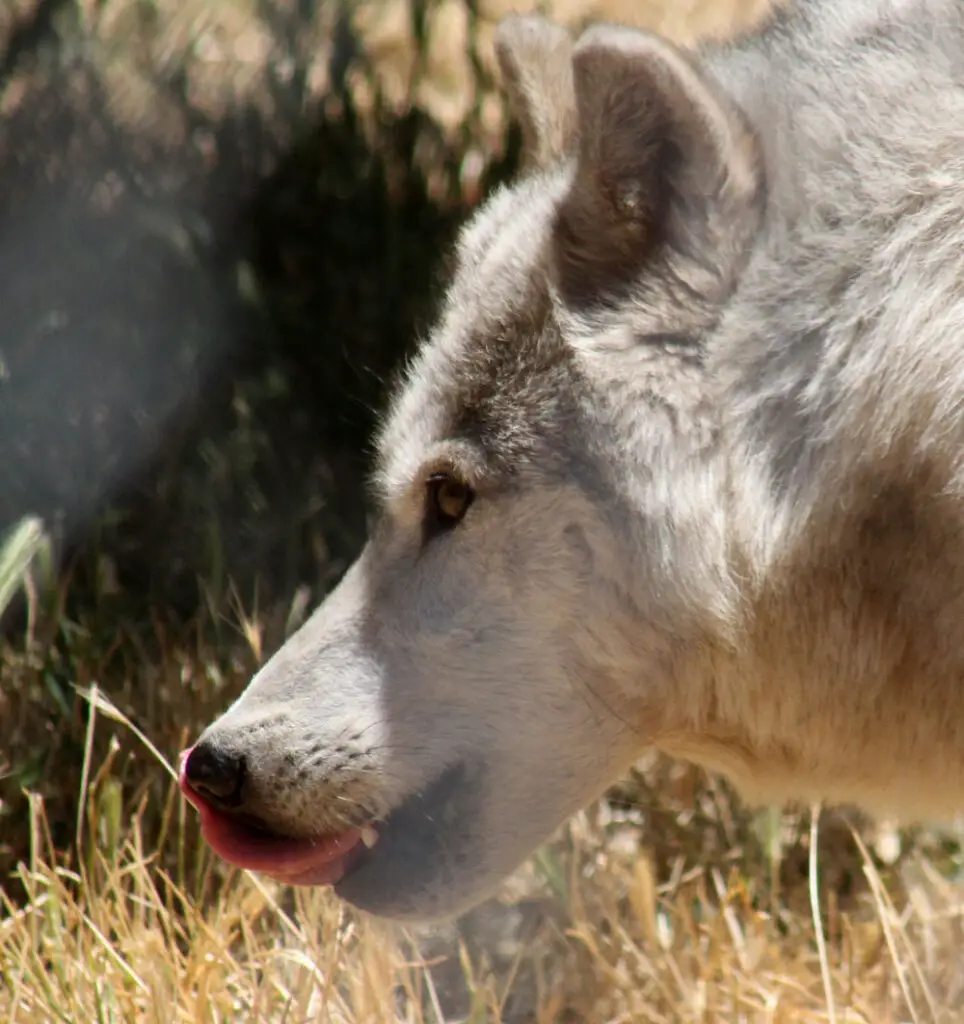 The wolves are not trained to come to the guides. But their keen ears will wake them from a deep sleep when they hear the sound of a small food cooler opening. The guides throw the enrichment items over the fences and the wolves hunt them down using their superb senses of smell and hearing.  
The public tours are not crowded. Our enrichment tour had 16 people. I asked the guide, and she said it was average-sized, but she'd seen bigger groups. There was plenty of room in the pen observation spaces for me and Bob to take the photos we wanted without bumping elbows with someone.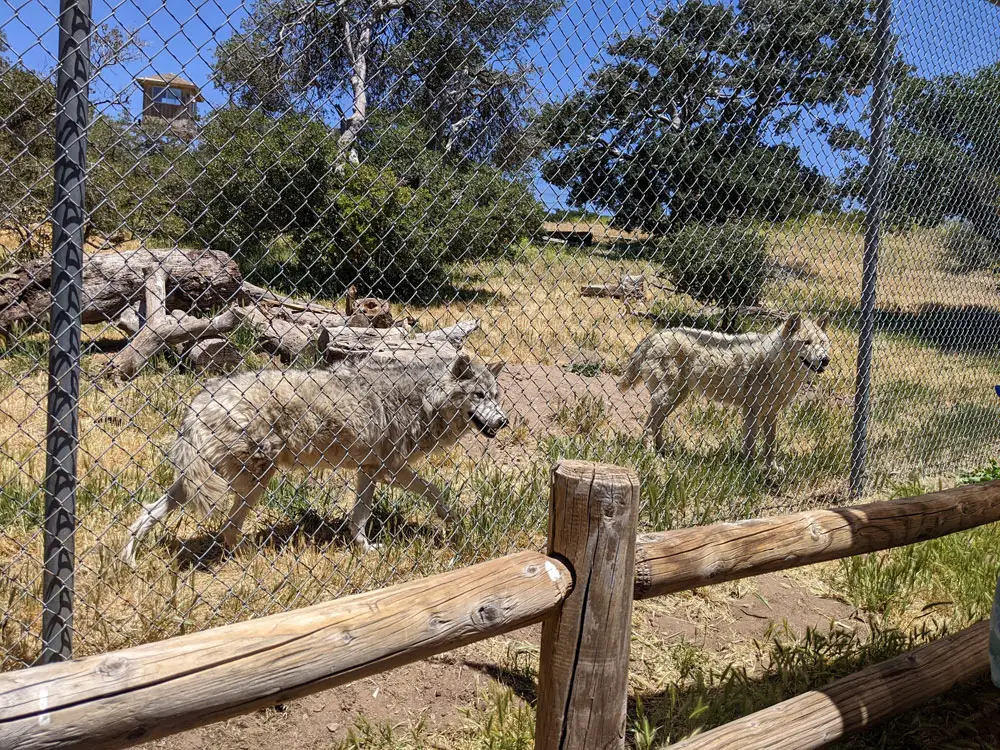 The public Wolf Conservation Tour at the California Wolf Center is also an hour long. And you get to see both of the Ambassador wolf packs. But there are no incentives other than curiosity for the wolves to approach the group. Thus viewing and photo opportunities may be fewer and shorter once the wolves figure out that they're not going to get snacks.
The conservation tour has a more educational focus than the enrichment one. You'll hear more about the history of wolf conservation in North America. You'll walk away with a new appreciation for the species and those that are working to bring their numbers back up in the wild. It's a hopeful view of the future that you can contribute to.
On both tours, you'll see two main enclosures with 2 or 3 wolves inside each. One pen holds the more endangered Mexican gray wolves, the other has the larger, more common North American gray wolf pack. 
The monthly Special Event Tours at the California Wolf Center are always changing. They give you the opportunity to give the canids physically stimulating objects and treats. The duration, enrichment objects. and activities vary by season. Check their website for more details.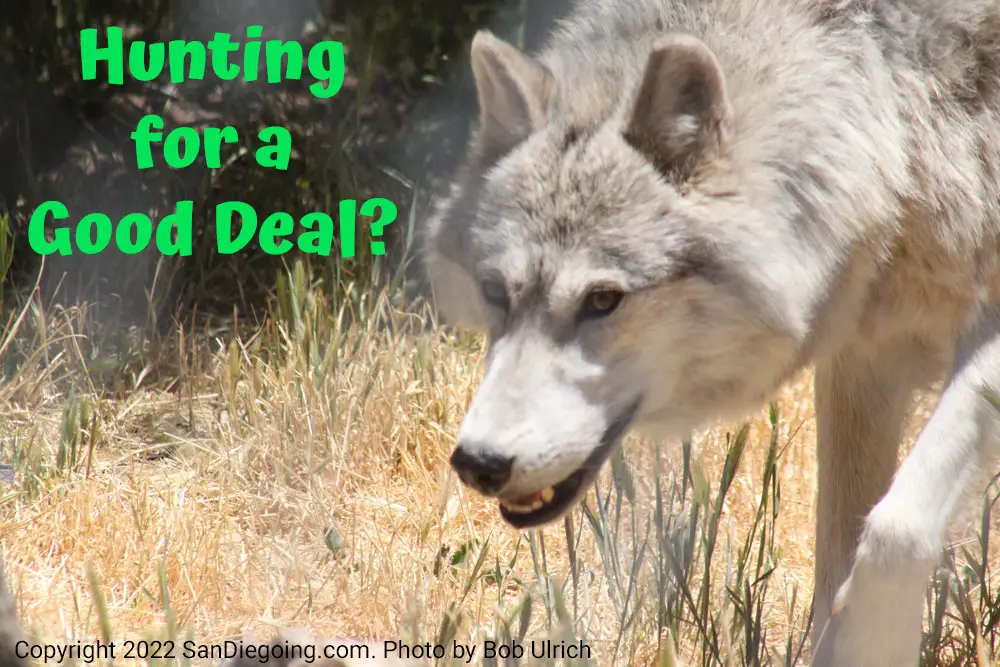 Are There California Wolf Center Coupons for Cheap Admission?
There haven't been any Groupon deals or coupons for the California Wolf Center since early 2020 when COVID-19 hit. 
A quick check of their Groupon offer page shows that there was only one review in 2021 and one in 2019. There are hundreds from August 2018 or earlier. The obvious conclusion is that no Groupon deals were offered after Sept. 2018. Also, the reserve has revamped its offerings and the "Wolf Recovery Today" tour page no longer exists on its website. 
How to Get Free or Discounted Tickets for Julian Wolf Center
Buying an annual membership for the California Wolf Center is the easiest way to get free and reduced-price tours. Memberships start at $45 for individuals and $75 for two people.
With all memberships you get:
Free admission to the public "Wolf Conservation" tour
$30 discount on the public "Behavioral Enrichment" tour
10% discount on merchandise at our nature store in Julian
Kids under 4 are free. But at that age, they may be a bit bored. Kids 6 years old and up would enjoy it more. And although your teenager might say they don't want to go, they usually admit afterward that they've enjoyed seeing these wild canines close up.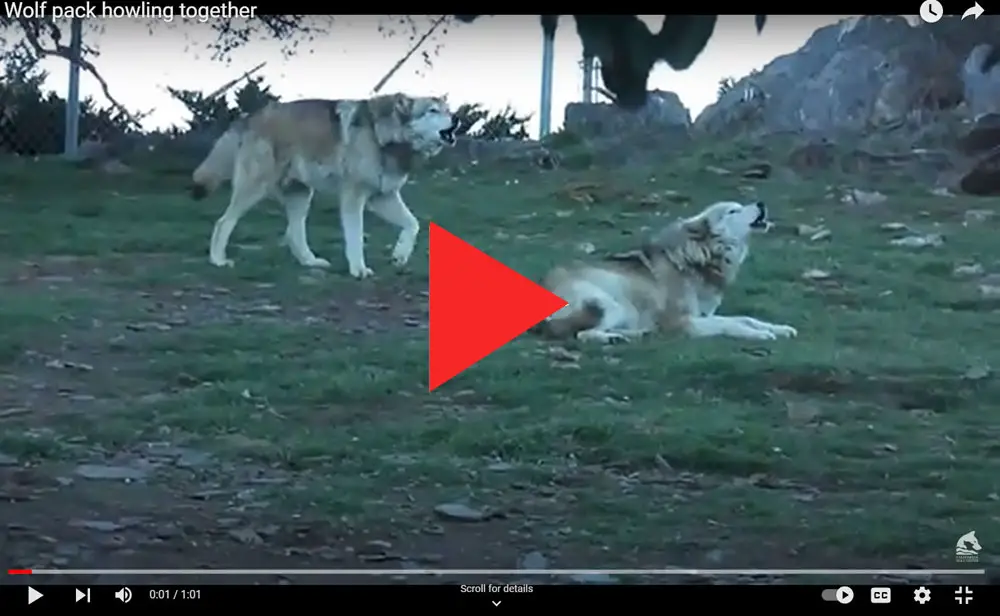 When Is The Best Time To Visit The California Wolf Center?
The best time to visit the wolves at the California Wolf Center is not the most popular time. Most people take tours during the summer months, but winter is the best season to see the wolves. That's because wolves are more active when it's coolest. If you had to wear a heavy fur coat in the heat you'd be resting in the shady bushes too.
If you're going during the summer, the morning tour is usually best for another reason besides hot wolves. There are often afternoon thunderstorms in the Laguna Mountains, particularly in late August and early September.  They develop quickly and are characterized by strong winds, lashing rain, and sometimes hail.
Wolf pictures are better in the winter too. They grow fluffy insulated coats that really stand out against the snowy background of the enclosures.
Speaking of photos here's…
How to Take The Best Pictures at The California Wolf Center
Your best photo opportunities at this San Diego wolf sanctuary will be at the beginning of your time at the enclosure. At that time the wolves are at their most curious and hungry. Have your camera or cell phone ready before you approach the viewing areas.
You'll be taking photos through the chain link fences. For the best photos, bring along a camera with a zoom lens. A 70-200mm lens with a fast, constant aperture gives you many options to adjust the focal length and blur out the barriers. The wolves move quickly. And your best shots will be those where they're 10 feet or more away from the chain-link fences. 
If you have a cell phone, don't worry about how far the animals are from the fences. There are several image alteration apps that will help you remove the fencing from your photos. Just take your pictures. It doesn't matter how close to the fence the wolf is. In the photo below, it was about 2 feet from the barrier.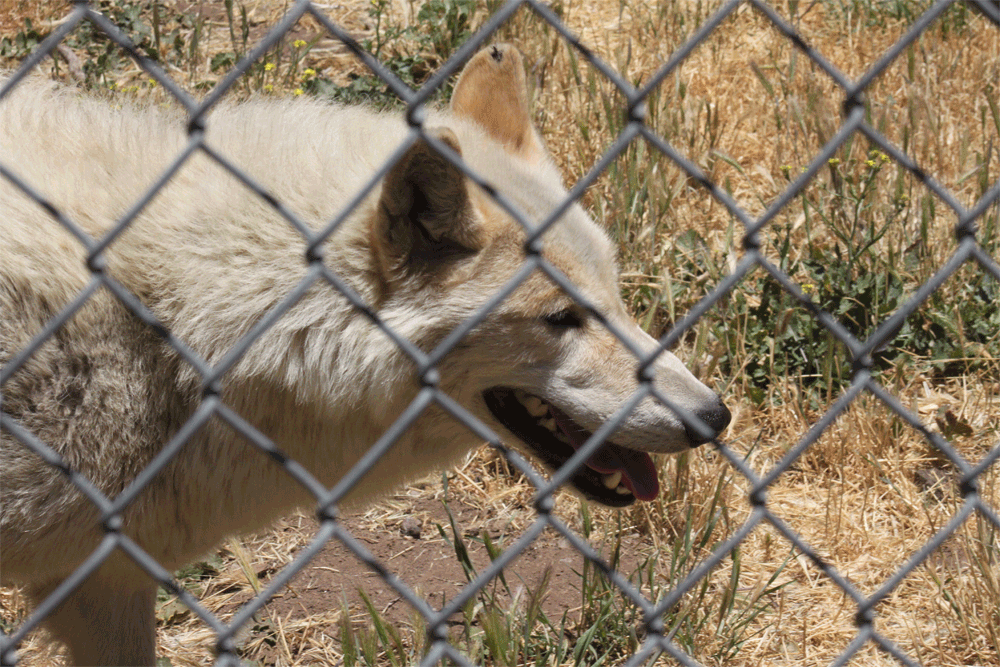 I used Adobe Elements to remove the fences from my cell phone images. It takes some patience, but it can be done. Here's an Adobe Content-aware fill tutorial for you to try. Free Photoshop alternatives also have this feature. In Krita, it's called the "smart patch tool". GIMP has something called the Resynthesizer Plugin (along with the Heal Selection tool that comes with it). 
7 California Wolf Center FAQs and Fun Facts
#1 How to Get to California Wolf Center
The California Wolf Center has two locations; the Conservation Center Facility and the Visitor Center and Nature Store in downtown Julian. The two facilities are about 5  miles apart, or 10 minutes by car.
Tours take place at California Wolf Center's Conservation Facility on KQ Ranch Road south of Julian. It's located 57 miles from downtown San Diego. It takes 75 minutes or more to get to the reserve depending upon the time of day, traffic and weather. 
You will need a vehicle to get to the preserve. Drop-offs, walk-ups, and passengers from ride-share services like Lyft and Uber cannot be accommodated. That's probably because commercial insurance rates for multi-passenger transport are prohibitively expensive in California. They'd much rather pay the vet bills.
From Julian, the route is well marked, except at the very end. It's easy to miss the sign on CA-79 (Firefighter Steven Rucker Memorial Hwy).  Going south from Julian, look for the Pinezanita RV Park & Campgrounds first. A half-mile beyond turn off at the red KQ Ranch Camping Resort sign on the left side of Hwy 79.
From San Diego and Highway 8, going north on CA-79 you will probably miss the turnoff to KQ Ranch Road. It looks like any other private road in the area. Watch for the "School Bus Stop 400 ft" sign after Harrison Park Rd. 
You'll know that you've gone too far when you see the red KQ Ranch Camping Resort sign fly by on your right. Don't worry, it's easy to find a turnaround point. Just be careful and look both ways. You're not the only one enjoying the mountain roads.
There are plenty of parking spots once you arrive at the California Wolf Center's Conservation Facility. They've got a dirt gravel parking lot that has room for about 20 cars. 
#2 Is the California Wolf Center wheelchair/walker friendly?
Most of the California Wolf Center's Conservation Facility is accessible to wheelchairs and walkers. But when we visited, they did not have ADA-compliant bathrooms. There were two porta-potties. If you have special needs email them and explain what you need. They'll do their best to accommodate you.
The terrain is mostly flat. There's a very gradual downward slope from the parking lot to the gathering spot in front of the education center and gift store. 
I tracked my steps from the parking lot and throughout the tour. The total walking distance was less than a thousand paces (0.4 miles). 
#3 What To Wear On A California Wolf Center Tour?
Check the weather forecasts before you travel to this San Diego wolf sanctuary before you decide what to wear. The mountains around Julian, CA can surprise you with their temperature extremes and rapid changes. People have gotten into serious trouble assuming mild conditions just because they're still in San Diego county.
No matter the weather, wear comfortable walking shoes or boots. Although the paths are well groomed, they are not paved or level. Leave the high heels for dancing in the bars in the Gaslamp Quarter.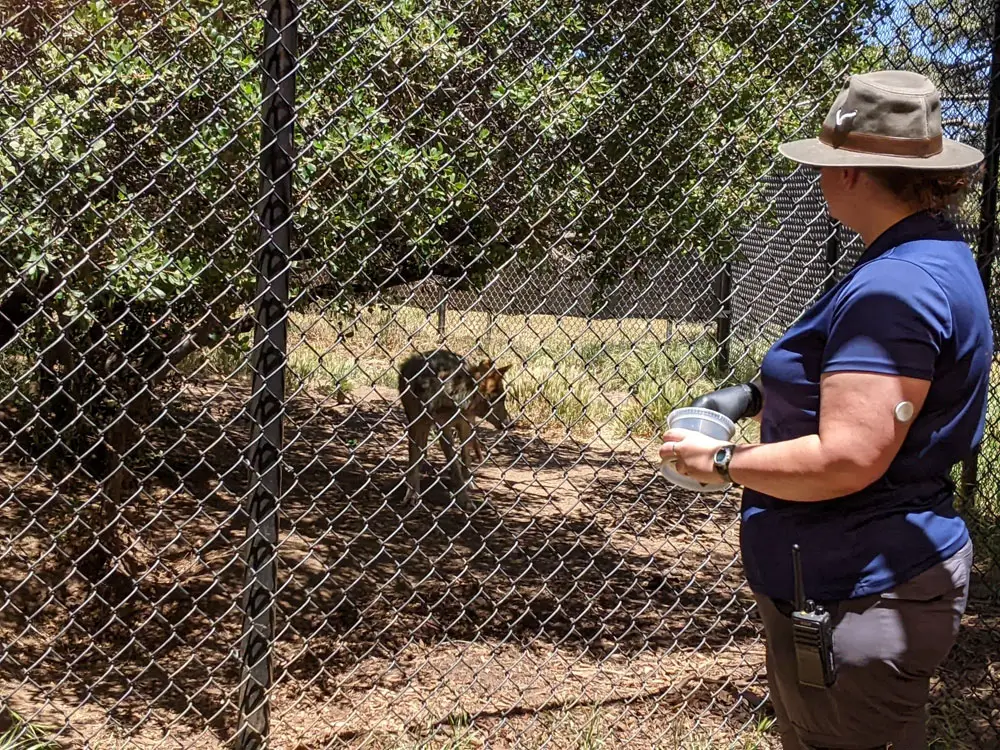 Dress in layers suitable for the season. Summers in Julian can be blazing hot. Shade hats are recommended. And wear sunscreen! The higher elevation means that you're more likely to burn even when the weather is cool. 
There are also big windy thunderstorms in the summer particularly in August during the 'monsoon' season. People who think that San Diego weather is always mild need to pay more attention to the lyrics of Albert Hammond's 1973 hit "It Never Rains In Southern California":
Seems it never rains in southern California
Seems I've often heard that kind of talk before
It never rains in California
But girl, don't they warn ya?
It pours, man, it pours
They also have true winter up in Julian with snow, ice, and the occasional blizzard. Boots, gloves, and heavy coats will help you enjoy the cold as much as the wolves do. Respect the weather and take precautions or you could have a truly miserable experience.
#4 Can You Pet the Wolves at the California Wolf Center?
You cannot go into the enclosures or touch the wolves at this California wolf conservation center. You'll be within 6 feet of the wolves, but there's always a barrier between the species. These animals are wild so there are high chain-link fences for everyone's safety and comfort. 
The aim of this facility is to raise the population of wolves and eventually return as many as possible to their natural habitat. And they cannot be rewilded if they look to humans for food and companionship. 
If you want a hands-on wolf experience (and maybe even get a wolf kiss) you'll need to go to Wolf Mountain Sanctuary. Unfortunately, that facility is 170 miles northeast of downtown San Diego in Lucerne Valley (San Bernardino County). It's three times as far as the distance to the wolf center in Julian. You'll spend 3 hours in the car, one way. It is also more expensive. Only their private tours (cost $150/person) permit you to enter the wolves' enclosure and touch them.
Photo and video policies are also much more restrictive at Wolf Mountain Sanctuary. Bring your camera and cell phone. But only the staff is permitted to take pictures or video record the wolves. Artists, photographers, and bloggers will need to consult their professional artists page for permissions and restrictions.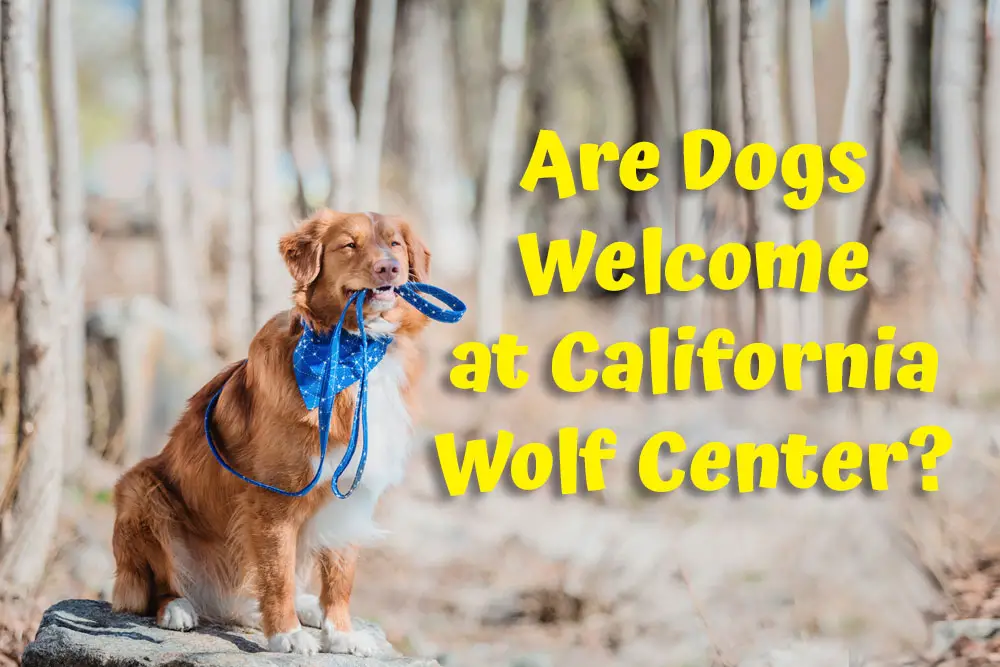 #5 Can I bring my dog to the California Wolf Center?
Pet dogs are not permitted anywhere at the California Wolf Center's Conservation Facility. You are not allowed to bring your pooch to the reserve or to leave them in your vehicle. They will ask you at the car rendezvous point if you have any pets in your car and you will be denied entry for tours if you do.
Licensed service dogs are okay to bring to this San Diego wolf sancturary. But please let the staff know that you have one when you make your reservation. Your canine helper cannot come with you to the viewing areas and will be kept in the office until you finish your tour.
Julian Animal Hospital is a good place to leave your dog while you see the wolves. They're open M-F at 8:00 AM and close at 4:30 PM. Their rates are reasonable. And they're only about a 10-minute drive from the meetup spot for the Wolf Center.
#6 Other Things Besides A Tour To See And Do Nearby
The primary attraction at the California Wolf Center's Conservation Facility is the wolf tours, and there's not much else. There is a small conference center and gift shop on-site, but their Nature Store in downtown Julian has a much better selection of things to purchase and look at. 
Go for a hike. The surrounding area features some of the best trails in San Diego County. You may need to purchase an Adventure Pass and display it in your vehicle if you're going to be hiking in National Forest areas. Here's a link to the best walking trails near Julian.
The following two trails don't require purchasing the Adventure Pass. If you're looking for an easy 1-mile walk, check out the Cedar Loop Trail at William Heise County Park ($3 county parking fee). For a bit more of a challenge head to the Volcan Mountain Trail. It's a 5-mile out-and-back and you'll be climbing 1,200 feet in elevation, but the views are wonderful. Bring water.
Drive to Inspiration Point Scenic Overlook in Desert View Park. Stretch your legs here with a short walk. Enjoy spectacular views down the steep Banner Grade to the Salton Sea. This is a great place to watch the sunrise. It's also one of the best places for stargazing because of Julian's Dark Sky initiatives. 
Go shopping in historical Julian for local goods, handicrafts, and gourmet food. And while you're there, check out their visitor center and store. I've reviewed it below.
#7 Where To Eat Near the California Wolf Center
There aren't any restaurants, grocery stores, or 7-Elevens within easy walking distance of the California Wolf Center's conservation facility. The nearest is at least 5 miles (8 minutes) away in either downtown Julian or Lake Cuyamaca. However, if you're visiting their Visitor's Center and Nature Store you've got a dozen eateries within a 3 block radius.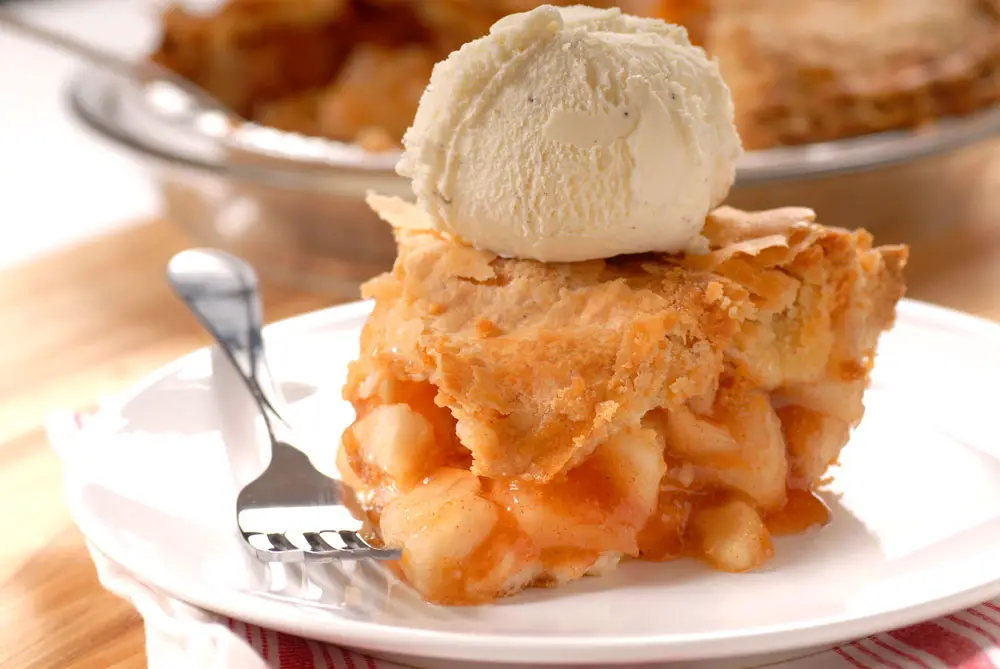 Eating in Downtown Julian
I like Julian Pie Company for the most delectable Julian pie experience. You can find their delicious desserts in grocery stores throughout San Diego county. But they're even better hot out of the oven! They do get crowded sometimes. Before you give up, check if there are spots on their shady back patio. Or just order your pie and ice cream to go.
If you're looking for lunch or an early dinner check out Miner's Diner. They serve nostalgic American roadside fare like burgers, fries, shakes, and handmade soda pop. It's jammed floor to ceiling with memorabilia from the 1950s and before. Look for the toy train running around the restaurant in the rafters. Explore the Candy Mine store in the basement to pick up a sweet snack for the road. 
Eating at Lake Cuyamaca
 The Pub at Lake Cuyamaca has upscale burgers and pub food like their yummy smoked wings and tri-tip sandwiches. Great views over the lake from their outside patio. Sunsets are spectacular. Bring a jacket. Sometimes the wind coming off the lake is chilly. 
There's also a small general store next to the Pub. It has snacks, soda, craft beers, a good wine selection, and camping supplies.
Eating in Laguna Mountain
Pine House Cafe & Tavern has drool-worthy food in a quaint log lodge setting in Mt. Laguna. Everything's good. But their French Beef Stew is savory, winey heaven. Bob and I like to share their decadent chocolate mousse topped with whipped cream, M&M's, and chocolate sauce. Carb overload! If you're driving back to coastal San Diego it's a delightful diversion.
Julian Visitor Center Nature Store and Gift Shop Highlights
Stopping in at California Wolf Center Julian Visitor Center and Nature Store is a fun way to learn more about wolves and wildlife conservation. It's an even better excuse for guilt-free shopping! You'll find unique gifts for family and friends who love animals and the outdoors and the profits go to support wolf conservation.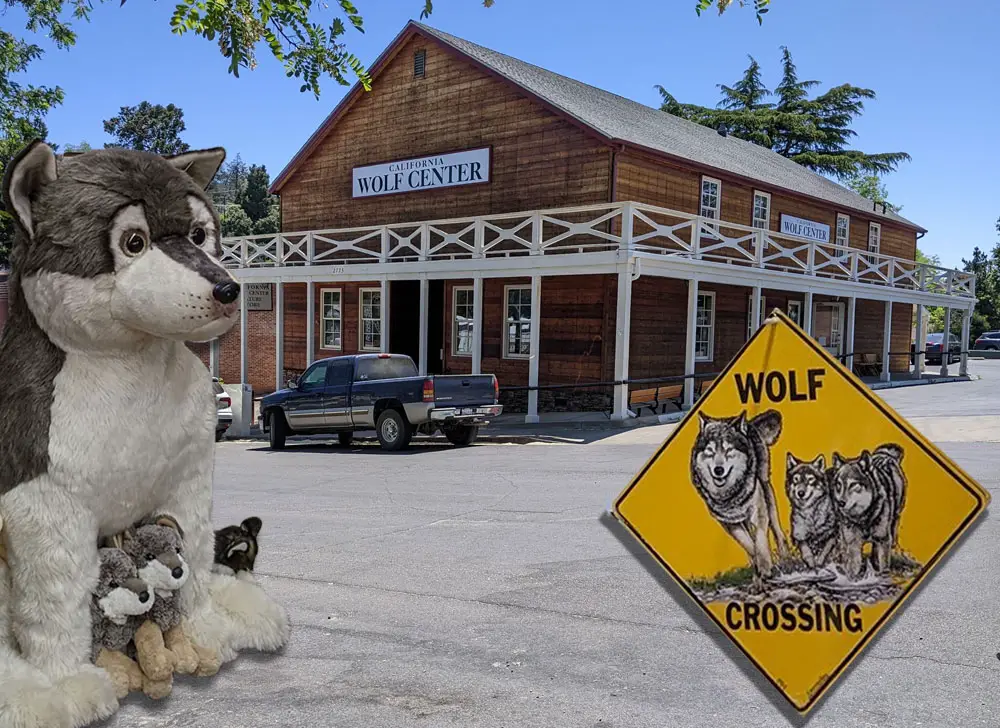 Educational opportunities at this shop range from a video on Mexican gray wolves, to books and guides to the local mountains. Don't miss the animal skulls. You can compare the sizes of various species of North American wolf skulls to those of dogs, coyotes, cougars, and grizzly bears. They even have a model of an extinct dire wolf skull. 
You can find gift items here for everyone on your list. There are postcards featuring the ambassador wolves at the conservation facility for less than $2. Wolf-themed t-shirts, hoodies, and socks are in plentiful supply. Pick up some wolfish snacks and coffee. Fine art like paintings and sculptures by local artists is placed throughout the shop. I fell in love with a bronze depicting a pack hunting at night. I didn't get it. I purchased a plush wolf toy instead.
Here are a few tips to make your visit to the California Wolf Center gift shop better:
There are no public restrooms here. The nearest is located in the back parking lot of Julian Town Hall. The fastest route is to go down 4th Street and turn into the alley on the left side of Fat Anthonys Italian Delicatessen. That's about 500ft. See the Google Map image below. 
Benches to rest your feet can be found on the west side of the building on the parking lot side.
The parking lot is bigger than it looks. It curves around the back of the building. There are about 15 car spaces in their lot.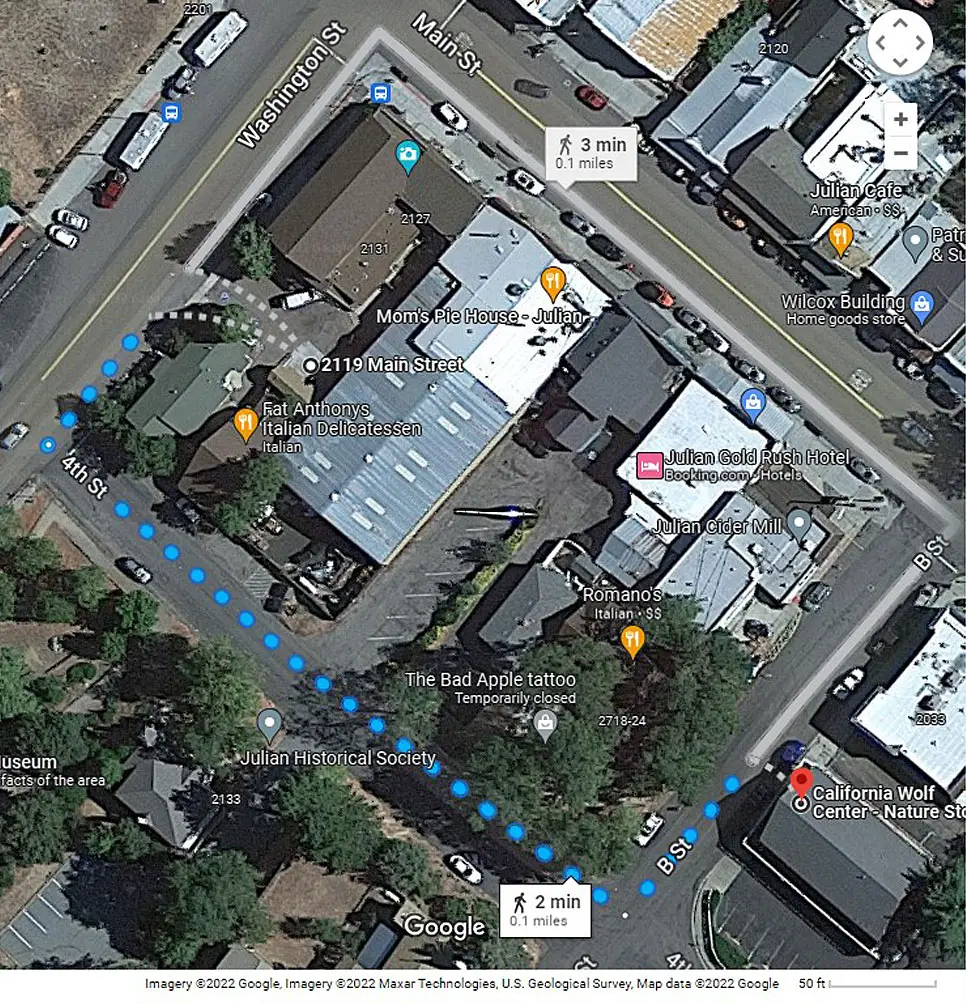 Where Else Can You See Wolves in San Diego?
Besides the California Wolf Center in Julian, you can see wolves on exhibit at the San Diego Zoo. But there are no known wild wolves in San Diego County…yet. 
*Save with a secret promo code on each San Diego Zoo or Safari Park 1-Day Pass. Go any day. Go directly to the gate. Click HERE to get your code, instructions & discounted tickets by email. By clicking the link above you agree to receive an automated email message. Valid only at aRes Travel, San Diego's local authorized ticket seller. Read my full privacy policy.
There are Two Wolf Species at San Diego Zoo
San Diego Zoo hosts two wolf species; the North American gray wolf and South American maned wolves. 
The long-legged, rusty-colored (and rather stinky) mane wolves can be found on exhibit at the Zoo's Polar Rim zone. They can be hard to spot. Check in the long grasses at the extreme left side of their exhibit.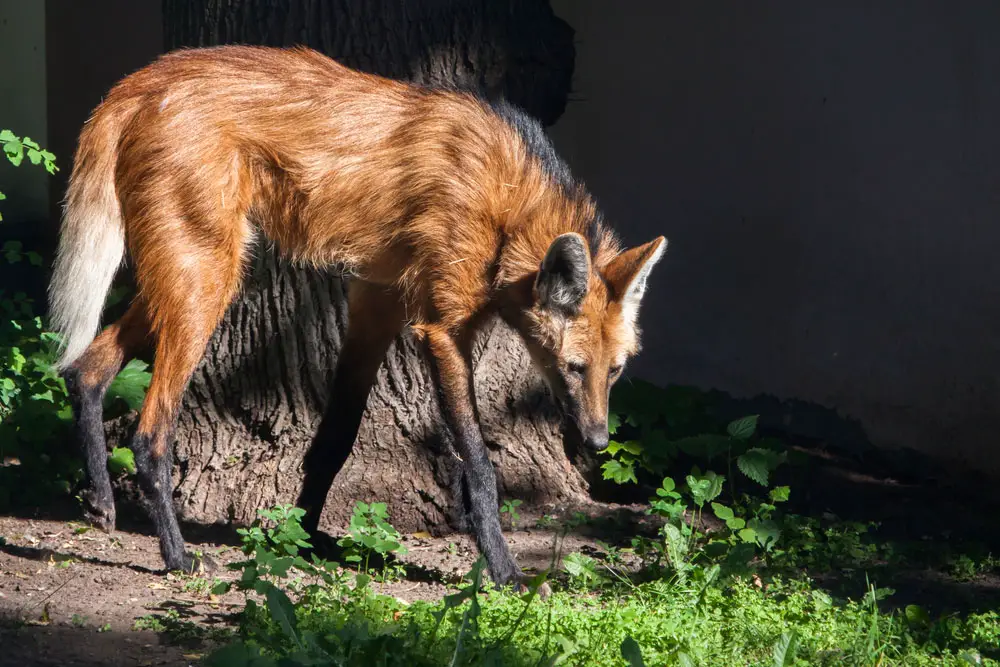 Several North American gray wolves serving as animal ambassadors are also at the zoo. They're usually off exhibit. If you arrive very early (maybe for a San Diego Zoo tour) you may get to see them being walked by their caretakers.
Are There Wild Wolves in San Diego?
There are no wolf packs living wild in San Diego. There are efforts underway to rewild Mexican gray wolves in the southwest, but most of the action is taking place on the border between Arizona and New Mexico in the Blue Range Wolf Reintroduction Area nearby the Fort Apache Indian Reservation. 
But the wolf is making a comeback and it's entirely possible that they will return to run free in rural San Diego soon. In the meantime, enjoy seeing them at the San Diego Zoo and California Wolf Center in Julian.