Enjoy San Diego kids' zoo Wildlife Explorers Basecamp as much as your kids do.  Discover discount tickets, what to bring, how long it takes, the best exhibits, and other tips to make your trip to this children's zoo a joy for everyone.
Below you'll find 10 practical suggestions and recommendations that will help you navigate your way to and through this section of San Diego Zoo. Let's start with whether it costs extra to see Basecamp and how to make your trip cheaper.
If you make purchases through the links in this post, I may be compensated. Read my Advertising Disclosure for more info. Thanks! ~ Nancy
*Save with a secret promo code on each San Diego Zoo or Safari Park 1-Day Pass. Go any day. Go directly to the gate. Click HERE to get your code, instructions & discounted tickets by email. By clicking the link above you agree to receive an automated email message. Valid only at aRes Travel, San Diego's local authorized ticket seller. Read my full privacy policy.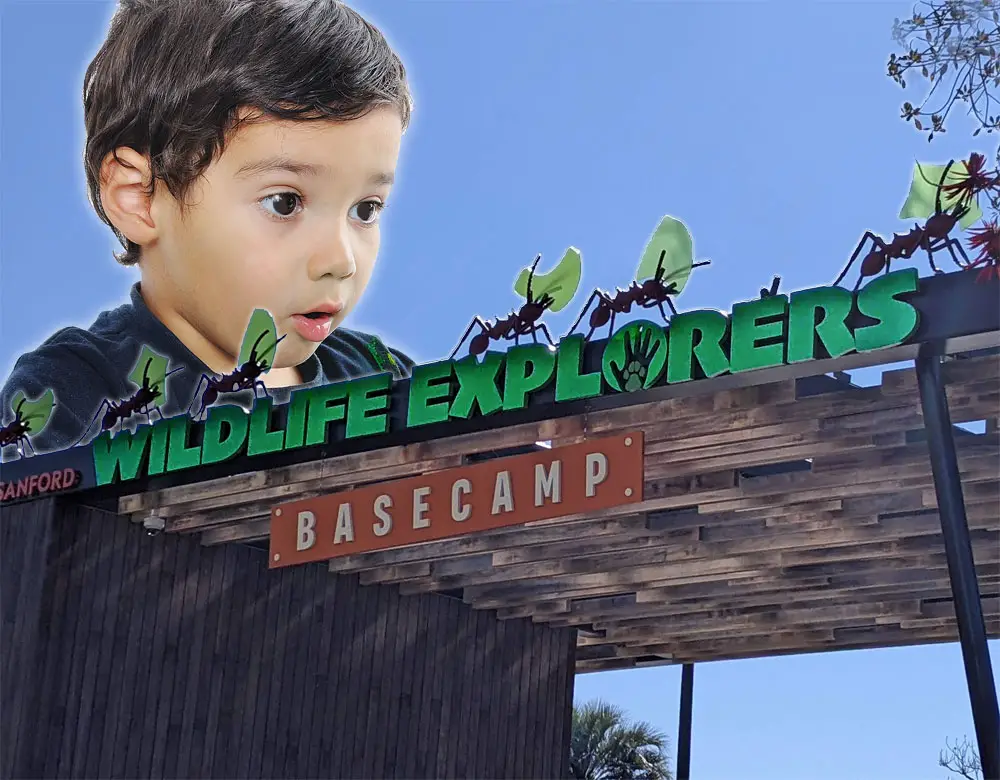 #1 See Basecamp For Less With Discount San Diego Zoo Tickets
Wildlife Explorers Basecamp kids zoo is free with any San Diego Zoo admission. Gate prices are $67 for adults and $57 for children under 12 years old. Discounts of 8% to 30% are available. Annual memberships and guest passes also work. Kids under 12 are free in October. 3-year-olds or younger are always free.
Since you don't need to pay extra for Wildlife Explorer's Basecamp, you're probably going to want to buy cheap zoo tickets. Right?
I collected every discount, coupon code, and freebie that I could find online and in print for San Diego Zoo and put them HERE. There are 30 different deals listed including valid promo codes. If you can't buy a cheaper zoo ticket, you didn't read the article. 
But if you don't feel like plowing through them all, try my favorite local authorized ticket source aRes Travel. They've got consistently good deals because they helped the zoo create its reservation system back in the 1990s. Because of their long track record, they're able to get the best terms on San Diego attractions and hotels.
Parking's Free for Explorer's Basecamp & San Diego Zoo
There is plenty of free parking for Wildlife Explorers' Basecamp at the San Diego Zoo. There's a large no-charge public lot across from the main entry gate. Getting to the zoo early on weekends and holidays will avoid a long walk back to your car with tired kids. This free lot is over a thousand feet long. It can take you 7 to 10 hot, sweaty minutes to cross the lot to your far parking spot.
If you cannot avoid coming later in the morning on busy days there is overflow parking by the Navy Hospital. A free shuttle will take you from there to the Zoo and back to your parked car. 
Valet parking is also available. It's definitely not free. But on very busy holidays it may be worth it.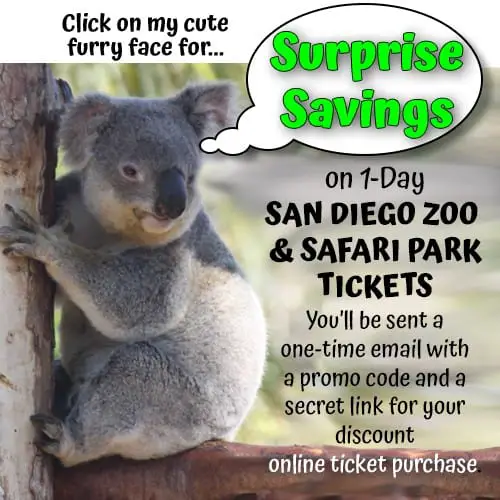 #2 October Kids Free Days at San Diego Zoo- Know the Rules
Being aware of the restrictions on kids Free in October will save you embarrassment and will allow you to spend less. Basically, children under 12 years old can get in free to see all of the San Diego Zoo which includes Wildlife Explorer's Basecamp. But there are some further limitations:
All children must be accompanied by a responsible paid adult 
There's a limit of 5 kids per adult
Many standard adult ticket discounts are not valid 
Unfortunately, your Southern California CityPASS, Go San Diego, and Balboa Park Explorer Passes are not eligible for special events like this. You also can't use a AAA discount because it cannot be combined with any other offers. 
You'll have to purchase a separate adult ticket. Click HERE for a discount code that will work on adult tickets during Kids Free in October.
EXPECT LONGER WAIT TIMES ON OCTOBER WEEKENDS. I recommend that you get to the Zoo early during October. Preferably when it opens. Wait times on Saturdays & Sundays can be up to 30 minutes.
Discover more kid fun for less! Check out my page where I uncover all the discount ticket deals at Sesame Place San Diego for you.
#3 Know What You Can Bring Into San Diego Zoo Kids Zoo
I wrote an ultimate guide on what you can and cannot bring to the San Diego Zoo. Read it HERE. But if you just want a summary you can find it below.
San Diego Zoo permits carrying in items that are animal-safe. Food and non-alcoholic drinks are ok. No glass containers or straws. Strollers, coolers, & luggage are fine but must be sized correctly or stored. Camera accessories like tripods must be compact. No pets allowed, only working service animals.
You can bring snacks, lunches, water bottles, and any other food or beverages into the zoo that can be carried by a single person, within reason. Large family coolers are not allowed. Zoo food can be rather expensive. So this is a great way to conserve cash. Looking for more savings? Check out my San Diego Zoo cheap tickets page.
Stroller Rules for Basecamp
Almost any kind of kid wagon, pram, or baby carriage is allowed in the San Diego kids zoo. And you'll want it. A couple of hours in this place can tire out even the most energetic tykes.
The only drawback to bringing a baby stroller is the strong automatic door closers at the entry and exit points for the Cool Critters and Spineless Marvels buildings. Have someone help you hold the doors open while you pivot your little people mover through. If you're not traveling with another adult, one of the Zoo team members will be glad to assist you.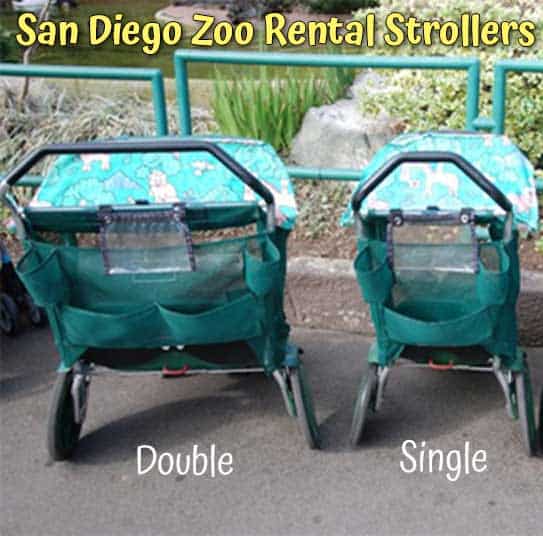 Stroller, wheelchair & scooter rentals are available near the Zoo's entrance. Turn left on Front Street and look for them on the left side of the street. 
There are limitations on the size and use of strollers in some of the Zoo's other areas and rides. Read more specifics in my article HERE. 
You can store luggage or other items for a fee. Rented lockers for smaller items are available on the way to Basecamp San Diego kids' zoo. The attendant will also mind your larger pieces. You can find this storage area if you take a left on Front Street after you enter the Zoo. They're in a little doorway to the right of San Diego Craft Beer & Margaritas.
Are bikes allowed in San Diego Zoo Children's Zoo?
Bicycles (either for kids or adults) are not permitted inside any part of the San Diego Zoo. There are bike racks where you can lock them up at the rideshare pick-up point close to the restrooms by the Rex lion statue. You can also find some at the picnic tables just outside the zoo's exit. If you have any trouble finding the bicycle storage spots, just ask any zoo employee to help.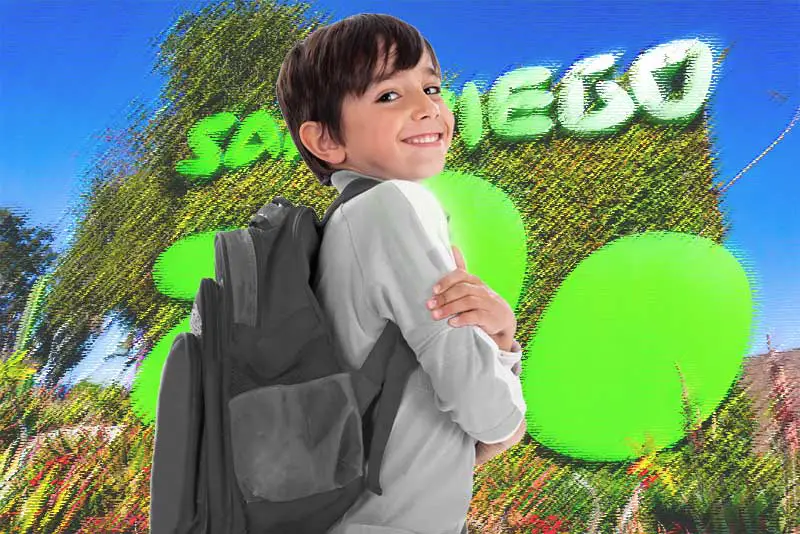 #4 Pack These 10 Items for San Diego Kid's Zoo
A lightweight backpack. Backpacks big and small are allowed in San Diego Zoo. Ideal if you don't have a stroller for all your gear. It may be tempting to have the kids carry their own treats and drinks. But a tyke's rucksack may get soaked or left behind as they crawl, and clamber into Basecamp's tunnels and water features. It's probably best if you manage their gear. 
Fluffy, absorbent towels. At least one. Your kids are going to get WET.
A change of clothes for the kids. The splash pads here will be one of your kids' favorite activities at Basecamp. The zoo has people dryers for a $3 charge. But count on spending at least $6 or your kids' clothes will still be moist.
Plastic bags for wet clothes. This will keep all of your other possessions dry.
Extra sunscreen and lip balm to re-apply after splash pad play.
Flat, comfortable, firmly attached footwear. Wearing running or workout shoes is best. They should not hurt or pinch your feet in any way. You'll be walking a lot!
A large water bottle. There are numerous places in this children's zoo where you can buy beverages. But you'll pay dearly for a drink.
Small lunch cooler with ice packs. Save money by bringing your own food. Store sandwiches, cheese sticks, fruits, veggies, breast milk, or infant formula safely.
Hand sanitizers and wipes. The zoo's cleaning crews are diligent and active. But kid hands (and snot) go everywhere! Enough said. You get the idea. 
Cell phone charger/battery. Photos and especially videos drain batteries quickly. If your power's running low and you don't have an extra battery, consider turning off cloud storage. Your phone's competing with potentially hundreds of other devices. Avoid the bandwidth power battle by temporarily storing your data locally.
Packing the kids and all their gear for a trip to the Zoo can take up to an hour or more. It's stressful. You'll want to get to the Zoo and Basecamp when it's least crowded and best for your children. So when should you schedule your visit to San Diego Zoo kids zoo to maximize the fun? 
#5 The Best Time to Visit Basecamp Depends on Your Kids' Ages
If your children are 5 years old or younger do the San Diego Zoo kids zoo in the afternoon, after you've seen some other animals in the park. If the kids are older, go see Explorer's Basecamp first. 
If you do the kids' zoo first, your toddlers and small children may be exhausted and crabby the rest of the day. You'll also be carrying heavy wet clothes and towels. That will make you grumpy. If you see the other zoo areas first, your kiddos will probably fall asleep in their stroller on the way back to your car. They may actually doze all the way home or to your lodgings!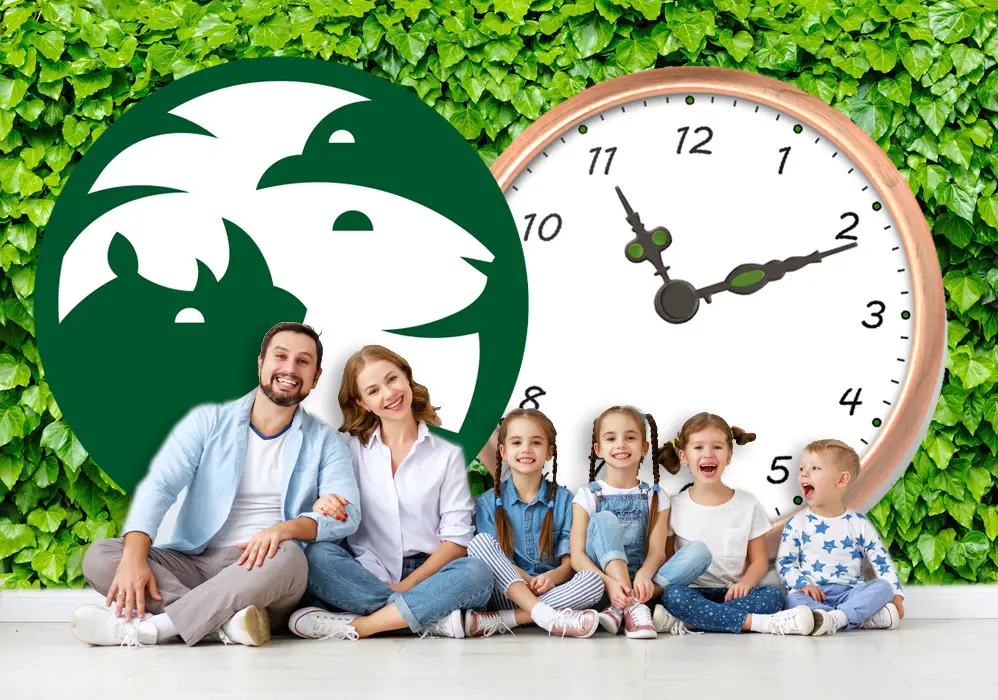 Take kids older than 5 years old to Basecamp when you first get there. They're old enough to enjoy the video games and interactive displays in the invertebrate and reptile buildings. Shortly after opening the zoo's less crowded. There will be shorter lines for the popular electronic games and activities. And if they do go to play in the splash pad they're not going to get as cold if the air is a bit chilly.
Read my best times to visit the zoo article for daily, monthly and seasonal tips. But to summarize, the zoo is least crowded mid-week from November thru February. It is usually better to arrive before it opens at 9:00 AM. There will be fewer people jostling you and many of the most popular animals like koalas and the big cats are crepuscular. That means that they're most active at dawn and at dusk. 
For special needs kids or to just have a less crowded experience, check out the "Early Morning Explorer's" tour. I've written an article comparing it and all of the other San Diego Zoo tours HERE.
So how much time will you need to visit San Diego Zoo's children's zoo?
#6 You'll Need 1 – 4 Hours to Go Thru San Diego Zoo Basecamp
There's so much to see and do at Wildlife Explorers' Basecamp that it is difficult to do it justice in an hour. And your younger kids may want to play there until they're exhausted and ready to go home. So maybe 4 hours tops?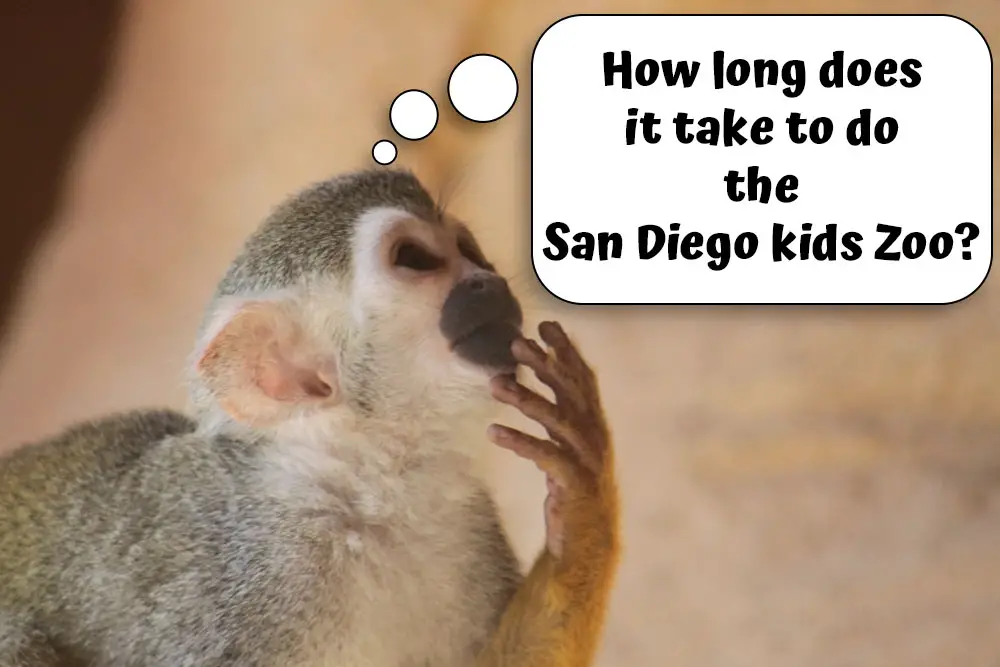 If you're an adult, don't skip this kids' zoo area. The exhibits are beautifully designed with detailed explanations on the video information panels. The poster-like graphics are colorful and clever. You just may find yourself drawn into close-up examinations of claws, skin, and teeth or trying to spot the hidden wildlife.
Basecamp is a wonderful source of inspiration for artists and budding creatives. It gives you a new perspective on creatures and environments that you may have taken for granted (or actively avoided). 
San Diego Zoo Children's Zoo Is 3.2 Acres of Activities
Another reason to plan for at least an hour at Explorers Basecamp is that it is spacious and packed full of things to do and see. 
This childrens' zoo is divided into four environments; Rainforest, March Meadows, Desert Dunes, and Wild Woods. There is no simple way to see it all without doing some backtracking (I've tried and have asked zoo employees too). It's also easy to miss the ground floors of both the reptile and invertebrates buildings. And they should be seen at least once. 
So which are the best San Diego Zoo children's zoo exhibits? And which should you skip?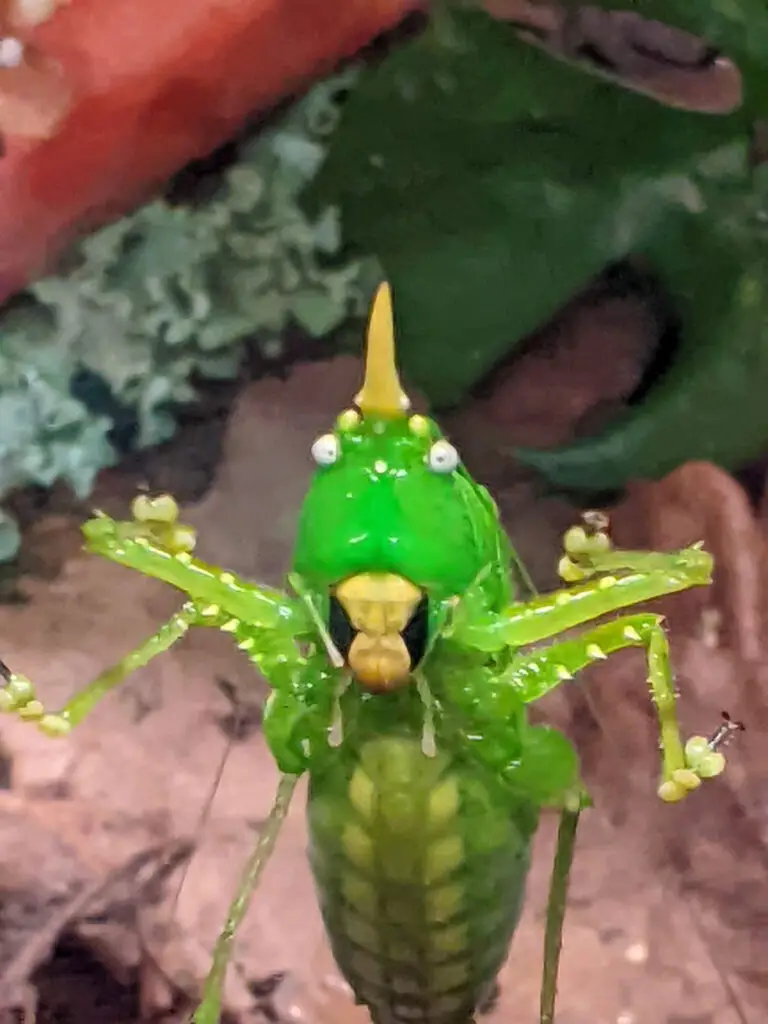 #7 Avoid Phobia Triggering San Diego Kids Zoo Exhibits
One person's fascination is another's source of paralyzing fear. There are many snakes, reptiles, insects, and spiders on display at Explorers Basecamp at the San Diego kids' zoo. Unfortunately, these animals are some of the most common anxiety and panic triggers.
This is not the time to give your kids (or yourself) some exposure therapy to try to 'cure' them. This can just escalate the problem. Get help from a trained professional instead.
To minimize known anxieties at Basecamp, simply avoid them and take a shaded bench break outside. Below I've summarized what is in each of the 4 main sections of the San Diego kids' zoo. Some of the 'best' exhibits for others will be ones that you or your child should avoid. Read on and you won't be unpleasantly surprised.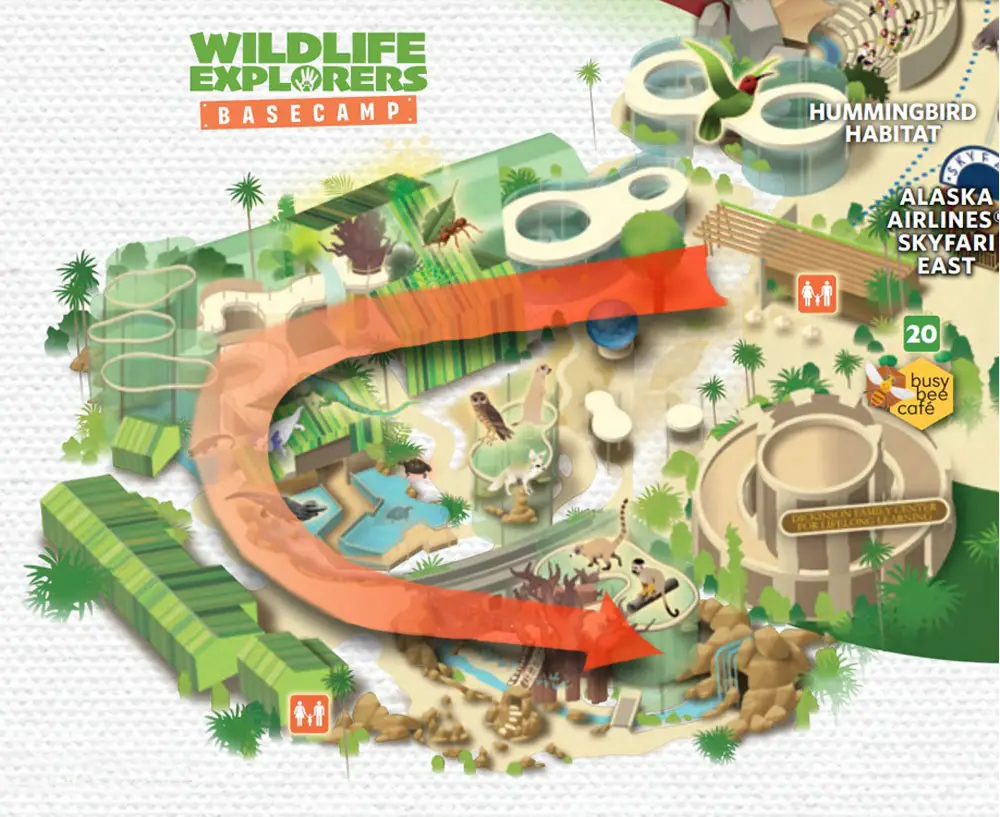 #8 Travel Counter-Clockwise For The Best Basecamp Experience 
Start with the blue earth globe fountain and keep to the right, especially if you have kids 5 years old or under. You'll visit the Wild Woods area last. This way you'll see more with less fuss. That's because once your youngsters enter Wild Woods and discover the splash pads and play areas they won't want to leave. And when they do they'll be soaked! 
The order that's best to see Wildlife Explorers Basecamp is:
Blue earth globe fountain
Spineless Marvels building
Rainforest
Cool Critters building
Marsh Meadows
Desert Dunes
Wild Woods
The list order is more of a guideline than a strict path. It's based on recommendations from zoo employees. They've also told me that there is no way to avoid some backtracking if you want to see everything.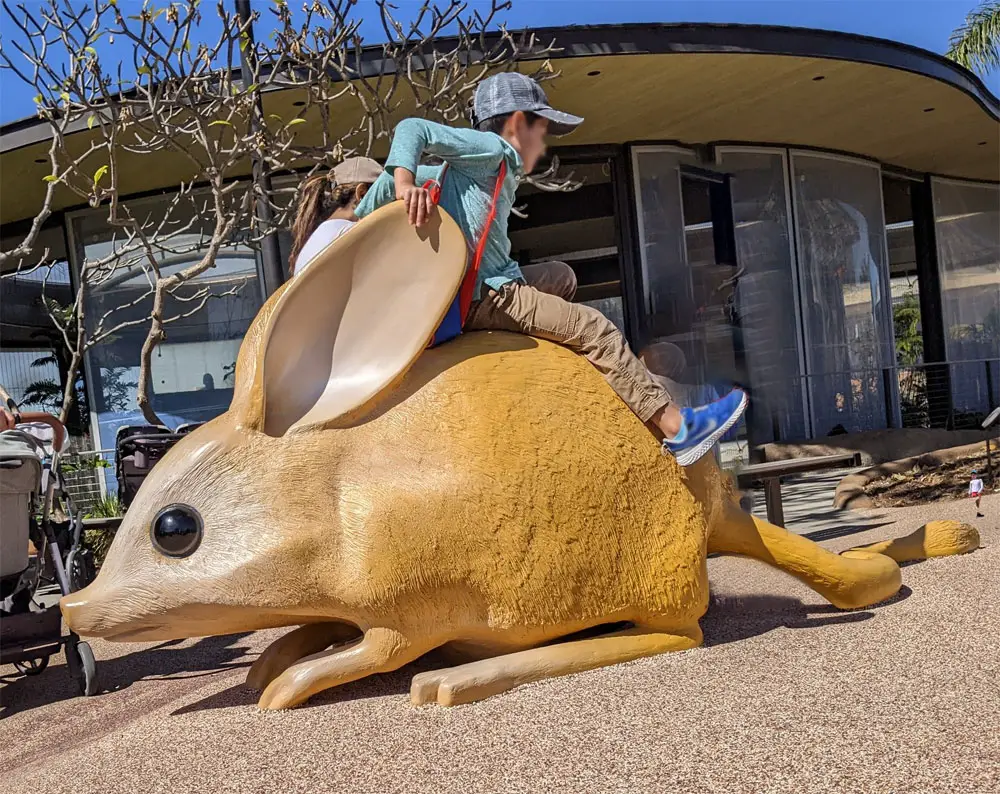 Let Your Kids Spin the Earth and Ride a Rat at Basecamp
You enter the Wildlife Explorers Basecamp children's zoo in the Desert Dunes section (which I'll talk about more later). Here your youngsters can climb on, through, and under multiple kid-scale play sculptures. You will get the cutest photos of your kids on the big-eared desert rat (10 times life-size!) and desert rain frog sculptures.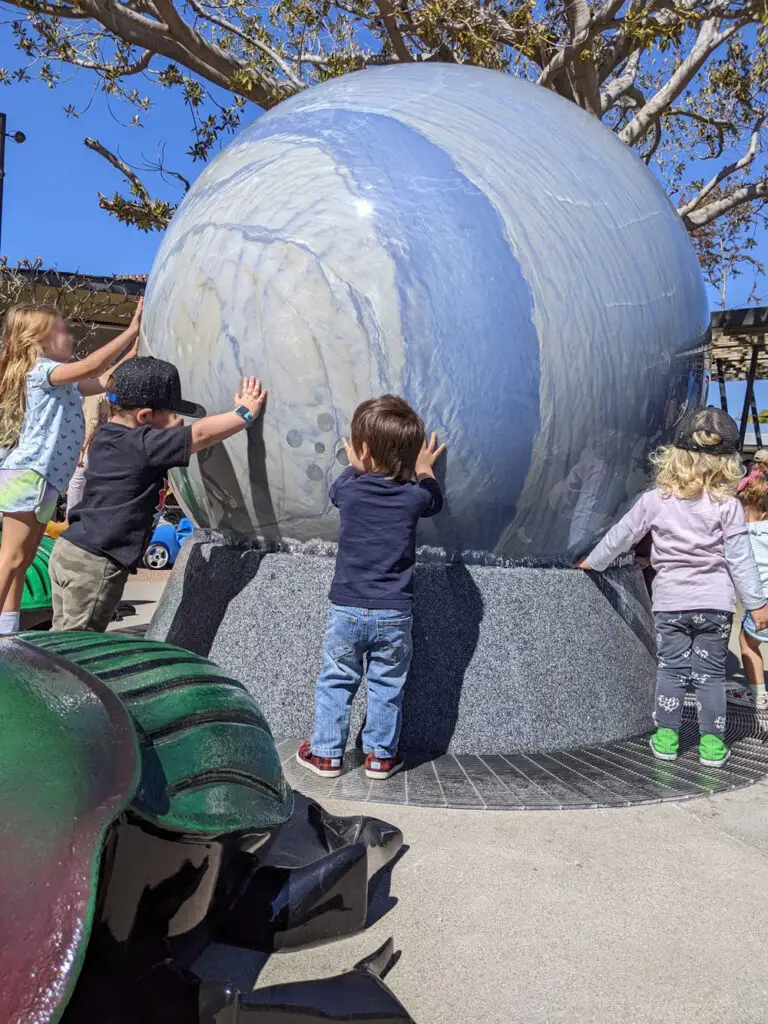 The 7-foot-high blue quartzite globe is a magnet for kids (and adults!). It's one of the first things you'll see when entering the children's zoo. It rests on a thin layer of water flowing out of its pedestal. And it's so perfectly balanced that even a toddler has the strength to give it a spin.
Top Rainforest Basecamp Kids Exhibits & Activities for Kids
The McKinney Family Spineless Marvels building is the first that you'll visit in your counter-clockwise journey through the San Diego kids' zoo. You enter on the top floor.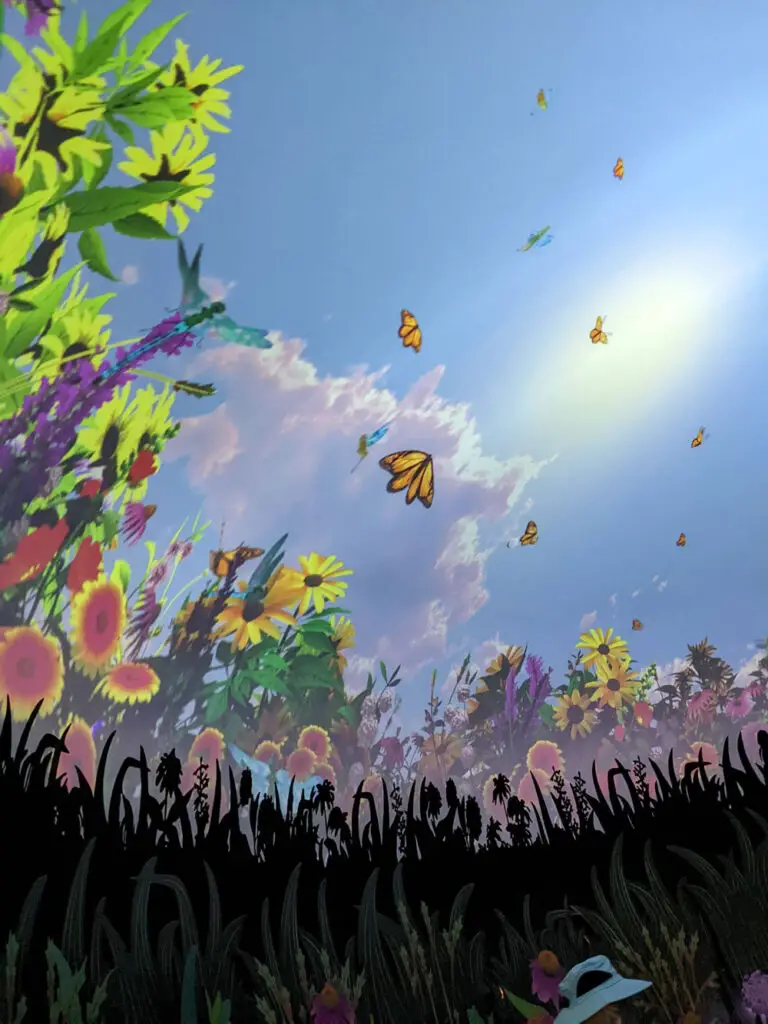 Take some time to appreciate the artistry of the Migration Flyover Experience just after you enter.  It gives you a bunny-level view of a large meadow. You'll see giant graphic flowers all around you and an animated domed ceiling with butterflies and other insects flying overhead. It has a soft floral scent that makes it smell as beautiful as it looks.
The Western honey bee exhibit has a huge honeycomb structure that smells a bit like beeswax. It has a large window where you can view beekeepers at work. 
There are also two red-lit rectangular windows with views into the beehives. They are at toddler height and always have a bunch of kids looking into it. There's something horribly mesmerizing about being close enough to touch swarms of bees crawling all over each other. (I'm allergic to bee stings. So this exhibit made me a bit nervous.)
Older kids will like the interactive digital game table where you're a honeybee. You collect pollen and water. And fetch poo to fertilize the flowers so that you can make honey.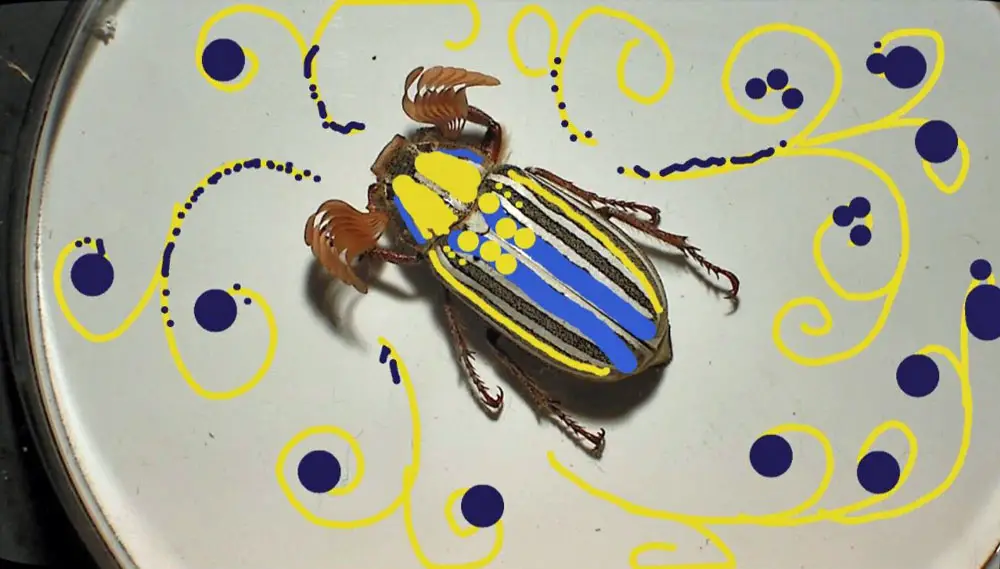 Stop by the microscope table where you can rotate a turntable to get close-up views of bug wings, legs, and other insect parts. You view them on your own video screen and can adjust the magnification and focus. You can also add digital paint to the images. Email them to yourself for a fun and free souvenir of your visit. 
Before you leave the top floor of the Spineless Marvels building there's a butterfly atrium with a two-story faux ficus tree. It has ferns and other plants planted in planters within it. The plastic chains over the doors are there to brush the flying critters off you before you leave the building. Take a spin in front of the mirror just before you exit the building to catch any hitchhikers.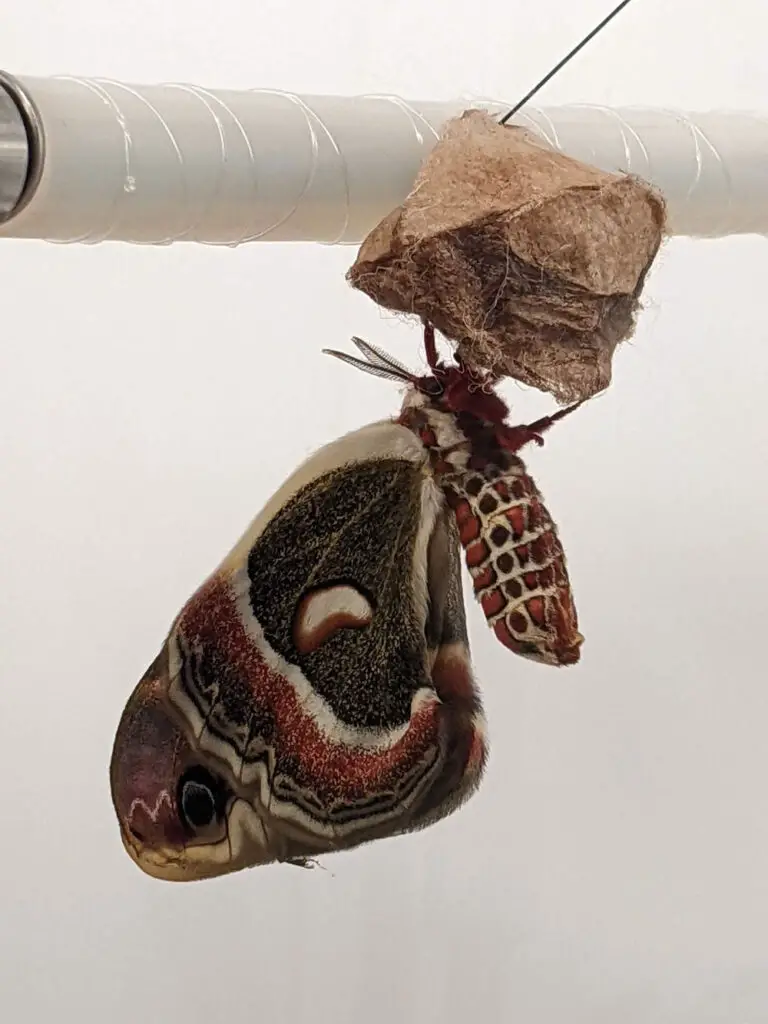 Once you leave the top floor of the Spineless Marvels building you can either go down the stairs to see the bottom floor or continue over the bridge to the Cool Critters reptile exhibits. There's also an elevator immediately to the left of the exit doors that will take you down also.
You may want to skip the bottom level of this building if spiders make you uncomfortable. The hand-palm-sized Golden Orb-Weaver spiders are located here…and there is no glass separating you from these arachnids. I've been assured by zookeepers that these spiders don't leave their webs. But this exhibit will make arachnophobes very uncomfortable.
If spiders don't bother you the ground floor of Spineless Marvels is full of fascinating creatures. In addition to big hairy tarantulas, you'll see a leaf-cutter ant colony, stick insects, coconut crabs, and scorpions. The naked mole-rat exhibit is also here. You can see into their hive-like burrow and watch them scurry around caring for their queen.
More Rainforest exhibits can be found between the Spineless Marvels and Cool Critters buildings. Try to spot the ocelot in one of three ambassador animal habitats that can either be viewed from the tropical bridge or at ground level.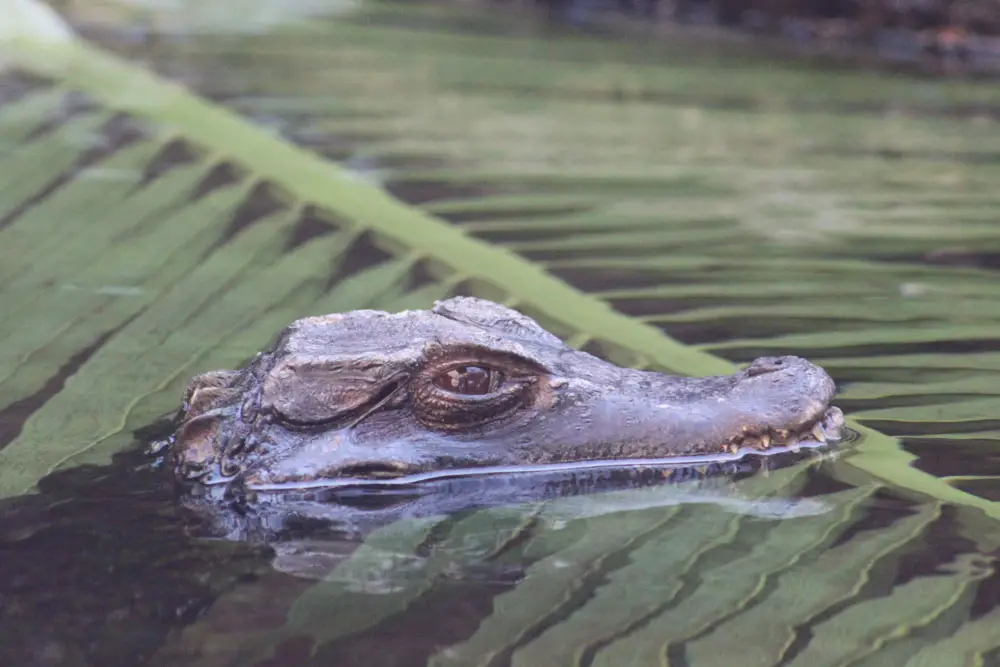 Don't miss the miniature crocodile-like caimans as you enter the Cool Critters building. They're about a yard long and can easily be mistaken for floating logs. 
Marsh Meadows Basecamp Zoo Exhibits That You'll Like Most
The Art and Danielle Engel Cool Critters building is full of reptiles, amphibians, fish, and other marsh dwellers. The top floor has hatching and 'reptile restaurant' food preparation areas that are open to public view. Somehow I never thought that crocodiles needed chefs. They really do pamper the animals at the San Diego Zoo.
On this level, there are also three video microscope stations with various reptile body parts like snakeskin, teeth, toenails bones, and rattlesnake rattles. Examine them by using two yellow slider levers on the microscopes. The top one's for zoom the bottom one is for focus. View the specimens on the large video screens and customize them with digital color brushes. You can email your creations for free to yourself as a memento.
The bottom level of Jake's Cool Critters has plenty of slithering critters in a simulated underwater environment. One of the most popular with the smallest kids is the pink and white Axolotl. The almost foot-long water salamander looks like it is smiling all the time.
Older kids will like the interactive digital game table. I entertained myself by trying to keep my digital turtle alive in a swamp for 20 minutes.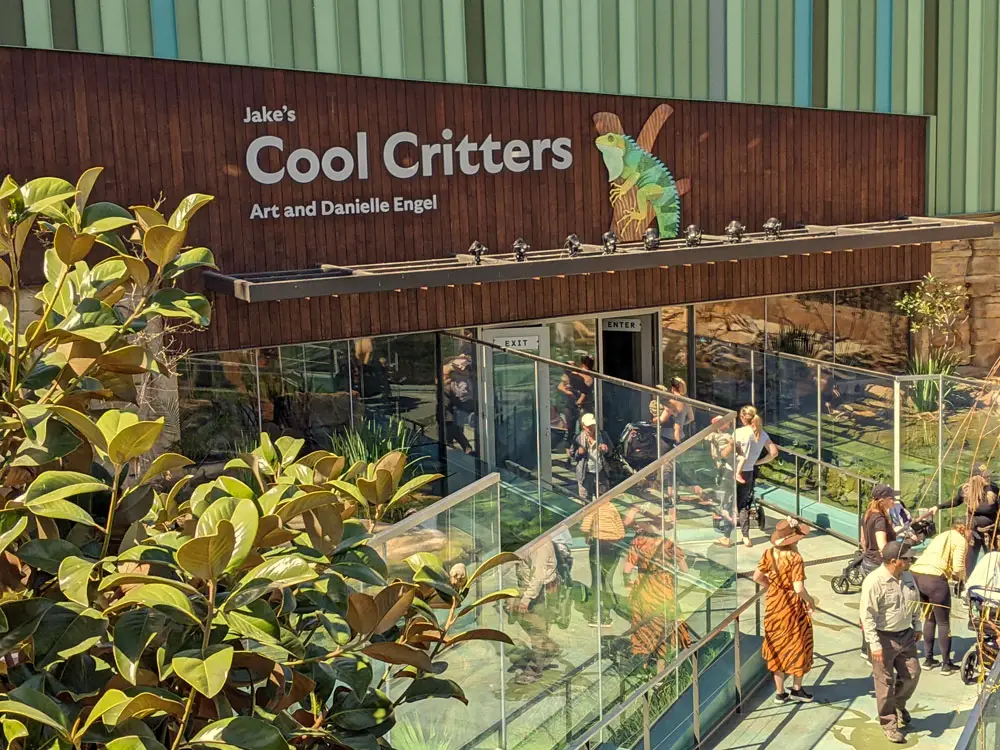 Outside of the bottom floor of Cool Critters, you can walk through flooded marshlands without getting wet. Try to spot the turtles, crocodiles, and fish in the weeds.
After you exit the marsh exhibits you'll reenter the Desert Dunes area.
Desert Dunes Basecamp Features Your Kids Will Love
The Desert Dunes area of the San Diego kids zoo has many opportunities for kid play in addition to the larger-than-life-size animal statues and globe mentioned previously. 
The rope and rock climbing attractions are very popular. They're also very safe if your child stumbles because the ground is a rubberized 'stone' surface.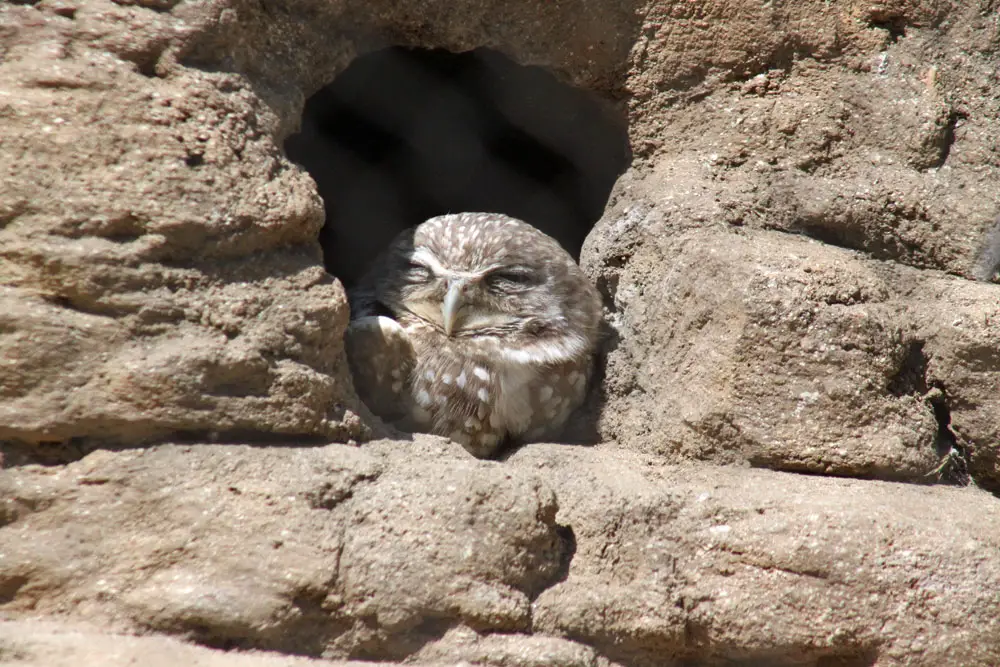 This area also features 3 of the cutest animals that you'll find in the entire zoo.
Prairie Dogs – Kids (and adults) love watching the prairie dogs stuff their cheeks with deer grass and lettuce and then scamper off to their burrows. 
Burrowing Owls – These 10 inch high, fluffy, big-eyed birds live in the same enclosure as the prairie dogs. They'll melt your heart with their megatonne adorable gaze. 
Fennec Foxes – Next door you'll find these small canines with their gigantic ears. They're like anime drawings come to life. If you don't see them right away, check in the little caves in their exhibit. 
Adjacent to the owls, prairie dogs, and foxes there's a tunnel through a stone bridge. It leads to your last, and probably longest stop at San Diego children's zoo — Wild Woods. 
Wild Woods San Diego Kids Zoo Exhibits You Shouldn't Miss
Leave plenty of time for your kids to explore Wild Woods in Wildlife Explorers Basecamp, they'll need it. There are so many fun activities that I will not be surprised if families with annual passes make weekly visits here and see nothing else at the zoo. 
There are two species here and both are fun to watch. The coati are raccoon-like critters with long snouts that chase each other through their exhibit over rocks, branches, and ropes.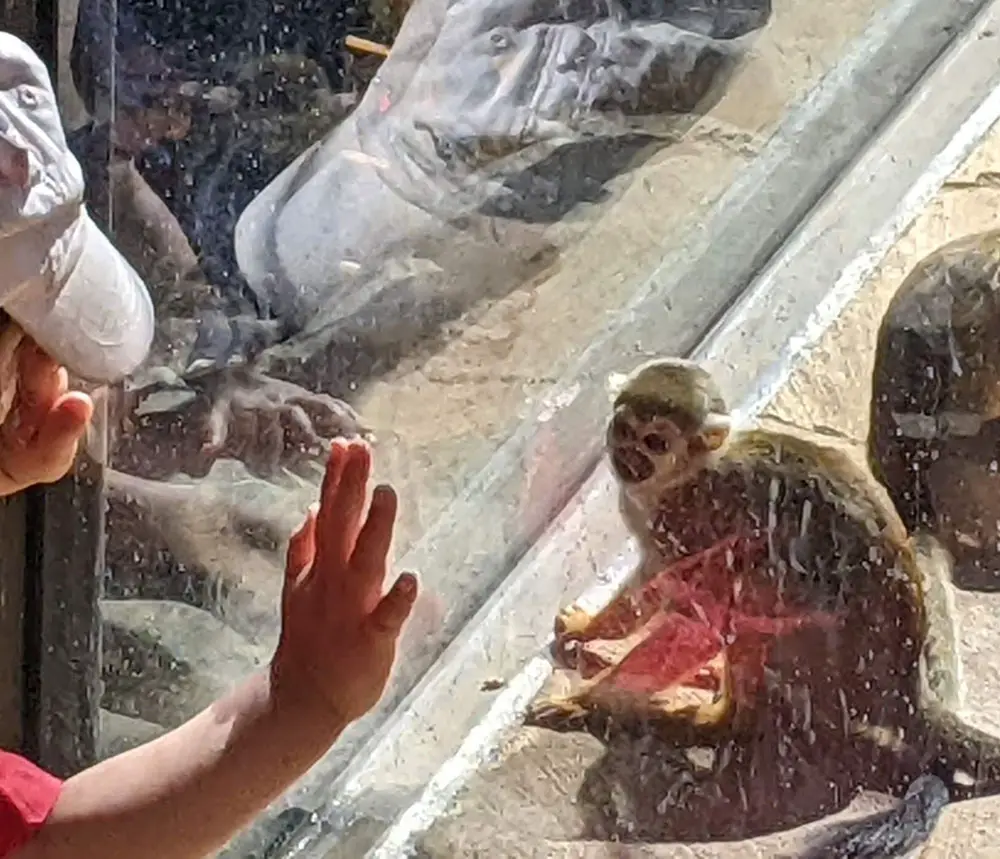 In another habitat, foot-long Squirrel monkeys climb and leap between branches like joyful mini ninjas. Sometimes the little primates stop to take a curious, close-up look at the little apes on the other side of the glass. Take photos of your kids with the monkeys. The glass will probably be dirty. Between the kids and the monkeys, it will be streaked (like mine above). Don't worry about it. You're looking for photos to capture memories, not National Geographic perfection.
The center of this area is a 20-foot tall oak tree play structure that children can climb on, through, and around. There's also:
A rope suspension bridge
Net tunnel
Spiral staircase
Boulder climb
See-thru rope deck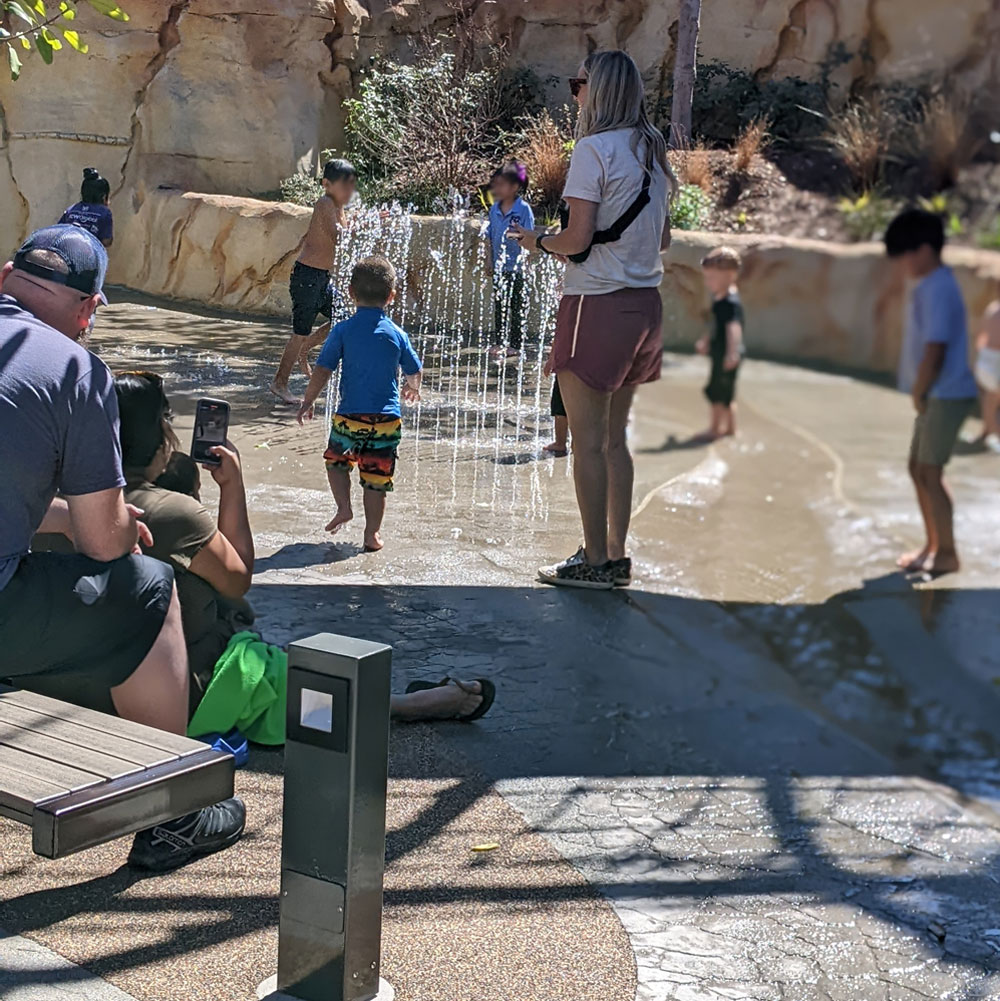 And then there are all the water fun features. They are the reason why I suggested that you end your visit to the San Diego kids' zoo here. Between the waterfall, stream, jump jets, and the 3 circular water wall jets game area your kids will not want to leave. And when they do, they'll be soaked and exhausted. 
You, on the other hand, will have rested on the benches just out of reach of the splash zones. You'll have the energy to corral your little wet monsters. 
Fortunately, you don't have to worry about carting wet kids home. The zoo has two 'people dryers' here. They're located at the end of the V-shaped rope bridge. For a $3 credit card charge, you can dry a family of four using their infrared heat lamps and blowers. So worth it! 
Then head up to the restrooms located about 50 feet west of the dryers. There everyone can change into dry clothes for the rest of their day. 
San Diego Zoo Kids Petting Zoo – Where is it?
San Diego Zoo does not have a petting zoo anymore. But their sister facility, Safari Park in Escondido, does. Their Petting Kraal is stocked with gentle pygmy goats that kids can touch and brush. For this reason, you may want to visit both parks. Buy discounted 2-Visit Passes from my favorite local authorized ticket seller aRes Travel and go there for less money. 
The closest you'll get to touching animals at Basecamp is when zoo workers bring out claws, scales, bones, and other items for guests to examine. This is more likely to happen on the top floors of the Cool Critters reptile and the Spineless Marvels buildings. 
Also, watch for presentations on the stage in front of the Rady Ambassadors Headquarters. Kids can get close-up views of a two-toed sloth, a prehensile-tailed porcupine, and maybe even an ocelot.
Read my page HERE to discover more about holding and touching animals at the San Diego Zoo and Safari Park.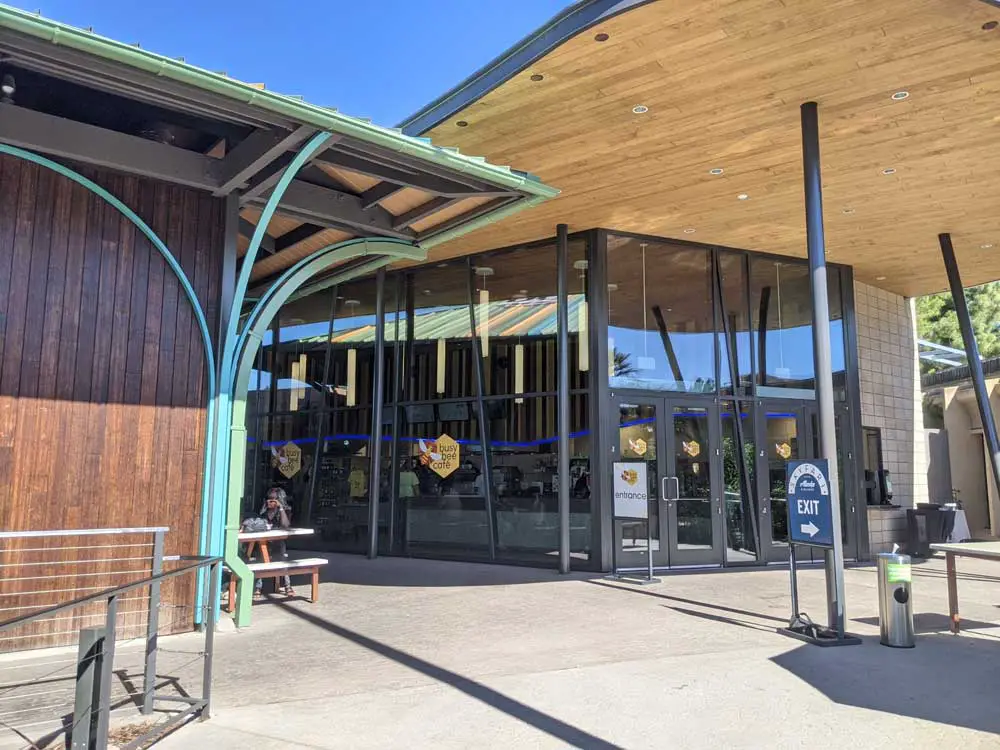 #9 Eat at Busy Bee in Explorer's Basecamp San Diego Zoo
Busy Bee is the only restaurant located inside the San Diego kids' zoo. They've got family meals specials, hot dogs, hamburgers, pizza, wings, chicken, vegan, and desserts. Check the zoo website menu listing HERE for all the options.
They've got some family-friendly features like table buzzers/beepers that let you relax until your food's ready. And there are plenty of shaded picnic tables where you can eat.
The most popular entree at Busy Bee is the Double Trouble Burger. It's got two big beef patties, white cheddar, tomato, lettuce, and remoulade sauce on a fluffy brioche bun. It comes with shoestring potatoes and aioli dipping sauce. It's a delicious mess and big enough for two. 
Their honey bun is also delicious. Its made with croissant fluffy dough with a honey-drizzled glaze.
San Diego kids zoo does sell beer here. You can buy draft beer and other adult beverages like Cadillac Margaritas and Micheladas. There's a larger selection at Busy Bee Cocktails which is located just outside the Basecamp gate in front of the Skyfari entrance. Check out their drinks menu.
If you're craving something different or a more formal dining experience read my article on all of the restaurants at the San Diego Zoo. I detail what's served at each of the 27 other eating spots and what I like best there.
Before you and your family eat at Busy Bee, you'll want to wash up and probably go potty. Read on to find out where the 'necessaries' are.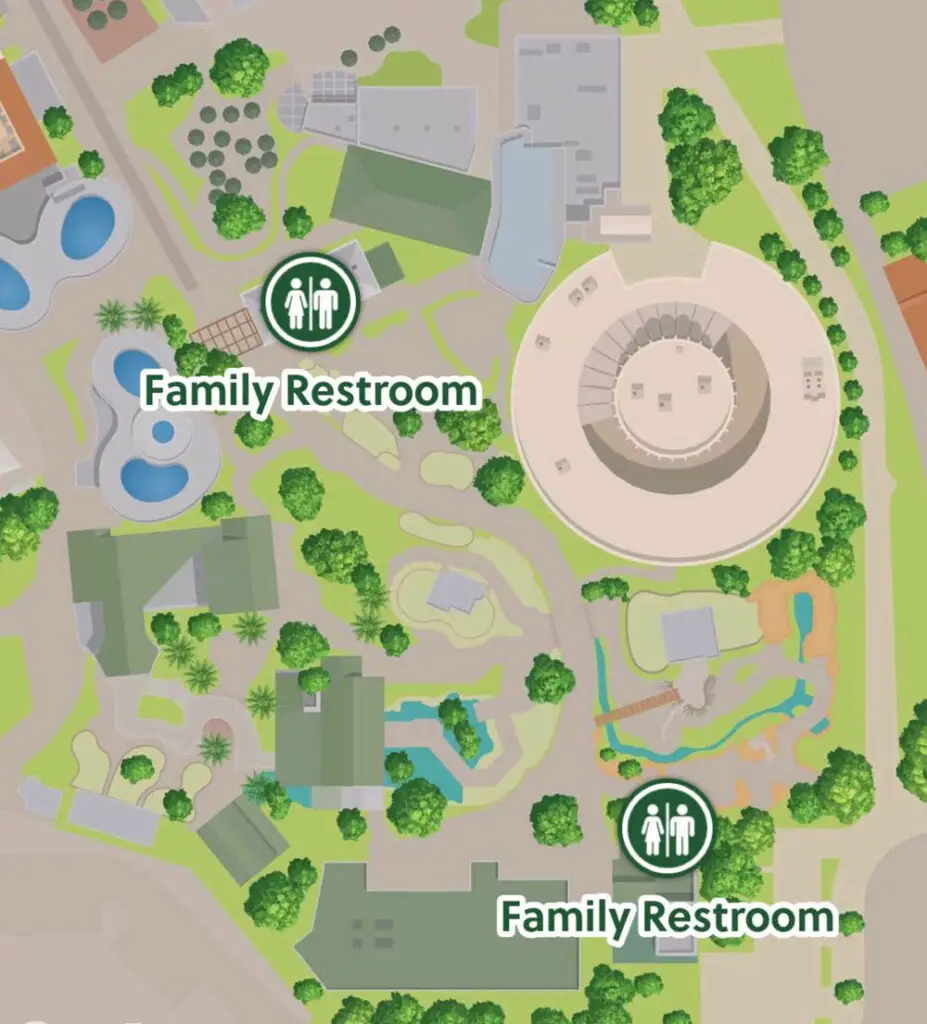 #10 Map Bathrooms and Rest Spots at Basecamp Before You Go
There's a good reason why one of the first phrases you learn in a new language is "Where's the bathroom?" Knowing where the nearest potty spots and good rest areas are can be the difference between a great day and a miserable one. Here's a short summary of what's available at Wildlife Explorers Basecamp.
Bathrooms at San Diego Kids Zoo — Locations and Features
There are two restroom buildings located in Wildlife Explorers Basecamp. 
The first is in the same structure as the entry gate with its nine leafcutter ant sculptures on top. Take a hard left just after passing through the gate. These are the closest facilities to the Busy Bee restaurant and are ideally placed for cleaning ketchup-covered kiddos. 
There are three restrooms at the kids' zoo gate with separate men's, women's, and family/wheelchair-friendly facilities. The women's bathroom has a nook with a fold-down changing table which makes changing dirty diapers easier.
The second restroom structure is at the very back of the San Diego kids' zoo. It is conveniently located between the 'people dryers' and the Rady Ambassadors headquarters. There are separate commode areas for males and females. But the sinks are in a common, shared area. This design helps parents keep an eye on their mixed-sex broods. The washing area's beautifully decorated with mosaic tiled butterflies and flowers. 
This building also has a non-gender bathroom with two toilets in it. One is adult-sized. The other's a teeny, toddler-scale one. Your tyke will use it proudly. 
The washing area also has a separate mother's room (parent's room?). It has a fold-down changing table, a separate sink, and a trash can. This is great because we all know that there are some diaper messes that are best handled with a hazmat suit. And since I forgot to include that on my San Diego children's zoo 'must-bring' list it's best that you handle the situation in private.
Once you've cleaned up you'll probably want to take a breather. Below you'll find some tips on where you'll find places to take a load off your tired feet.
Where to Sit and Rest at San Diego Kids Zoo
There are numerous benches at Wildlife Explorers Basecamp where you can sit, rest in the shade, and still keep an eye on your frisky rascals. However, there are no benches or places to sit inside the buildings. All seating is located outdoors but is strategically placed where kids are likely to congregate.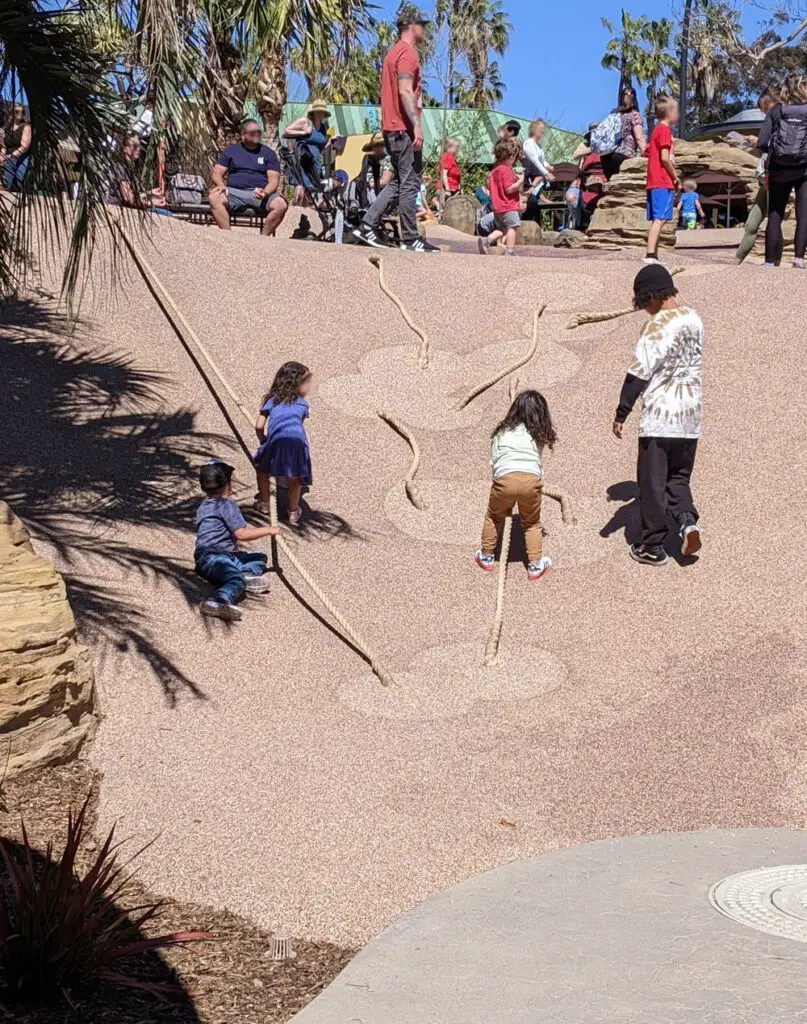 There are benches in all areas of the San Diego children's zoo. In addition to the previously mentioned benches in Wild Woods, there are seats located in deep shade underneath the bridge that leads into this area.  Check out the benches in front of the climbing hill next to the Spineless Marvels building. You'll also find resting places in the shade of eucalyptus trees by Desert Dunes close to the globe fountain. And you can sit on or under the bridge in Rainforest Basecamp and watch the ocelot or other animal ambassadors.
Also, don't forget the picnic tables with the shade umbrellas located in front of Busy Bee. The advantage of this location is that you can get a cold adult beverage here.
Wildlife Explorers Basecamp San Diego kids Zoo Tips Summary
I hope that this article showed you how you can have as much fun at this children's zoo as your kids do. If you have more suggestions, contact me HERE. I'd love to hear your tips and tricks for visiting Wildlife Explorers Basecamp San Diego kids zoo.