What's the best restaurant inside San Diego Zoo? It's a hidden fine-dining eatery. Discover what to order there, prices & what's good at the other 18 places too. That way, no matter your budget you'll eat well.
The best food at San Diego Zoo is at Albert's Restaurant. It's an unexpectedly good fine dining experience. The varied menu includes daily chef's specials, vegan & gluten-free choices & full bar. The secluded location, beautiful outdoor patio & waterfall makes it popular for special occasion meals.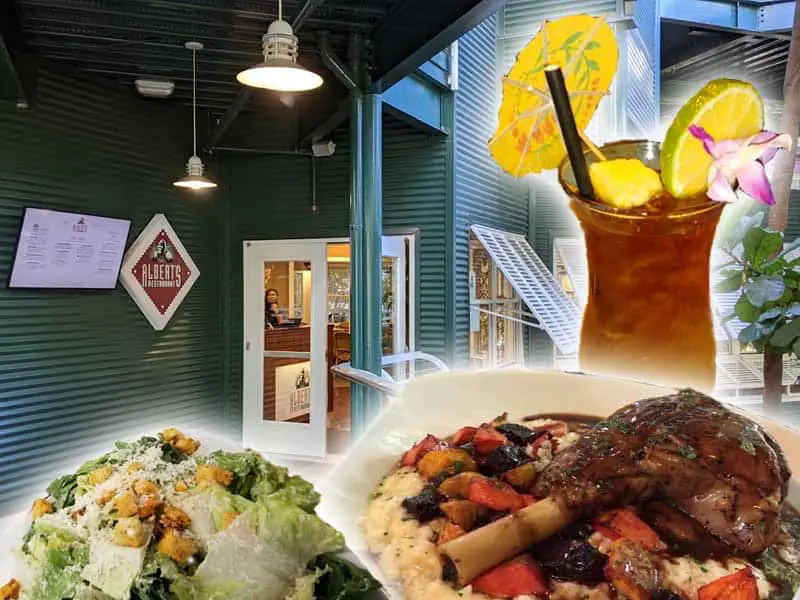 Below you'll find more reasons why Albert's Restaurant is worth it. If you don't want to spend extra time or money on gourmet dining there are 18 more eateries to choose from. Read on for why you would want to eat at each of them, what's good where, and what it costs to eat at San Diego Zoo.
NOTE: Prices are subject to change without notice. I do my best to keep up, but I don't live there. Well, not all the time…
Nancy Ulrich is an Amazon Associate. As an Amazon Associate, I earn from qualifying purchases. I am compensated for referring traffic and business to Amazon and other companies linked to on this site. Please read my Advertising Disclosure for more info. Thanks!
Save with a secret San Diego Zoo discount code on each 1-Day Pass. Go any day. Go straight to the gate. Click HERE to buy. Enter code at checkout. You'll get your tickets by email. This code is only good at aRes Travel, the San Diego-based authorized ticket seller.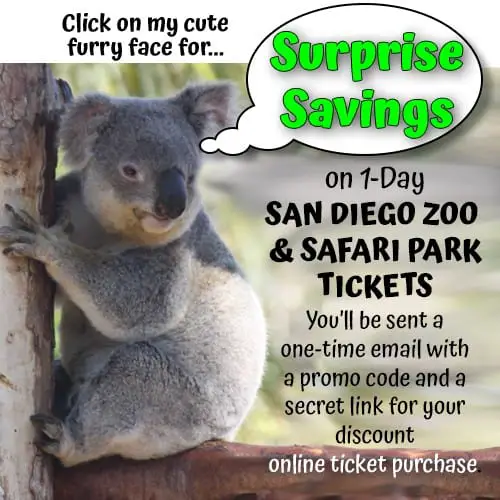 Why is Albert's Restaurant the Best Place to Eat at the San Diego Zoo?
Albert's Restaurant is billed as "San Diego's Wildest Dining Experience". And it is surprising to find such delicious food and innovative combinations at a zoo. It also has a full bar. The ambiance is uniquely wonderful. It's like you're dining in your own secret tree house getaway, complete with a private outdoor patio and waterfall.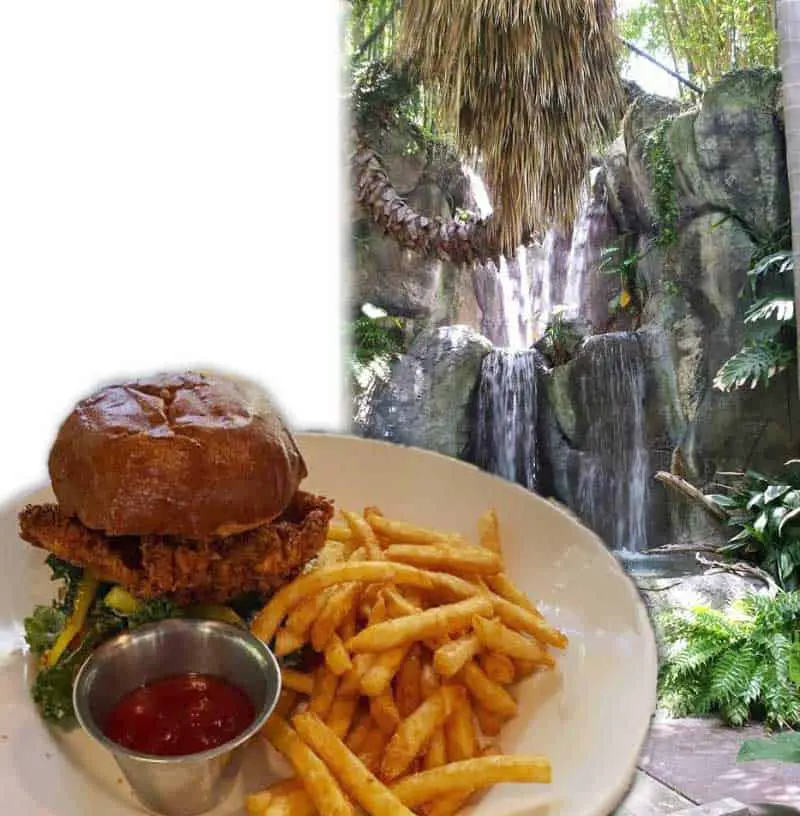 This is a popular restaurant for special occasions like birthdays, anniversaries and romantic wedding proposals. It's a good idea to make reservations using Open Table because it fills up quickly, especially on weekends and holidays. If you've got more than 10 people in your party call 619-685-3200
The wait staff is very helpful with food and drink suggestions. They will also give you good tips about the activities at the zoo that day or evening.
Ask for a seat on the outside patio. You'll be surprised at the moderate noise level considering the number of people dining there and the splashing of the waterfall. I think that's because much of the sound is absorbed by the lush landscaping.
One drawback is that Albert's Restaurant doesn't have heaters on the patio. If it's cold or raining outside you'll want to sit indoors. But even if your sitting inside, the views are wonderful. There are large windows throughout the restaurant that offer views of the waterfall and all the greenery surrounding this restaurant.
What's on Albert's Restaurant menu?
This San Diego Zoo eatery has something for everyone. There are salads, small appetizer plates, sandwiches, tacos & other Mexican food, seafood, a children's menu, and desserts. There's also a Weekend Brunch that's served on Saturday and Sunday from 10 AM to noon. The brunch features scrumptious egg dishes, glorious Cinnamon Brioche French Toast and bottomless mimosas.
Let your server know about any allergies or food sensitivities. They are happy to help you with your menu choices. There are tasty menu items for vegetarians. And there are also a few gluten-free items. The food is not prepared in a gluten-free kitchen.
What's the best food at Albert's Restaurant?
Best Appetizers: 
Cheesy-Garlic bread is a favorite. Parmesan, mozzarella cheeses, herbs, and chili flakes. It also has two kinds of garlic butter, black and roasted. Crunchy garlic chips. French country style bread and sundried tomato pesto. It's cheesy, garlicky goodness.
Also delicious is their Heirloom Tomato Basil Bisque topped with parmesan cheese, asiago cheese croutons and basil pesto.
Salad: Go for the classic Chef's Caesar Salad. It's in the photo at the top of this page. Add chicken or shrimp to make it a filling entree.
Best Entrees: 
Albert's Ancho-Dusted Crispy Chicken Sandwich with kale slaw and beer-battered fries. 
Beer-Battered Fresh Fish Tacos are a staple here. They're made from fish fresh caught off the San Diego coast topped with cabbage, pickled red onions, radishes, and guajillo chili-lime crema sauce. The corn tortillas are also made locally at La Princessa in Barrio Logan. On the side, there's a cup of black beans topped with goat cheese. 
Dessert:  Madagascar Vanilla Ice Cream Sundae – A traditional ice cream sundae big enough for two. It's topped with a fudgerific chocolate sauce and a sprinkle of nuts.
Albert's Restaurant Menu Prices
Here's a link to Albert's Restaurant page. Scroll down to find the Menu icons. They have the food and drink items and the current prices listed there.
The prices at Albert's are about average for San Diego fine dining. Entrees are $20 to $30. The kid's menu is $11. 
To save a bit of money, check out Albert's Weekend Brunch. It takes place every Saturday & Sunday from 10:00 AM to 12:00 PM (noon). Cost is $18 for entrees.
5 Tips for Eating Well at San Diego Zoo
Even though Albert's Restaurant has the best food at the Zoo, sometimes it's not a good choice. A leisurely meal there makes no sense if you've got limited time or are on a budget. 
But that doesn't mean that you can't enjoy eating at the Zoo. You just need to know what food is best at which of the Zoo's eateries and keep the following tips in mind:
Find out if your choice of restaurants will be open. Call 619-231-1515 to confirm. Many of the smaller venues do not open except on weekends or during peak attendance periods. 
Get the Zoo app to help you quickly locate the nearest food within the Zoo. The app's available for both Apple and Android.
Accept that the food's expensive. This is the most common complaint about all of the Zoo's eateries. It's true. But the profit isn't going towards lining some CEO's pockets. Consider the extra that you pay as doing your part to end extinction. 
You can bring food into the Zoo and save money. But no coolers, straws, glass bottles or alcohol allowed. Spend your cash on a special treat that you cannot bring into the park, like ice cream, a freshly made dessert, special coffee or craft beer. 

Another way to save some cash at the Zoo is to use one of many legitimate San Diego Zoo admission discounts. I've found 31 of them and put them on this page. I guarantee that you will find one that works for you.
Live at the Zoo – really, the animals get the best food. They've all got personalized, customized diets. They get fabulous room service with entertainment by a dedicated staff. Could you ask for more?
Ok, I was kidding with #5. Now let's talk about what's good at San Diego Zoo in food places other than Albert's. What's special about each eating venue and what the food prices are.
If you want to plan your day further, read my page on which are the best animal exhibits and attractions at the San Diego Zoo.
What's Best at the Other San Diego Zoo Eateries?
RESTAURANTS
San Diego Sandwich Co.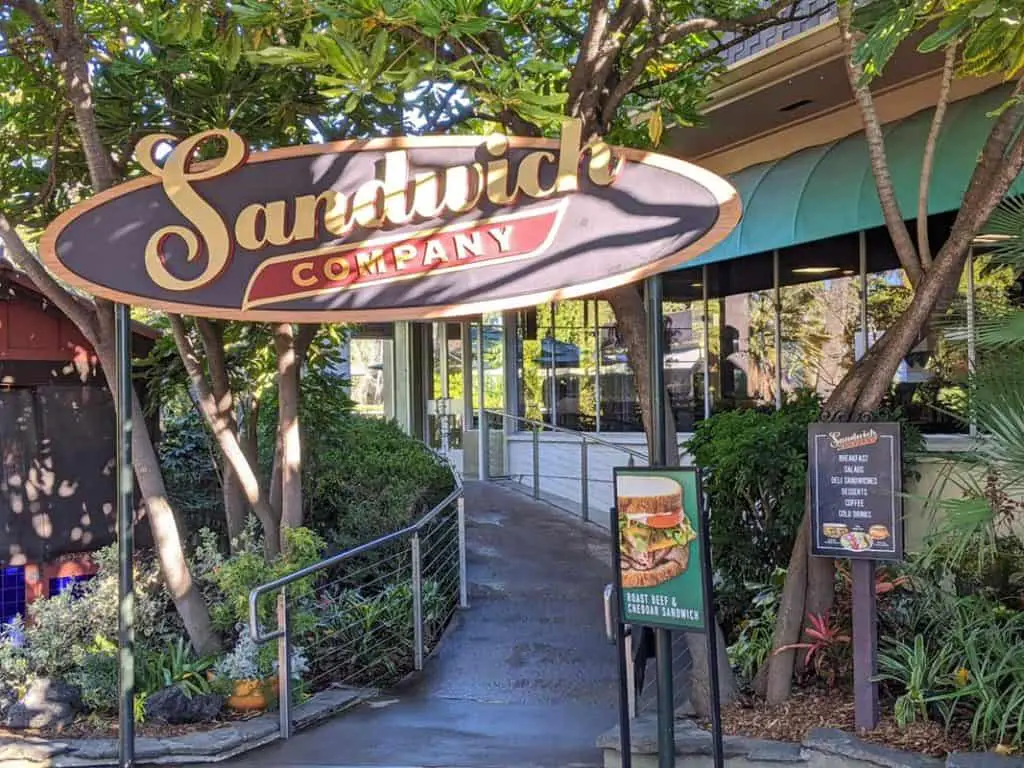 Menu: Casual dining breakfast and lunch. Sandwiches, soups, salads & ice cream. Kids meals. Vegetarian.
What's best on the San Diego Sandwich Co. menu? For breakfast try the ham, egg & cheese sandwich or the bacon, egg & cheese sandwich. Both are served on an English muffin or bagel. You can add hash browns for a small extra charge.
For lunch, the Club Sandwich is a good choice. It has a substantial amount of meat on it, which is a pleasant surprise. There's also a decent Roast Beef and Cheddar sandwich.
For something a little different, try the Curry Chicken Salad Naan. It has a slightly spicy curry topped with kale and baby peppers with a white balsamic drizzle. 
You can have your sandwich served warm and toasted if you ask for it.
Cost: 
Breakfast entrees: $4 to $8
Lunch entrees: $9 to $14
Location: Front Street. Just inside the Zoo's entrance off to the right. 
Why eat here?  
People eat here mostly because it's convenient.  The location is close to the entrance and the Guided Tour Bus stop. And it has both inside and outdoor patio seating.
It's also one of the few Zoo eateries that serve breakfast. It opens at 8:30 AM which gives you plenty of time to enjoy a solid meal and then see the parrots fly. Breakfast items are served until 11 AM. Then they start lunch service.
Front Street Cafe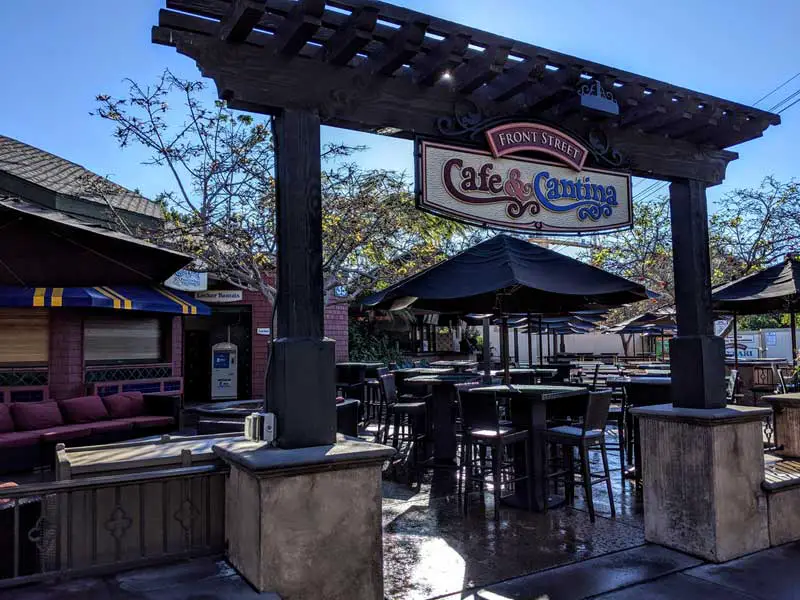 Menu: Mexican food burritos, tacos, chicken strips, margaritas & soft serve ice cream. Kids meals. Vegetarian.
What's best on the Front Street Cafe menu? Nachos with salsa and guacamole packed a delayed garlic punch. Not offensive, but surprising. 
Bunuelos – crispy fried flour tortilla with a sugar and cinnamon topping. They put vanilla ice cream on top with a little chocolate sauce. It's crispy tasty & creamy. What's not to like?
Cost: 
Breakfast entrees: $4 to $8
Lunch entrees: $9 to $14
Location: Across the plaza from the Reptile house and close to the Children's Zoo.
Why eat here? It has a nice, secluded patio with plenty of shaded seating in the morning. It can get a bit hot in the late afternoon because it is on the east side of Front street. 
Safari Kitchen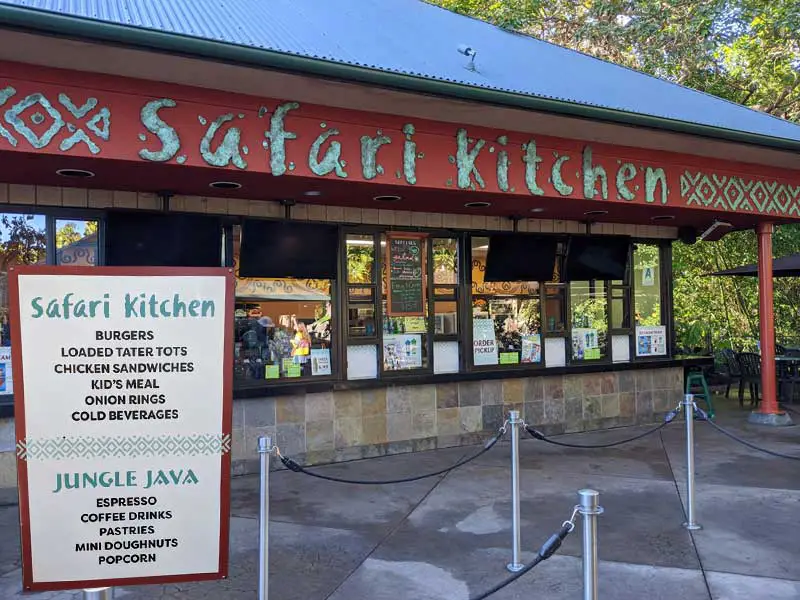 Menu: Burgers, chicken sandwiches, chicken strips, tater tots and twists. Kids meals. Vegetarian.
What's best on the menu at Safari Kitchen? Go for the Tater Twister. It's a coil-cut potato deep-fried to crispiness. Then they pile on the smokey bacon, green onion, and sour cream.
The chicken strips and fries are also good and not at all greasy. Sometimes you need to add a bit of salt to the fries, but that's better than having to brush off the excess, right?
Cost: 
Breakfast entrees: $4 to $8
Lunch entrees: $9 to $14
Kid's meal: $9 to $14
Location: Front Street. Tucked away in the greenery by the entrance to the Monkey Trail. 
Opens: 10 AM
Why eat here? It's close to the Monkey trail so it makes a good place to fuel up if you're getting to the Zoo in mid-morning. It remains cool during the late afternoon because it's shaded by some very tall trees at its western side. Downside? It can be noisy because of its location close to the flamingos.

Boardwalk Beer Garden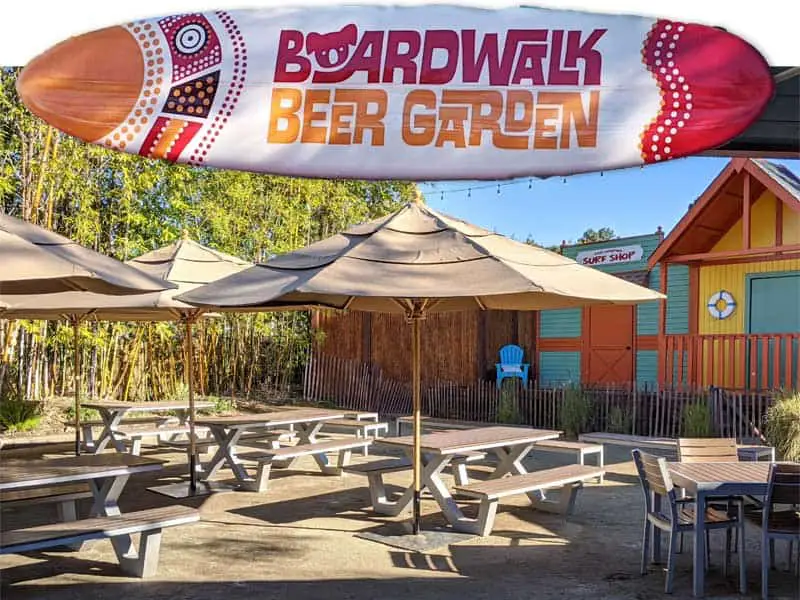 Menu: Locally brewed craft beer here & zoo cocktails. Snacks like pretzel dogs, pita chips and stuffed pretzels.
What's best on the menu at Boardwalk Beer Garden? The beer selection is decent. They also have beer flights just in case you can't make up your mind. The stuffed pretzel is good washed down with a cold brew.
Cost: 
Drinks: $9 to $14
Food: $9 to $14
Location: Outback
Opens: Summertime in the afternoon.
Why eat here? It's usually uncrowded and there's a stage here where you can catch Dr. Zoolittle and friends.
Sydney's Grill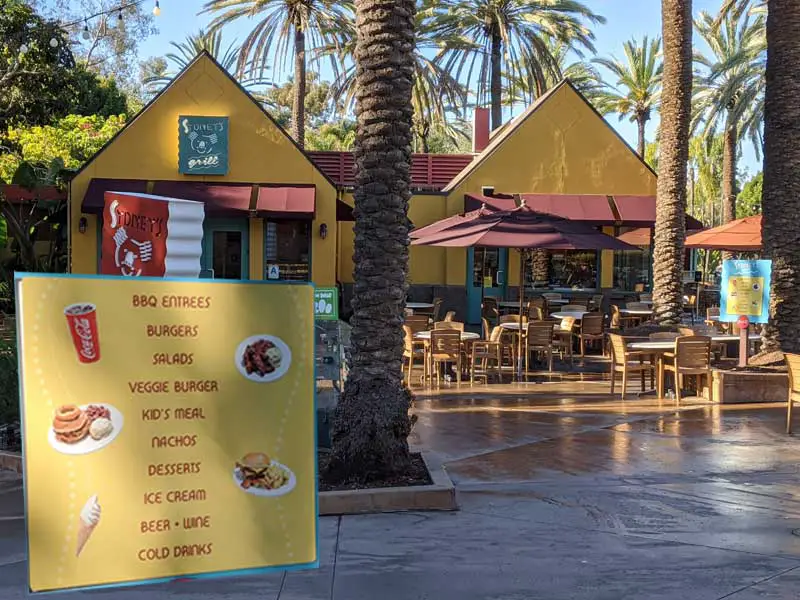 Menu: BBQ, burgers, chicken sandwiches, salads, ice cream, craft beer, margaritas. Kids meals. Vegetarian. 
What's best on the menu at Sydney's Grill? The food here is not the best at the Zoo. It's not Australian fare, but American burgers and BBQ pork & chicken sandwiches. The Black Bean Veggie Burger is decent. And the BBQ Pulled Pork Nachos are filling and big enough for 2 or 3.
Cost: 
Lunch entrees: $9 to $14
Kid's meal: $9 to $14
Location: Outback
Opens: 10:30 AM Mon-Fri. 10:00 AM Sat & Sun. 
Why eat here? It's close to giraffes and koalas. And sometimes there are acrobats and special shows on the back patio. There are uncrowded restrooms are located in a separate building in the back patio. 
Front patio seating can get very hot in the summertime. Take your meals into the back patio, there's plenty of shade there.
Hua Mei Cafe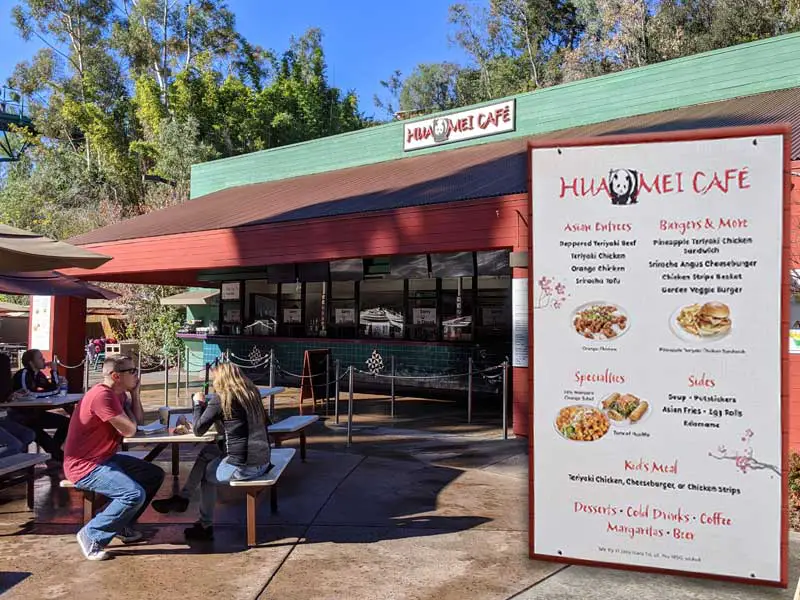 This eatery was named for Hua Mei who was the first US-born giant panda cub to survive. She was born in 1999 and went on to have cubs of her own. For many years she was the furry matriarch of the zoo. The black and white celebrities returned to China in Spring 2019. But it's still worthwhile exploring this area because the awwww-inducing Red Pandas are still climbing their way into people's hearts.
Menu: Asian meal selections, burgers, grilled chicken sandwiches, ice cream. Kids meals. Vegetarian. Gluten-free selections.
What's the best food at Hua Mei Cafe? The food here can be disappointing. Chinese food needs to have crisply wokked veggies and meats. They don't seem to be able to pull it off here. Your best bets are the Peppered Teriyaki beef and the Teriyaki Chicken.
Cost: 
Location: Asian Passage
Opens: 10:30 AM
Why eat here? It's halfway through the Zoo. There's plenty of tables with shade umbrellas. In the late afternoon, the seating in back of the Panda Shop is cooler because of all the tall trees on the west side of the eating area. There are also restrooms there.
Hua Mei Cones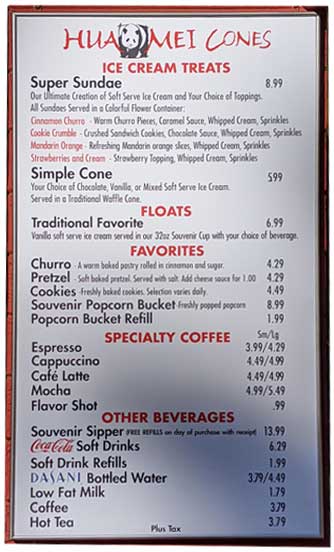 Menu: Surprisingly delicious dessert shop. Try one of the Super Sundaes like the Cookie Crumble and the Cinnamon Churro. The best on a hot day!
Cost: 
Sundaes: $9
Cones: $6
Floats: $7
Sabertooth Grill – 2nd Best San Diego Zoo Eatery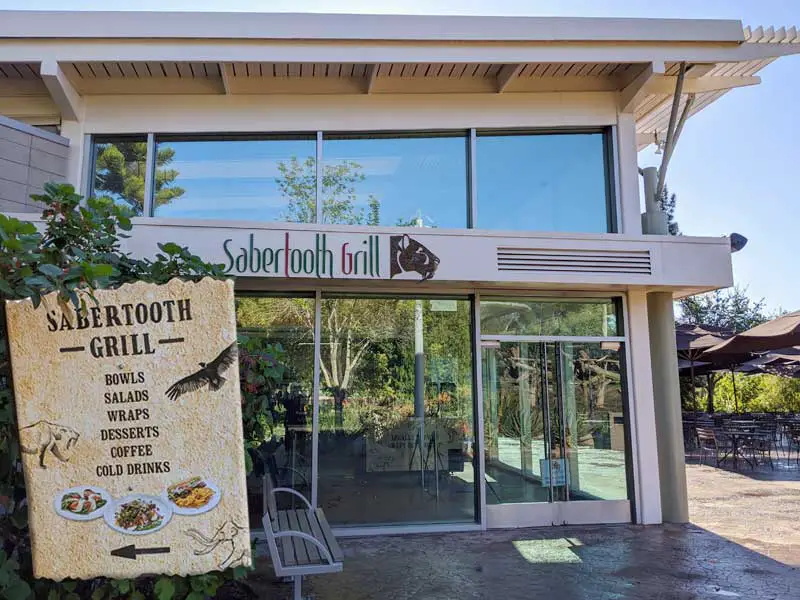 Menu: California Fresh style steak sandwiches, bowls, salads, wraps, ice cream, craft beer. Kids meals. Vegetarian.
What's the best on the Sabertooth Grill menu? You've got a few good choices here. They've got decent salad & protein bowls that are healthy and tasty. The veggies are all locally sourced. 
The Nachos are big and sloppy; a layer of corn chips, shredded cheese, a soup scoop of chili and sliced jalapenos. 
Cost: 
Location: Elephant Odyssey
Opens: 10:30 AM
Why eat here? You can't beat watching the elephants from your table in the shade. And that makes this a perfect spot to take a lunch break if you're planning your San Diego Zoo itinerary.
Kiddos will enjoy climbing on the saber-tooth tiger statue and running around the legs of the incredibly tall, (and fortunately extinct) short-faced cave bear. The bathrooms here are the most spacious and modern at the Zoo. It's midway through the Zoo and a great place to take a meal break.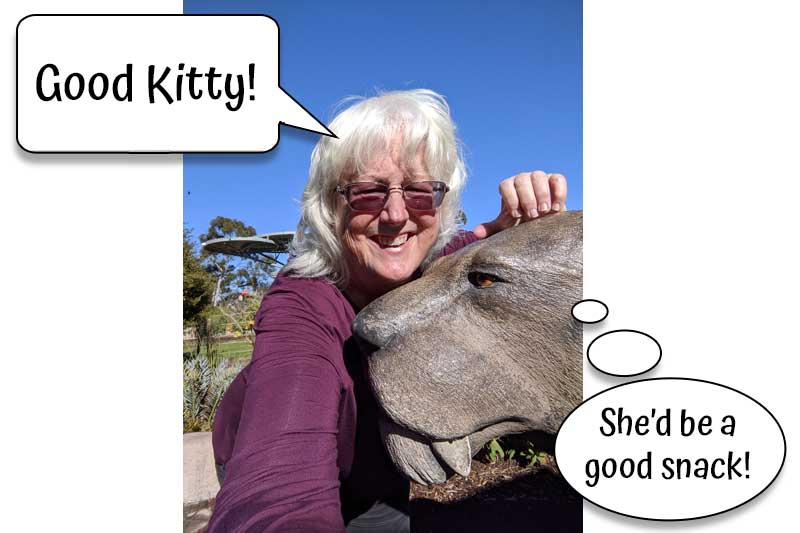 Lagoon Terrace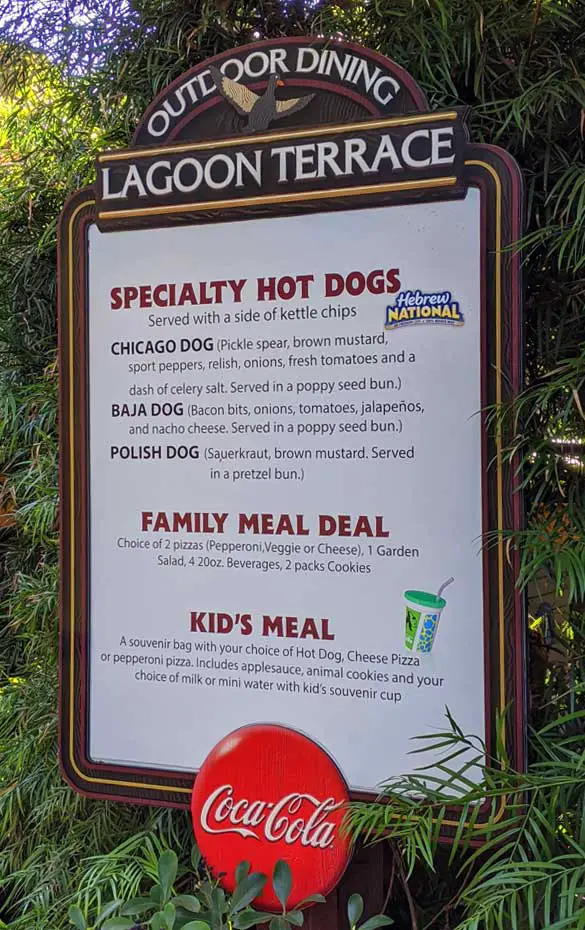 Menu: Personal sized pizza, specialty hot dogs, submarine sandwiches, wraps, craft beers, Kids meals. Vegetarian options. Family Meal Deal (but the one at Treetops is better). 
What's the best food on the Lagoon Terrace menu? It may not be for everyone, but the Buffalo Chicken Sandwich is worth a mention. They drenched a breaded chicken breast in buffalo sauce. Then they put it on a brioche bun with lettuce and blue cheese. The side of kettle chips is just right with this combo.
If spicy hot is not your style, this patio also serves a few decent hot dogs. The Baja Dog is good and loaded with bacon bits, onions, tomatoes, jalapenos, and nacho cheese served on a poppy seed bun. You can ask for no jalapenos if you don't like the hot stuff.
Cost: 
Location: On Front Street next to the San Diego Zoo Sandwich Company. 
Opens: 11 AM
Why eat here? Plenty of outdoor patio seating where your kids can run around. It's close to the San Diego Zoo entrance
Treetops Cafè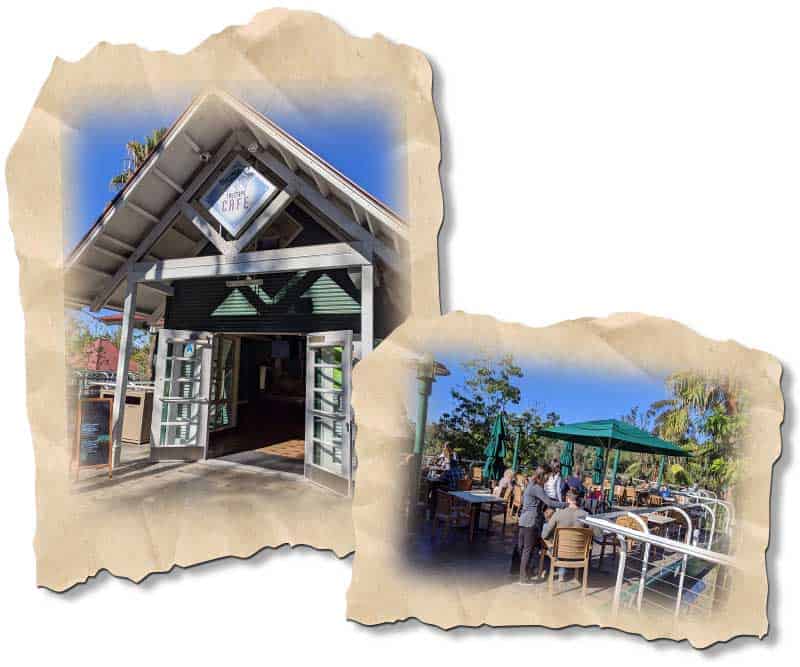 Menu: Italian selections, flatbread pizza, wraps, salads, craft beer, family-deal meals. Kids meals. Vegetarian.
What's best on the Treetops Cafè menu? Their Chicken Parmesan Pesto plate is tastier than the standard marinara version. And it comes with garlic bread. They've also got a decent Family Meal Deal (the last time I checked it cost about $45):
2 flatbread pizzas
1 Caesar salad
4 garlic breadsticks
4 fountain beverages
Cost: 
Location: Lost Forest at the east end of Bashor Bridge
Opens: 11 AM
Why eat here? It's got the best views in the park. There are multi-level decks for dining. From there you can see the Museum of Man tower, the Bashor Bridge, the green of the canyon below and planes coming in for a landing at Lindbergh Field. The decks face west, so they can get warm in the late afternoon.
QUICK BITES & SNACKS
Jungle Java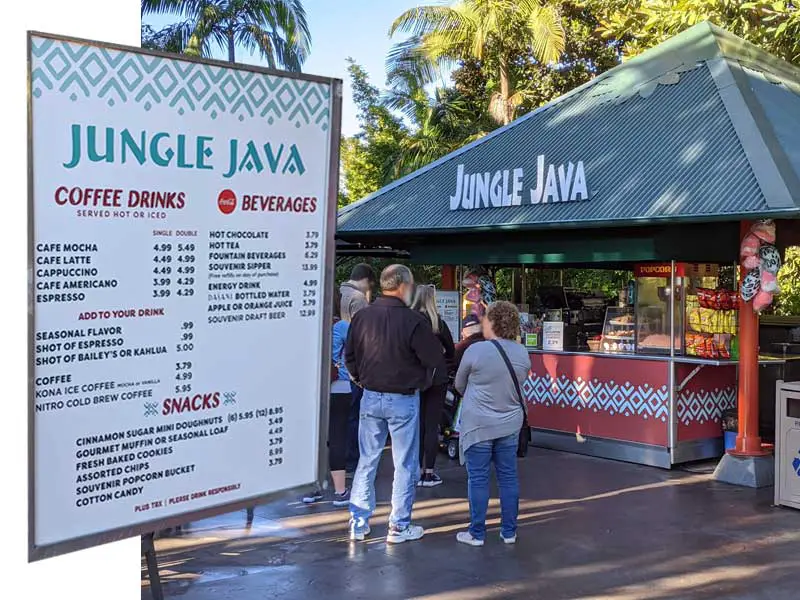 Menu: coffee drinks, nitro coffee, popcorn, and baked goods.
What's the best food at Jungle Java?  Indulge a little. Have a hot latte or cappuccino with a shot of Baileys or Kahlua. Drink it with a side of cinnamon-sugar mini donuts. 
Cost: 
Specialty Coffees: $4+
Snacks & Sweets: $4+
Location: on Front street next to Safari Kitchen
Opens: 10:30 AM
Why eat here? There's plenty of shaded table seating and its almost on top of the Safari KItchen. It's a natural place to stop after you've been on the Guided Tour Bus. Stop here if you're planning on heading down Monkey Trail. 
One drawback is that it's a bit noisy because it's next to the squawking flamingos.
Zoo Brew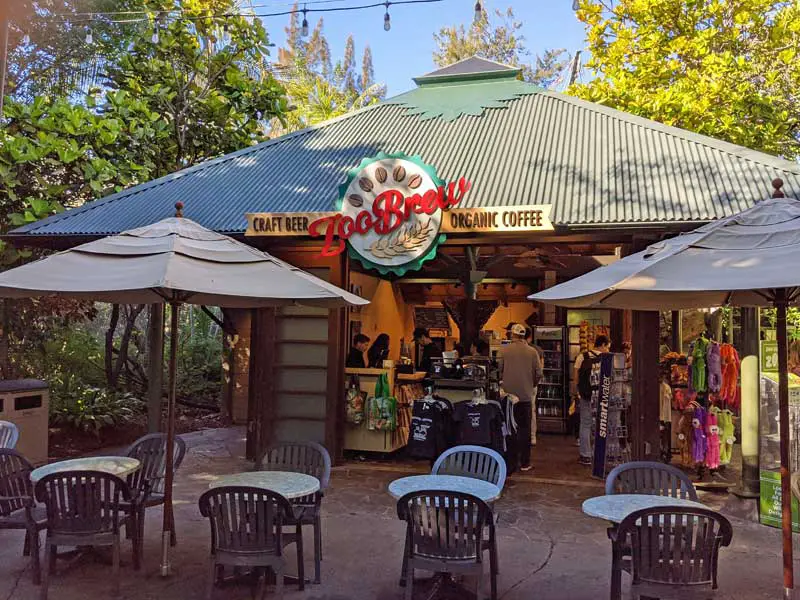 Menu: Local craft beers, themed coffee drinks, popcorn, mini-donuts.
What's best at Zoo Brew? Hot coffee with deliciously sweet mini-donuts. With that sugar rush, you'll be energized for another couple of miles of walking.
Cost: 
Location: Lost Forest
Why eat here? It's shady almost all the time because it's surrounded by tall trees. On hot summer days, this is one of the best places in the Zoo to enjoy a cold local craft brew. 
On the other hand, if it's a cool day it may never get warm here. In that case, have a hot coffee instead.
Rocks Box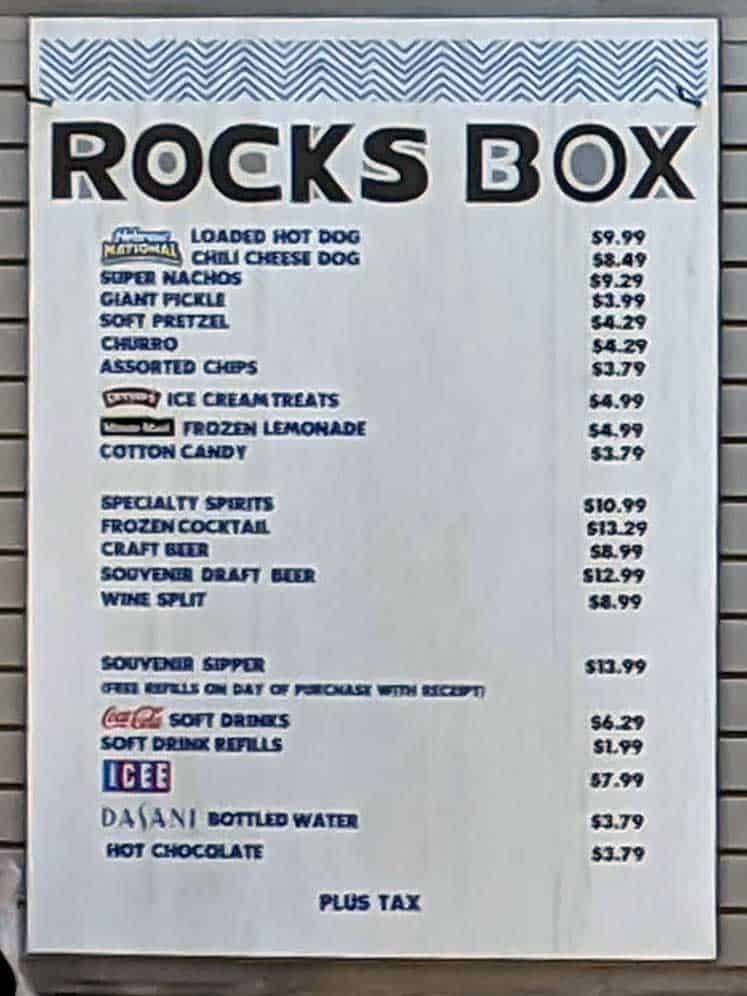 Menu: Snacks, nachos, hot dogs, draft beer, soft drinks, Icees.
What to eat at Rocks Box? Try the Nachos. They're nothing spectacular, but they're HUGE & filling. There's plenty for two or more if you've got some small eaters. And if the kiddos get covered with cheese the restroom sinks are close by.
Cost: 
Food: $4 to $10
Alcoholic beverages: $9+
Location: Africa Rocks. Right next to the south African Penguin aquarium exhibit. 
Why eat here? You can eat lunch while watching the Animal Encounters presentations at the Africa Rocks Stage. Check your Zoo map for times.
The Pagoda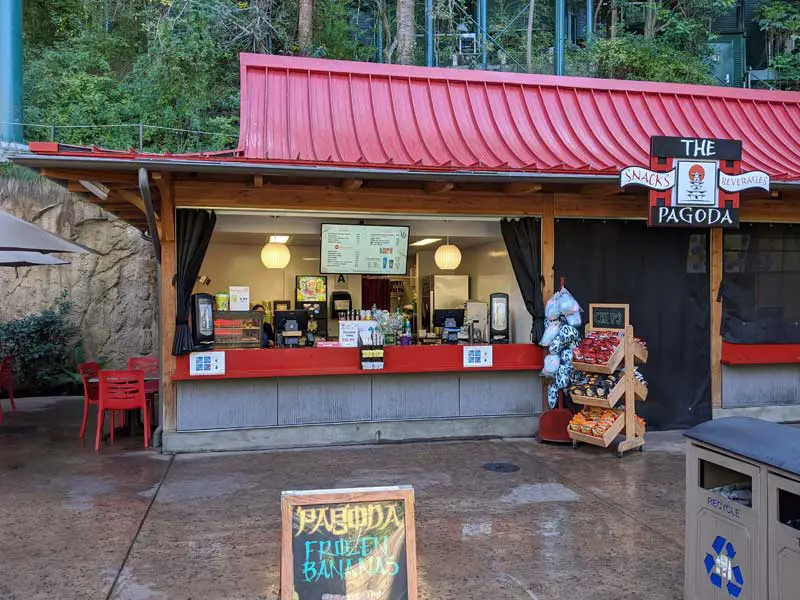 Menu: Egg rolls, corn dogs, craft beer, snow cones & popcorn
What to order at The Pagoda? Honestly, I don't know. The egg rolls are nothing special. And the rest of the menu is standard park fare. But it's all good if the kids have empty stomachs and they're complaining. Stop here. Give everyone a break then get on with seeing more animals.
Cost: 
Snacks: $4 to $10
Alcoholic beverages: $9+
Location: Asian Passage
Why eat here? It's usually not crowded. There's a few tables to sit at in the shade. 
Kettle Corn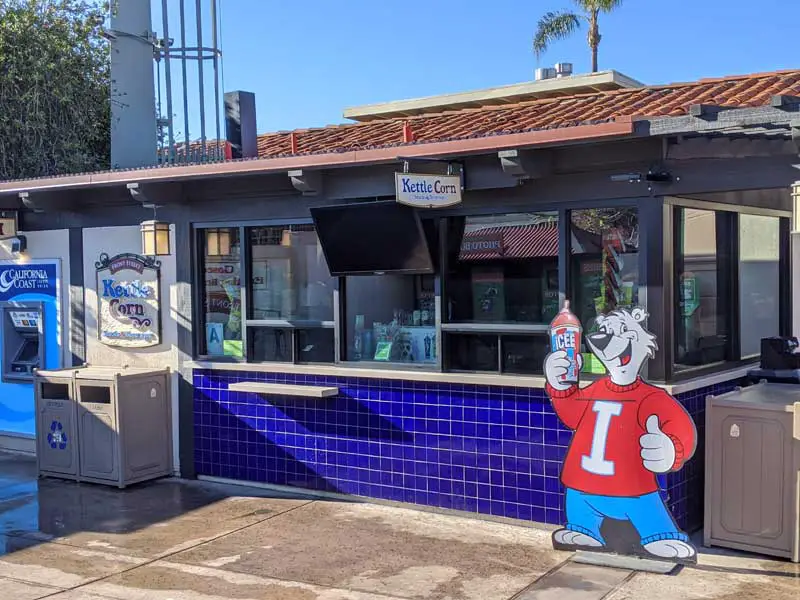 Menu: Kettle & caramel corn, churros, soft pretzels, local craft beer, Icees  and fountain drinks
What should you get at Kettle Corn? The kettle corn of course! It's not too sweet and just salty enough to satisfy. Freshly popped. My husband's addicted to it, so we try to remain downwind.
Cost: 
Snacks: $4 to $10
Alcoholic beverages: $9+
Location: In Discovery Outpost. Next to the Reptile House. Close to the entrance to the Children's Zoo. 
Why eat here? Sometimes you just gotta have a snack. And all the profits go to the animals, right? Tell your diet guilt to take a hike.
The Bridge Snacks & Refreshments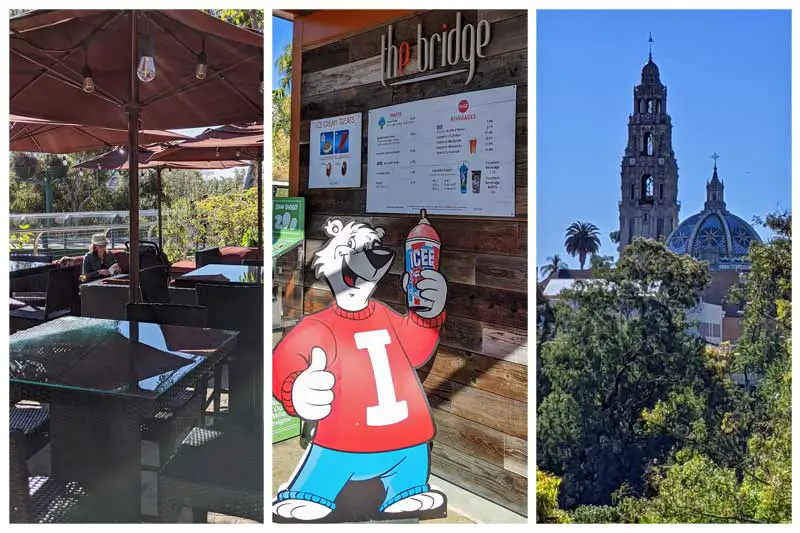 Menu: Cool drinks & snacks. Locally brewed craft beers, margaritas, micheladas, soft pretzels & popcorn
Best food at The Bridge Snacks & Refreshments? Try slurping a Mango Spiked Snowcone with White Rum while you put your feet up and enjoy the view.
Cost: 
Snacks: $4 to $10
Spiked snow cones: $9+
Alcoholic beverages: $11+
Location: The Elephant Odyssey side of Bashor Bridge. 
Why eat here? 
Umbrella shaded tables and some comfy outdoor sofas & armchairs. A pleasant place to sip coffee. 
It gets the morning sunshine and is shaded in the late afternoons.
Views across the bridge Treetops Cafe, and the green of the Asia Passage canyon below. Watch the airplanes coming in for a landing. It sometimes looks like they're going to hit the Museum of Man tower, but it's just an illusion.
San Diego Craft Beer & Margaritas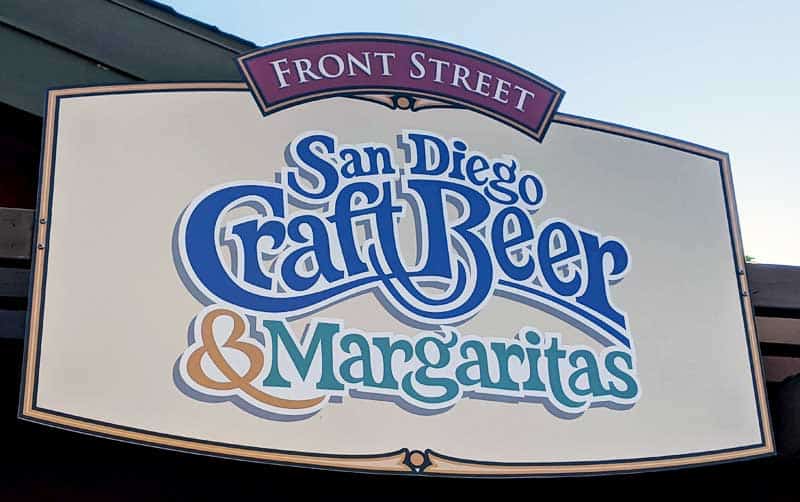 Menu: Craft beers on draft, margaritas, soft pretzels
What to order at San Diego Craft Beer & Margaritas? Just have a cool one already! If you don't have a favorite San Diego Craft beer just choose at random. They're all good.
Cost: 
Snacks: $4 to $10
Alcoholic beverages: $11+
Location: Front Street. Across from the Reptile House, before the Children's Zoo.
Why eat here? It's your last chance for an adult beverage before you enter the creepy, crawly domain of the scaled ones.
Ituri Hut
Menu: Drinks, hot dogs, pretzels, churros, Icees
What to eat at Ituri Hut? You get standard amusement park fare here. hcirluycnan. Have a hot dog. On a hot day try a different flavor of Icee.
Cost: 
Location: In Lost Forest, on the lower end of the Hippo Trail. 
Why eat here? There's plenty of shade. But the best reason is to watch the antics of the Allen's Swamp Monkeys and the Spot Necked Otters. They sometimes play tag with each other. There are a few tables to sit at where you can watch the animals scamper.
Nestlé Toll House Café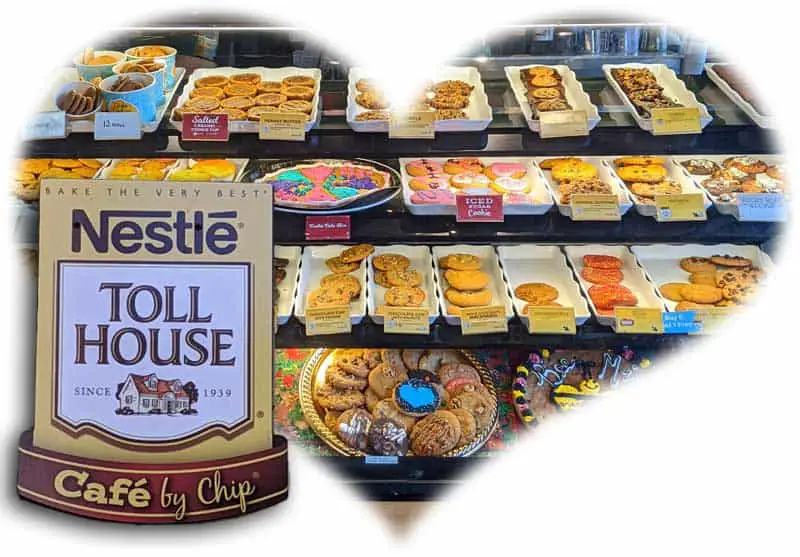 Menu: desserts & sweet treats like cookies & other baked goods, ice cream, smoothies and coffee to wash all that sweetness down.
The Best Food at Nestlé Toll House Café is the fresh baked cookies!
If you've managed to stick to your diet so far, the seductive odor of baking chocolate chip cookies at the Nestlé Toll House Café may prove to be too much. Why fight it? By the time you've gotten to this point, you've probably walked miles. You deserve a treat. 
Remember, San Diego Zoo is a non-profit conservation organization. Go ahead, have a warm, gooey cookie right out of the oven. Be a hero for wildlife while letting your taste buds do a happy dance. 
Cost: 
Cookies & ice cream desserts: $2.50 to $10
Coffee beverages: $3 to $7
Location: Front Street on the way to the Zoo's exit.
Why eat here? Are you kidding? Fresh, gooey COOKIES!
Closing Thoughts
The best food at the San Diego Zoo can be found at Albert's Restaurant. It's a gourmet, sit-down dining experience that can make a day at the zoo truly special. My second favorite spot is the Sabertooth Grill. I love the fresh bowls and being able to elephant watch from the shaded patio.
Face it, zoo food is not cheap. So do as I do, accept the extra cost as your contribution to end extinction. And after you've found your best food at the San Diego Zoo, smile, you've eaten all those delicious calories for a good cause.