Should you take your toddler to the San Diego Zoo or the Safari Park? Discover which one is more fun, accessible & comfortable for your tiny tot…and you carrying all their gear.
San Diego Zoo is better than Safari Park if you have toddlers. They'll love playing in Wildlife Explorers Basecamp, the 3.2-acre children's zoo. The animals are easier for kids to see. There's less walking. The climate's milder. It's more convenient if you're staying near downtown San Diego. Parking's free.
If you make purchases through the links in this post, I may be compensated. Read my Advertising Disclosure for more info. Thanks! ~ Nancy
*Save with a secret promo code on each San Diego Zoo or Safari Park 1-Day Pass. Go any day. Go directly to the gate. Click HERE to get your code, instructions & discounted tickets by email. By clicking the link above you agree to receive an automated email message. Valid only at aRes Travel, San Diego's local authorized ticket seller. Read my full privacy policy.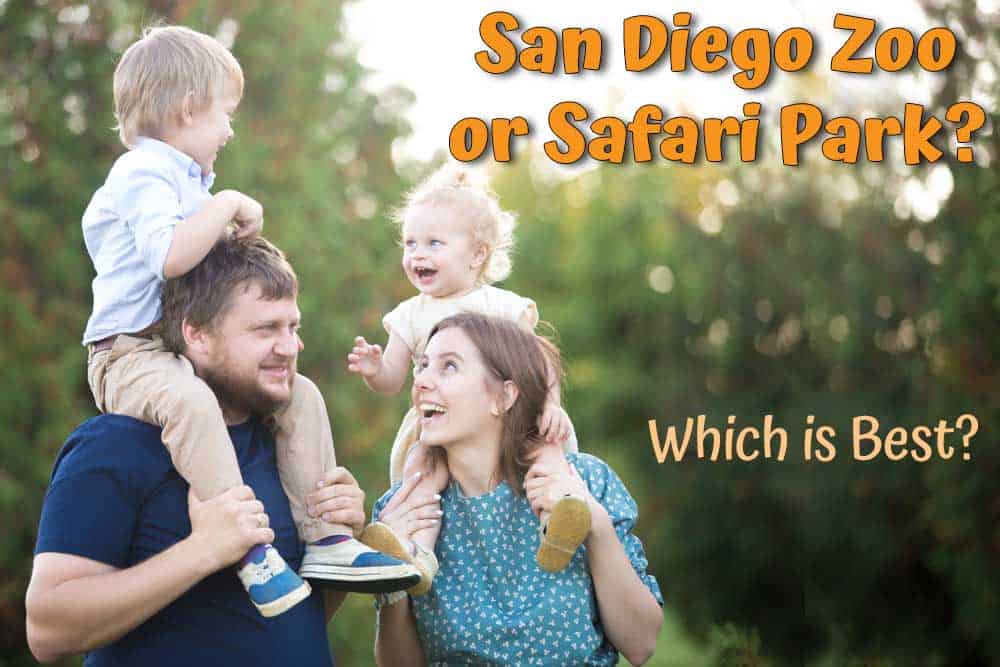 My husband and I have been going to both San Diego Zoo and Safari Park weekly for more than 10 years. Read on for more about what we've noticed and have been told by parents visiting both places with toddlers. 
Why The Zoo's Better for Toddlers
Wildlife Explorers Basecamp – Your Tots Won't Want to Leave
I've heard parents say that San Diego Zoo children's zoo, Basecamp, is basically a gigantic tot-friendly playground. Every exhibit on the 3.2 acres was created with tykes in mind. In fact, the designers asked their kids what they'd like to see. Then they tot-tested it before it was built. The final design is both fun and safe for kids of all ages. 
I could go on and on about everything your child can look at, climb, and splash there. But that would make this page too long. So instead I've written it all on this San Diego kids zoo guide. It tells you how to get in cheaper, what you can bring, when to go, how long it takes, and what you (and your kids) will want to see and do there.
There is one thing that adults may miss…there is no more kids' petting zoo here. You'll have to take your kids to Safari Park for them to pet the animals there.
San Diego Zoo's Often More Convenient than Safari Park
Let's face it. When you're dragging around all that toddler gear, ease of access is very important. 
San Diego Zoo is closer to downtown than the Safari Park. Many visitors choose lodgings close to downtown because of the concentration of major attractions and cultural events there. 
San Diego Zoo is 3 miles by car (11 minutes) from the center of downtown San Diego. It's also within Balboa Park. That means that when your tyke is all tired out from the Zoo you can take a relaxing stroll to dinner in Balboa Park (to find good food at the Zoo see my article here). Then you can enjoy a free concert afterward. At the end of the day it's a quick trip back to your hotel or other lodgings.
Safari Park is 35 miles (at least a 45-minute drive) by car from downtown. One way. What a hassle if you discover that you've forgotten something important for your toddler in your hotel room. And don't even think about trying to take public transportation there. It will take you 2 hours, minimum. 
Find more toddler fun for less! Check out this page where I uncover all the discount ticket deals at Sesame Place San Diego for you.
Parking is Free at San Diego Zoo
San Diego Zoo has plenty of free parking. And if you arrive around 8:30 AM (see my page on why it's the best time to get to the zoo) you'll be able to find a place close to the entrance and cut down on your walking a bit. This is especially important if you've brought a large cooler that contains your family's lunch. It will be a shorter walk to the picnic area outside of the Zoo or to the colorful patio and umbrella tables at Spanish Village. 
During peak holiday hours the parking lot in front of the Zoo may be filled. Don't worry, there's overflow parking at Inspiration Point. From there you can take a free tram service to the Zoo. 
Safari Park parking is a minimum of $15. RVs are $20. On busy weekends and holidays, you may want to pay for preferred parking for an added $18. 
Animals Are Easier to See at the Zoo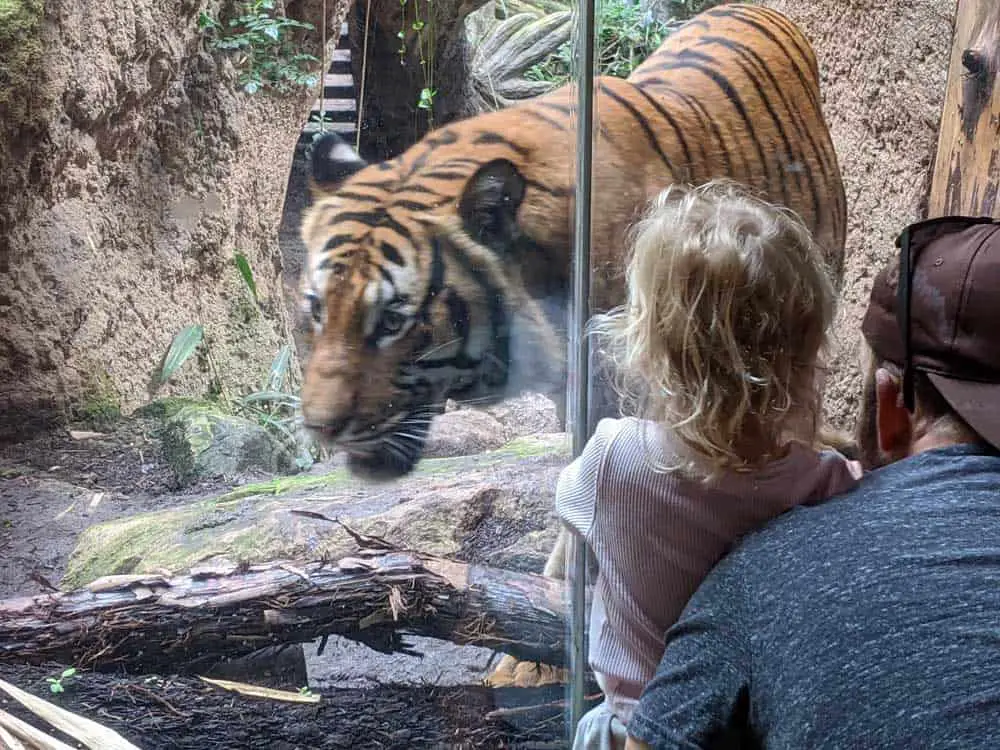 The San Diego Zoo is much more compact than the San Diego Safari Park. It's packed into 100 acres while the Safari Park is spread out over 1800 acres. 
The exhibits at the zoo also tend to be smaller so the animals are going to be closer to you. At the Safari Park, the animals can be almost a quarter of a mile away. At that distance, a 5,000-pound rhino looks like a tiny gray boulder. 
At San Diego Zoo there are also fewer toddler eye-level obstacles. 
At Safari Park there's been a big effort to make the fences and animal enclosures less conspicuous. This is great for adults and larger children because it seems as if the animals are wandering free. But to create this effect the designers sometimes used taller natural elements like bushes and faux boulders to corral their critters. These features can obstruct a small child's view of the animals. 
Less Walking
The smaller size of the Zoo means that there's less ground to cover. And even though your tiny tot is a bundle of energy, the longer walks at Safari Park can make them bored and cranky quickly. 
San Diego Zoo's Climate is Better for Toddlers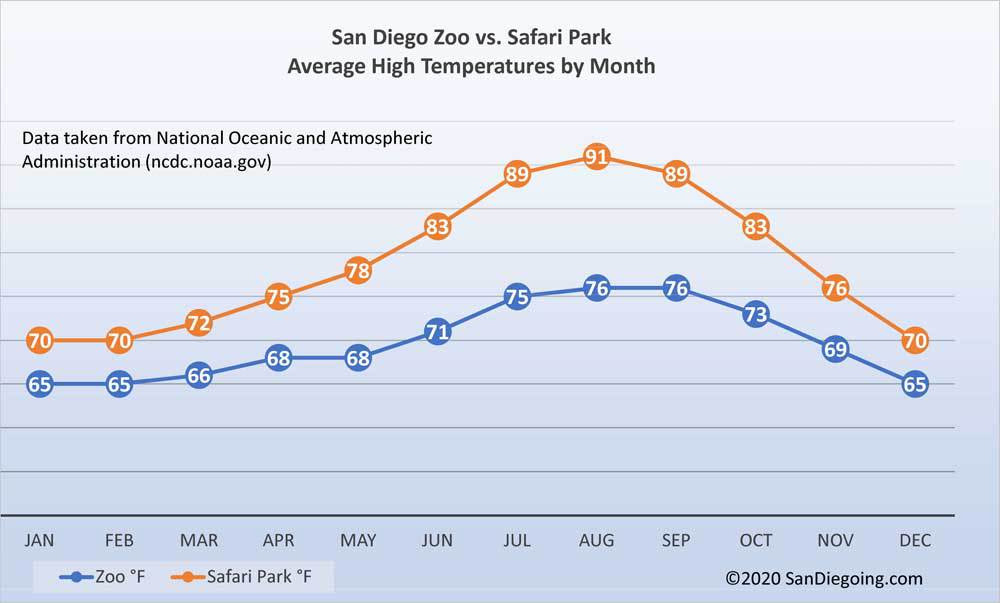 Babies and toddlers are more sensitive to changes in temperature than adults are. In fact, our offspring only learn to regulate their temperature naturally at around 18 months to 2 years old. Your bambino bustling about may look robust, but they need to be protected against temperature extremes. 
The San Diego Zoo has milder weather because it is located closer to the ocean. The Zoo is less than 4.5 miles to the Pacific. Safari Park is 17+ miles from the coast. The micro-climate in the San Pasqual Valley section of Escondido where Safari Park is situated is more extreme. The high temperatures are higher there. In August the high temperatures at Safari Park average 91°F compared to 76°F at the Zoo. 
More Animals and Greater Variety at the Zoo
There are 4,000+ animals and 650 species and subspecies at the San Diego Zoo. San Diego Safari Park has 2,600 animals from 300 different species. 
The Zoo's collection comes from many more parts of the world than the one at the Safari Park. The animals at Safari Park generally come from the savannas and forests of Asia and Africa. The zoo also has a larger collection of reptiles and insects which seem to mesmerize some of these little rascals. 
3 Zoo Aviaries Keep Toddlers Interested (…while you rest)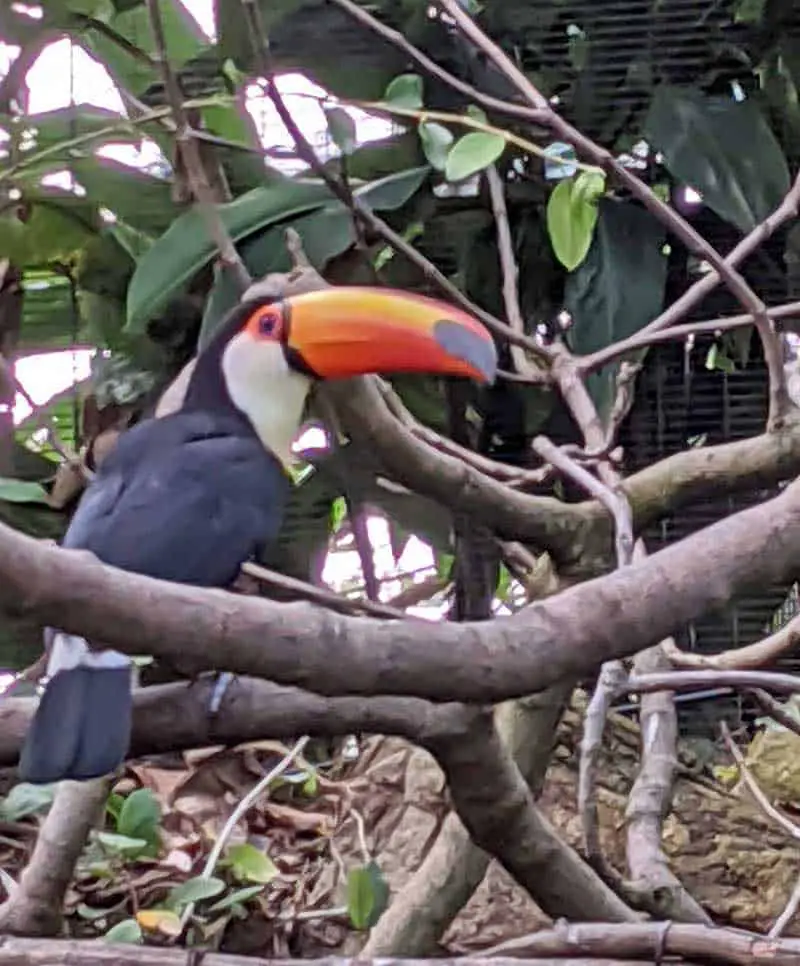 There are 3 large aviaries at the San Diego Zoo where your kiddos can watch brightly colored birds fly to you instead of you walking to them. That means you can sit and relax. Maybe lift an arm occasionally to point out a toucan's big yellow and orange bill.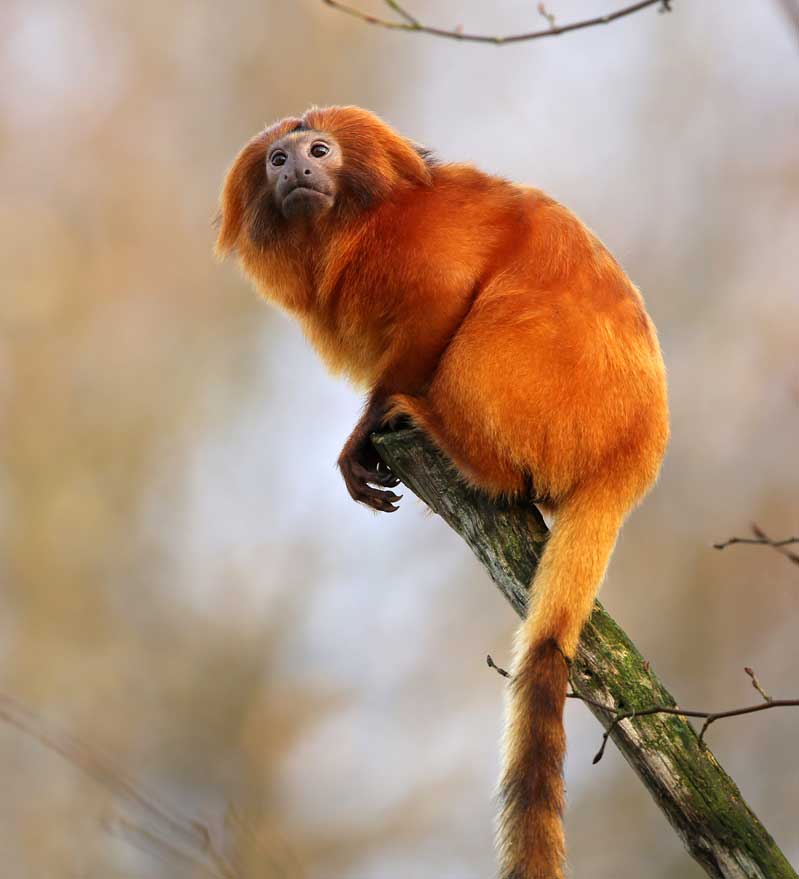 Even better is the chance to point out monkeys to your moppet. Parker Aviary has two beautiful Golden Lion Tamarins scampering about. It's also lushly planted with tropical foliage and stays cool in the summertime. You'll love it and it will keep your youngster occupied while you take a breather. 
You'll find more cute primates at Wildlife Explorers Basecamp. There the stars are squirrel monkeys who love looking at kids almost as much as children like looking back.
Safari Park only has one large aviary, the Hidden Jungle. But it tends to be warmer and more humid than those at San Diego Zoo. There's also no seating inside that aviary.
Play Areas Throughout the San Diego Zoo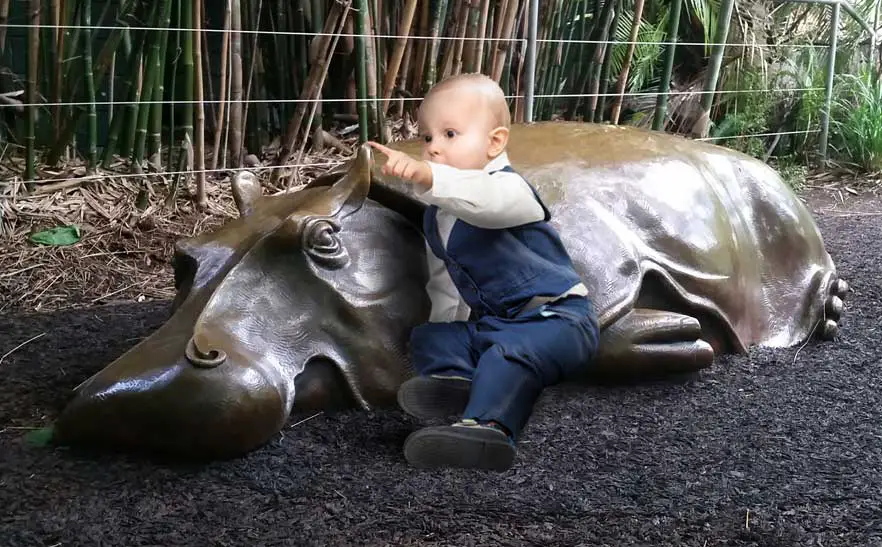 There are little play areas scattered throughout the San Diego Zoo. Many are animal statues resting on recycled rubber surfaces. The flooring is easy on baby's hands & knees. Toddlers love to climb on them. And if the kids slip off and land on their bums, at least it's on a forgiving surface. 
You'll get some great photos of your kids here. How about them riding on a hippo? Astride a saber-tooth tiger? Playing with a gorilla troop? How about an action shot of them escaping out from under a mastodon foot? Trust me, your little boy will think it's cool.
Wildlife Explorers Basecamp shouldn't be missed if you're looking for a place where your tot can run wild. I've overheard several parents say that it's basically a massive playground. There are enough structures to climb on, under, and through to keep your toddlers busy for hours.
There are fewer statues to play on at Safari Park. But if you go there with your youngster, don't forget to get a photo of them on top of a full-sized southern white rhino statue in Safari Base Camp.
Tots Love Riding the Balboa Park Miniature Railroad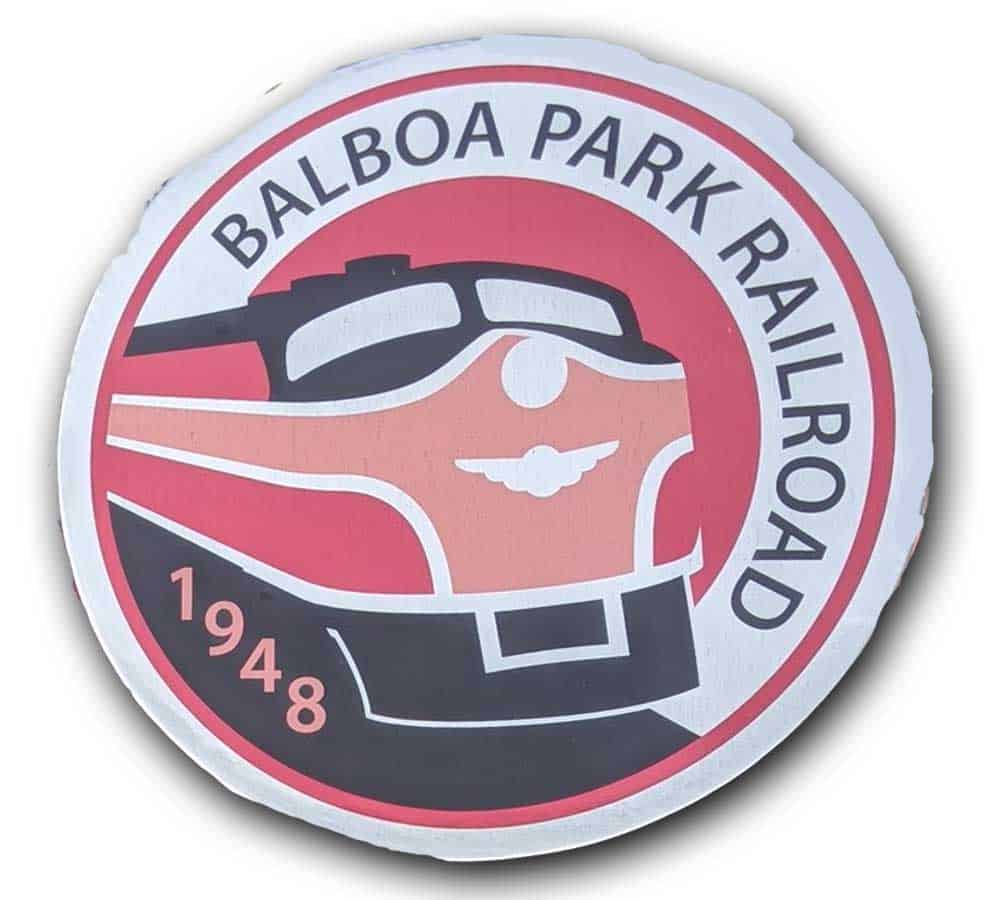 This toddler-scale ride is the perfect ending to a day at the zoo. The Balboa Park Miniature Railroad is just outside the Zoo's exit. It's only open weekends and holidays during the regular season. But during peak spring and summer periods as well as holidays it's open daily 11:00 AM –  4:00 PM. 
Riding on this mini train will give your small one a thrill. But make sure that you don't get on with a group of schoolkids off on holiday. They'll all scream at once then the train goes through the tunnel. That will probably scare your tiny tyke and may make the drive home a cry-fest. 
5 Tips for Visiting San Diego Zoo and Safari Park With Toddlers
Bring or rent a stroller. It can get hot and your tyke can get tired
Pack a hat
Bring at least SPF 50 sunscreen
Bring your tot a light jacket if you're going to stay later, particularly during extended summer hours
Bring the kids' favorite snacks and drinks. Carrying personal food into San Diego Safari Park is ok. But there are no large coolers, glass, straws or alcohol allowed
BONUS TIP: Don't Take the San Diego Zoo Guided Tour Bus with Toddlers
While the Guided Tour Bus is recommended for almost everyone else visiting the Zoo, don't bother taking your child until they're at least 3 years old. 
35 minutes is a long time for any toddler to sit still. And if your child's small they may have to stay in your lap.
You can't take your stroller with you. You'll have to park it in the nearby stroller lot. You won't have all your supplies if your youngster gets fussy.
The best view is on top. But that may be too sunny and hot for tots.
Closing Thoughts
This article was compiled from hours of researching forums and days of watching parents navigate both the Zoo and Safari Park with a tot in tow. If you ask me whether San Diego Safari Park is good for toddlers I'd say YES. And here's a pageful of Safari Park things to do including activities, shows, playgrounds, and tours to prove it.
But…
If it's your first visit to San Diego
You're staying near downtown
And you're trying to decide which one to visit with your 2-year-old or younger child…
Take your toddler to the San Diego Zoo rather than Safari Park. Everyone will be happier.