How to do San Diego Safari Park from Africa Tram to zebras. Here's a gorilla-sized tips guide to animal exhibits, shows & tours. A day planner's included with animal encounters and entertainment events pre-loaded. You'll know what you want to do, and when to do it to have a great day.
At San Diego Zoo Safari Park you can have an African Safari experience without going to Africa. Walk and see wild animals in large natural field enclosures and exhibits like Lion Camp. Enjoy activities like Africa Tram, Cheetah Run, overnight camping, ziplining, ballooning, playgrounds, and shows.
*Save with a secret promo code on each San Diego Zoo or Safari Park 1-Day Pass. Go any day. Go directly to the gate. Click HERE to get your code, instructions & discounted tickets by email. By clicking the link above you agree to receive an automated email message. Valid only at aRes Travel, San Diego's local authorized ticket seller. Read my full privacy policy.
If you make purchases through the links in this post, I may be compensated. Read my Advertising Disclosure for more info. Thanks! ~ Nancy
That's the quick summarized version of what there is to do at Safari Park. But there's a lot more to discover below. Also, check out my Safari Tours reviews to discover how much time each takes to make organizing your day easier.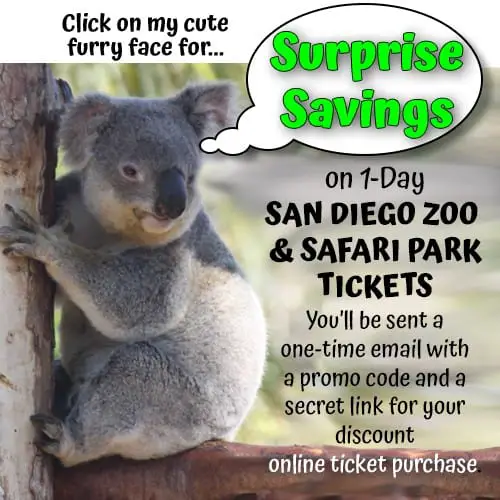 What Can You Do At San Diego Zoo Safari Park?
At Safari Park You'll Walk…a Lot 
You'll be getting your steps in during your day at San Diego Safari Park. It was designed first as a breeding facility for rare and endangered species. Because of this, the animal exhibits have more room here than at a 'normal' zoo. And thus you'll be strolling a bit further between them. 
Safari Park is 1800 acres large. But the area that is open to general admission ticket holders is only about 80 acres ( Link to my page with the maps ). Still, that's a lot of ground to cover.
If you have limited mobility there are wheelchairs and electric scooters for rent. There's also an ADA (American With Disabilities Act) shuttle bus to get you around the park. Those who have difficulty with standing in line may request an "Easy Access" pass at the entrance to Safari Park. The pass offers you and 3 more members of your group preferred boarding and seating if needed. Download the park's "Guests With Disabilities" guide for more information.
You Can Take a Safari Tour
There are 9 different types of Safari add-on experiences, and 27 different variations.They range from animal photo and feeding opportunities to sleepovers and activities like zip lining that will get your adrenaline going. You'll need to make reservations well in advance. They fill up quickly and you can plan your day around them.
TIP: Make sure that you arrive at least 10 minutes early for your Safari. If you're late or miss it you will not be given a refund or a raincheck in most cases. Cancellations for full refunds must be done 5 days in advance.
Below you'll find quick summaries of all 9 Safari tours. For detailed information including how much time you'll need, costs and other requirements see my page on Safari Park Tours.
Caravan Safari Is the Most Popular Paid Tour at San Diego Safari Park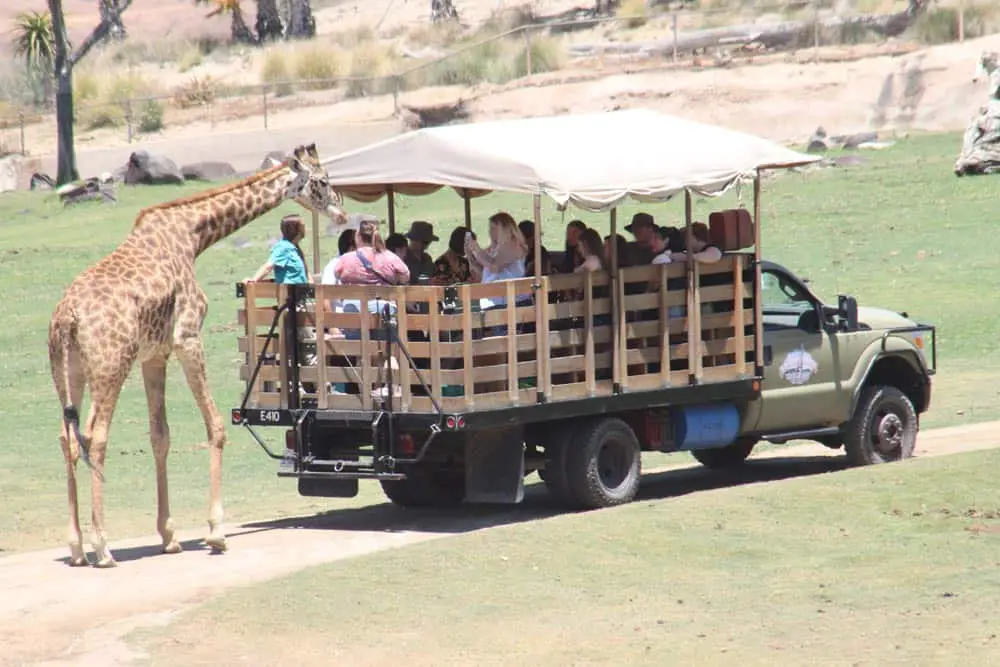 This is our favorite Safari, we've taken it several times. You ride a flatbed truck out into the wild animal herds in their large field enclosures. These include even the dangerously unpredictable cape buffalo who are sometimes called "the black death". Fortunately, you will be accompanied by a knowledgeable guide familiar with their behavior to keep you out of trouble. The guides also point out other (safer) animal behaviors and answer your questions. 
They'll also help you feed the giraffes and sometimes rhinos if the critters are feeling curious and hungry. There are always so many great photo opportunities on this trip it's sometimes hard to choose where to point your camera. 
Roar & Snore Safari Is More Than Just Camping Overnight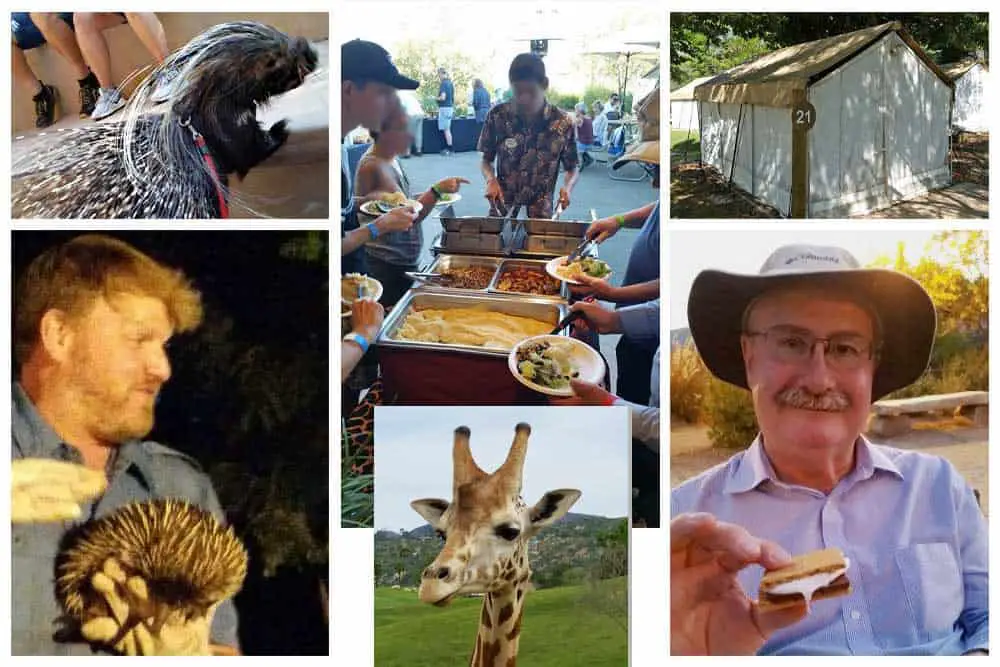 Experience the sights and sounds of an African safari without the killer plane ticket cost. You get to fall asleep to the sounds of elephants snorting and giraffes walking by. And the sounds of lions roaring may wake you the next morning. You get a tasty, filling dinner and a hearty breakfast. There's also a night campfire where you can make gooey s'mores. There are guided night walks through some behind-the-scenes areas and a morning keeper presentation. 
Behind-the-Scenes Safari Shows You San Diego Safari Park's Secret Places
Explore behind the scenes into areas not accessible to the general public. This guided safari's a  great way to get an insider's view of some of the animals at safari park and the organization's conservation efforts. You'll also get a chance to meet and maybe feed some of the Safari Parks animal ambassadors. There are 7 different types of Behind-the-Scenes safari; platypuses, elephants, tigers, rhinos, kangaroos, cheetahs or butterflies. 
Cart Safari is a Relaxed Tour Around the Large Field Enclosures
On the Cart Safari tour you get a chance to observe herds of giraffes, rhinos, antelope and other animals in a natural setting. Your driver is also an experienced guide. They'll point out significant behaviors and would love to answer your questions about what you're seeing. 
It's a more relaxed trip than the Caravan Safari and offers lots of photographic opportunities. 
Flightline Safari -Fly Over San Diego Safari Park
Get your pulse pumping, and feel the wind in your face as you fly 2/3rds of a mile over herds of antelope, rhinos and giraffe. 
You'll get a training session from professional staff and take a short practice flight to get your landing technique down. Then you'll take a truck up to a high ridge above the park and fly down. 
TIP: Pay the little extra for a helmet camera to record your trip down. Using your cell-phone to make your own live video is not possible. You'll need your hands free to hold your harness when you land.
Cheetah Safari – Meet the Spotted Speedsters
Watch the Cheetah Run at speeds close to 70 miles per hour from a prime reserved trackside spot. Then meet the speedy sprinter afterward for an exclusive close-up experience. 
There will be plenty of opportunities to take amazing cheetah close-ups. But don't waste your time trying for the perfect selfie with a cheetah. The Safari Park employees will make sure that you get a great shot with the big cat. 
Another African animal ambassador will also be brought out for you to meet before the run. This Safari is relatively inexpensive so it fills up fast. Make your reservations early. 
Balloon Safari – Get Above It All
Soar 400 feet above the scenic San Pasqual Valley and the herds of wild animals below. This is a tethered ride, so you don't have to worry about floating away and landing within Lion Camp. This safari is very dependent upon favorable weather conditions.  
Try to schedule your ride between 9 AM and noon. Winds tend to pick up speed in the valley during the afternoon. And the balloon safari does not fly during the Cheetah Run. It can spook the cats.
Ultimate Safari – Wish Fulfillment for Animal Lovers
Build yourself a custom safari experience with the assistance of the Safari Park's professionals. Visit off-exhibit areas. Have close encounters with the animal ambassadors that interest you most. Make it as adventurous as you wish, zipline, balloon ride and rope courses, cape buffalo, feeding an elephant. Dream big. Explore Safari Park with your personal tour guide for up to 8 hours.
Board These Safari Park Rides
Africa Tram is a Must-Do Safari Park Activity
Africa Tram is a must-do activity especially if you aren't going on one of the paid safaris. When you hop aboard it's like you've been transported to the plains of Africa. You'll see herds of giraffe, rhino, antelope and birds living together just as you would there. The tour guide drivers are very knowledgeable and quite often funny. They'll point out unique animal survival tactics and adaptations and new babies in the large field enclosures. 
TIP: The animals are most active when it's coolest. On hot days try to catch the earliest tram rides or the latest ones. The tram starts running at 10 AM. It stops 45 minutes before the park's closing. I've written an in-depth review with extra tips on my Safari Tours page. 
Conservation Carousel
Have your kids (or you)  ever dreamed of riding a tiger, a bear, or maybe even a zebra? You can do it on this merry-go-round. It features 60 endangered animals and was opened in 2005. There's a $6 fee to ride the carousel. (open 10 AM to closing).
Watch Shows and Keeper Talks at San Diego Safari Park
Shiley's Cheetah Run Is a Must-See at Safari Park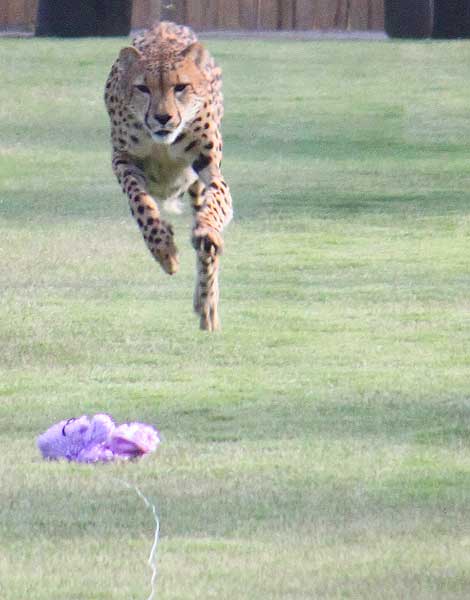 Don't even THINK about visiting San Diego Safari Park without attending Cheetah Run. See one of these leggy cats explode out of its carrier and sprint after its prey (a stuffed animal on a motorized tether) at speeds close to 70 miles an hour. Six or 7 seconds later it comes to an abrupt halt at the end of the 100 meter run. It's long tail whips around for balance and dirt goes flying as its feet dig into the turf. Spectacular. Hang around. Depending upon how the cheetah feels they sometimes run the course twice.
TIP: Get to the Shiley's Cheetah Run track at least 30 minutes ahead of time. Good viewing areas are on the bridge close to Savannah Cool Zone and on the walkways closest to it. The entire presentation lasts about 20 minutes and usually starts at 3:30 PM. Confirm the time when you arrive at Safari Park.
Tiger Keeper Talk
Get close-up views of tigers and inside information on how they're cared for at Safari Park. The keepers use this time to provide enrichment to the tigers as well as give them a quick physical exam. The Sumatran tigers are the smallest tiger. But they're still intimidating as you see them stretch up on their hind legs to reach a meaty treat. 
TIP: Arrive at least 20 minutes early for the 11:45 AM Tiger Keeper Talk. The 15-minute tiger training session is very popular. 
Frequent Flyers Bird Show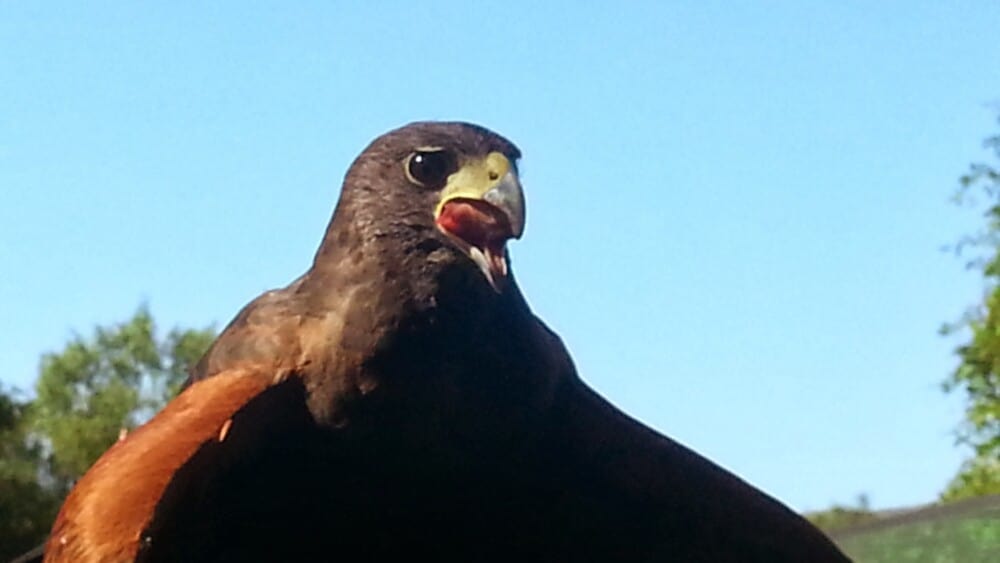 (Temporarily canceled due to avian flu)
This is an entertaining show, perfect for an afternoon sit-down break. You'll experience exotic birds like owls, parrots, and large vultures flying just inches above your head. They're close enough to reach up and touch (but don't).
They're not caged or tethered in any way. It's an impressive example of the power of positive behavior conditioning and the patience and kindness of the keepers. The 20-minute show is presented twice, once at noon and again at 2:00 PM. 
Animal Ambassador Stage 
Get within a couple of feet of various Animal Ambassadors here. You never know what the keepers will bring out. I've gotten up close to tiny Kestrel hawks, echidna (an Australian spiny anteater which has spines like a porcupine, a beak like a bird, a pouch like a kangaroo, and lays eggs like a reptile) to a golden eagle and African serval cats. 
Training Talk
(Temporarily canceled due to avian flu)
Get an up-close look at free-flight bird training. Most people don't bother with this presentation. That's what makes it so good. You can often sit in the front row and see firsthand how expert animal trainers establish trust with their charges. Aside from being able to view exotic birds up close, it's easier to ask questions in this forum. If you pay attention you can pick up tricks that can be applied to your cats, dogs, and maybe even kids to encourage them to do what you want them to.
Talk with Robert the Zebra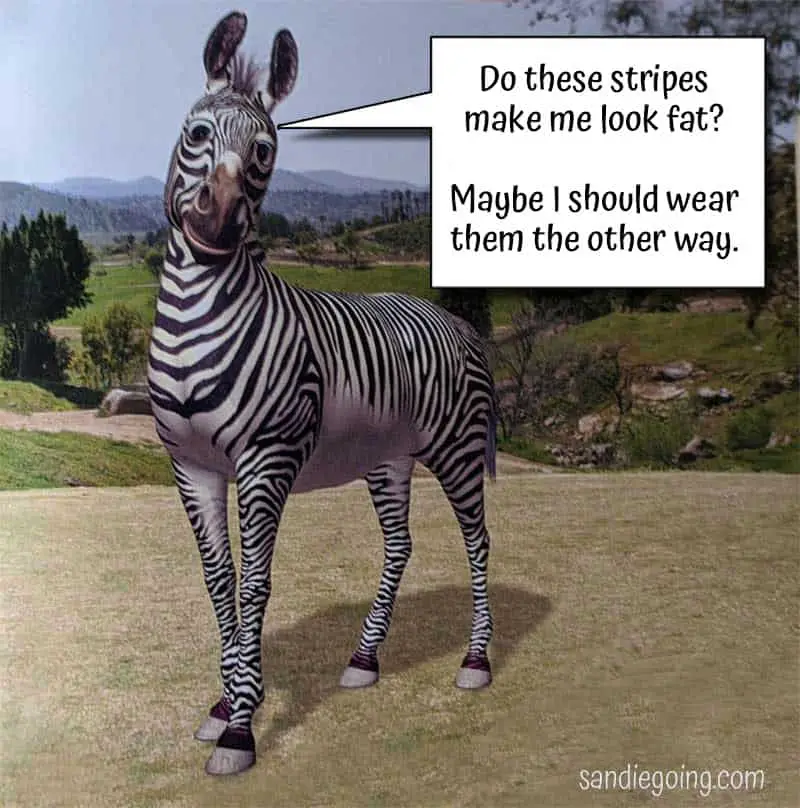 Chat with a digital, interactive zebra. He's snarky, and clever and will keep your children occupied for 20 minutes with stories about what it's like to be a zebra. Kids are fascinated by this cartoon zebra that carries on a conversation with them from a large-screen TV. You can talk to Robert every hour on the hour from 11:00 AM – 4:00 PM.
Visit These Can't-Miss Safari Park Animal Exhibits 
The Platypus are a Must-See at Safari Park in San Diego
These are the only platypus on exhibit outside of Australia…anywhere. So go see them. Give yourself some time and exercise a bit of patience in this exhibit.
First, it's dark and you'll need to let your eyes adjust to the bright San Diego sun.
Second, platypi move fast and rarely stay put in one spot. Getting a good photo can be a challenge. Just have fun looking at these energetic creatures. 
Gorillas
Gorillas have always been one of the most popular animals at Safari Park and the Zoo. Go anytime. They are fed five or six times per day with leaves, stems, fruit, seeds, and roots. Be sure to check out the Gorilla Activity Center. Compare your arms to those of an adult male gorilla on a drawing, listen to their vocalizations, and watch a video on how the keepers care for them. 
Elephant Valley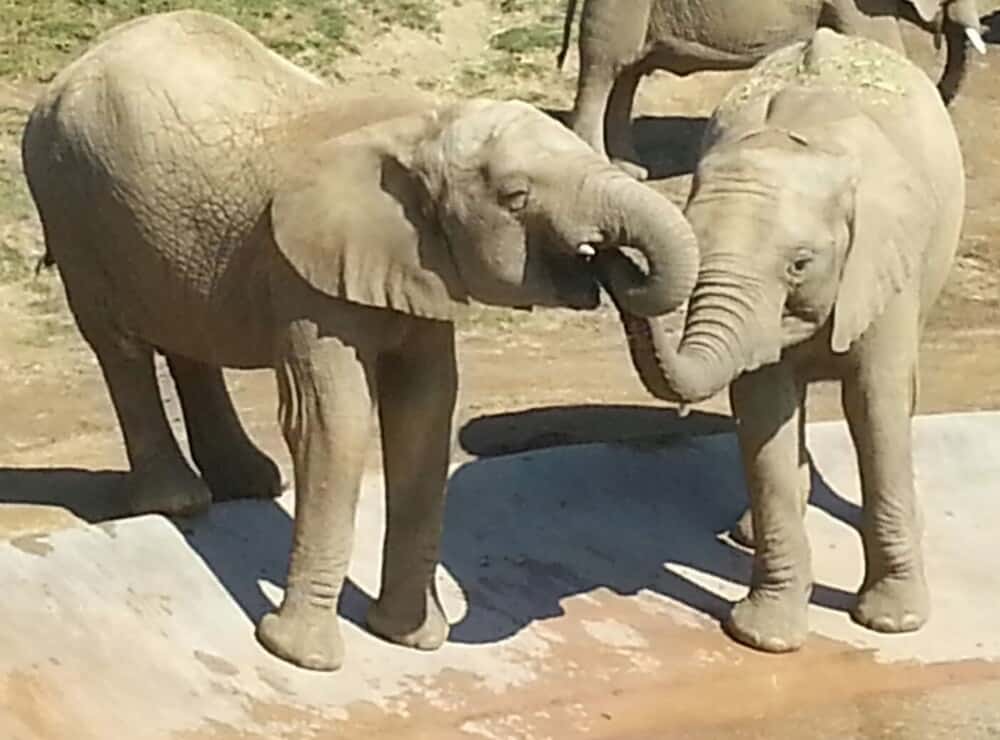 (Elephant viewing may be limited due to the construction of the new, larger 'Elephant Valley' exhibit.)
There are few things as wonderful as seeing elephants playing in the water. There are two swimming pools for the San Diego Safari Park herd in this 5-and-a-half acre habitat.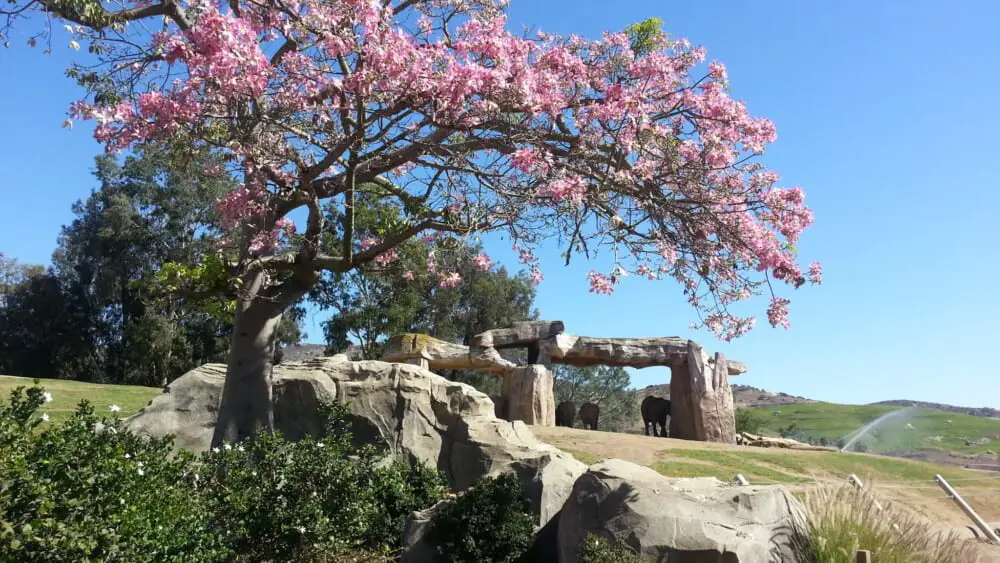 There are two main yards. One is usually open while the other is being cleaned of copious amounts of elephant dung and stocked with treats. In most cases, the Elephant Viewing Patio will be the best place to watch them. 
NOTE: Open observation points may differ during the construction of the new Elephant Valley exhibit.
Lion Camp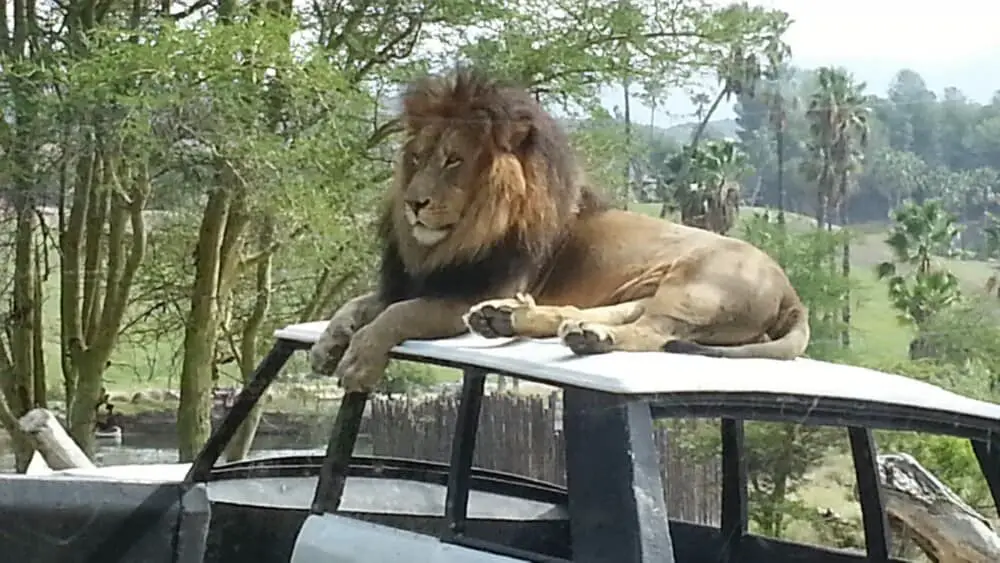 The lion exhibit at San Diego Zoo is justifiably famous for its design. It's both visitor friendly and great for the lions themselves. There are many places to view lions from the large windows by the air conditioned rocks, to rock piles and an 'abandoned' jeep that sometimes hosts a very large sleeping feline. The lions have wonderful views of the large field enclosures filled with tasty meals on the hoof. Think of it as must-see cat TV. 
Tiger Trail Sambutan Longhouse
If you love tigers, you'll love Tiger Trail. It's green and lush and the perfect place to watch tigers watching you. For more information on what's there and why you should go there, check out my "11 Coolest Reasons to See San Diego Safari Park Tiger Trail" page. 
Kangaroo Walk in Walkabout Australia
At Kangaroo walk you can go inside the exhibit and see wallabies and kangaroos go bounding by on all sides. And if you're lucky, maybe one will stop within petting distance. They're super soft and feel like they're covered is fuzzy wool. 
Petting Kraal
Kids love brushing and petting the three types of small African goats here. One word of caution. Goats will try to eat ANYTHING. So make sure that your cameras, purses and wallets are tucked away safely. Any children that are intimidated by the rambunctious kraal critters can relax next door at the Village Playground. Because of their proximity, it's easy to keep an eye on both areas. 
Kids Love These Playgrounds At San Diego Safari Park
Samburu Jungle Gym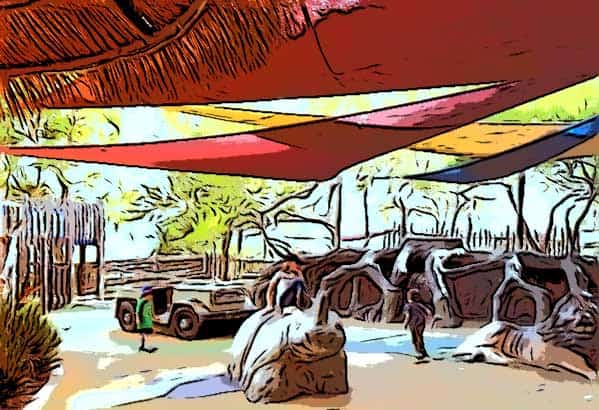 This will be your favorite playground at Safari Park. Your kids can climb on a rhino or pretend to be driving a jeep across the African plains. And you can watch their antics while relaxing in the shade at Samburu Terrace. Sip a cold one and have lunch while your offspring work off their excess energy. 
Savanna Cool Zone
Your kids can have a wet and wild time here while you sit in the shade and keep an eye on them from tables by Lion Camp Slush and Snacks.. It's perfect for hot summer days. There are play statues shaped like lions and tortoises with squirt fountains coming from their heads on a soft spongy play surface.
Camp Play Area
Kids climb, slide and run on tree trunks in a simulated logging camp hidden within the lush wooded landscape of Tiger Trail. There are also statues of a tiger mom and her cubs where you can take memorable photos of the kiddos. 
Village Playground
KIds have fun experiences in this interactive play area designed as an African Village. It's located next to the Petting Kraal in Nairobi Village. This is great planning because some children are frightened by the curious goats poking their noses everywhere looking for treats. It's much easier for parents with several kids to keep an eye on everyone here. 
Jameson Research Island
Your kids will have buckets of wet fun here…literally. Buckets periodically dump cooling water in one of the play areas on the island. Even though the African Loop that goes past the flamingos and colobus monkeys goes over water, the path can get very warm in the summer and early fall. 
Explore These Gardens at San Diego Safari Park
Bonsai Pavilion is the Best Garden at San Diego Safari Park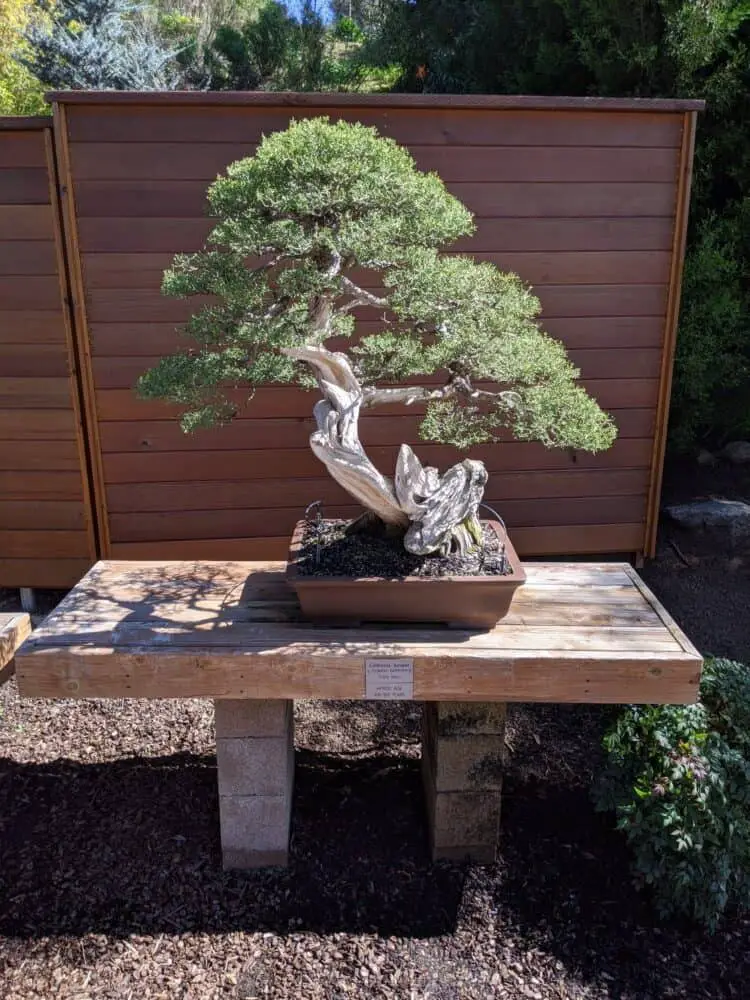 The Bonsai Pavilion at San Diego Safari Park is fascinating even to those who aren't into gardening.  These aren't just plants, they're art.
Bonsai is a Japanese word that roughly translates into "tree in a tray". Ordinary young trees are shaped by pruning and cutting to mimic the natural effects of centuries of wind and weather on a small scale. 
Baja Gardens, Old World Succulent Gardens, and California Nativescapes Garden
Take a walk on the wild and spiky side in the World Gardens. These three gardens will amaze you with the wide variety of plant shapes, colors, and sizes found in the world's arid areas. It's like a journey through a Dr. Seuss book with elephant trees, euphorbias, and over 200 boojums. 
TIP: Bring a water bottle. These gardens are located at the highest elevations in the park that are open to the public. They can be physically challenging, especially during the hot afternoons in August and September. The best time of the year to see these exhibits is early May when many of the plants are blooming.
Epiphyllum Trail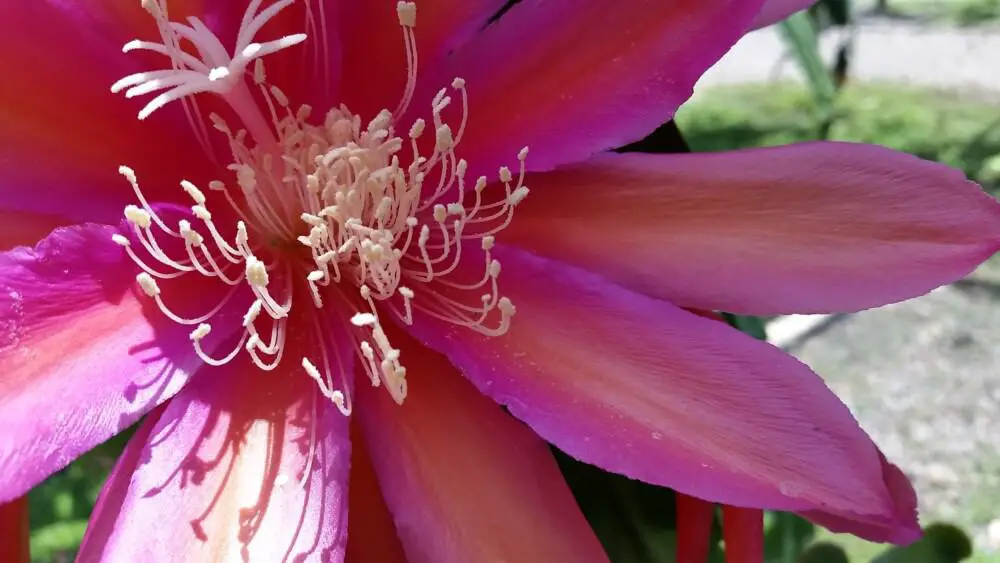 The blooms in this garden are spectacular from April through early July. At other times this garden is rather boring.  
Epiphyllum are cacti indigenous to central America and Mexico. They live in the crooks of trees and get water from the moisture in the air. Almost all of the plants are hybrids that combine the characteristics of several different naturally occurring species. 
Herb Garden
Give your nose a treat. Take the thyme to smell the roses, it won't cost you a mint because entry to this garden comes with your San Diego Safari Park admission, Herbs have been used for centuries to flavor food, treat illnesses and make us smell good. There are over 20 different species of herbs here. 
Hidden Jungle
Wander through a tropical rainforest complete with towering trees, flowering vines, and exotic birds. Many of the birds are named for their colors like the blue-capped cordon bleu, pink pigeon, and purple grenadier. 
In springtime, half of this exhibit is home to Butterfly Jungle and you'll see many more colorful wings than usual. The other half of Hidden Jungle is reserved for birds that eat butterflies and other insects. It's a natural way to keep the butterflies inside.
TIP: Visit this exhibit in the morning or late afternoon. This is an enclosed greenhouse. It can be hot and humid. 
Mombasa Lagoon
Even though this area is listed by Safari Park as a garden, the major attraction here is the birds, not the plants. At any given time there are over 150 avians here from about 25 different species. There are cormorants fishing, storks, ducks, and my favorite, the shoebill. It looks like something out of Jurassic Park. 
If you see some of the birds taking off and flying away, don't worry. They're most likely local freeloaders like great blue herons, egrets or migratory birds like mallards. 
Additional Tips for Visiting San Diego Zoo Safari Park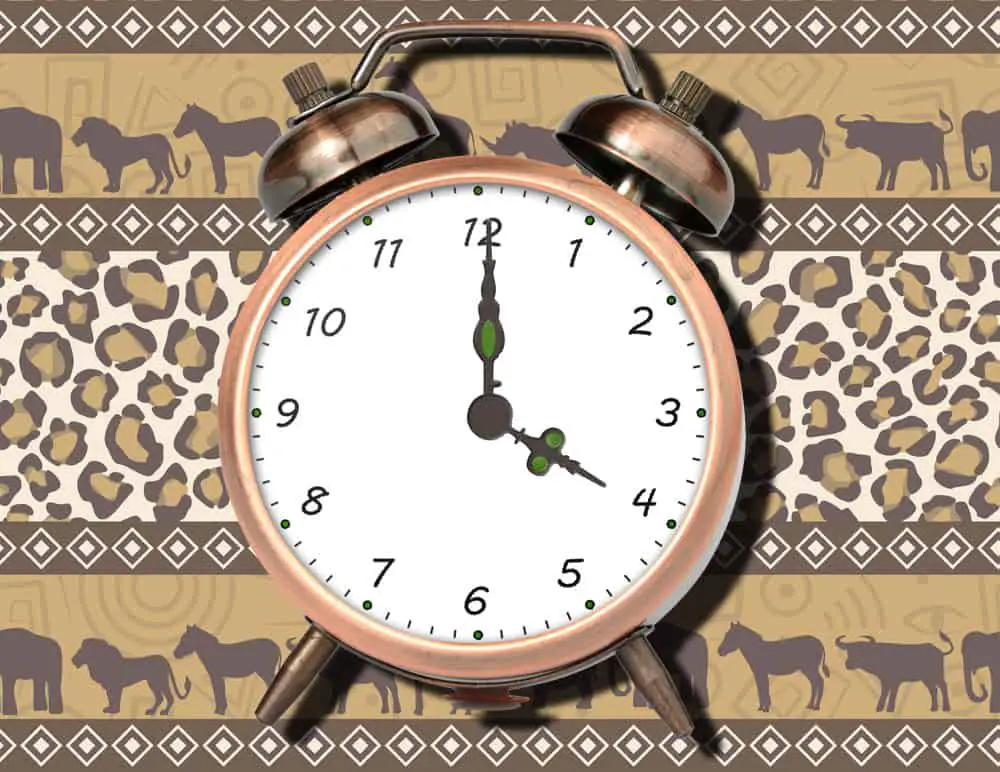 How long does San Diego Zoo Safari Park Take?
People in online forums say that it's possible to see Safari Park in two hours. They're wrong.
San Diego Zoo Global recommends allocating at least 4 hours. The only way to "do" Safari Park in 2 hours is to just walk to Africa Tram to ride it and then walk back to the parking lot. Keep in mind that the park is at least 45 minutes of travel time from downtown San Diego…each way. Then add another 30 minutes for parking and walking to and from the entrance. 
If you've only got 2 hours and you're near downtown San Diego, just go to the Zoo in Balboa Park. Take the money that you'd have spent for getting to Safari Park and buy a nice dinner with some wine at Albert's Restaurant.
What's the best day to go to San Diego Safari Park?
The best days to visit Safari Park are typically Tuesdays and Wednesdays on weeks without a major holiday. The park is less crowded on these weekdays. If you're going on a holiday weekend, get there at 9:00 AM when it opens.
Click HERE to check your date(s) to see if Safari Park will be crowded. 
Safari Park can get very warm in late August and September. These are the days when temperatures can be over 100°F (38°C). It doesn't happen very often, but make sure that you've packed hats and refillable water bottles if you decide to go then. 
Don't let a bit of rain keep you from going to Safari Park. It can be a delightful experience. Here's a page that I wrote giving you tips and hints for enjoying Safari Park in the rain. 
What's the Best Time to Arrive at San Diego Safari Park?
It's best to arrive at San Diego Zoo Safari Park just before opening at 9:00 am. Many of the animals at Safari Park will be more active when it is cool. Also, keepers generally put out enrichment and treats first thing in the morning. That encourages the animals' natural foraging behaviors and keeps them from getting bored.
Where's the Best Place to Eat in Safari Park?
The best restaurant in San Diego Safari Park is The Watering Hole at Kijamii Overlook. But it may not be the best for you. So I've written an entire page about all the restaurants and eateries at and around Safari Park. Chow down!
7 Things You Should Wear to San Diego Safari Park
Closing Thoughts
I hope that you've found this post on what to do at San Diego Safari Park useful in planning your day. Because this attraction is not your ordinary zoo, some people can get overwhelmed by all the options and just decide not to go. I didn't want this to happen to you. Let me know if you have questions on any of the Safari tours, rides, activities, play areas or if you know of a great tip for visiting San Diego Safari Park.