Does San Diego Zoo allow you to hold or touch their animals? I decided to find out because I've always wanted to snuggle a fuzzy koala, sloth or panda. After a few calls and a lot of reading, I got my answers.
San Diego Zoo doesn't allow you to hold their animals. It's not safe for you or them. But there are tours & experiences that may include touching & feeding trained Animal Ambassadors. They cost extra. (Check out my zoo tour comparison article HERE) Pet wallabies, and kangaroos without extra fees at San Diego Zoo Safari Park's Walkabout Australia. They also have a kids' petting zoo.
If you make purchases through the links in this post, I may be compensated. Read my Advertising Disclosure for more info. Thanks! ~ Nancy
*Save with a secret promo code on each San Diego Zoo or Safari Park 1-Day Pass. Go any day. Go directly to the gate. Click HERE to get your code, instructions & discounted tickets by email. By clicking the link above you agree to receive an automated email message. Valid only at aRes Travel, San Diego's local authorized ticket seller. Read my full privacy policy.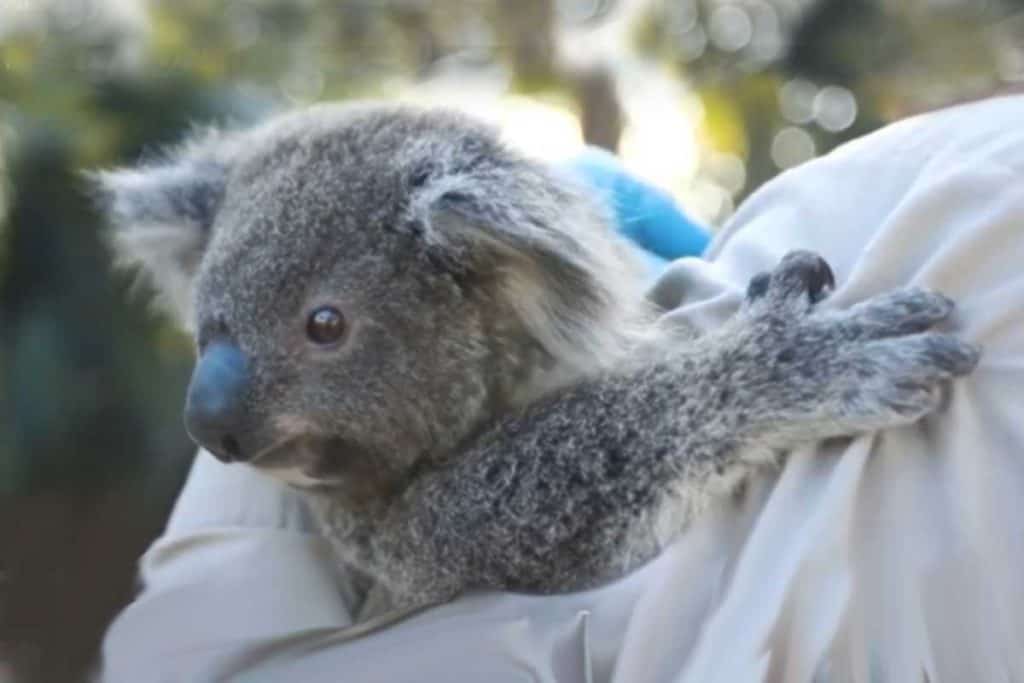 If you're like me, you want to expand your animal experiences at the Zoo beyond just feasting your eyes on the exotic wildlife on display. Here are the results of my research on the best ways to have close encounters of the animal kind at the San Diego Zoo.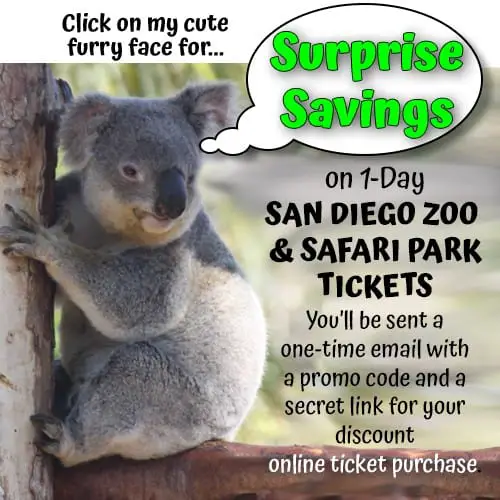 Holding Animals at the San Diego Zoo Is Not Allowed
For most Zoo attendees, even trying to touch the animals can be a criminal offense. You aren't even supposed to disturb the plants. 
It's illegal. Entry into any animal exhibit without the consent of an authorized representative of San Diego Zoo Global can land YOU behind bars. So stay on the marked paths and within designated areas or you risk being charged under California Penal Code Section 602.13
It can be harmful to you or the animals. Aside from it being a criminal offense, touching or holding a San Diego Zoo animals can hurt the animals that you love. A large majority of the animals in their collection are not domesticated. They may have grown up in captivity and are sometimes well trained. But they have not been bred for millennia to live with us and even love us. Their wild instincts are still intact.
Even when they're with familiar keepers, these wild animals are easily frightened by 'ordinary' noises and experiences that we take for granted. This fright can cause them to jump or lash out with fang and claw. And like any of us, if they're dropped, they may be injured. 
How to Touch Animals at San Diego Zoo
…without being hauled off by the San Diego police to face a judge.
There are several ways that you can have unforgettable close encounters with animals at San Diego Zoo. In most cases, you'll have to pay extra in addition to the Zoo's general admission (which may be cheaper than you think after you've read about 30 different discounted ticket options here).
Take an Inside Look Tour
Inside Look Tours are private cart experiences that drive you to some of the popular animals in the Zoo's collection. Have close encounters with giraffes, polar bears, flamingos, and baboons. These tours cost you extra in addition to your general Zoo admission.
PRICE: $89+ per person (check HERE for daily tour deals, especially for weekend and holiday visits). Maximum of three children per adult. Every child under 15 must be accompanied by an adult.
Zoo admission must be purchased separately for each member of your group. Check here for entry ticket discounts and bundling deals from local San Diego authorized ticket seller aRes Travel.
DURATION: They typically last 90 minutes.
Tours fill up quickly. You can reserve a time months in advance. This is a good idea because people start planning their vacations in January. Reservations in peak summer season July, August, September fill up quickly. 
The tours take you on a small cart to visit off-exhibit areas. They also include animals that are not on exhibit for the general admission ticket holders in addition to the animals that are the focus of the particular tour. These experiences change constantly because of animal health and availability.  
Right now there are 6 different Inside Look Tours and not all of them are scheduled daily. : 
Giraffes & Friends
The Zoo's Masai giraffes are the main focus of this tour. You'll learn how these 2-story tall gentle giants are cared for. Some of the challenges that they're facing in the wild and how you can make a difference in their survival. 
Click to check to see if there's a Giraffes & Friends discounted tour on the day you want.
You'll get a very close-up look when they bend down to take their favorite food (acacia leaves) from your fingers. Their heads are HUGE.  But don't pet them. Giraffes (particularly male giraffes) use their heads as battering rams against each other. So any touch to their heads can be threatening. And you don't want to agitate a 2,000-pound 18-foot tall giraffe unless you're another giraffe.
Surprise Tour
The animals featured on this tour are a surprise. And you're shocked by that? All that you know when you book this tour is that you'll have special experiences at two different animal exhibits. You'll be able to get close to them and learn more about how their keepers care for them, their special adaptations, and the challenges that they face in their natural habitats. 
The Inside Look Surprise Tour is also available before the Zoo opens. If you book an 8:30 AM tour you'll get the best view of animals that are nocturnal or crepuscular (most active at dawn and dusk). Check HERE to see if there's a discount on a Surprise Tour on the day of your visit.
Polar Bears and Friends
Wake up with the polar bears! This morning tour gives your group exclusive access to the polar bear exhibit when they're most active…right after their keepers have put treats out for them! Discover how they're cared for and made comfortable in sunny, hot San Diego. You'll also make several more stops for up-close experiences with other zoo wildlife.
Find out if there's a discounted Polar Bears and Friends tour that works for you.
Wild Canines and Friends
Love dogs? Get close-up views of some of San Diego Zoo's canines. Some of the animals that you may encounter include singing dogs, timber or maned wolves, or fennec foxes (which have the most enormous ears!). Find out what makes them so successful in the wild. Includes a tour around the Zoo for close-up experiences with more of the Zoo's wildlife. Click HERE to find deals on Wild Canines and Friends tours.
Baboons and Friends
The best thing about this tour? It's the Hamadryas baboons' crazy active babies! Get close-up views of them and all their relatives through a special viewing area in their exhibit. One of their keepers will fill you in on their complicated social life as well as secrets to keeping the troop happy and healthy at San Diego Zoo. And what the Zoo's doing to help them thrive in the wild.
See if there's a deal on Baboons and Friends tours on the day of your visit.
Feed Giraffes and Rhinos at San Diego Zoo
Feeding a giraffe or rhino is unforgettable, but the opportunity is not available every day. Check the chart below for days and times. You can buy these tickets at a small booth at rear of Sydney's Grill by the restrooms in Urban Jungle. They are not available online.
Note: The Rhino Experience is temporarily unavailable while the hippo habitat is being remodeled. The rhino is reportedly hooking up with a cutie at Safari Park.
Giraffe Experience tickets available 1 hour before event
Rhino Experience tickets available 30 minutes before event
These experiences aren't listed on the Zoo website because they are dependent upon the health of the animals and available zoo personnel.
Note: The Rhino Experience is temporarily unavailable while the hippo habitat is being remodeled. The rhino is reportedly romancing a cutie at Safari Park.
Feeding Experience
Days
Feeding Times
GIRAFFE – 3 biscuits. 8 people maximum
Th – Sun
Noon – 1:00 PM
5:00 PM – 6:00 PM
RHINO – (temporarily unavailable) 3 biscuits. 4 people maximum
Sat – Sun
11:30 AM – Noon
How to Pet or Touch Zoo Animals (without paying extra)
You'll have to go to San Diego Zoo Safari Park 30 miles north of downtown in Escondido. There are two separate exhibits at that attraction where you can touch the animals.
Touch kangaroos and Wallabies at Walkabout Australia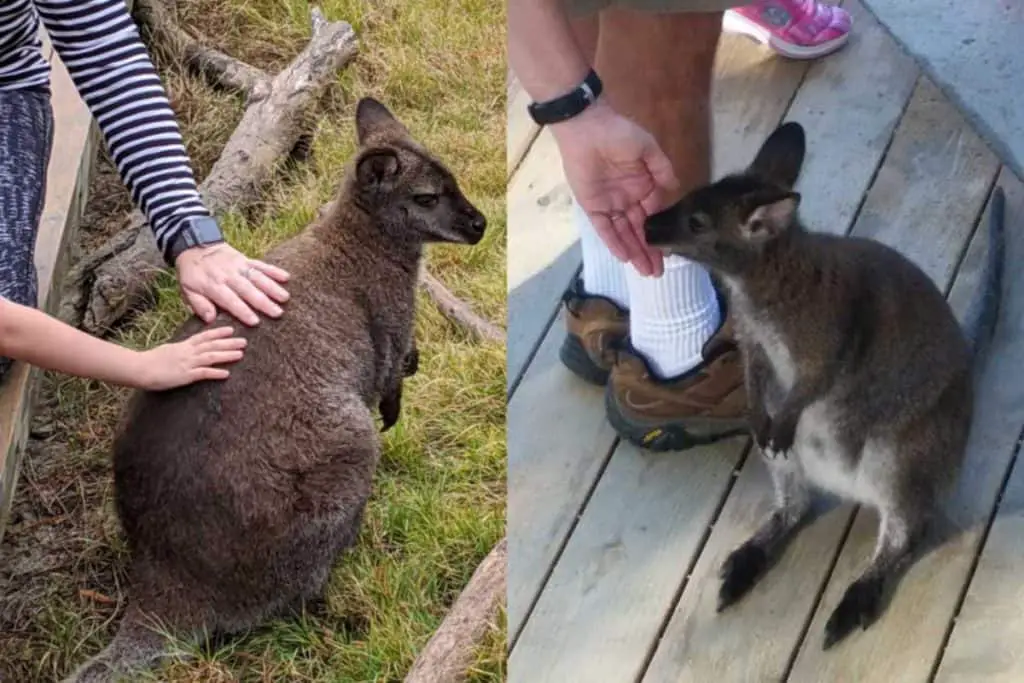 You can touch kangaroos and wallabies without paying anything more than your general park admission. The only restriction is that they have to come to you. And you have to stay on the walking paths. But it does happen!
It may be worth your while to travel the extra distance for the chance to experience what touching a fuzzy wallaby feels like. NEWS FLASH! They're as soft and woolly as they look! 
Petting Kraal
San Diego Zoo used to have a Children's Zoo where your kiddos could pet the kid goats. But that's gone now.
The Petting Kraal in Safari Park holds pygmy goats, Boer goats, and floppy-eared Nubian goats. They're all child-sized for petting and sometimes brushing.
Make sure that you've secured all food, cameras, and other items that you don't want to be eaten. Curious goats will get into everything!
Can You Hold a Koala at the San Diego Zoo?
San Diego Zoo does not allow you to hold their koalas. They've got sharp claws and may hurt you. The closest place where you can hold a koala is the Kuranda Koala Gardens in Queensland, Australia. But getting there from the US will cost a LOT more than a ticket to the San Diego Zoo.
But you can often touch Koala fur at San Diego Zoo. Look for the red-shirted volunteers in the Outback area. They usually have a bit of koala fur (it feels like the wool on a sheep) and some other interesting, touchable koala-related objects.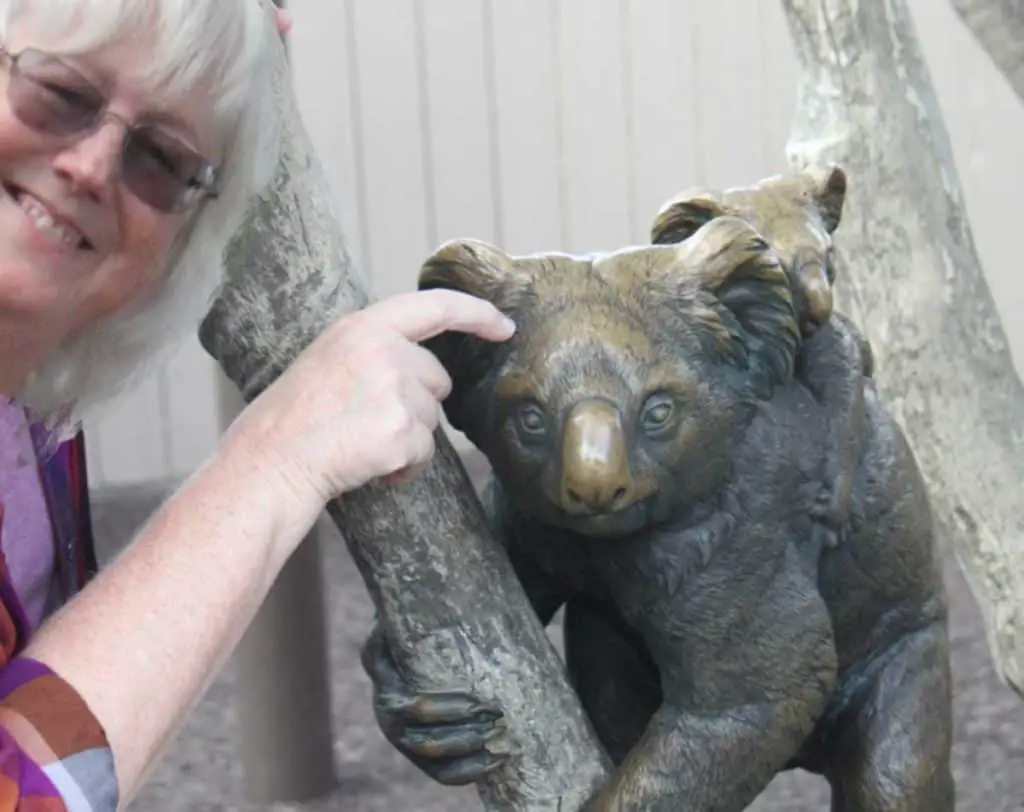 Take a selfie next to a Koala, Ok, it just looks like it in photos. There's a faux tree that features life-size sculpted koalas across from the doe enclosure. The carved koalas are at a good height for adults to take photos with.
The tree sculpture doubles as a kid's play structure. So you can take photos of your kiddos right next to the koala statues. The play area has a soft spongy surface underneath the structure that makes it more fun for kids. 
Can You Hold a Sloth at the San Diego Zoo?
You cannot hold a sloth at the San Diego Zoo. But two-toed sloths are sometimes are included in the Animals in Action Experience. You are sometimes allowed to touch or feed those animals.
Unfortunately, the sloths are now off-exhibit for general admission guests. They used to be located in Elephant Odyssey. Their enclosure was between the saber-tooth cat sculpture and the elephants' pond.
Can You Hold a Panda at San Diego Zoo?
You cannot hold or touch a panda at San Diego Zoo. The black and white giant pandas were returned to mainland China in 2019. And even before that, visitors were not permitted physical contact with them. 
This is no reason to skip the Asian Passage area of the Zoo. The cuteness-by-the-gigabyte red pandas are still in residence there. And the Amur and snow leopards slink by with supermodel spectacular good looks.
Closing Thoughts
To sum up, there are more opportunities for petting animals without additional cost at the San Diego Safari Park. Your best chance to get close to, and maybe even touch animals at the San Diego Zoo is by taking one of their extra tours.