What are you allowed to bring into the San Diego Zoo? Which food, drink, coolers, strollers, luggage, camera equipment or pets are ok? After a few calls and a lot of reading, here's what I found out.
San Diego Zoo permits bringing in items that are animal-safe. Food and non-alcoholic drinks are ok. No straws or glass containers. Coolers, strollers & luggage are fine but must be sized correctly or stored. Camera accessories like tripods must be compact. No pets, only working service animals.
Read on for more details. Some of the Zoo's requirements are not intuitively obvious because of its status as a quarantine facility for endangered species. And even if you cannot bring certain things into the Zoo, I've found alternatives that may work for you.
If you make purchases through the links in this post, I may be compensated. Read my Advertising Disclosure for more info. Thanks! ~ Nancy
*Save with a secret promo code on each San Diego Zoo or Safari Park 1-Day Pass. Go any day. Go directly to the gate. Click HERE to get your code, instructions & discounted tickets by email. By clicking the link above you agree to receive an automated email message. Valid only at aRes Travel, San Diego's local authorized ticket seller. Read my full privacy policy.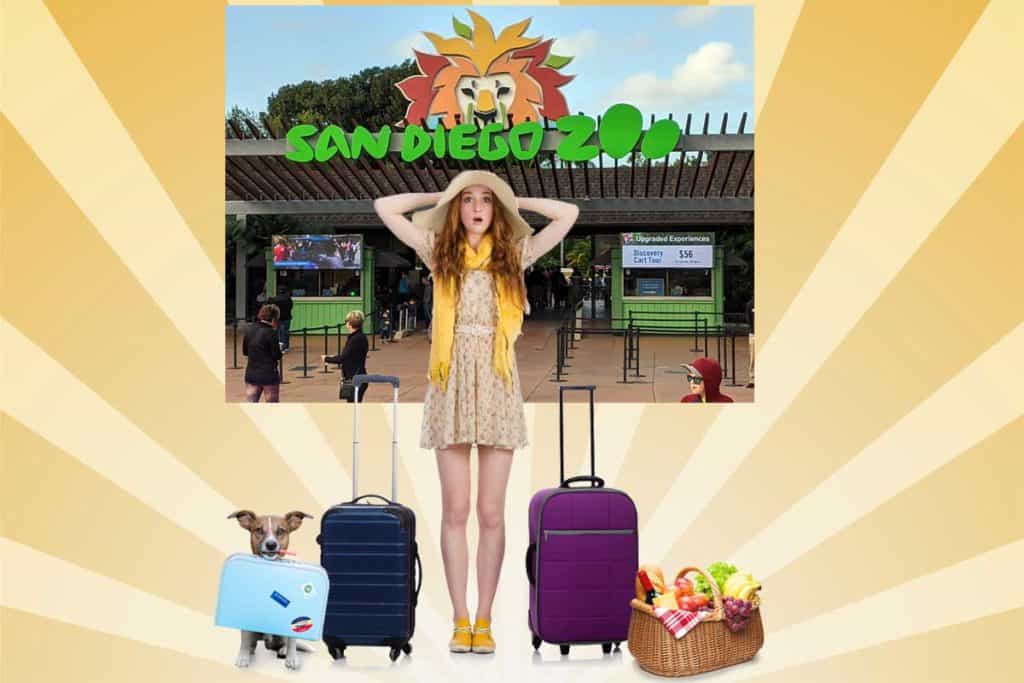 Outside Food Is Ok to Bring Into the San Diego Zoo
You can take any personal food into the Zoo that a single person can carry, within reason. It's a great way to save money because Zoo food can be rather expensive (looking for more savings? Check out my San Diego Zoo cheap tickets page). Bring in items like sandwiches, chips, restaurant take-out containers, even yesterday's casserole in Tupperware. However…
There are no food storage facilities for the edibles that you bring into the Zoo.
You should have no trouble taking food inside the Zoo if:
Food is pre-prepared and ready to eat. 
Consumption is unlikely to disturb their animals or other guests. No flaming desserts, ok? 
Each person is only taking in enough food for one, or at most two meals for themselves—and anyone in their group who cannot carry their own.
If you decide that you want to buy a meal or get a snack in addition to the food that you've carried in, there's plenty of good choices. Here's a link to an article that I wrote on the best food at San Diego Zoo.
What you'd rather eat outside of the zoo? Here's another page on this website where you can find the best places for you to eat in Balboa Park.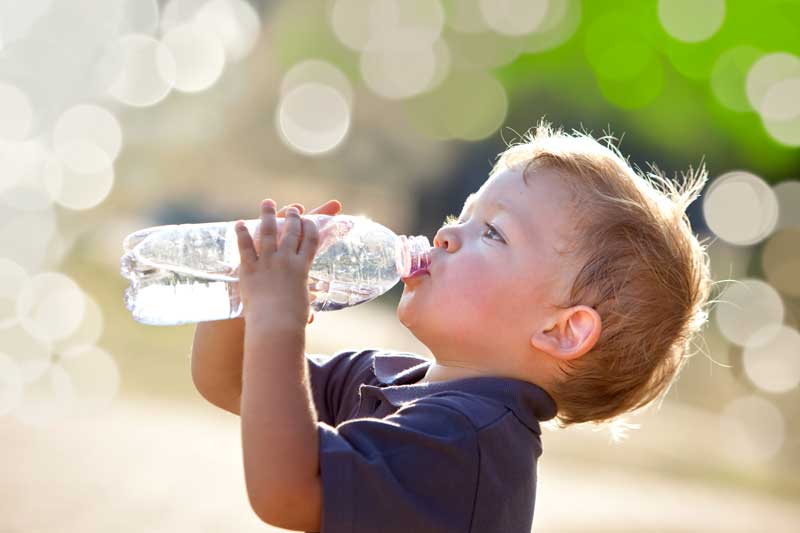 You Can Carry Water Bottles and Other Drinks into the San Diego Zoo
Take your favorite water bottle with you into the Zoo. Bring that venti sized Starbucks mocha Frappuccino inside the gates. And that unfinished Gigantor Gulp cup of soda from a corner store is ok too. Let your child bring in their favorite sippy cup. All of these are allowed. 
However, you cannot bring in the following:
No alcoholic beverages or containers
No glass containers
No straws
Small Food Coolers and Containers are Ok to Bring into San Diego Zoo
A 6-pack-sized cooler carried either in your hand, on a shoulder strap, or within a backpack is ok. Small Tupperware-style containers with individual portions are also allowed. 
If you're looking for a well-designed small cooler for your San Diego Zoo picnic try the Jaxx FitPak Insulated Cooler Lunch Box. It's got more than 2,700 reviews on Amazon with a high rating.
I was surprised at how good a value it is. It's got 6 seal-able, leak-proof containers. There are 2 one-cup sized smaller ones and 4 two-cup ones. There's also an ice pack to keep them all cool. It also has a 28-ounce beverage container/shaker with an agitator for mixing shakes. It's durable and easy to carry. 
Large family-sized coolers are not allowed inside the park. Keep them inside your car and retrieve them when you're ready to eat. There's a picnic area set up outside the Zoo. Get your hands stamped for re-entry. That way you and your group can go outside, feast on your provisions then return to complete your visit.  
NOTE: The usual picnic area is fenced off due to the construction of the new children's zoo. Until the picnic is open again I suggest that you take your group to the plaza within Spanish Village Art Center. I've drawn a path showing you how to get there on the Google map above.
It's only a short 2-minute walk away. The colorful artists' colony is a wonderful attraction all by itself. They have umbrella-covered tables in the central patio. And it doesn't hurt that everything at Daniel's Coffee (also located in the patio) is terrific.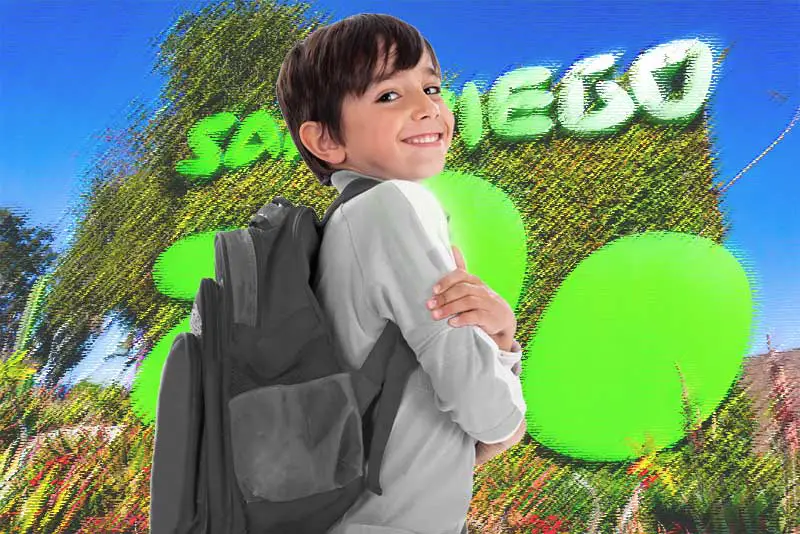 Backpacks Are Allowed Inside San Diego Zoo
You can bring almost any standard-sized backpack into the zoo, from your little tyke's rucksack to models with child seats in them. Call 619-231-1515 if you are concerned that your backpack may be too large. You can always store it in the Zoo's Luggage storage.
You may have to leave a larger backpack in a secured storage area if you wish to ride the Guided Tour Bus, Inside Look Tours, or Discovery Tours (check HERE for discounted tour deals). And you'll have to take it off to ride the Kangaroo Bus and the Skyfari.
If you can live with those conditions, then you'll be happy that you brought your backpack.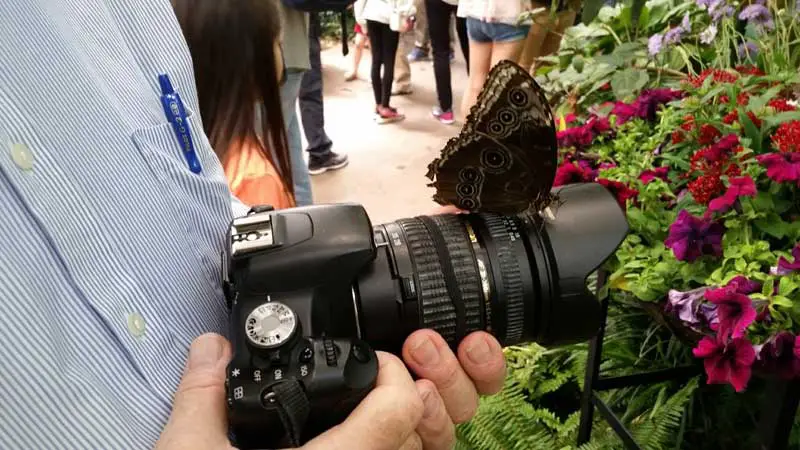 What Camera Equipment Can You Bring into the San Diego Zoo?
Bring your camera, the photos you get will be amazing! You can bring any accessories, tripods or monopods into the Zoo as long as they're small enough (or collapsible) to fit into a standard-sized backpack. 
To keep yourself out of overwhelm, check out my page on the San Diego Zoo's best animal exhibits and attractions. Because there's way too many to visit them all in one day.
Camera & Photo Policy: Professional photographers and videographers who intend to use any images taken within the Zoo commercially must get prior permission from authorized San Diego Global representatives. This includes taking photos or footage of any people, branded icons or anything on the San Diego Zoo Global property. To get permission email them here or call them at 619-231-1515.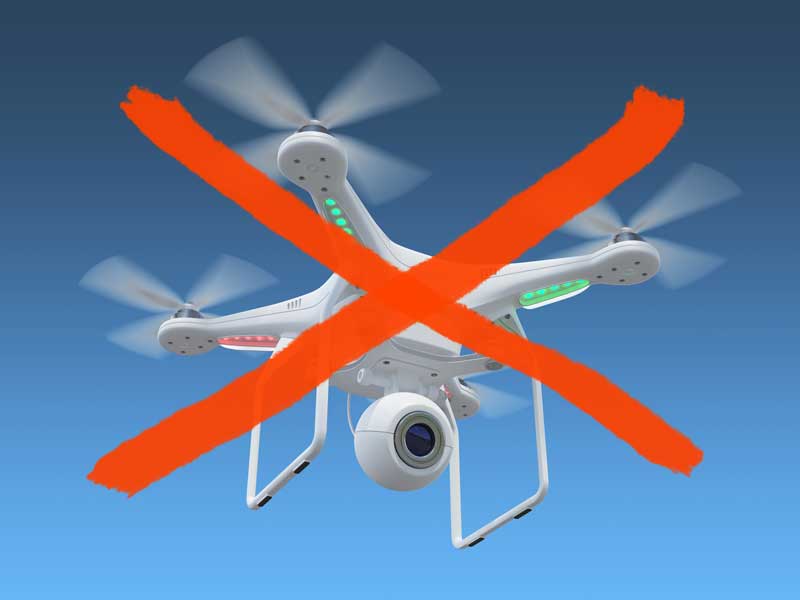 Drones cannot be brought into the Zoo
Drones (or flying toys) and aerial photography are not permitted at San Diego Zoo. There are at least 3 good reasons for this according to Federal Aviation Administration rules:
The Zoo is less than 3 miles as the crow flies to Lindbergh Field airport. Federal Aviation Administration rules state that drones cannot fly within 5 miles of an airport without prior approval from the airport operator.
San Diego Zoo is responsible for keeping their animals healthy and calm (which is why you can't hold a koala there). A drone buzzing their enclosure may make animals nervous or agitated. The big cats or elephants might get ticked off enough to knock an offending drone out of the sky if they can reach it. And then they could get injured trying to bite or otherwise incapacitate the "intruder". 
FAA rules state that you are not supposed to fly a drone over groups of people. 
Just know that drones are forbidden unless you get authorization from the Zoo and the airport operators.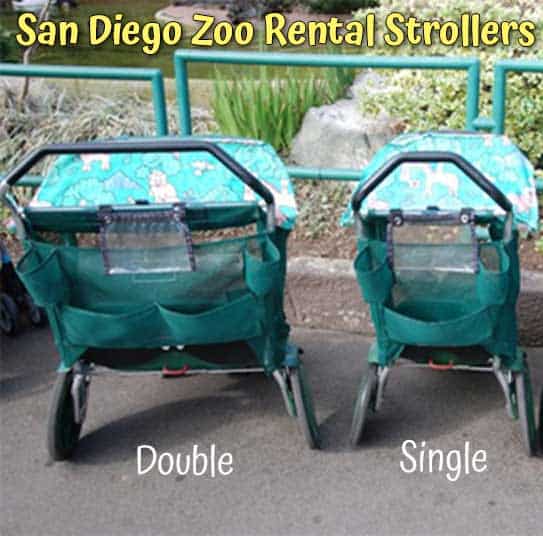 Bring Your Big Stroller Into the San Diego Zoo
The San Diego Zoo allows almost any kind of baby carriage, kid wagon, pram, or perambulator inside the grounds. They also have baby stroller rentals on-site (see Luggage section below). But if you plan to ride any of the extra paid tours, buses or the Skyfari gondola there are a few things to keep in mind.
Guided Tour Bus If you're going to take this 35-minute narrated round-trip tour you'll have to leave your baby carriage inside the designated parking area. This is not a problem because the tour is a loop and you can pick it up at the end. While you're on the double-deck bus keep your child on your lap.
The Skyfari/gondola has stroller size limits. For one-way trips, all baby carriages must fold smaller than 23.75 inches (60 cm) wide. Larger jogging, double stroller models or those rented from the Zoo will have to be left in the parking space close to the tram. You'll have to make your Skyfari a round trip in that case.
Discovery Cart & Inside Look Tours You cannot bring your stroller with you on the carts. But the Zoo has a nearby parking place for them. You can pick it up when you're finished with your tour. hcirluycnan. You will be asked to keep infants and toddlers in your lap or sitting beside you while you're on the cart. 
What's the San Diego Zoo Bag Policy?
You can take your luggage or travel bags into the San Diego Zoo. But you'll have to store them. You can't drag them around with you while you visit the animals.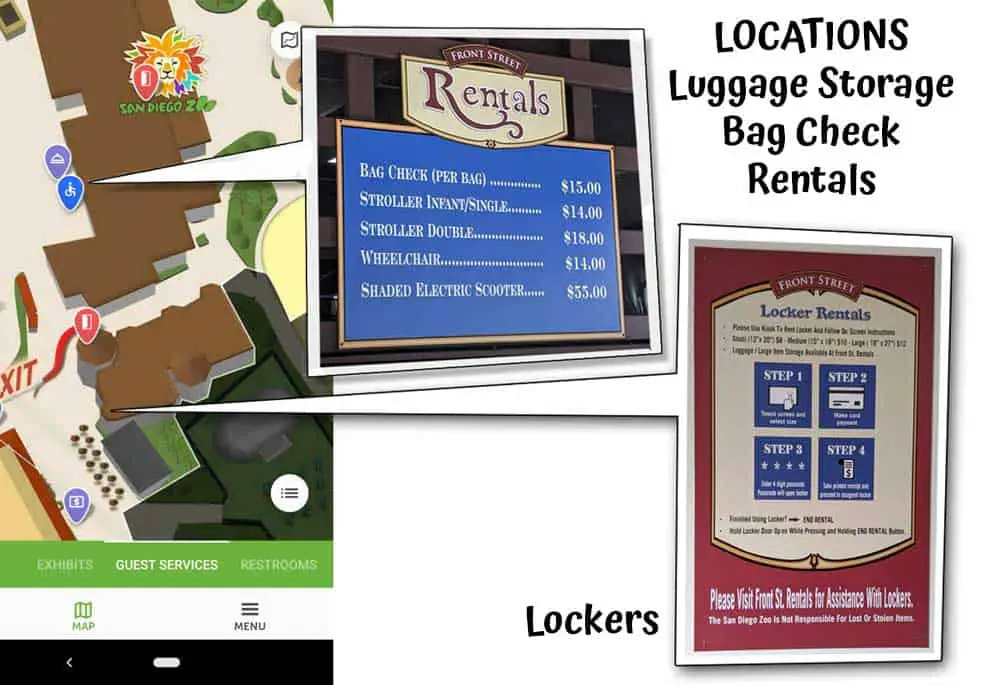 Luggage/large-item storage is available at Front Street Rentals. Smaller bags or backpacks can be placed in rented lockers. The locations of both of these are found if you take a left on Front Street after you enter. See the map and photos above. 
The lockers may be hard for you to find. They're to the right of San Diego Craft Beer & Margaritas.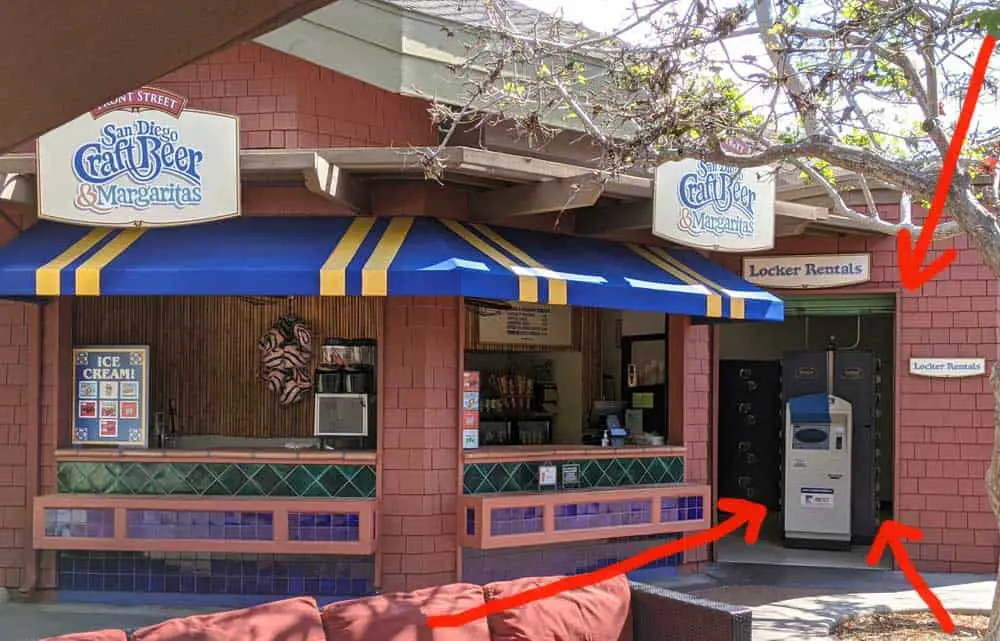 Locker rental payment is by credit card only because it is done with an automated kiosk. All bags must be picked up before the Zoo closes. They will not be kept overnight.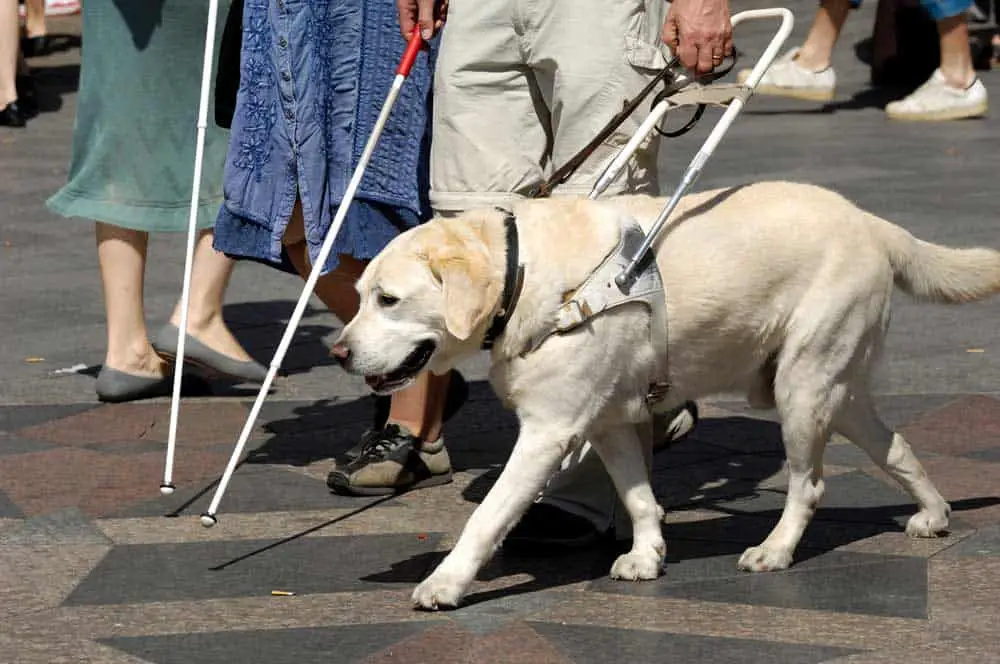 Which Pets are Allowed Inside San Diego Zoo?
You can only bring your pet into the Zoo if it's a working service animal. Emotional support, comfort animals, or service animals still in training are not allowed. 
There are 2 reasons for this. Both the Zoo and Safari Park are considered quarantined facilities because they are home to many rare and endangered species. And also the zoo is full of wild animals which may by scent, sound, or sight trigger aggressive or erratic behavior in pets.  
Do NOT leave your pets in your car in the Zoo's parking lot. If you're visiting San Diego with your pet, leave them with friends or relatives, at an animal daycare center, or in your hotel room while you visit the Zoo. 
San Diegans are very conscious of the dangers of leaving pets in cars, especially zoo-goers. Even if you think that it is not going to get warm enough to harm your animal, a passer-by might. And they will call the police. You will probably return to a busted-out window in your vehicle and an expensive ticket…if you're lucky.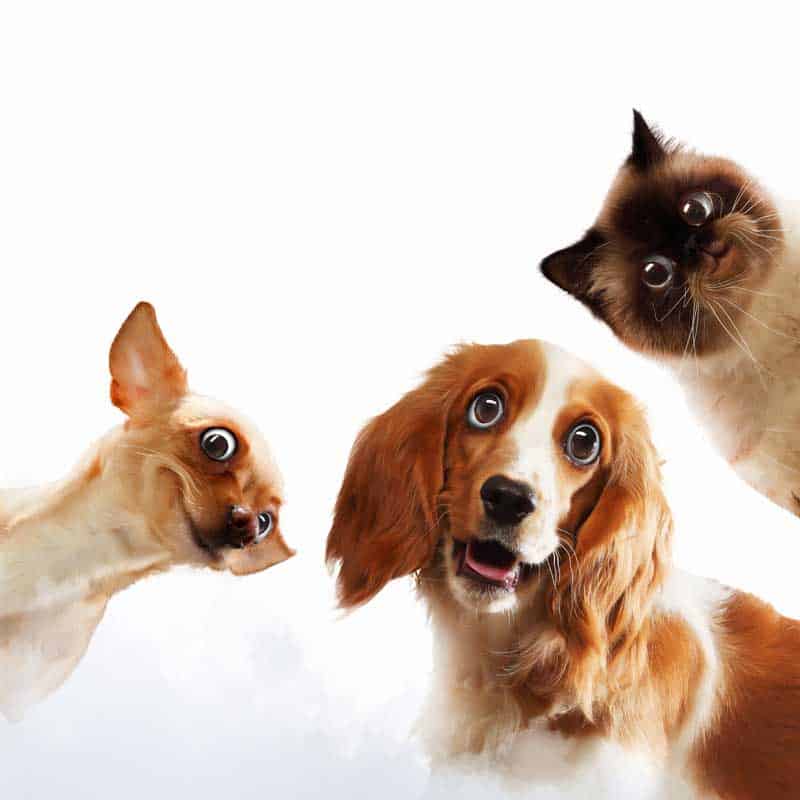 Animal Day Care Services Close to San Diego Zoo
Here are 3 nearby facilities that will care for your pet for the day. All of them have certain vaccination requirements that you may want to read now. They all also have a short temperament test before you are allowed to leave your pet with them. Contact each care facility at least 4 days before you plan to arrive.
Dog Days (6:30 AM – 7:30 PM). Group play environment. Totally FREE for 1st day (see HERE for requirements)
619-546-8390
811 13th St, San Diego, CA 92101
Bark Boulevard (6 AM – 10 PM). Group play environment or individual private care for less socialized dogs.
619-255-0980
2144 El Cajon Blvd, San Diego, CA 92104
See their requirements. 
Camp Run-A-Mutt (7 AM – 7 PM). Group play environment.
619-873-4932
3265 India St, San Diego, CA 92103
See their requirements HERE.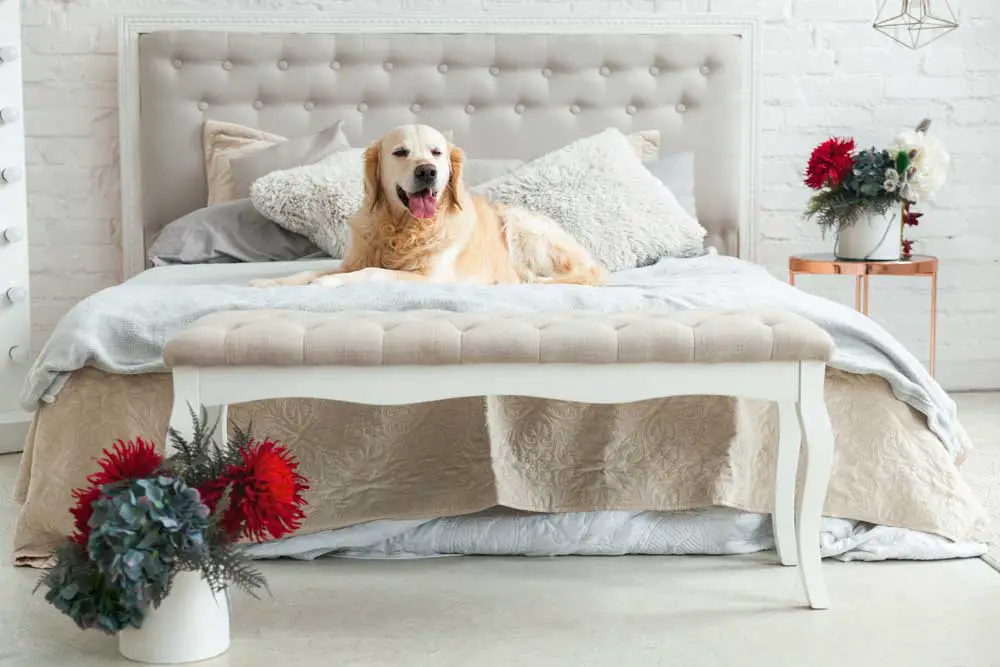 Pet-Friendly Hotels Close to San Diego Zoo
Here are 4 pet-friendly hotels that are about 3 miles from the San Diego Zoo. They do not have on-site animal daycare facilities. But all will allow your pet to stay in your room while you are visiting the Zoo.
Kimpton Hotel Palomar San Diego welcomes any pet, regardless of size, weight, or breed for no additional fees or deposits. This is an updated and renovated urban chic hotel with a rooftop pool and a lively Mexican restaurant.
Some of the rooms have spectacular San Diego Bay views with balconies. But to get one of these you'll need to talk to a human being. Call the aRes Travel Reservation Center (800-719-8961). Tell them that you want to book one of the "Skyline View" rooms at the Kimpton Hotel Palomar in San Diego. These rooms are all on or above the 16th floor.
2.4 miles to San Diego Zoo by car (9 minutes)
2 miles walking distance to the Zoo (37 minutes)
The Keating Hotel allows dogs up to 25lbs for just a $25/night fee. I like this hotel's architecture. They renovated and modernized the interior of one of the oldest buildings in San Diego. But they left the old-fashioned 1890's facade intact. They also kept some interior details like old brick walls, wood banisters, and a large skylight over the main lobby.
2.6 miles to the San Diego Zoo by car
2.2 miles walking distance to Zoo
Motel 6 San Diego Downtown is a budget-priced option where service animals and well-behaved pets always stay free. All pets and Service Animals need to be declared at check-in. The rooms are clean, if not terribly stylish. And they have free parking, which is almost as rare as a rhino in downtown San Diego.
2.1 miles to the San Diego Zoo by car
1.8 miles walking distance to the Zoo
Town and Country Resort is a family-friendly, budget lodging that I reviewed HERE. It's been a San Diego vacation destination since the 1960s. It's been recently renovated with a mid-century surfer vibe. If you have kids they'll love the Twister water slide, kiddie pool, and games.
Pet-Friendly Downtown San Diego Restaurant – Whichever of these hotels you stay in, I recommend going to Werewolf for a lip-smacking breakfast or brunch. Kids and critters are welcome. Weekends are always busy. Use their Waitlist at the bottom of their home page so you don't end up standing in line too long.
It's also open 3 PM – 2 AM on Thursday, Friday, and Saturday. They serve salads, burritos, burgers, and appetizers then.
What Items are Not Permitted in the Zoo?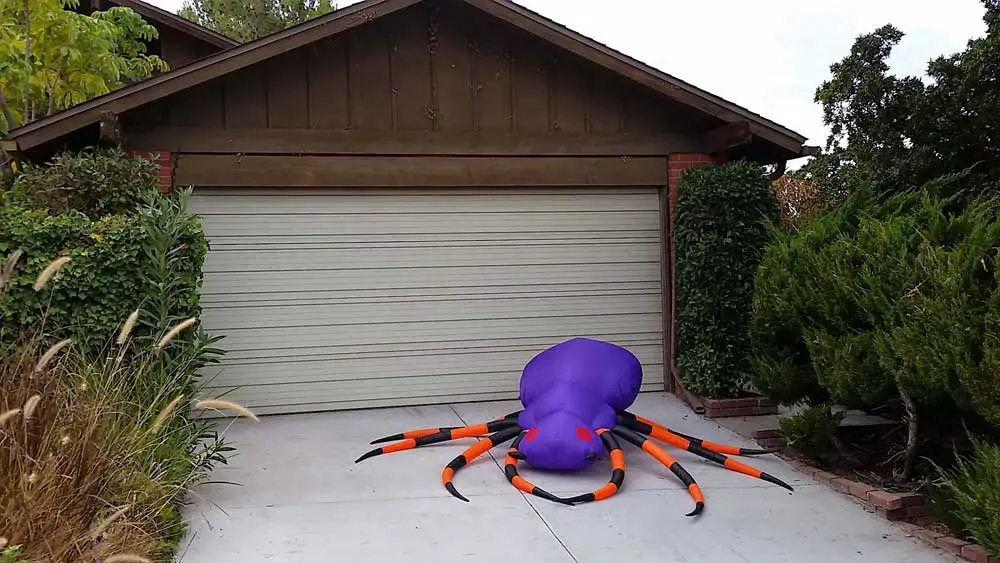 The Zoo has posted an extensive list of items that are not allowed in the San Diego Zoo or Safari Park. Check this link on the Zoo/Safari Park FAQ page under FACILITIES & SERVICES for the latest additions. If you have any questions about whether you can bring any item into either attraction, call 619-231-1515 . ,
Closing Thoughts
The primary aim of the San Diego Zoo is to end extinction through conservation and education. Anything that would interfere with that aim will be forbidden. You'll be ok if you keep that in mind when carrying anything into the Zoo. And don't hesitate to contact them and ask if you should bring something else into the San Diego Zoo.