I'm sometimes asked by out-of-town friends, "When's the best time to go to San Diego Zoo?" And, "Are some days of the week or seasons better than others?" After all, why get caught in a mob if you don't have to?
The ideal time to see San Diego Zoo if you want to avoid crowds is to arrive before 9:00 AM. Fewer people visit on weekdays. Summer is the busiest season. For families, kids are free in October. On a budget? The free animal encounters & keeper talks start at 10:30 AM.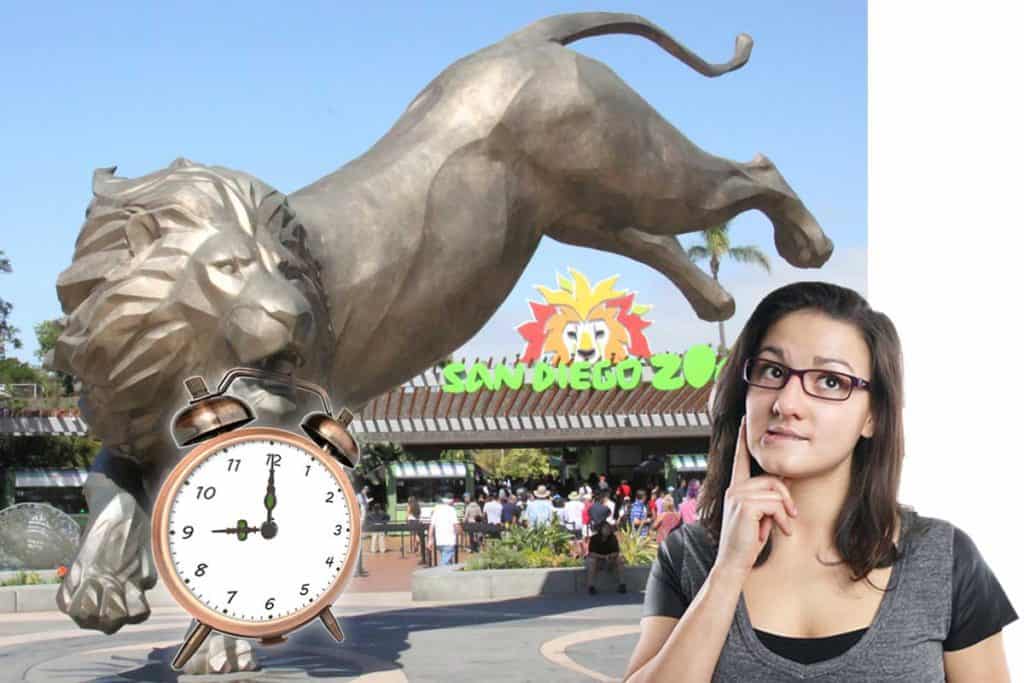 Inevitably my friends want more details. How about the rest of the week? Holidays? What if they can only come to San Diego during the summer? Thankfully I've spent WAY too many days and hours there. Let me share a few more Zoo timing tips to make your visit more enjoyable. 
Nancy Ulrich is an Amazon Associate. As an Amazon Associate, I earn from qualifying purchases. I am compensated for referring traffic and business to Amazon and other companies linked to on this site. Please read my Advertising Disclosure for more info. Thanks!
Save with a secret San Diego Zoo discount code on each 1-Day Pass. Go any day. Go straight to the gate. Click HERE to buy. Enter code at checkout. You'll get your tickets by email. This code is only good at aRes Travel, the San Diego-based authorized ticket seller.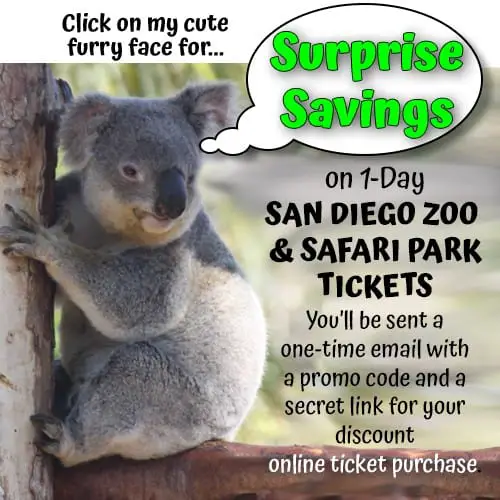 Is San Diego Zoo Really Open Every Day?
Yes, it's true. You can go to the San Diego Zoo 365 days a year. This includes holidays like Christmas, Thanksgiving, New Year's Day, Memorial Day, Labor Day, Martin Luther King Day, Mother's Day and even Talk Like a Pirate Day. This is also the case for Safari Park.
They don't close the Zoo gates if it rains. The animals have to be fed and cared for daily. In fact, seeing the Zoo when it's wet is a great experience, it's less crowded and the animals are cooler and usually feeling frisky. The same's true for seeing Safari Park in the rain.
When's the Best Time of Day to Go to the San Diego Zoo?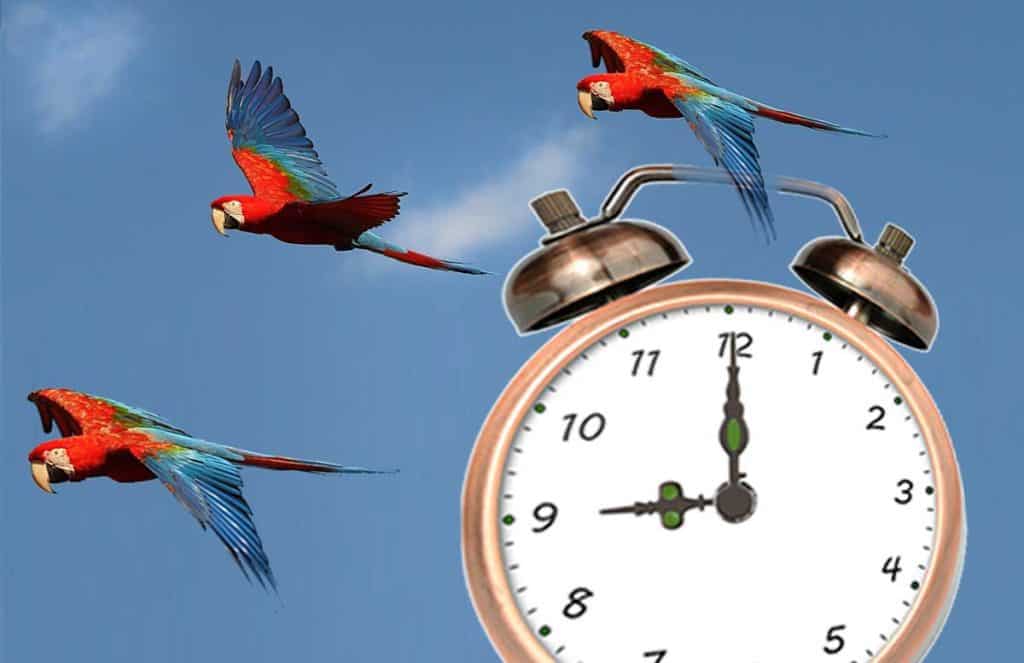 Get there before they open at 9am. There's several reasons for this.
You'll get to watch the macaw parrot flight opening event.
The Zoo gets more crowded as the day wears on. 
The animals are typically more active in the morning when it's cool. Some of them are also fed at this time. I've noticed that the big cats are often gnawing on their breakfast when I arrive early on Sunday.
Also, consider taking a tour that gets you into the park before it's open to the general public. Check out the 8:30 AM Inside Look Surprise tour. See areas that are not accessible to the public, and two different animal habitats with your guide. No two of these tours are ever the same. Check HERE to see if there's a deal on this tour on the day of your visit.
The exception to going when the Zoo first opens is during the summer Nighttime Zoo event. From mid-June through the beginning of September it's open until 9 pm. In this case, arrive after 3 PM when the heat peaks.
Plan Your Day around the Zoo's Schedule
The San Diego Zoo has an ever-changing program of educational animal events, family activities, parades, and performances. Check the online schedule for the free Animal Encounters and Keeper Talks at various points throughout the zoo. 
The free keeper talks and experiences start at 10:00 AM throughout the Zoo. See the map below for tour meetup and presentation locations. Plus where you can find shortcuts across this attraction like Skyfari, the elevator, and Bashor Bridge.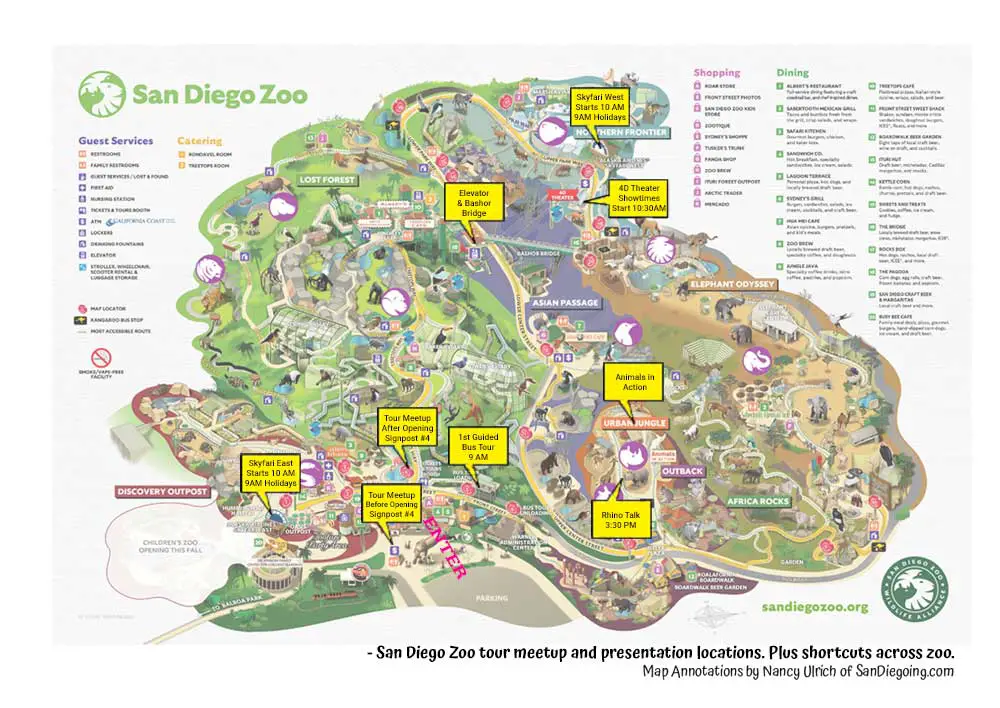 For a special treat, book one of the Upgraded Animal Experiences or Inside Look Tours. You'll get close-ups and behind-the-scenes views and information on the animals and how they are cared for.
These tours are special presentations for people who are interested in giraffes, penguins, elephants, and koalas. Check the schedule and purchase these tours in addition to your admission. Click HERE for daily tour deals for SanDiegoing readers from aRes Travel, San Diego's local authorized ticket seller.
And read this page to discover 31 different ways you can get a discount on San Diego Zoo admission tickets.
Make sure that you give yourself plenty of time to walk to the location of the wildlife care talk or your Upgraded Experience. It takes 30 minutes to quickly walk from one end of the park to the other. 
Signpost #4 on Front Street near the flamingos is where you'll meet up for Discovery Cart Tours and Inside Look Tours that start after the zoo opens. For tours that start before the zoo opening, you'll be gathering by the flagpole in front of the entrance.
You can check the keeper talk schedule at this link. Also, download the Zoo app to help you navigate. It's available for both Apple and Android.
For more help with planning your visit, you'll want to read my page on which are the best animal exhibits and attractions at the San Diego Zoo.
Where Are the Coolest Spots in the Zoo During the Hottest Time of The Day?
To avoid the afternoon heat, visit the Owens Aviary in Lost Forest. It was built in 1937 and remodeled several times since then. It's still one of the world's largest walk-through avian encounter exhibits. It's full of tall plants and waterworks which makes the space shady and cool.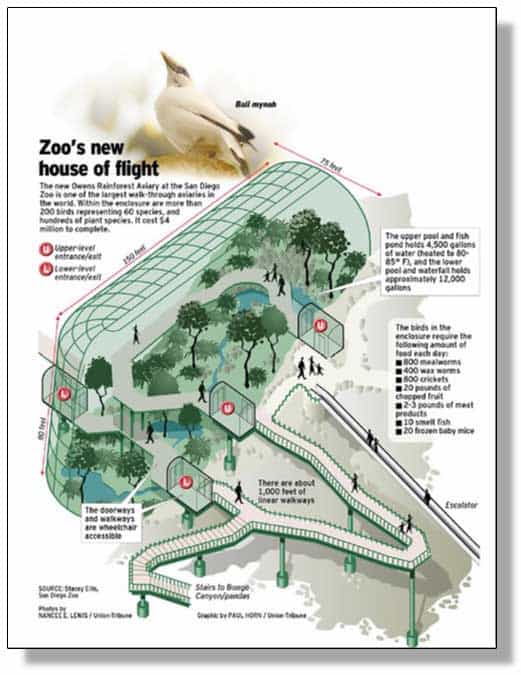 Illustration by Paul Horn, Lead Infographics Journalist at The San Diego Union-Tribune (1994-2006). On Flickr
The enclosure soars 82 feet high giving more than 200 birds from 45 different species room for free flight. They're mesmerizing, like flying jewels. It's easy to spend an hour here just enjoying the cool shade and the brilliant birds. Also check out the nearby Parker Aviary. An added bonus is that both are close to the shaded gorilla exhibit area and monkeys. 
Center Street is also a great place to get out of the late afternoon sun. It's informally known as "Bear Street" because it's home to four species of Ursidae (bears). Their exhibits are all on the west side of the street, so they're in the shade after lunchtime.
If you're looking for a little warmth, go to Elephant Odyssey and Africa Rocks. These areas get the most sunlight and heat.
What's the Best Day to Visit the San Diego Zoo?
Mondays. They're usually the least crowded day at the zoo, with the exception of major holidays.
Tuesdays can be a little bit busier than you'd expect. That's because certain Balboa Park museums offer residents free entry on some Tuesdays. Also, many locals have annual Zoo passes so they often visit both the museums and the zoos on those days. 
The rest of the weekdays are generally less crowded than the weekends. The only drawback about visiting on a weekday is that during the school year the Zoo may get crowded with kids on field trips. 
What's the Best Time of the Year to See the San Diego Zoo?
Late fall, winter, and spring days are generally less crowded than summertime. The weather is cooler and the animals will be more active during the afternoons. 
Don't avoid the Zoo during school holidays and vacation breaks. They have special family activities and performances during winter break, around Halloween, and during summer vacations. Yes, it will be more crowded, but they do put on some beautiful spectacles. 
San Diego Monthly Average Temperature & Rain Chart
Spring is My Favorite Season to Visit the Zoo in Balboa Park. 
It's still cool and there are many cute zoo animal babies born during this time of the year. Flowers are in bloom everywhere throughout the park. It almost seems as if all 4.500 species in their internationally recognized botanical collection are blossoming at once. 
From March to May San Diego has mild temps in the mid-60's. But it can be cloudy. Locals often talk about "May Gray" days.
You'll also hear San Diego weather announcers talk about the early morning and late evening "marine layer" at this time. That refers to low-lying clouds that creep inland from the coast at night and shrink back to the coast as the day wears on. Since the Zoo is close to the ocean it may never get sunny. That's ok. The animals like the cool weather and are generally more active under cloud cover.
Summer at the Zoo is the Most Crowded Season
From June through August is the peak tourist season in San Diego. If you're looking for sunny weather, avoid the early part of the season and the frequent "June Gloom." In July and August, it's best to arrive early in the morning to beat the heat.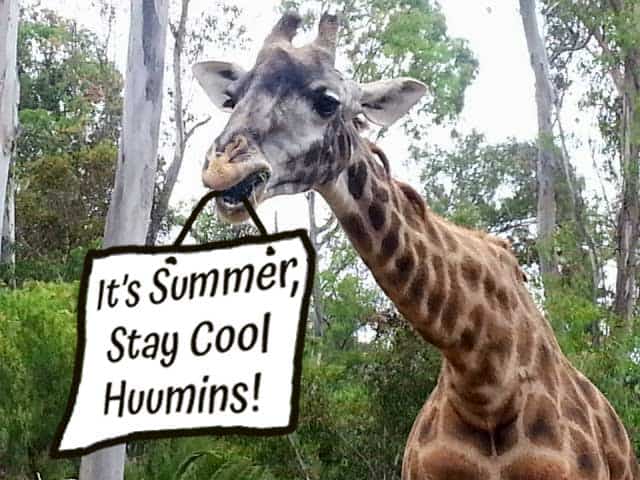 Another good option is to take advantage of Nighttime Zoo extended hours. The park stays open until 9 PM from early June through the beginning of August. Check the zoo hours HERE. 
If you're going to Nighttime Zoo arrive in the late afternoon and stay into the evening. Sunset in San Diego around the summer solstice is just before 9:00 pm. Diurnal and nocturnal animals will be more active then. The big cats and other predators that may have been resting in the shade all day wake up around 5 pm.
Fall – Kids and Cooler Weather
Avoid September if you're looking for cooler weather. Mid to late September is when San Diego is the warmest. By mid-October, the temperature has dropped a bit, but it usually remains sunny.
In October kids under 11 years old are free when they are accompanied by a paid adult. There are also special kid-friendly weekend events like Halgloween.
The weather in November is balmy, perfect for walking the zoo's hills. The summer crowds have gone and the atmosphere is more laid-back and relaxed. Since it's a bit cooler most animals tend to spend less time sleeping in the shade…and more time sleeping in the sun. Just kidding. They're more likely to be active in the cooler weather.
Winter – Occasional Rains and Holiday Celebrations
December through February is a great time to see the San Diego Zoo. I grew up in Minnesota where they have traditional, treacherous, frostbitten winters. I LOVE it here in San Diego during wintertime. I spent my first New Year's Eve here in a jacuzzi. "OMG. You call this WINTER??? Where's my strawberry margarita?"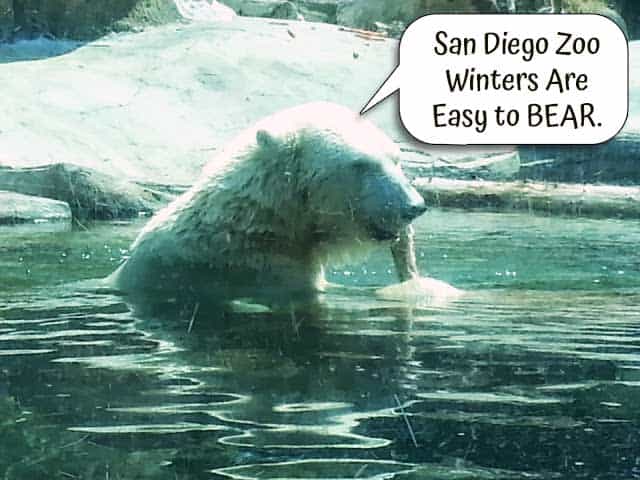 Most of the mammals at the Zoo love San Diego winters too. Koalas get a little chilly, but they've got heat lamps in their covered tree perches. Sure, you'll get occasional sprinkles and sometimes heavy rain during this period. But the Zoo's not at all crowded. And it's almost empty when it rains. Grab an umbrella and a raincoat and feast your eyes on elephants and rhinos playing in the mud.
San Diego Zoo also hosts Jungle Bells from about mid-December through the first week of January. Check their schedule for dates and extended hours. During this celebration, the Zoo's filled with twinkling lights, themed holiday performances, and festive foods. 
Now It's Your Turn…
That's everything that I know about when to go to the zoo. Please let me know HERE if this was helpful for you or if you've got some extra tips that work for you. I hope that you now know the best time for you to visit the San Diego Zoo.