Ready to explore Old Town, the birthplace of San Diego, in just a few hours? This practical guide will show you the top attractions of Old Town San Diego, from the haunted Whaley House to the colorful Fiesta de Reyes. Discover where to eat, shop, cheap parking, transportation, and timing to avoid crowds.
It only takes 2 – 3 hours plus lunch to experience the most popular Old Town San Diego attractions. They are Old Town State Historic Park, Whaley House, the living history demonstrations, and Fiesta de Reyes where you can eat Mexican food with live music and entertainment and shop for souvenirs. 
With 22 historic sites, 14 museums, 6 entertainment venues, 15 restaurants, and 30+ shops, Old Town San Diego can be overwhelming. Let me help you narrow them down for a wonderful day exploring the birthplace of San Diego.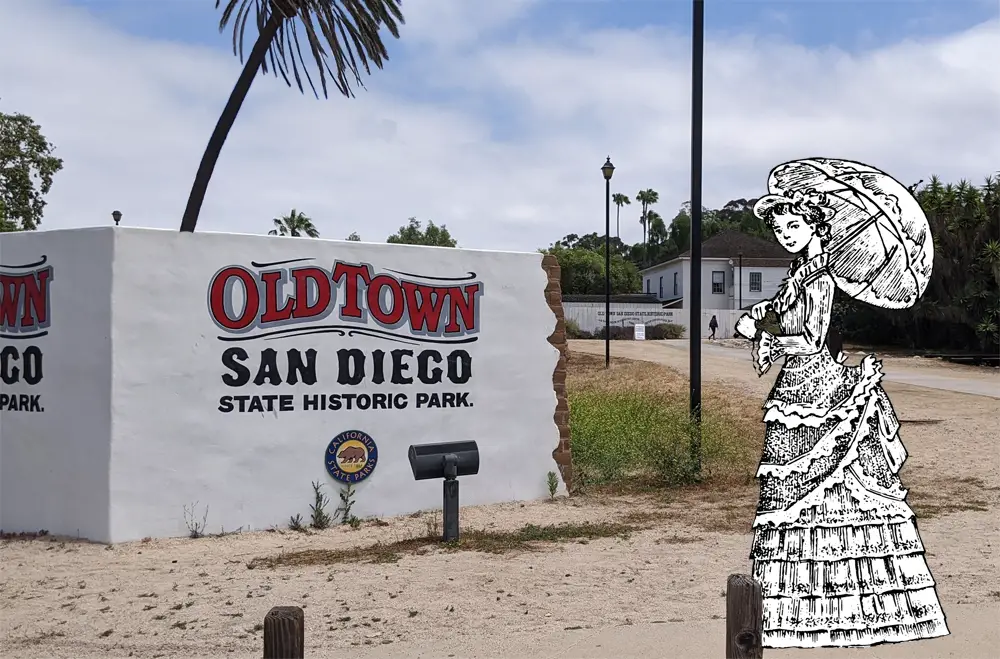 Top 10 Can't-Miss Old Town San Diego Attractions
Old Town Historic Park: Journey to 1800s San Diego
Step back in time at Old Town State Historic Park. It's a living snapshot of San Diego in the late 1800s, with over 25 historic buildings, including original adobe structures. These buildings have been transformed into museums, art galleries, and shops stuffed with local and Mexican handicrafts.
The heart of the park is the Plaza de las Armas, where you'll find living history demonstrations and lively festival events. Do you or your kids want to try gunny-sack racing? This is the place!
Start your journey at the Robinson-Rose house, now the visitor's center. Here's where you can grab park maps and get advice on self-guided walking tours from friendly guides in period costumes.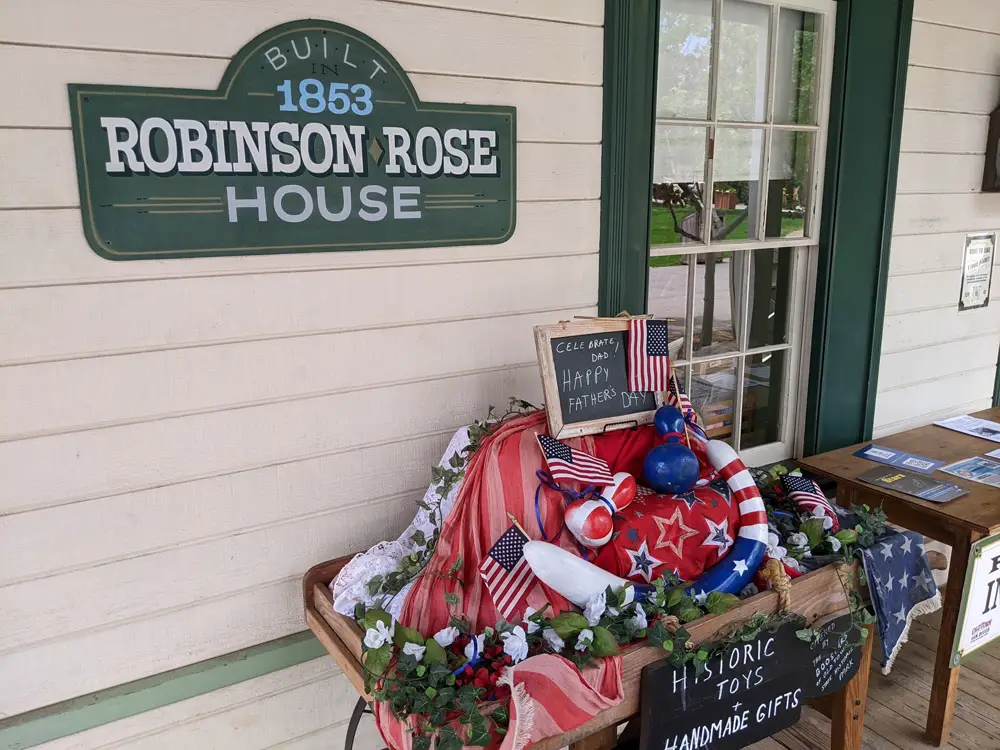 Pick up a Junior Ranger program booklet for the kids and scavenger hunt directions. You can also download them HERE. 
Inside, you'll find a large-scale model of Old Town as it looked in the 1870s. There's also a museum gift shop where you can pick up books on the park's history, toys, and craft items reminiscent of early San Diego. As a crafter myself, I was particularly taken with the knitting spools and lucet kits for making decorative braids and cording.
Don't miss the hand-forged ironwork exhibit near the front They're all made by the master and volunteer blacksmiths of the Black Hawk Livery and Blacksmith Shop. You can even purchase these pieces or see more at the forge on Wednesdays and Saturdays between 10 AM and 2 PM.
Whaley House Museum: See San Diego's Most Haunted
The Whaley House, a Greek Revival-style residence from 1857, is said to be the most haunted house in San Diego, if not the US. A modestly-priced, partially guided tour, available every 15 minutes without reservations, offers a humorous and informative introduction to the house's history and its ghostly inhabitants.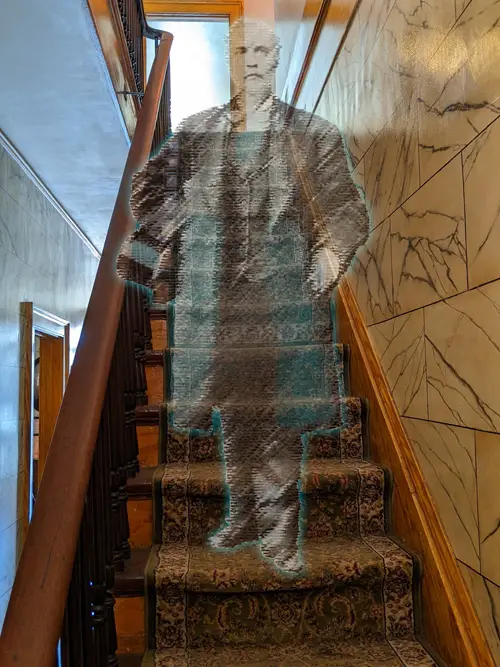 The house's eerie reputation stems from its history of death and tragedy. Thomas Whaley built the family home on the site of San Diego's first public gallows, and soon after moving in, they experienced a series of misfortunes. Their son, Thomas Jr., died of scarlet fever at 18 months, their attached retail store burned down, and their daughter Violet committed suicide after a disastrous marriage.
You can explore the house, including the courtroom, and perhaps even encounter a spectral apparition yourself.
Here's a partial list of the house's ghostly inhabitants:
The unfortunate Violet
'Yankee Jim' Robinson, a boat thief who took 45 minutes to die due to botched rope measurements before his hanging, walks with heavy boots across the second floor
Baby Thomas Whaley sometimes wails in the 2nd-floor bedroom
The elder Thomas Whaley is seen dressed in a top hat and coat on the stairs
A little girl, possibly a grand-daughter who ingested poison wanders in the dining room
The family dog, Dolly has been seen entering and leaving baby Thomas' room
Living History Demonstrations: Hands-On Heritage
I think that this is the best part of Old Town. In various spots throughout the park, costumed characters showcase traditional skills and crafts of the Mexican and early American periods in California. These include rotating programs of: 
Blacksmithing (Tues, Thurs, & Saturdays)
Woodworking 
Soap making
Fiber arts including carding & spinning wool, weaving, knitting, crocheting & quilting
Printmakers using period equipment
Penmanship & caligraphy
1800s Tintype photographers
Games, crafts, and other activities at the Mormon Battalion Museum
Mountain Men (music and various performances)
Fiesta de Reyes: Latin Cuisine, Culture & Shopping
Fiesta de Reyes' is quite possibly the quintessential San Diego tourist trap. But I love the colorful south-of-the-border ambiance. Its tree-shaded courtyard is filled with shops, restaurants, and live mariachi music with dancers. The women's beribboned Jalisco dresses have wide, flowing skirts that photograph beautifully as they are swirled in the Jarabe Tapatio (national dance of Mexico).
The Fiesta houses two restaurants, Casa de Reyes and Barra Barra Saloon. I recommend Casa de Reyes for its family-friendly atmosphere and excellent view of the performances. Enjoy their massive margaritas and nachos under the courtyard umbrellas, or try their street tacos, fajitas, and other traditional Mexican dishes. They offer vegan, vegetarian, and gluten-free options, and all their tortillas are handmade fresh daily. Don't miss their warm vanilla cream churros in the evening, served with a chocolate dipping sauce.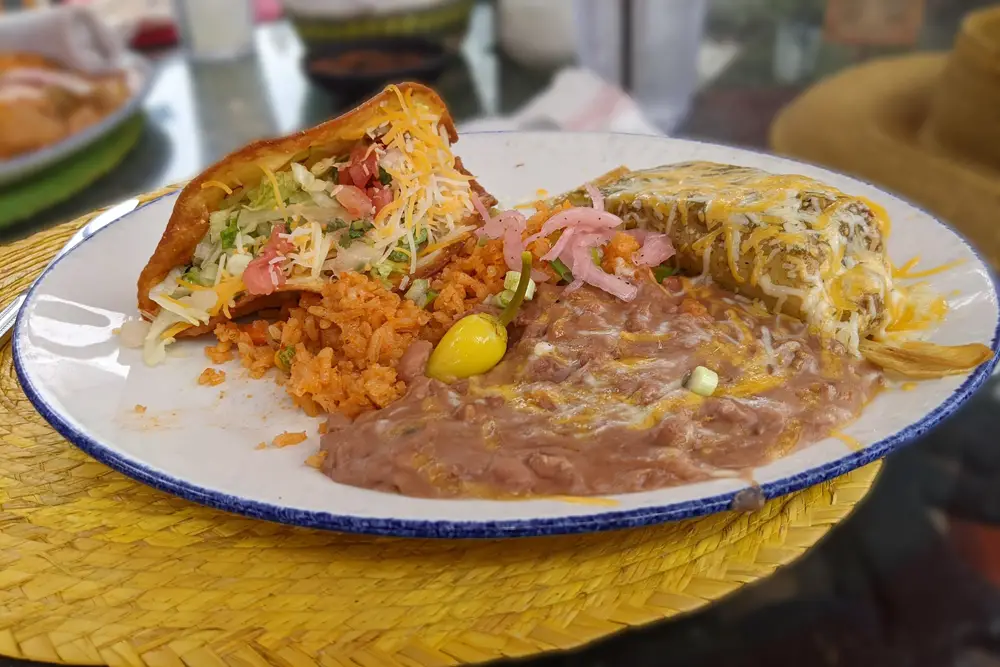 After you recover from your carb coma, explore the 19 shops in the courtyard. My top three are:
Tienda de Reyes 
This shop offers unique Mexican folk art, apparel, and art. From colorful plates and wall decor to a large selection of Dia de los Muertos artifacts, you can spend hours browsing their offerings. I was tempted to pick up one of the colorfully embroidered floral blouses. At the time they were under $40, not bad for hand-work.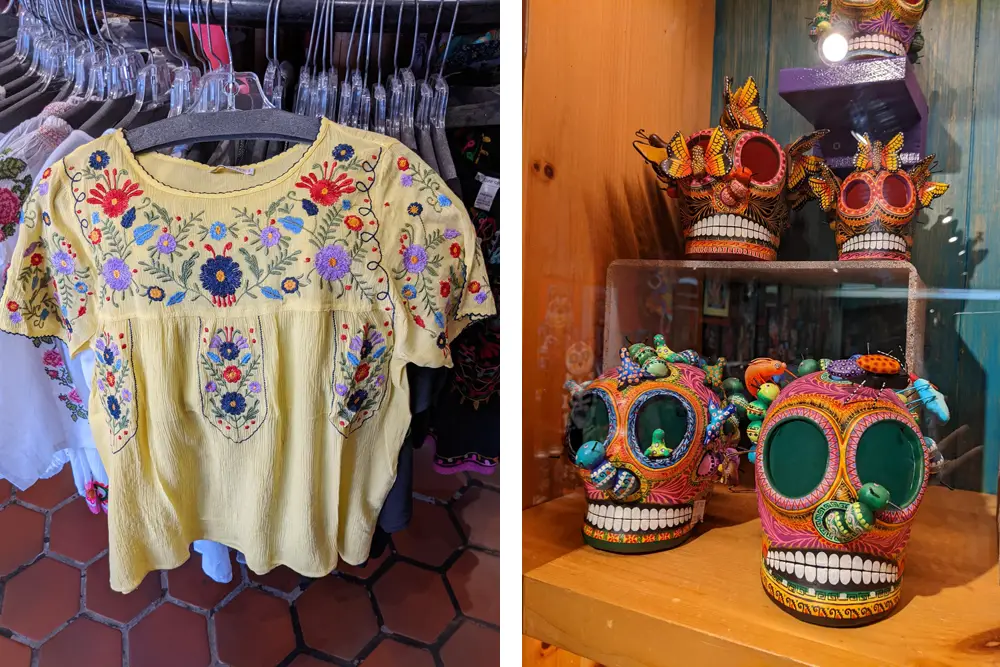 The Oxacan pottery skulls were intricately detailed and spectacularly colored. These are not cheap, around $250 for a 6-inch diameter piece.
Geppetto's: 
A classic toy store filled with dolls, cars, trains, board games, puzzles, and more. It's a treasure trove of fun for kids and adults alike.
Old Town Jerky & Root Beer
This shop has over 105 varieties of cold bottled beverages and more than 30 types of gourmet jerky. They also offer a buy one, get one free root beer float deal and a 10% military discount.
They have a full shelf of 'controversial' bottled sodas for $4 each. There's Leninade, Nuclear Orange Bomb, Barf, Cream the People, and many more. Possession of any one of them will get you shot in North Korea, and banned in UC Berkeley. Check them out in the photo below.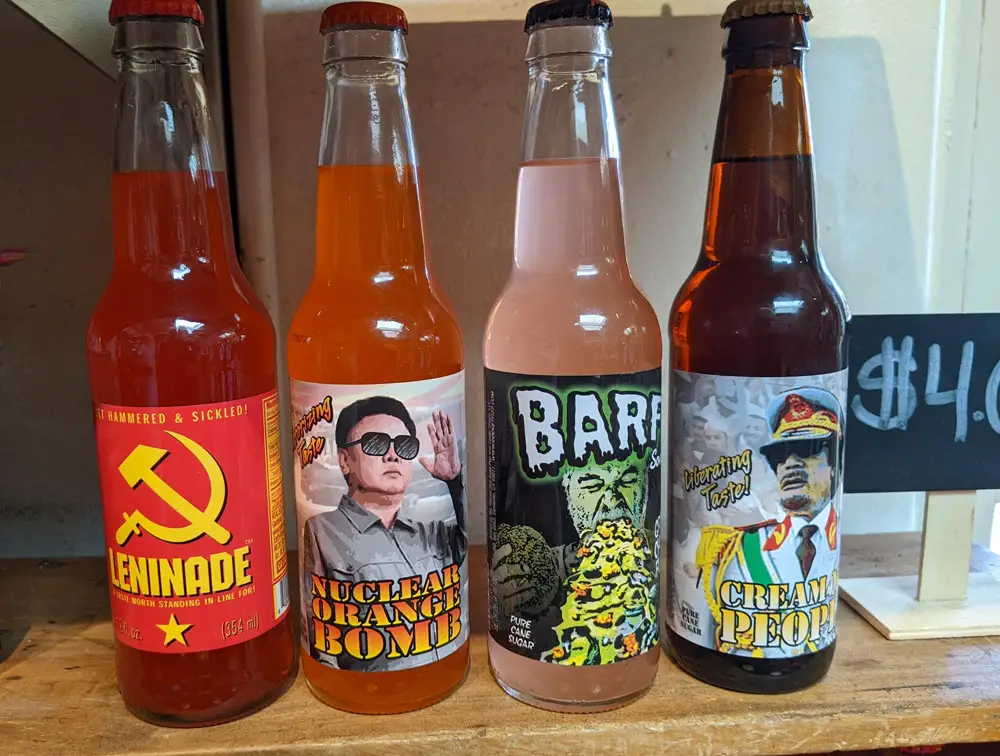 Try the jerky! The last time that I was there I bought one of these 10-piece exotic jerky bundles for $22. It contained Buffalo Bob's maple duck, kangaroo, cajon & BBQ alligator, ostrich, and venison. There were 4 others that we scarfed down immediately while we were walking to other attractions. I forgot to photograph the wrappers. I don't know what they were, but they were tasty!
The knowledgeable staff will guide you. They do know their stock and will make recommendations on which sodas go best with each jerky.
Mormon Battalion Site: Panning for Gold & History 
Learn the story of the Mormon Battalion at this museum and historical site. You'll see an interactive video tour detailing their 2000-mile journey, and how they lived through historic artifacts and activities, like pumping your own water to drink and making bricks. There's also a free guided tour after.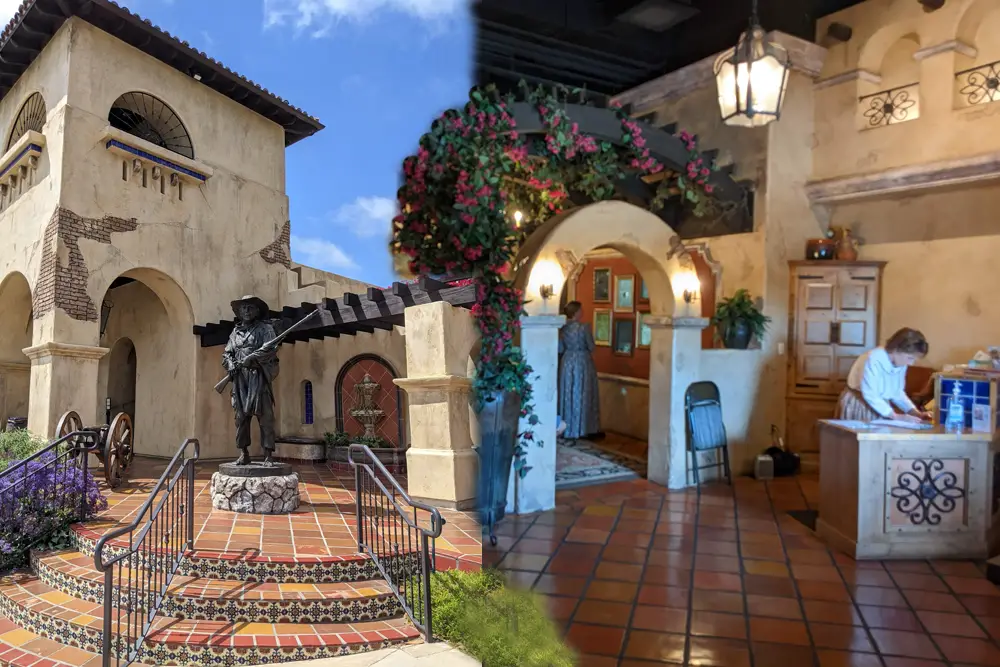 Here are 4 more things to do there:
Pan for gold: Watch a demonstration of the techniques and try it for yourself. It's definitely not as easy as it looks!
Explore the outdoor exhibits: You'll see replicas of the (tiny!) wagons that they used. I walked into one. I'm 5'10" and my head almost bumped into the top wagon cover. If you're tall, duck!
Attend a Reenactment: Actors bring history to life by portraying the soldiers and their families and offer you a unique opportunity to immerse yourself in San Diego's past.
Take a Guided Walking Tour: These tours often start from the museum and take you through the historic streets of Old Town San Diego. You'll learn about the diverse cultures, architecture, and stories that shaped the city's past. It's a fantastic way to deepen your understanding of the area's rich history.
Check the museum's website or contact them directly for the most up-to-date information on visiting hours, tour availability, and any special events happening during your trip.
Cafe Coyote: Old Town's Authentic Fiesta Hub
Cafe Coyote in Old Town San Diego is a never-ending fiesta. This is the spot for Mexican food, decor, margaritas, and mariachis. For just a dollar, you can enjoy a fresh, hot tortilla made by their expert tortilla makers. 
Popular dishes include beer-battered fish tacos, the large California burrito, and the affordable chicken tortilla soup. Bathrooms are located on the 2nd floor, accessible via stairs at the back of the courtyard or an elevator near the stairs.
There is parking located below the restaurant. Parking is free for the first 2 hours. They do not validate.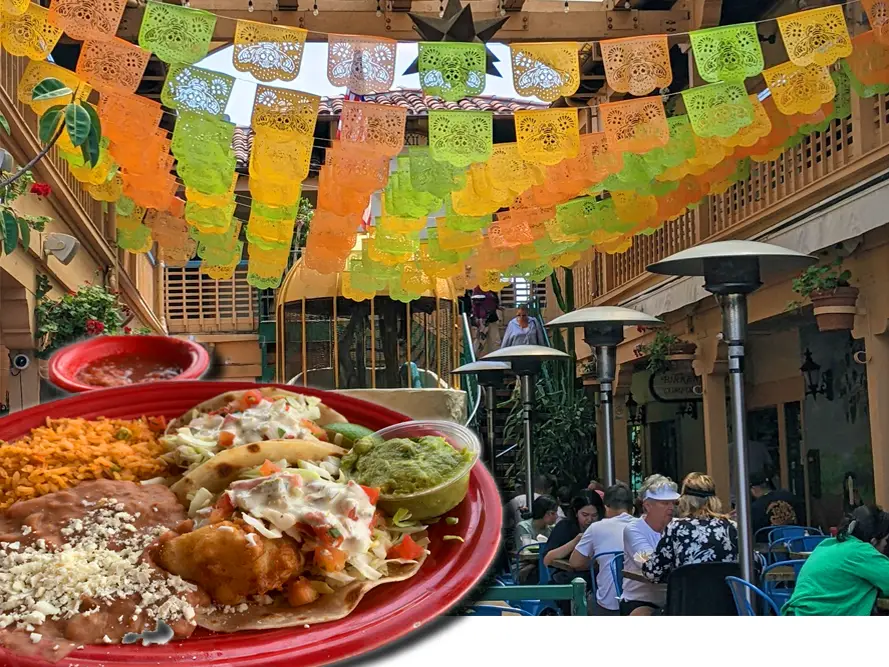 Cafe Coyote Cons: It can be crowded with long wait times and it's not cheap. If that's a problem for you, go next door to Old Town Mexican Cafe. It doesn't have the name recognition and it's not as bright and festive. But the lines are shorter, the food is comparable and a bit less expensive. Their hot handmade tortillas were also a bit cheaper at 75¢, cash only. Definitely the best food deal in all of Old Town!
Bazaar del Mundo: A Plethora of Latin Crafts in SD
Bazaar del Mundo in San Diego is a marketplace with nine stores offering handmade crafts, clothing, books, and jewelry from Mexico and Latin America. Owned by a single proprietor, the stores blend seamlessly into each other through wide arches and a shared courtyard. The right side primarily features jewelry, apparel, and artwork, while the left side offers decor items, housewares, and books.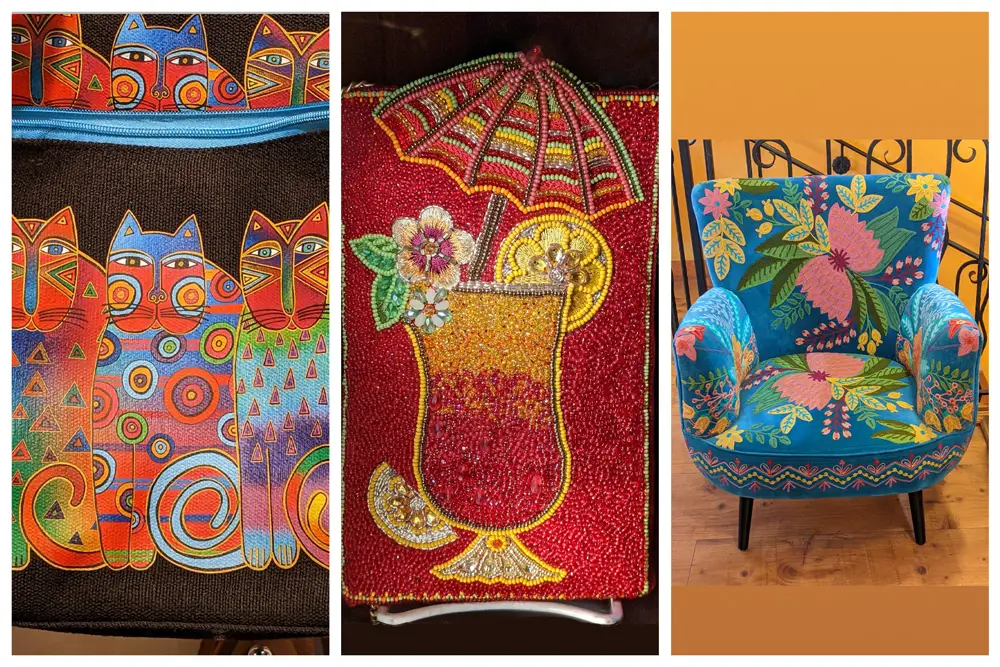 Laurel Burch Gallerita is the first shoppe on the right as you enter the cobblestone patio. I've always admired this folk artist's colorful artwork, especially her cats. I really appreciate that I don't have to sell a kidney to afford to buy something here. There's a range of reasonably priced items here from greeting cards and socks to beautiful scarves and jewelry.  (Left photo above).
The Gallery Is located in the middle bay on the right side. It's one of the best places in Old Town San Diego to buy one-of-a-kind works by Latin American and Mexican artists. As a polymer clayer, I especially appreciate their selection of figurines by Jon Anderson. His intricately patterned animal sculptures make me drool with envy at his talent. 
By the way, if you'd like to learn the techniques behind Jon Anderson's work, check out the San Diego Polymer Clay Guild. They meet twice a month both in person and online. They also offer classes and workshops.
Ariana specializes in chic apparel and accessories with an emphasis on Latin American and Mexican styles. You can find exquisite hand-embroidered clothing, one-of-a-kind jewelry, and eye-catching accessories to spice up your wardrobe. I've coveted some of the extravagant semiprecious stone necklaces and Mary Frances beaded cell phone handbags that I've seen there (middle photo above).
Bargain-hunting? Climb the staircase to the second floor. There I found a rack of 50% off clothing including some blouses and jackets. They also have some more John August Swanson lithographs up there. 
There was also an eye-popping colorful embroidered, stuffed armchair (in the photo above) that I wanted to adopt and take home with me immediately. Unfortunately, it's not something that can co-exist with cats. They'd pick the threads out into a yarn snag within an hour. Sigh. It will have to live forever in my decorating dreams as the one that got away.
Artes de Mexico, Design Center, Guatemala Shop, Kitchen and Home Decor Shop, Libros, and Treasures are all found on the left side of the courtyard. Don't worry about which shop you're in and when. It's impossible to be sure. Just go with the flow. If you see something you like any of the staff you see there can help you.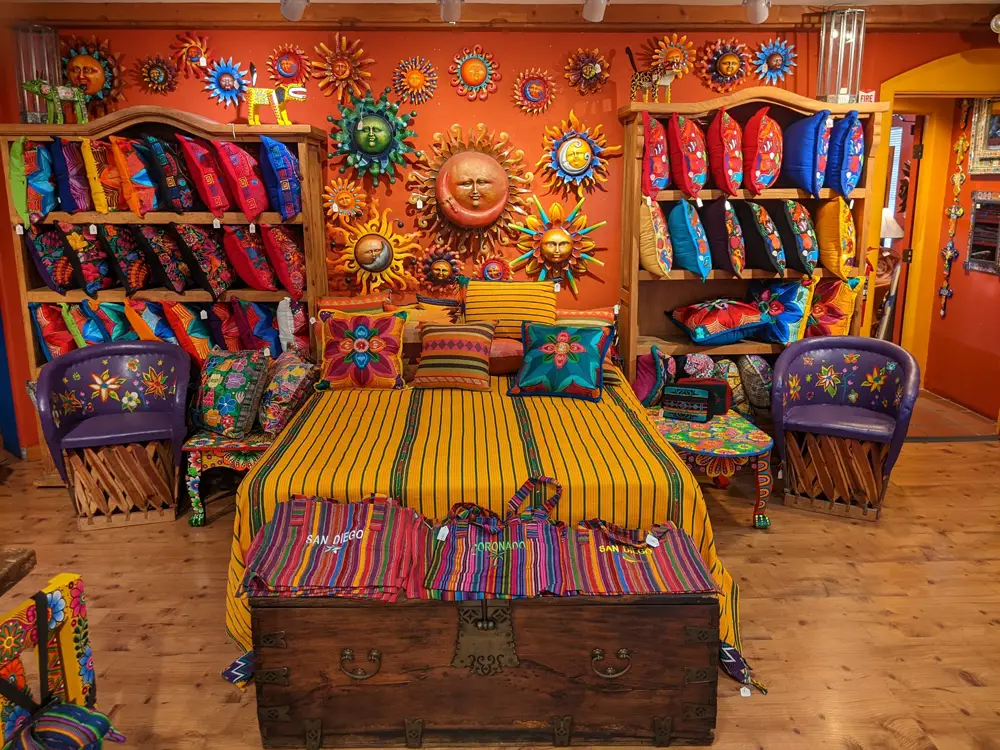 On this side of the marketplace, you'll find a crazy variety of South American and Mexican folk art and crafts. I found a stack of Mola embroidered panels from Panama, handwoven Guatemalan textiles from napkins to bedspreads, hand-painted ceramics, and intricately carved and painted wooden sculptures. It's almost too much to take in at once.
Casa de Estudillo: A Glimpse of 19th-Century Life
Constructed in 1827, this adobe house showcases mid-1800s life and is a National and California Historical Landmark. Built by hand in the Spanish Colonial style, the U-shaped house has 13 rooms connected by an external breezeway, except for the owners' suite and dining room. A cupola on top offered views of the nearby plaza to its original residents. Unfortunately, you can't climb up there now.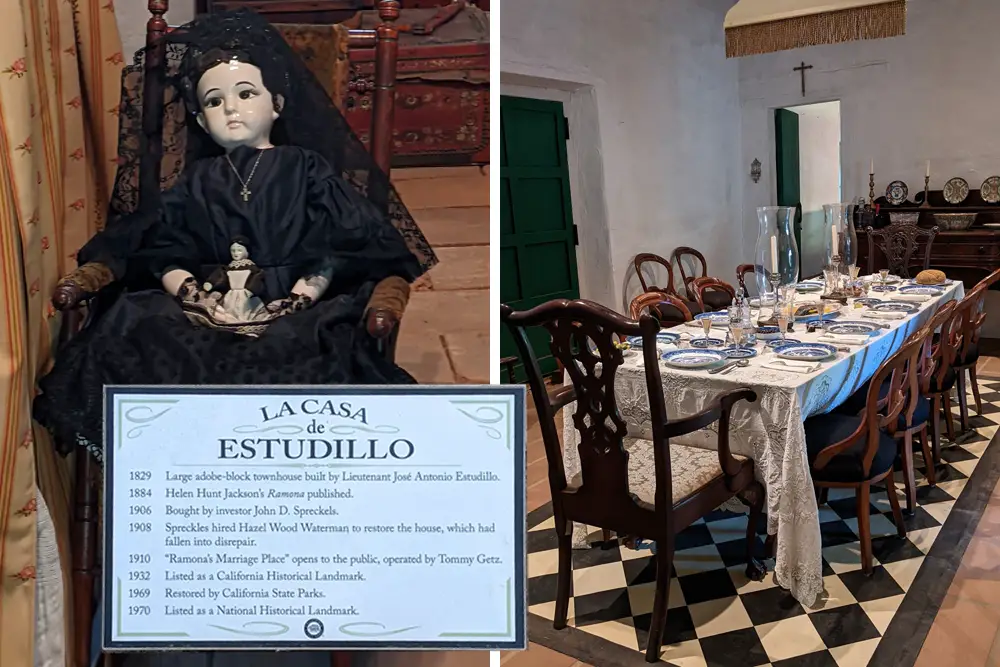 Inside, you'll find display cases with period household items, including a chatelaine pin, a practical and decorative accessory from the era. 
Some are remarkably clever. I thought that the chatelaine pin would be something that I could use now. It's a 3-inch silver cutwork circle pin decorated with two partridges. Suspended from four chains were 3 keys, a strawberry-shaped emery pincushion, and a picture locket. It would keep my pockets from bulging. 
Heritage Park: San Diego's Victorian Time Capsule
Heritage County Park is a collection of seven beautifully preserved San Diego Victorian buildings. It's a serene getaway from the hustle and crowds in the center of Old Town. This area is not part of Old Town State Historic Park; it is nearby, located just across the street from the Mormon Battalion Historical Site.
It's so picturesque that it's frequently used for weddings and small family gatherings. 
There's a wide range of architectural styles here from the grandeur of the Sherman-Gilbert House to the quaint charm of the corner-towered Christian House with its wrap-around porch.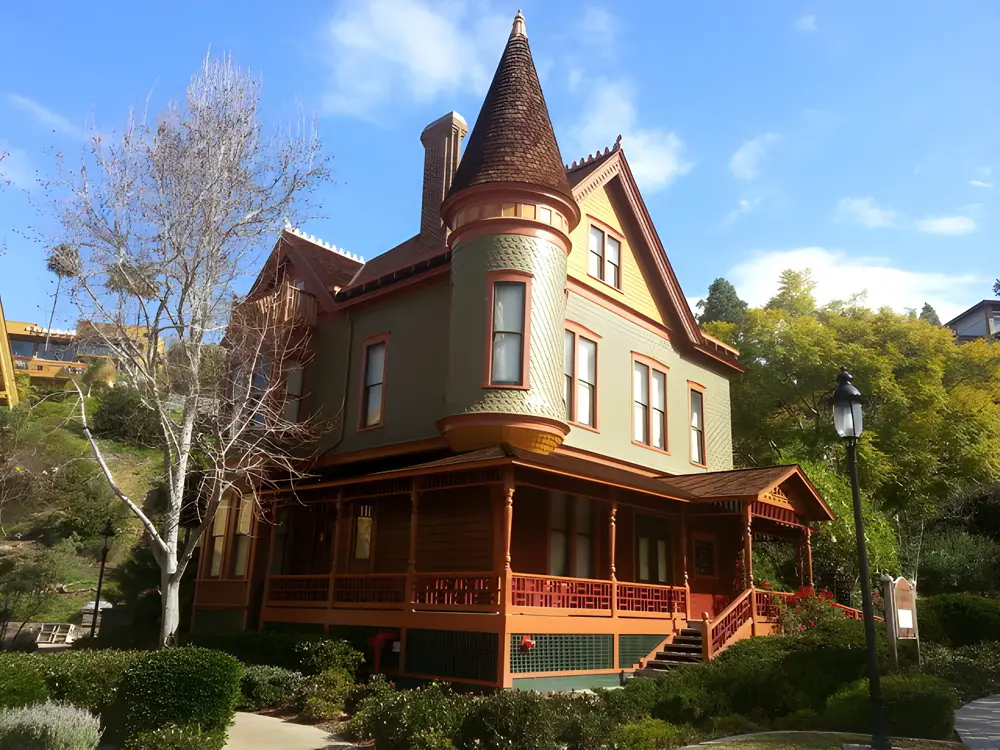 Senlis Cottage and the Temple Beth Israel are the only buildings that are open to visitors. The dignified synagogue was the first in San Diego. It was built of redwood in 1889 in the Classic Revival style. It took 11 years to restore it after it was sawed in half and moved here in 1978. 
Public restrooms are located on the north side of Senlis Cottage, a brightly painted, cute 1896 19th Century Vernacular style residence. The museum is on the west side of the cottage. When you walk inside you'll be amazed at the craftsmanship of the woodwork. Me, I'm always surprised at how small it feels because I'm almost 6 feet tall. Ceilings were lower in that era. 
For more quirky fun, check out my page on 15 Old Town San Diego Free Things to Do and See
Presidio Park: Enjoy Inspiring Views, Rich History
This free historical park is the site of the first European settlement in what is now California. In 1769 Spanish missionaries and soldiers created the first permanent settlement on the west coast. The Presidio was a military fort and you can still see the ruins of the original walls.  
This park is not accessible to those in wheelchairs or who have difficulty walking or climbing stairs. I also suggest that you drive or take a rideshare here. It's almost a 2-mile walk from the main section of Old Town San Diego. And it has a steep climb at the end that will definitely get your pulse going if you're on foot. 
Be cautious when driving to and from the museum and park. The road is a narrow two-lane one that has deep stone-lined ditches on either side for drainage. This is NOT the road to drive after you've had a few beers or margaritas.
The most popular things to do here are: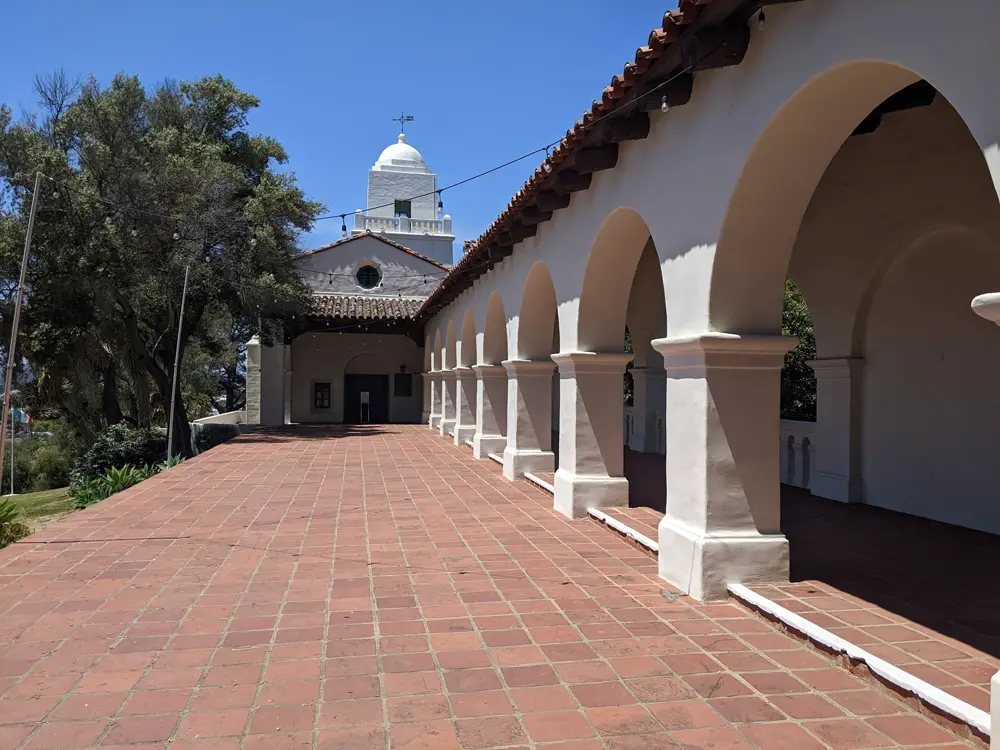 Visit the Junipero Serra Museum: This Mission-Revival-style building was built in the 1920s and is a popular attraction in the park. Its mission is to showcase San Diego's history. Inside you'll see exhibits and artifacts from Native American cultures, the Spanish colonial period, and the Mexican-American War. They request a $10 donation for entry.
This facility went through a major restoration in 2018 and the exhibits are still limited. But, the video presentations are interesting and the interior bare-beamed vaulted ceiling is noteworthy. 
The biggest attraction is the 360° view from the tower. It's a 72-step stair climb to the top viewing area. There are four windows from which you can see from Seaworld and the Pacific Ocean to the 5 peaks of Mission Trails Regional Park. 
Enjoy more views: The rest of the park is located on a hill and also provides excellent views of Mission Valley and west to Point Loma. It's a great spot for photography or simply enjoying the scenery. Check out the Mormon Battalion Monument with the tall bronze statue of a period soldier stopping to gaze out at the modern San Diego skyline. 
Have a picnic:  The park's grassy spaces are perfect for picnics. There are also tables located underneath mature pine trees with trash cans nearby. If you plan a gathering here on a weekend or holiday, make sure that you come early because it's a popular spot.
Take a Hike: There are many easy paths in the park, keep an eye out for historical markers that will tell you more about early San Diego history. The most popular one is the Presidio Park Loop because of the panoramic views. It's 2.1 miles long and only has a 370 elevation rise. It takes about an hour to complete. Wear sturdy shoes and pants to cover your legs because the trail is overgrown in spots. It's ok to bring your dog, but it must be kept on a leash.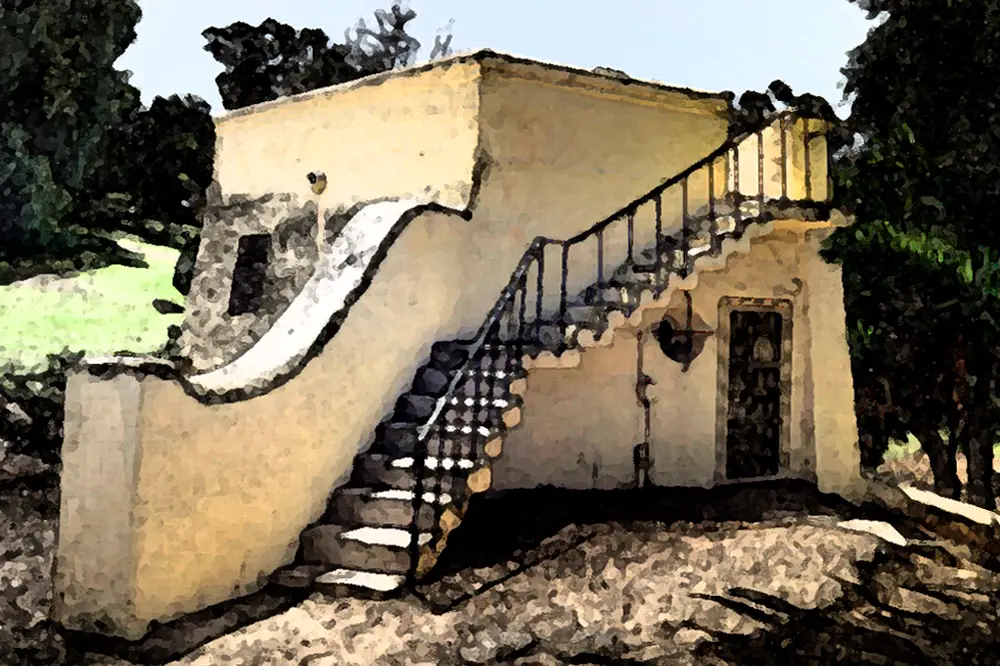 Climb the Witches Tower The Sylvester Pattie Tower is its official name and is located next to the Junipero Serra Museum's parking lot. Its nickname comes from a pentagram set in cobblestone and brick at the top of the tower. It was a common decorative architectural element in Spain, not an occult symbol. Despite rumors of strange occurrences, there's no evidence of anything supernatural. It was built sometime between 1928 and 1940 as a tribute to Sylvester Patty, an early American pathfinder who died near the site in 1828. Unlike other "Witch Towers" in Europe or the Witches Tower in Dayton, Ohio, ours has no confirmed hauntings or dungeons. 
Please note that it's recommended that you visit Presidio Park during the day for safety reasons. If you do spot a homeless individual, be polite and just move on. Most will leave you alone if you speak to them with kindness and respect.
Insider Tips For Exploring Old Town San Diego
Arrive Early at San Diego Old Town 
I strongly suggest that you arrive at 9:00 AM. But this California state park opens at 11:00 AM. Why should you arrive so early? 
Finding free parking at 9:00 AM is easy at the Transit Center, even on peak days. 
Enjoy a delicious breakfast at your leisure. I suggest the Congress Cafe (especially their grilled arepas!) or Perry's Cafe's generous American-style breakfasts. San Diego's afternoon temperatures can get hot, especially during late August and September. Arriving well before noon allows you to explore without getting too sweaty. 
You can walk around the public streets and courtyards. However, you won't be able to go inside any of the old homes, museums, and shops that are located in historical buildings.  
Useful Transportation Tips for Old Town San Diego
Here's detailed information about navigating within Old Town, such as the best ways to get around, where to find parking, and how to use public transportation. I've even included a map with the most efficient walking route so that you can see everything in this article. 
Old Town is Pedestrian-Friendly. The best way to get around Old Town San Diego is on foot. Much of the park, particularly the central Plaza de las Armas/Washington Square, and the buildings surrounding it are off-limits to motorized traffic. Of course mobility assistance devices like electric wheelchairs are permitted here. 
Be aware that not every building meets modern accessibility standards. If you have mobility challenges ask the guides inside the visitors center located in the Robinson-Rose house for their recommendations. You can locate the visitors center on the park PDF map HERE.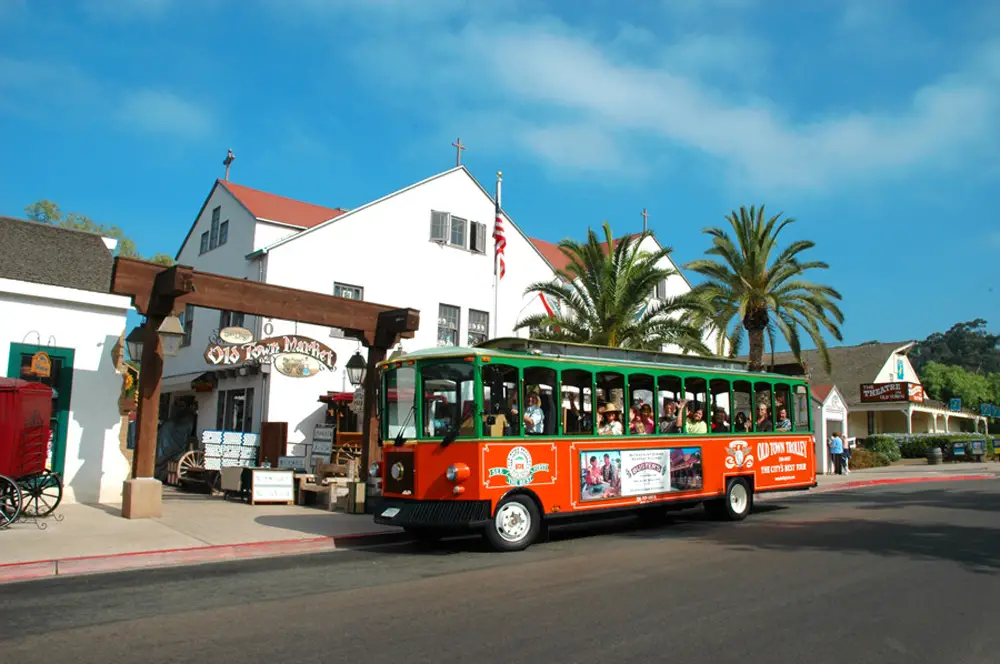 Old Town Trolley Tours of San Diego: This hop-on-hop-off touring service is the most hassle-free way to incorporate a trip to Old Town into a weekend San Diego getaway. You'll save money on parking fees and you'll be able to relax and let someone else fight the traffic while being entertained by their knowledgeable and amusing drivers. 
Despite its name, this service is not limited to Old Town. Their green and orange open vehicles make a continuous 25-mile loop throughout the most iconic parts of San Diego and Coronado Island. They make 12 stops along their route. Click HERE for discounted tickets on 1-day and 2-day options as well as cheaper tickets for their Ghosts and Gravestones Tours or San Diego City Lights Night Tours.
San Diego Trolley: The San Diego Trolley is an excellent way to get to Old Town San Diego. The Old Town Transit Center serves as a hub for the San Diego MTS Blue and Green Line trolleys, making it easy to access Old Town from various parts of the city. The trolleys are affordable, and they run frequently throughout the day. 
Riding the trolley is a fun and unique way to experience the city. It is also a cheap way to connect you to buses that go to the San Diego Zoo. If you're going there, get your discounted tickets HERE. 
Ridesharing: Ridesharing services such as Uber and Lyft are another great option for getting to Old Town San Diego. Simply request a ride from your location, and you'll be dropped off at the entrance to the historic park. Ridesharing is convenient, and it eliminates the hassle of finding parking.
Public Transportation: Bus & Commuter trains: The nearby Old Town Transit Center serves as a hub for various local and regional transit services. North County Transit Coaster commuter trains also stop at the transit center, making it easy to access Old Town from other parts of the county. 
There is a well-marked pedestrian underpass that goes below the train tracks so that you can cross safely.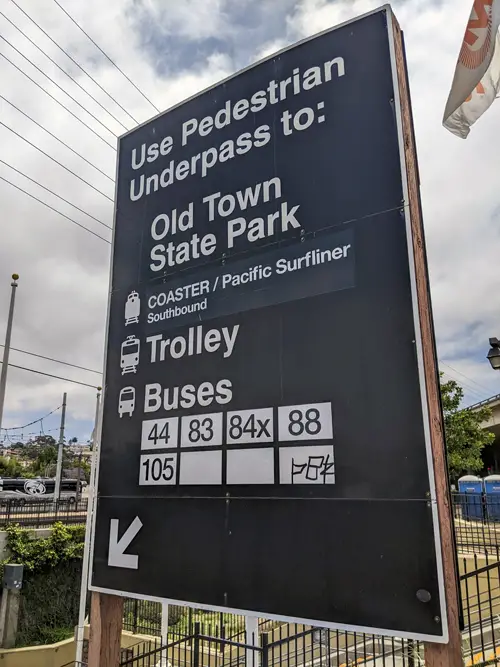 Where to Find Parking: There are plenty of parking options available in Old Town San Diego. However, parking can be a bit challenging, especially during peak hours. The best option is to park at the Old Town Transit Center parking lot, which offers free parking for up to 24 hours. There are also several paid parking lots and street parking options available.
There's a secret parking lot that very few tourists know about. It's free for the first 2 hours, and after that, you'll pay. But on hot days it's SO worth it because it's always in the shade. How's that? It's located beneath Cafe Coyote. The entrance to the underground parking is located on Conde Street. It's clearly marked with a green-painted Cafe Coyote sign on the west side of the road. 
Closing Thoughts
I hope that you now know which things you want to see and do first in this historical area. And that you are aware of your best transportation alternatives to get there and get around. Let me know if this article helped you navigate this area's many museums, shops, and restaurants. 
I'd love to hear from you with your impressions and tips you've uncovered for making a visit here even better. Leave your suggestions and ideas HERE. Have fun exploring California's birthplace, Old Town San Diego!