If you love freebies as I do, check out Balboa Park's many free attractions and activities. San Diego can be expensive. It's a pleasant surprise to find out that our biggest destination is full of interesting no-cost offerings. 
So what's in Balboa Park that is free and worth doing?
Balboa Park admission, parking, and shuttle bus are free. The Botanical Building, Timken & Gem Society museums are too. 15 more cultural institutes are free to residents on select Tuesdays and in February. Anyone can enjoy no-cost concerts, gardens, walking tours, hiking, yoga classes, bike racing, and more.
If you make purchases through the links in this post, I may be compensated. Read my Advertising Disclosure for more info. Thanks! ~ Nancy
*Save with a secret promo code on each San Diego Zoo or Safari Park 1-Day Pass. Go any day. Go directly to the gate. Click HERE to get your code, instructions & discounted tickets by email. By clicking the link above you agree to receive an automated email message. Valid only at aRes Travel, San Diego's local authorized ticket seller. Read my full privacy policy.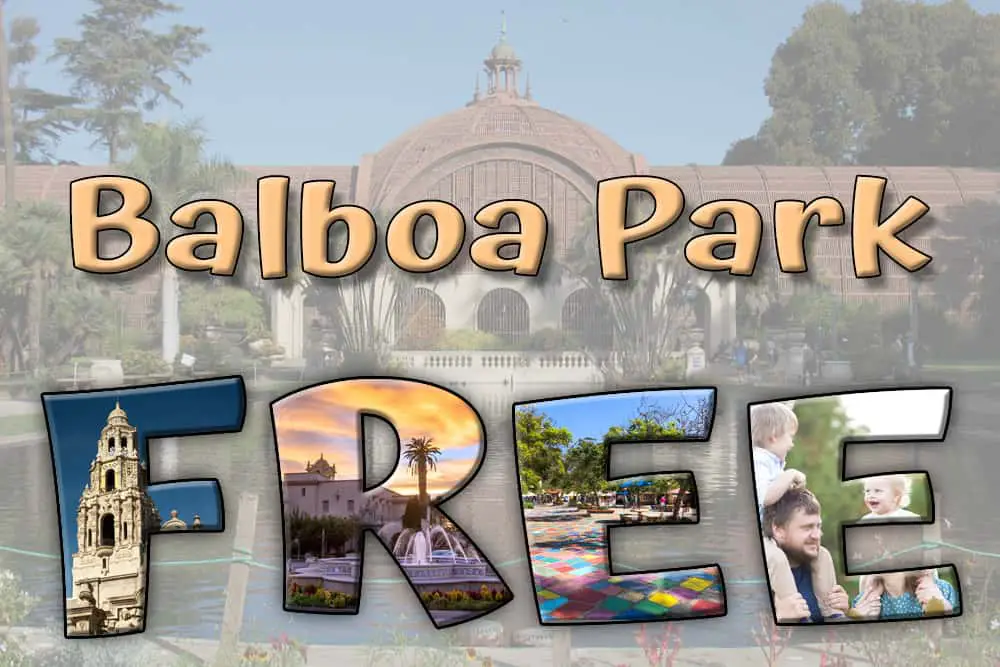 If you're in a rush, here's a short list of the no-charge "must do's" at Balboa Park. 
Top 10 Balboa Park Free Things to Do For Everyone
Park your car free all-day
Ride the Green Tram shuttles to get around
Stop at Balboa Park Visitors Center first
Tour the Timken Museum
Botanical Building – a selfie must!
Stroll Alcazar Garden like royalty
Visit the International Cottages
Explore Spanish Village Art Colony
Hike Palm Canyon Trail
Listen to concerts at Spreckels Organ Pavilion
Bonus: Watch Velodrome bicycle races
The list above is a small sample of what's available without spending a dime at Balboa Park. So read on and find something unexpectedly good to do for no money at Balboa Park.
Must-do Freebies in Balboa Park San Diego
Park Your Car for Free in Balboa Park
Free parking spots are easy to find in Balboa Park, unlike downtown San Diego where they're expensive and scarce. There are 12 large parking lots in the park. Most are located off Park Blvd. But there are also 5 within the park closer to the major attractions like the Zoo. Click on BalboaPark.org's parking page for an updated map.
During big events park at the Inspiration Point lot and take the free shuttle closer to your destination.
Ride the Balboa Park Free Tram
Take one of the green Balboa Park free shuttles to move quickly from your parking spot around the heart of Balboa Park. You can access a route map and more information on the Balboa Park tram page.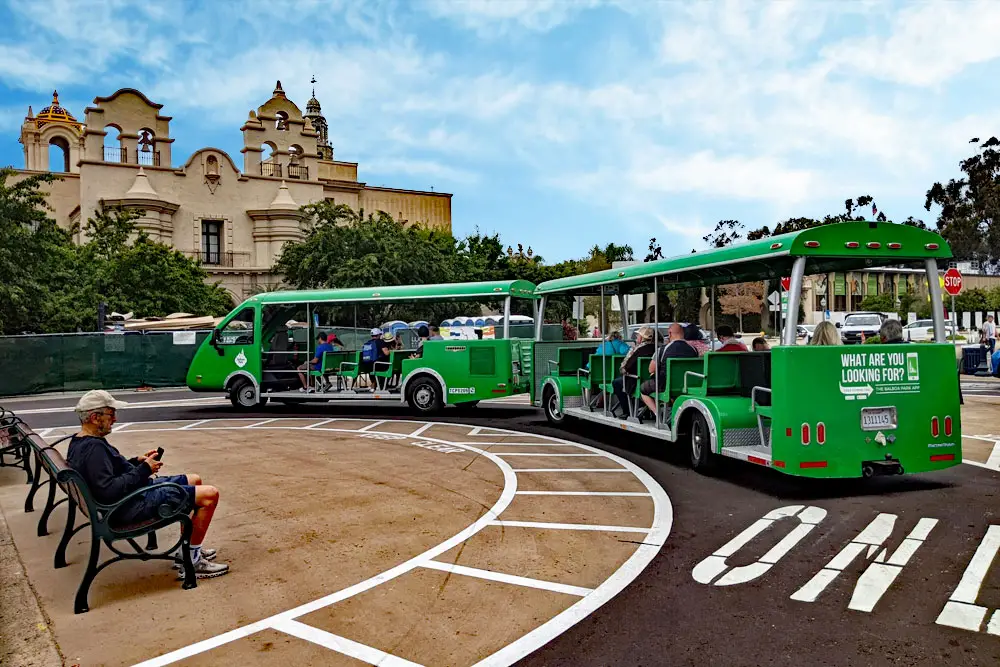 There are 5 stops that put you within a 10-minute stroll of the Park's most popular attractions. Three of the stops are next to the largest parking lots. The main pickup point is at Tram Central which is located at the Inspiration Point parking lot. Even on the busiest days, you can usually find parking here. 
Balboa Park Visitors Center and Gift Shop
The Balboa Park Visitors Center is a must for first-time Balboa Park visitors. It's located in the House of Hospitality in the Plaza de Panama. Volunteers can give you the most updated information on what's happening at all the attractions in the park on the day of your visit. The gift shop stocks souvenirs, clothing, some artwork, and guest necessities like sunscreen.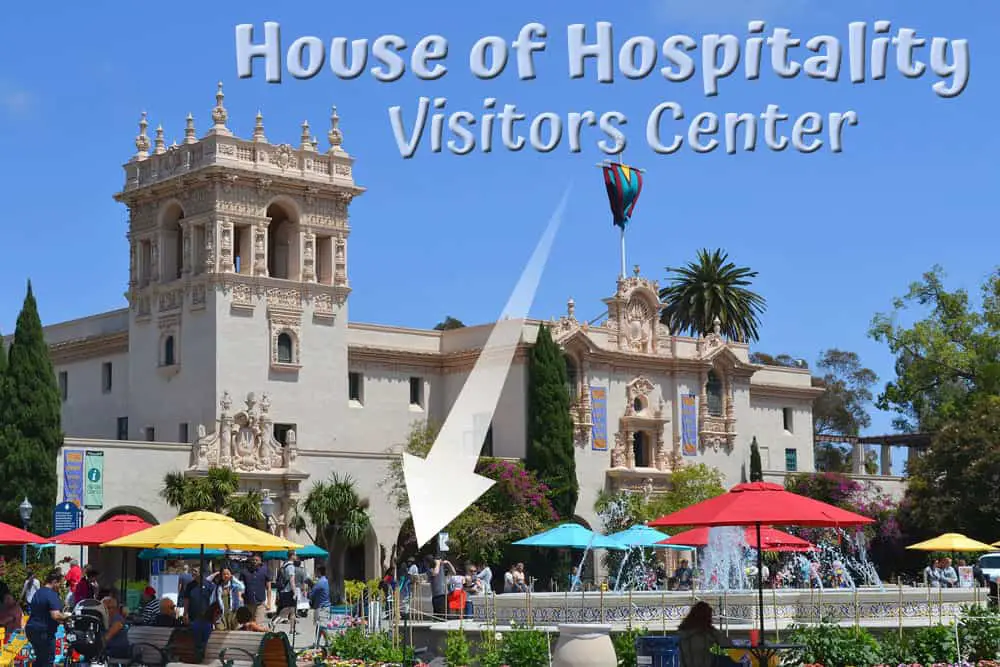 Visitor Center volunteers will also give you directions to the Park's major attractions like the San Diego Zoo (here's my page on the top 15 things to do at the zoo), the Spreckels Organ Pavilion, the Museum of Us. Also, ask them where to eat. If you want to know more, check out my article on Balboa Park's restaurants and eateries.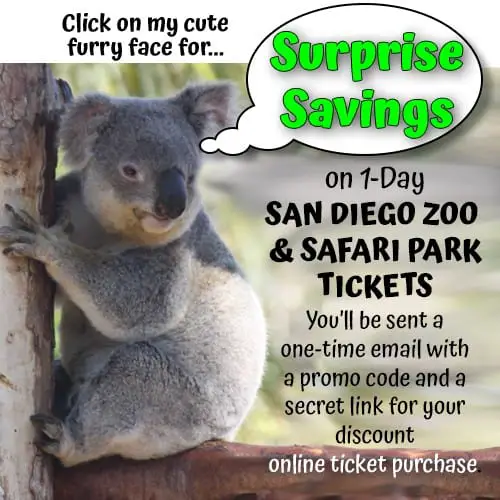 If you've parked at Inspiration Point and are taking the shuttle, it's the first stop by the House of Hospitality on the Plaza de Panama. 
Use the Balboa Park Free Wi-Fi
Balboa Park has free wi-fi at many of the major buildings and attractions. This makes the next freebie much easier to do. 
Download The Free Balboa Park Mobile App
Balboa Park's free app is available for both iOS and Android. It can tell you what's nearby, place you on a map, and show you what events are taking place that day. The app also contains a virtual tour, attractions list, food & drink locations, and lists of tours & trails. Download links are below:
One of the best things about this app is that you don't have to surrender your privacy to sign up. There's an "I'll do it later" log-in option that lets you remain anonymous. 
How to See Balboa Park's Museums Free
Fifteen of the museums within Balboa Park have free entry days on one Tuesday per month for San Diego residents. Locals also have free admission all February. Active military personnel and their dependents are always free. The Timken and the San Diego Gem Society museum never charge admission to anyone at any time. 
The current list is at BalboaPark.org  https://www.balboapark.org/residents-free 
Here's how to enter Balboa Park's museums free:
Residents living within the city or county of San Diego must present a valid CA driver's license, utility bill, San Diego Library Card, or student ID.
Active US military and their dependents need to present your Uniformed Services ID Card or Common Access Card (CAC)
Children 12 years old and under must be escorted by an adult at most of Balboa Park's museums. 
Complimentary admission may only apply to a museum's permanent collection. Call the individual museums for more information.
Which Balboa Park Museums Are Always Free?
There are two Balboa Park museums that are always free to everyone; the Timken Museum of Art and the San Diego Mineral & Gem Society Museum. But there are a couple more art institutions in the park worth seeing that also always have no-cost entry; Spanish Village and the Sculpture Garden.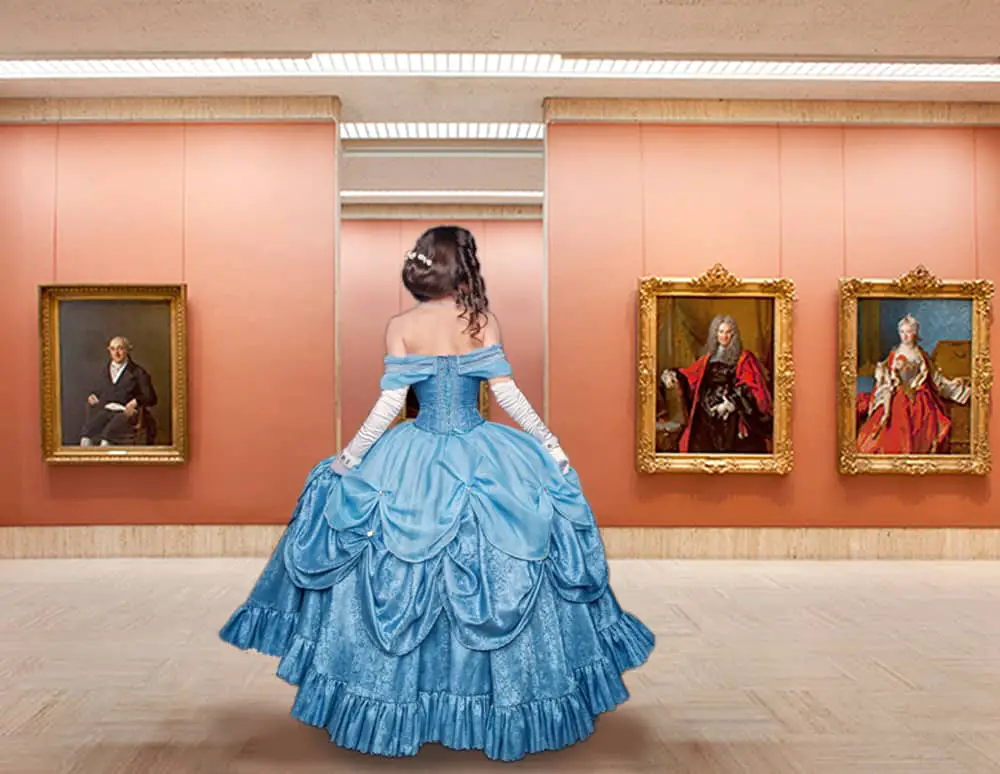 Timken Museum of Art in Balboa Park is Always Free
People typically spend an hour or more at the Timken Museum of Art, Balboa Park's free art museum. Their collection features European Masters (including the only Rembrandt on public display in San Diego), 18th and 19th-century American art, and Russian icons. Non-flash photography is welcome.
I especially like visiting their yearly Jewels of the Season exhibit in December. It's a magnificent display of ornaments by local artists that covers a large tree and spills across the ceiling. Hours later I leave with a crick in my neck from staring upward at the gorgeous eye candy. 
San Diego Mineral & Gem Society Museum
San Diego Mineral And Gem Society Museum is the other Balboa Park museum that always has free entry.  Visitors typically spend 30 minutes here. 
This small institution is attached to the Spanish Village Art Center close to the Zoo. It has rocks, fossils, large crystals, and gems on display and sometimes you'll see lapidarists working on shaping stones and making jewelry. They also offer classes. Go, and may the quartz be with you.
Balboa Park Free Artists Village
Spanish Village Art Center is always free. Expect to spend a minimum of 1 hour here walking among the colorful shops in the painted courtyard. You could also easily spend an entire day talking with the artists about their processes and products.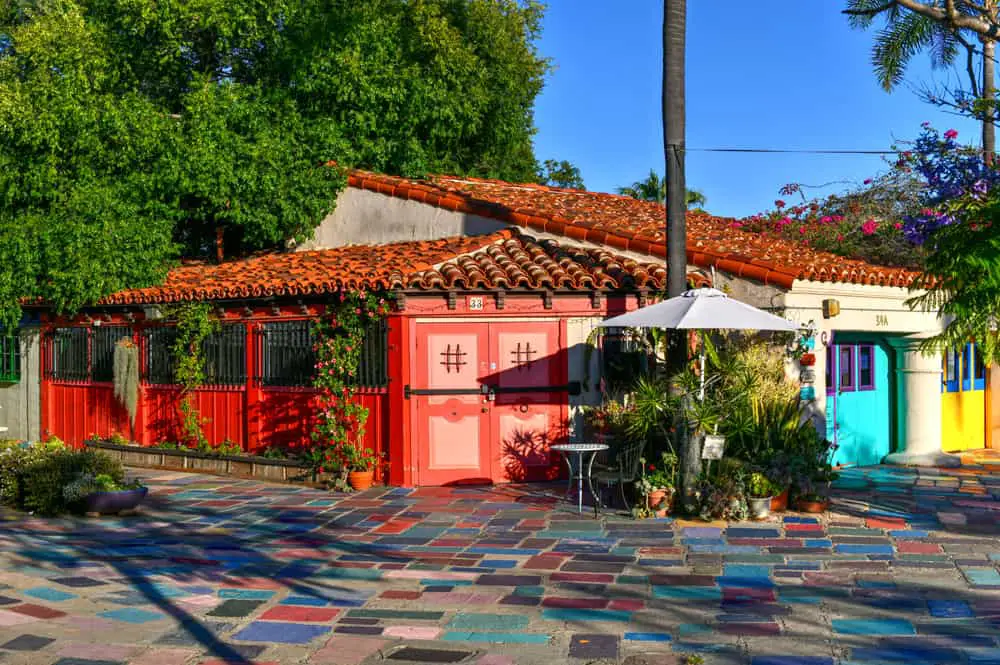 Spanish Village isn't an art museum, but it is where you'll find artists creating art that you can buy. Every object for sale here has been created by the local artists you'll meet working in their studios. 
Arrive before 4:00 PM on Wednesdays thru Sundays to see artists shaping molten glass from a hot kiln. There's also a no-cost historical tour of this artists' colony that's worth taking. Read more about this attraction on my "Top 7 Things to See & Do at Spanish Village in Balboa Park" page.
May S. Marcy Sculpture Court & Garden
The quality of the 6 works that you can see at no cost in this free balboa park sculpture garden is better than many art galleries that charge entrance fees. People usually take 30 minutes to view the artwork.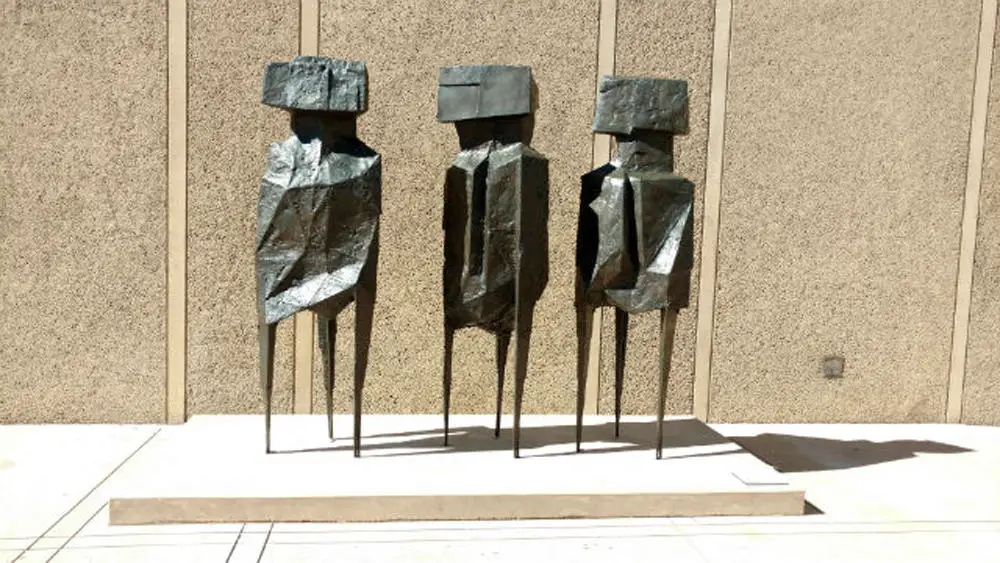 Watch "The Watchers" watching you. Or lie down on the green grass and try to outdo the chill relaxation of Henry Moore's "Reclining Figure: Arch Leg" sculpture. This is a good spot to wait for your order to come up at Panama 66 cafe. And their beer and wine will get you into a "reclining" vibe in no time.
Which Balboa Park Museums are Almost Free?
The Museum of Photographic Arts
The Museum of Photographic Arts has no general admission, but you are encouraged to make a donation. Plan to spend at least 1 hour viewing the exhibits here.
This small space will appeal to anyone who's ever admired a great photo or wanted to take better pictures. It's one of only three museums in the United States that focuses exclusively on the collection and preservation of photography, film, and video. 
Explore cultural, social and technological advancements in imaging through historical, social documentary and photojournalism artworks. You'll leave knowing how to tell better stories with your camera.
Centro Cultural de la Raza
Centro Cultural de la Raza entry is by donation. Free Tuesdays are on the 1st Tuesday monthly for San Diego residents, active military, and their dependents. Except for February when there's no charge for them for the whole month. Visitors usually take 30 minutes here unless they're there for a class or a lecture.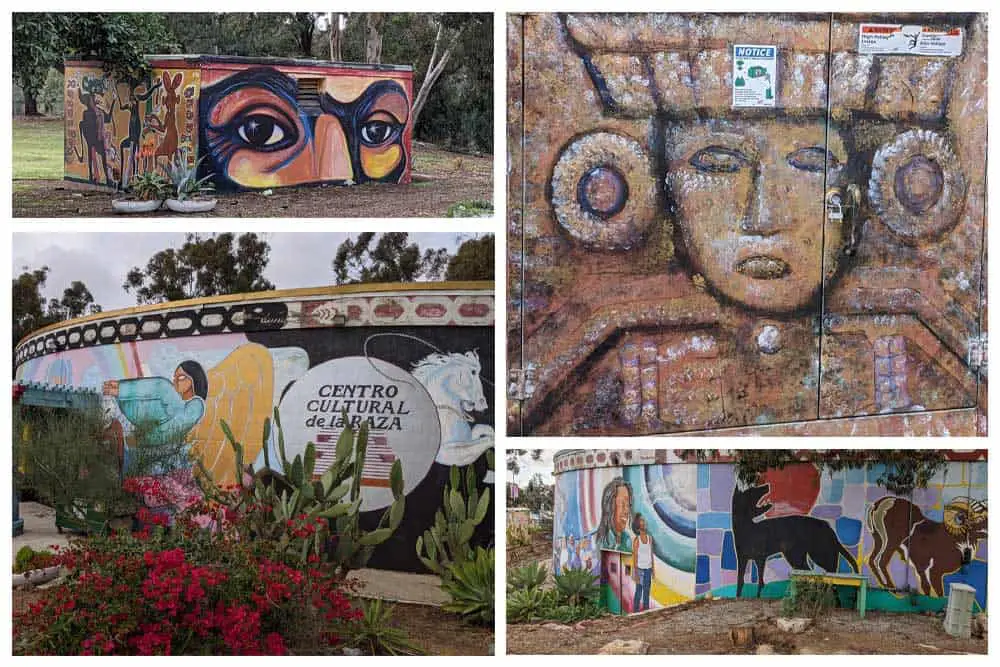 The building is a former water tower that's covered inside and out with colorful murals. It's home to rotating exhibits, art, performances and classes featuring the history and culture of local indigenous, Chicano, Mexican and Latino people. And don't miss the Friday Night Market with more artists and food vendors. 
Which Balboa Park Museums Have Free Tuesdays?
San Diego Natural History Museum
San Diego Natural History Museum (aka "The Nat") Free Tuesdays are on the 1st Tuesday monthly for San Diego residents, active military, and their dependents. Except for February when there are no entry fees charged for them for the whole month. People typically spend 2 – 4 hours here.
Live 70 million years in an afternoon. There are 4 stories of interactive exhibits on earth's natural processes, historical displays. This museum's home to more than 8 million specimens from across the globe. There are thousands of colorful, exotic-looking bugs that are a fantastic source of inspiration for creatives, as long as you can view them here rather than in your bathroom.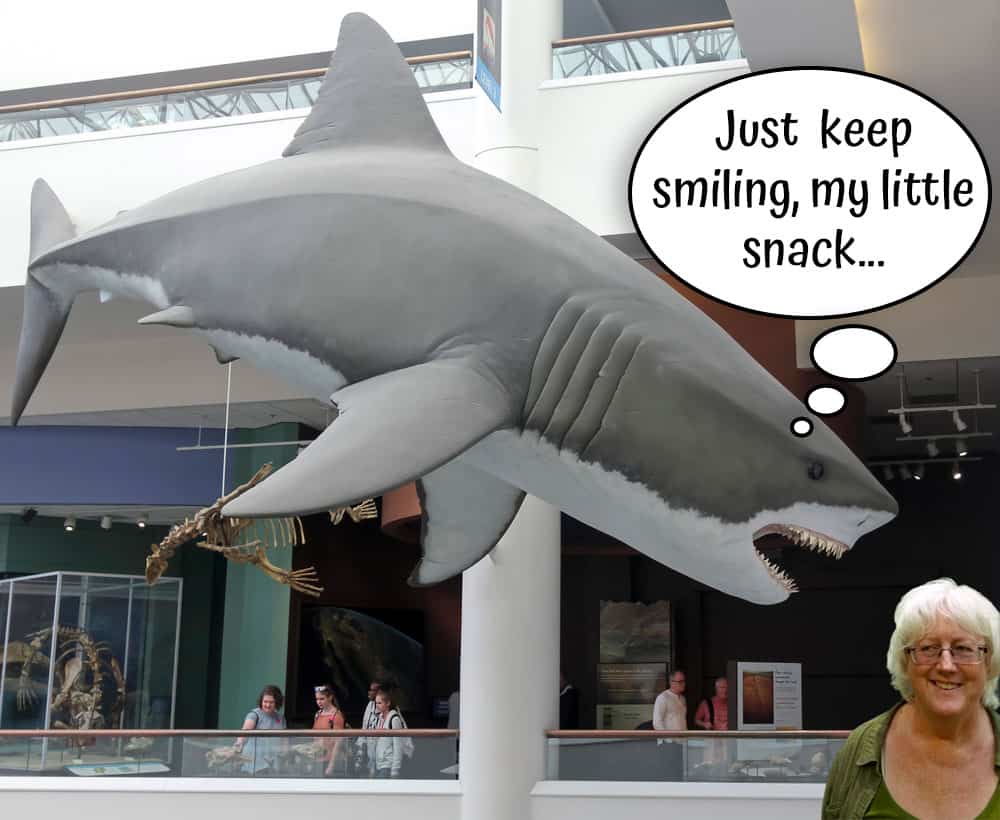 Watch the giant Foucault pendulum knock down a peg to show the earth's rotation. Dig for dinosaur bones. Watch movies about earth's history in the 300 seat giant screen theater. The one thing you don't want to do is skip it.
Fleet Science Center in Balboa Park
Fleet Science Center Free Tuesdays are on the 1st Tuesday monthly for San Diego residents, active military and their dependents. Except for February when there's no cost entry for them all month. People typically spend 2 – 4 hours here. 
Investigate the fundamental forces of the universe without blowing yourself up. At the 'Fleet' there are over 100 interactive hand-on exhibits that introduce you to the power of science in our lives. Don't miss Kid City on the second floor if you've got children under 5. Then go see an IMAX movie. Get here early on free days. It's very popular.
San Diego Model Railroad Museum
San Diego Model Railroad Museum Free Tuesdays are on the 1st Tuesday monthly for San Diego residents, active military, and their dependents. Except for February when they can get in for nothing during the entire month. Visitors typically spend 1 hour or more here. 
The Railroad Museum is a large building dedicated to the art of the miniature train. The six permanent railway installations here are a mecca for anyone who has unboxed a train set as a kid. 
The incredible amounts of detail in the landscapes and trains in each of the exhibits is mesmerizing. It will even captivate kids like myself who wanted play-doh instead of something that went "Woo, Woo". 
San Diego Air and Space Museum
San Diego Air and Space Museum Free Tuesdays are on the 2nd Tuesday monthly for San Diego residents, active military, and their dependents. During the entire month of February, there are also no admission fees. Plan to spend at least 2 hours here.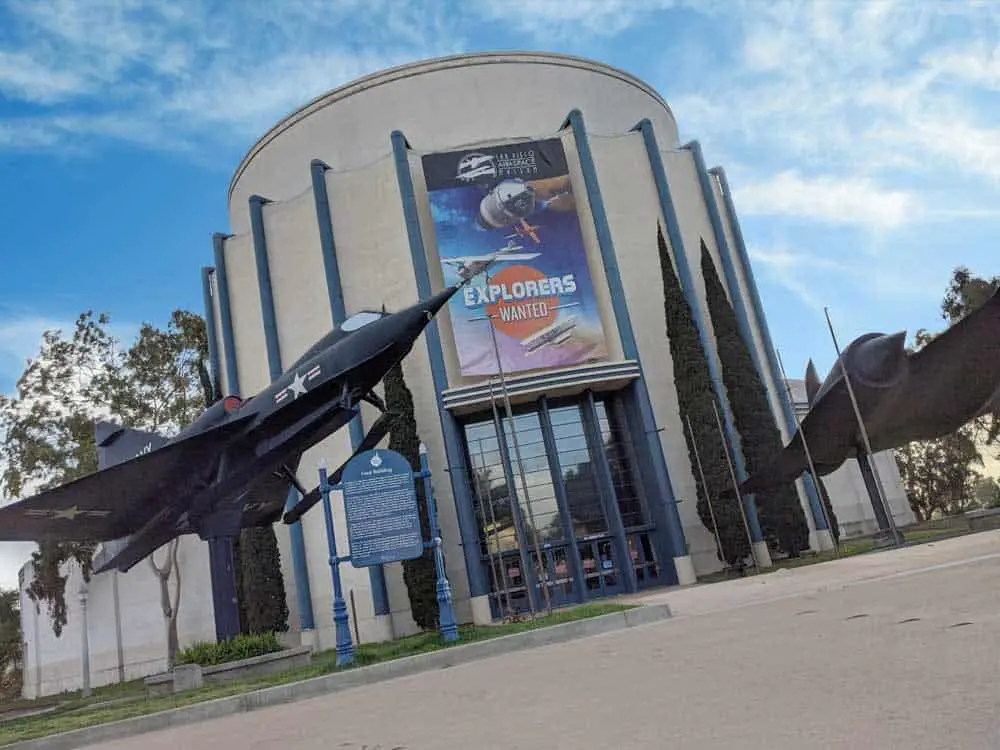 How do we fly? Explore a visual history of aviation from DiVinci to the Wright Brothers and space travel with over 60 real, replica and mock-up aircraft as well as hundreds of other exhibits. Make sure you see the real Apollo 9 command module. It's hard to believe that 3 men spent 10 days in this cramped space. 
This museum's great for kids too. Your older ones will be blown away by the U-Fly-It wind tunnel. Your tykes will enjoy pedaling plane trikes around the play airport.  The guided tours are highly recommended because the docents are all air-flight geeks and obviously love being there.
San Diego History Center
San Diego History Center Free Tuesdays are on the 2nd Tuesday monthly for San Diego residents, active military and their dependents. During February it's free all month for these folks. Visitors typically spend 45 minutes/hours here.
The History Center doesn't have a fixed admission fee, but there's a suggested donation of $5 to help make San Diego history accessible to all. It's small, you can easily go through it in 30 minutes. But many stay an hour or more poking through the exhibits.
Don't miss the 30-minute movie on the construction and history of Balboa Park. Interesting fact; it started out as an elaborate tourist trap and some of the buildings were just facades. Inside/Out features a rotating series of items from the Historical Society's archives of 17,000 objects, 2.5+ million photographs, and 45 million documents.
Veteran's Museum and Memorial Center
Veteran's Museum and Memorial Center Free Tuesdays are on the 2nd Tuesday monthly for San Diego residents.  During February there's no admission charge for them all month. Active duty military personnel are always welcome at no charge  People typically spend 45 minutes here.
If you are a military history buff this is going to be your favorite Balboa Park free museum. Here you'll find exhibits that focus more on individual stories and artifacts belonging to veterans rather than history lessons on specific wars and battles. 
Don't miss The Battle for Outpost Harry display with full-size mock-ups of Korean War bunkers and trenches. The History of Women in the Military exhibit illustrates their evolving role since the Civil War. And seeing their heavy, itchy wool uniforms has made me eternally grateful to the inventor of polyester.
San Diego Museum of Art
San Diego Museum of Art  Free Tuesdays are on the 3rd Tuesday monthly for San Diego residents, active military, and their dependents. During February there are no admission fees for those folks. Visitors usually take about 1.5 hours to see all the artwork.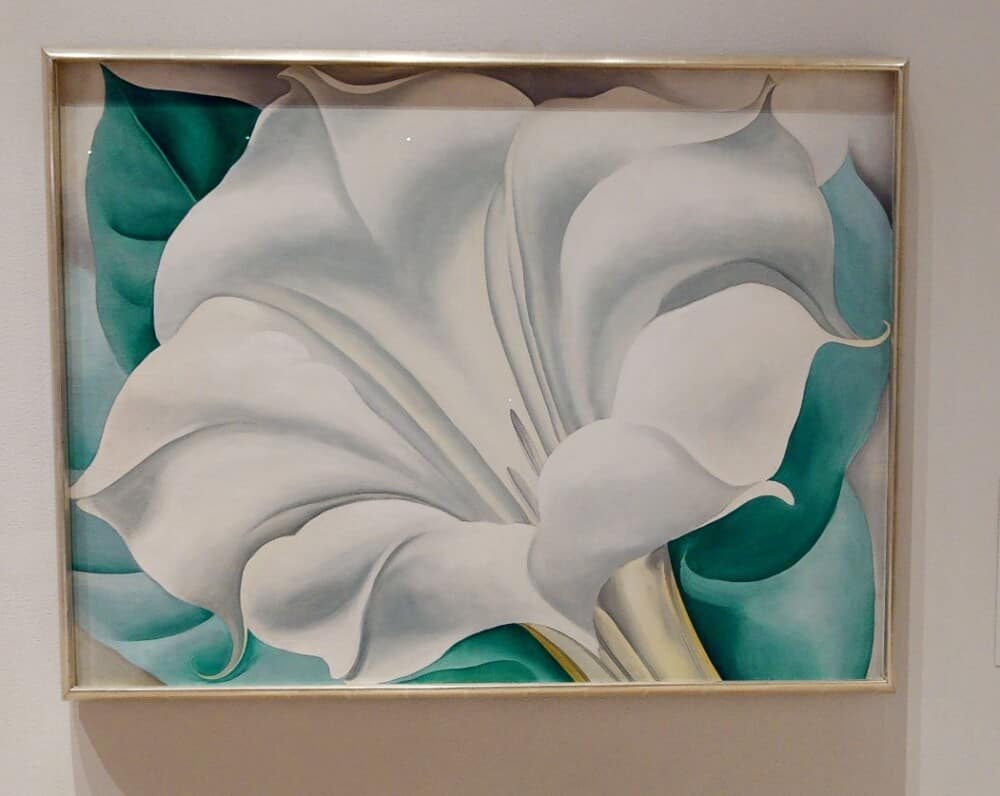 You won't see the latest bleeding edge artwork here. But they do have a wide variety of artworks from around the globe, ancient to Modern. Don't miss the paintings by Old European Masters like Goya and El Greco. I always stop by Georgia O'Keeffe's The White Flower (Trumpet Flower) before I leave this museum. I can't hang it in my living room, so I visit it here. 
The guided docent tours are highly recommended because they'll show you what you didn't know you were looking at. I also suggest that you download their free museum app from the App Store or Google Play. It has maps and augmented reality features that overlay more information when you focus your mobile device on specific artworks.
Mingei International Museum
Mingei International Museum Free Tuesdays are on the 3rd Tuesday monthly for San Diego residents, active military, and their dependents. Except for February when admission fees are waived all month for those folks. Visitors typically spend 1 -2 hours here.
This newly remodeled museum is a mecca for those who love folk art, crafts, and good design. Their permanent collection has a stunning collection of beads, textiles, and exotic handcrafted kitchen utensils and so much more.
I especially love the ethereal "A Palace for Wednesday". It's a unique dollhouse made from twigs, dried flowers, wire, wispy fabrics, and an artist's dreams. It looks as if a strong sneeze would blow it away. But don't be afraid to take a close look, it's behind protective glass. 
Museum of Us (formerly the Museum of Man)
Museum of Us (Museum of Man) Free Tuesdays are on the 3rd Tuesday monthly for San Diego residents, active military, and their dependents. In February entry fees are not charged to them all month. People typically spend at least 2 hours at The Museum of Us.
Explore the Museum of Us to discover what makes humans human, from brewing beer and burying our dead to eating each other. You must see the huge Maya monuments — which are actually casts of the originals in Guatemala. And yes, there really is a cannibal exhibit there. It requires a separate fee for entry on free days, but it's worth it.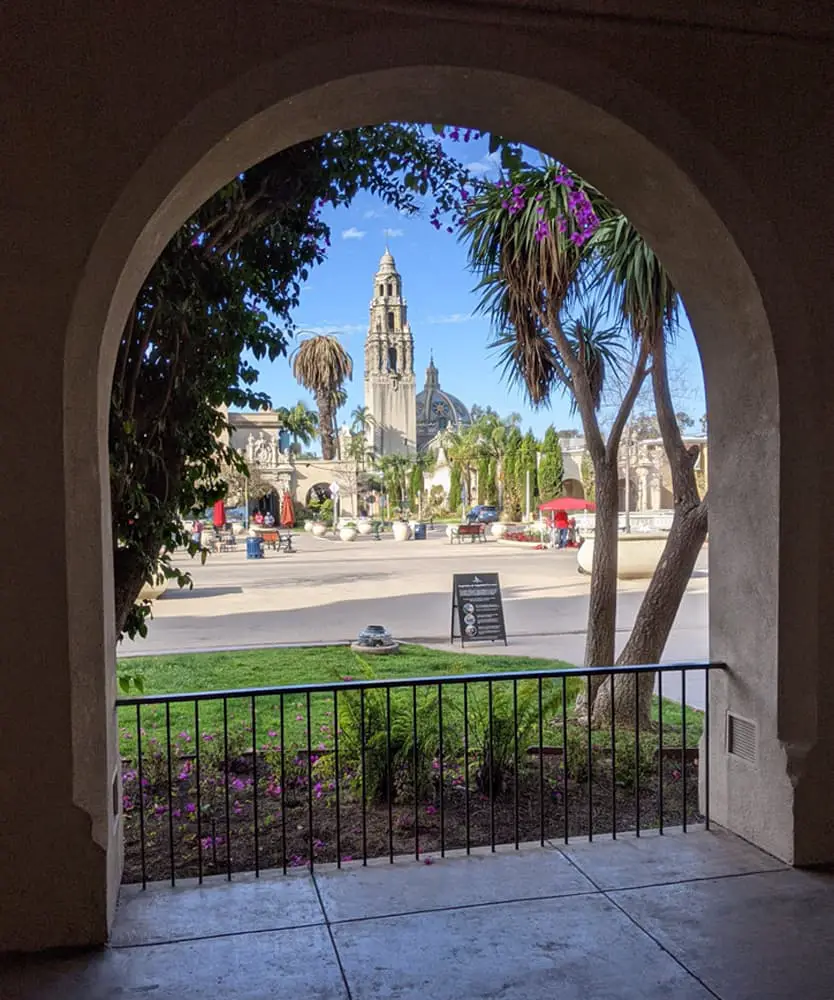 California Tower is worth climbing but is not free. You'll have to purchase tickets for the 40 minute tour to the top of this San Diego landmark. You'll also have to be in good shape and able to climb 125 steps to the top and then back down. This is not the tour for those with weak knees or hearts. 
San Diego Automotive Museum
San Diego Automotive Museum Free Tuesdays are on the 4th Tuesday monthly for San Diego residents, active military, and their dependents. In February, the whole month is fee free for them. People typically spend at least 45 minutes here.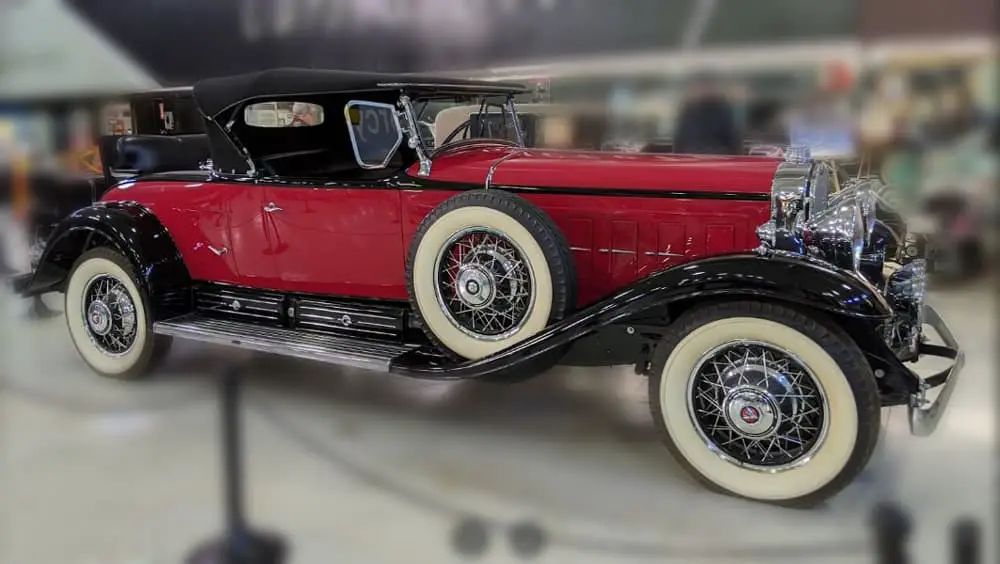 Drool over the San Diego Automotive Museum's extensive collection of classic and rare cars and motorcycles. There are about 40 sports, luxury, muscle, and just weird cars and bikes on the floor with the oldest being from around 1900. The weirdest is Louie Mattar's Fabulous Car. They also have some iconic TV and film vehicles including the Delorean car from Back to the Future. 
Don't miss the Racing Hall of Fame which spotlights the giants of the racing world. And your future NASCAR champ will enjoy riding inside the toy indie racing car and motorcycle.
San Diego Art Institute 
San Diego Art Institute Free Tuesdays are on the 4th Tuesday monthly for San Diego residents, active military, and their dependents. Except for December when December Nights takes its place. During February there are no admission fees for those people during the entire month. Visitors usually take 1 hour here.
Balboa Park's only contemporary art museum features art and artists from the San Diego area and Baja California. Installations. Cutting edge artists chosen from Latino, Afro, queer  and other local minority communities.are typically invited for a 3-month residency. Their works are showcased either as an ongoing process or within separate wrap-up gallery shows. Quite often the public is invited to participate in the artist's creation. 
4 Balboa Park Free Walking Tours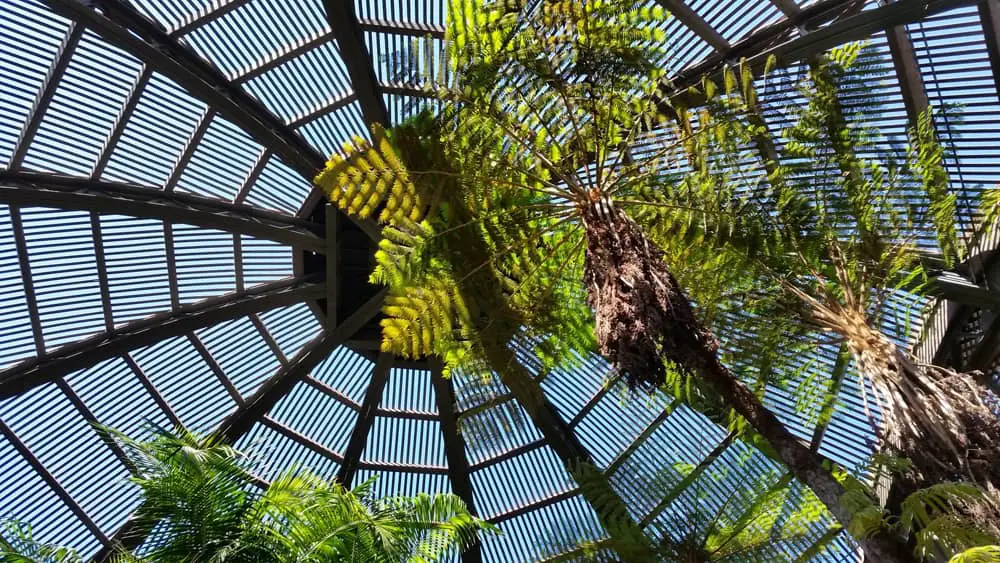 Tour the Balboa Park Botanical Building Free
Where: Southern end of the Lily Pond (the end furthest from the Botanical Building)
When: Every 3rd Friday 11:00 AM
Time Needed: 45 minutes
Difficulty: Easy, extended standing and walking on flat terrain
Botanical Building Tour – How did one man's obsession with begonias result in this must-see San Diego landmark? Your tour leader will give you an insider's view of the Botanical building's history, design, and an appreciation of the plants within it.
Balboa Park Free Weekly Walking Tour
Where: Balboa Park Visitor Center
When: Tuesdays 11:00 AM
Time Needed: 1 hour
Difficulty: Extended periods of standing and walking on flat terrain
During the Balboa Park Weekly Walking Tour, you'll get an expert's summary of the park's history and its varied attractions. As you explore the Central Mesa section with your guide, you'll learn little known facts, hear humorous stories and see plenty of photo-worthy scenery. Ask your guide at the end of your tour for ideas on what to do next. 
Balboa Park Free Ranger-led Tour
Where: Visitor Information Center in the House of Hospitality located at 1549 El Prado, San Diego, CA 92101
When: Sunday 11:00 AM
Time Needed: 1 hour
Difficulty: Easy, you'll be standing and walking on flat terrain
Ranger-led Tour – Get the scoop on the historical and botanical treasures within Balboa Park from a Park Ranger. Each tour's just a bit different depending upon the Ranger's personal interests and your questions.
Free Architectural Heritage Tour of Balboa Park
Where: Balboa Park Visitors Center. 1549 El Prado, San Diego 92101
When: First Friday 10:00 AM
Time Needed: 1 hour
Difficulty: Easy, prolonged standing and walking on flat terrain
Architectural Heritage Tour – Discover how a tourist trap became the most beloved public space in San Diego. The buildings constructed for the 1915 Panama-California Exposition caused San Diego to go gaga for the Baroque fusion style of Spanish Revival.  Explore examples like the California Building, its tower, and the Spreckels Organ Pavilion. Learn how the "temporary" fair buildings along El Prado survived to become iconic San Diego landmarks.
Which Balboa Park Gardens are Free?
16 out of 17 gardens within Balboa Park are free for everyone always. The exception is the Japanese Friendship Garden which is only free on the 3rd Tuesday of the month for San Diego residents, active military, and their dependents.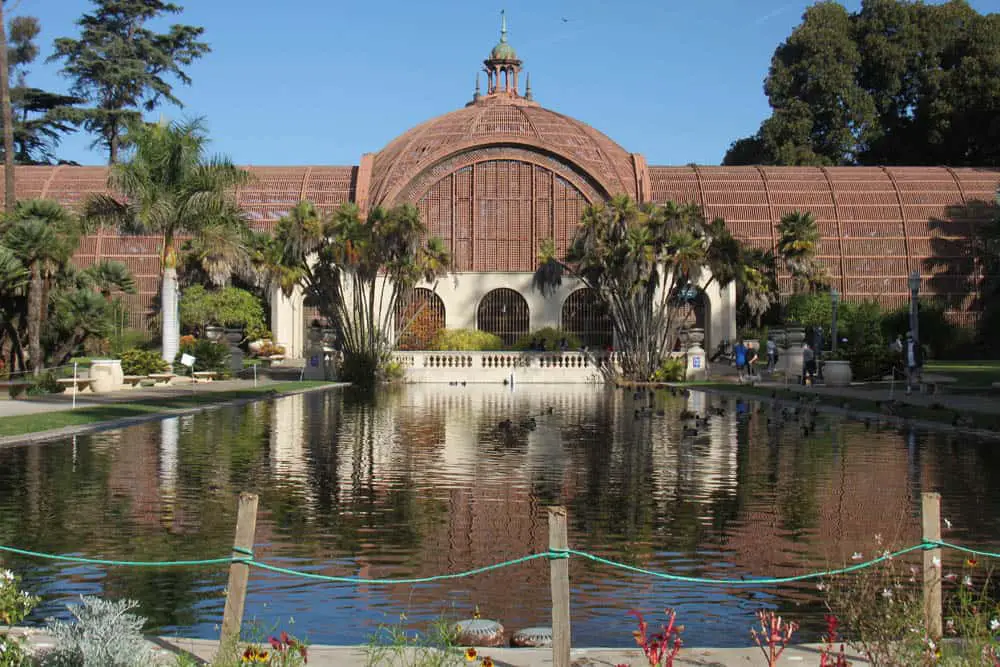 Since this page of free things to do in Balboa Park is getting rather long, I'm just going to give you the ranked list below for the highlights. I combined Google, Yelp, and Bing popularity rankings to come up with the list. Check out my Balboa Park Gardens page for more advice on which ones will appeal to you most.
Top 10 Balboa Park Free Gardens in Order
Botanical Building and Lily Pond
Alcazar Garden
Desert Garden
Inez Grant Parker Memorial Rose Garden
Zoro Garden
1935 Cactus Garden
Trees for Health Garden
Palm Canyon
Casa del Rey Moro Garden
Marston House Gardens
How to Find Free Music in Balboa Park
Free Concerts at Spreckels Organ Pavilion
The Spreckels Organ Pavilion is home to the largest outdoor pipe organ in the world. And all concerts on the organ must be free to the public per the terms of the donors' gift to Balboa Park. The city of San Diego actually has an organist on the city payroll to play weekly no-charge Sunday concerts at 2:00 PM.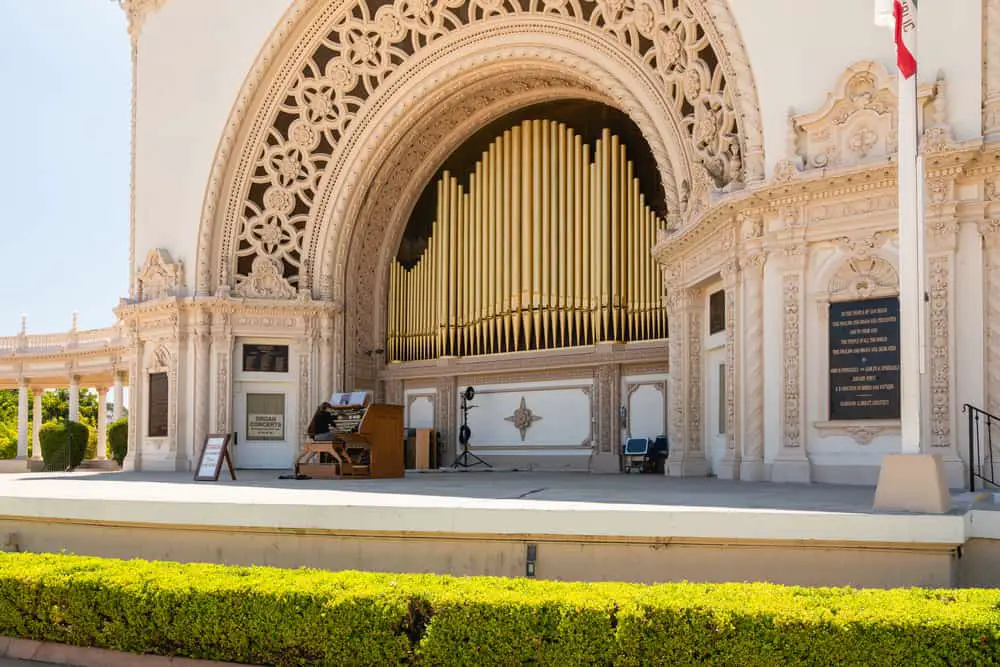 Other free musical events include the Twilight Concert series which occurs during the summer. And you can listen to live choir and organ music all day and into the night during the December Nights festival.
Free Jazz Music at Balboa Park
The free Wednesday Night Jam Session in Balboa Park starts with the 'Young Lions Series' in the Sculpture Court at the San Diego Museum of Art. This event features talented middle and high school musicians improvising and jamming from 6:00 – 7:50PM.
At 8:30PM the music moves to the Copley Auditorium. There some of the foremost musicians from across San Diego county play together until 11:30PM.
Where are Balboa Park's Free Cultural Attractions?
House of Pacific Relations International Cottages
House of Pacific Relations International Cottages offers free open houses on Saturdays and Sundays. The Hall of Nations has free gatherings on weekends and the 4th Tuesday of each month. There are also free Sunday lawn programs with music and dance at 2:00 PM. 
Travel the globe in just a few steps at the International Cottages. Each of 32  'houses' showcases traditions of different cultural groups. Each Sunday Lawn programs feature songs, music, dance, costumes, arts, crafts, and ethnic foods from one or two of these groups.
To see all of the groups at once attend the Ethnic Food Fair which takes place on the Sunday of Memorial Day weekend. The Ethnic Market at December Nights also showcases every groups' winter traditions and foods. The chow's not free, but it's delicious. Come hungry!
WorldBeat Center
The WorldBeat Center is always free. It's known worldwide for its striking exterior and interior murals that celebrate Egyptian, African and indigenous cultures. Inside, the center hosts international dance classes, drumming, concerts, and lectures.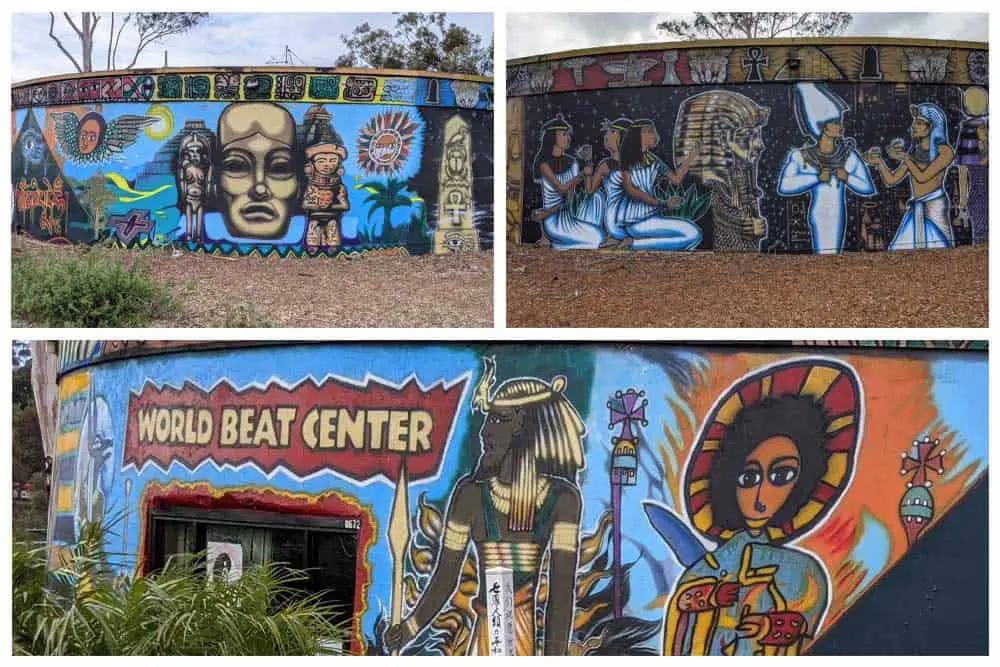 There's also several small art galleries, a stage, and a large dance floor for gatherings and classes in the WorldBeat Center. Their gift shop stocks international fair trade imports featuring African and indigenous artwork, t-shirts, mugs and skateboards.
The WorldBeat Cafe serves an eclectic, tasty selection of vegetarian food made from local produce, Kombucha, and other drinks. It's open Fridays, Saturdays, and Sundays, but the hours vary. Call them at 619-230-1190 to find out when they're open.
How to Watch Movies Free At Balboa Park 
Tired of the sameness of current pop culture movies? See more artsy, unique flicks at "Screen on the Green" on the lawn east of the San Diego Museum of Art. Thursdays at 8PM in August. 
All the films are either owned by the museum or inspired by their collection. Bring a blanket, food, and beverages of your choice. You can bring alcoholic drinks, but you'll have to finish them before the start of the movie. These events are dog-friendly, but keep your puppies leashed. 
Also, check out SummerMoviesInThePark.com. That website lists no-cost movie screenings in Balboa Park and other San Diego city parks. Take the entire crew to past blockbusters and other flicks without spending a dime. 
Don't Miss These Annual Free Balboa Park Festivals 
Balboa Park is home to many different ethnic and civic gatherings that won't cost you a penny to attend. The four largest ones are:
Earth Fair – April on the 4th weekend. This is the largest free annual environmental celebration in the world attracting over 50,000 people. Rideshare to get there!
Ethnic Food Fair – May on Memorial Day Weekend 
Ukrainian Festival – September on Labor Day Weekend. 
December Nights – usually the 2nd weekend in December. Like many other San Diegans, I consider this the real start of the holiday season. Over 300,000 people attend each year, so I know that I'm not alone in thinking this. The park is decked out in colorful lights and holiday decorations and people eat, drink and enjoy free entertainment for 3 afternoons and nights. 
Some free things that you don't want to miss at December Nights are holiday performances by community and school choirs at Spreckels Organ Pavilion. And museums that you usually need to pay to enter, like the Nat, are open to everyone at no cost. 
There's also plenty to eat (at a price) at the Ethnic Market. Bring a few dollars and stuff yourself.
Balboa Park Free Yoga Classes
There are at least 3 different no-cost yoga experiences within Balboa Park. Some don't even require a mat or any physical exertion at all. Everyone's welcome.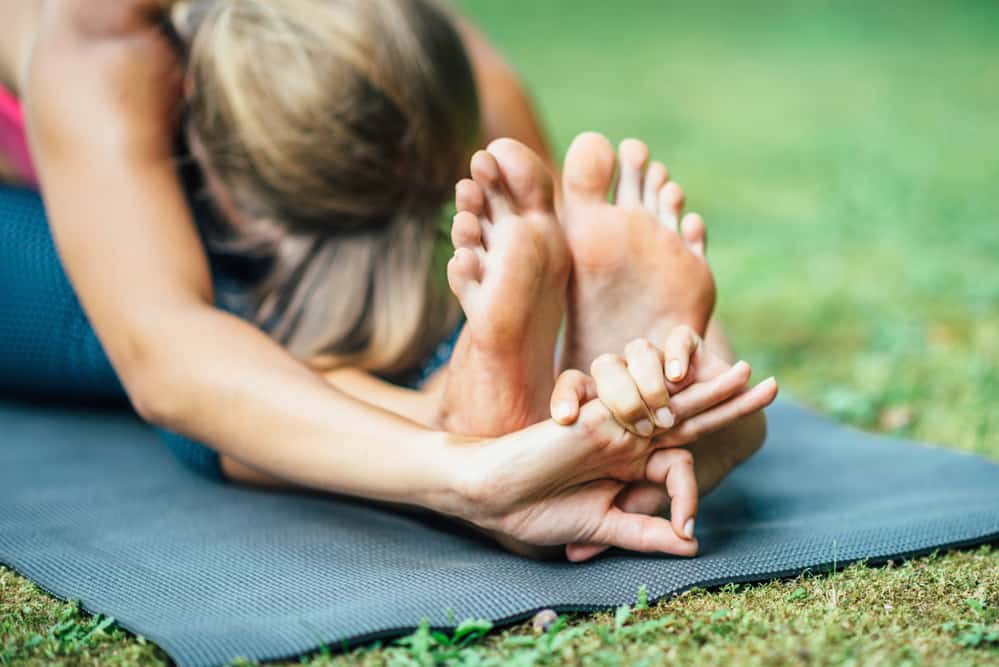 Balboa Park's Restorative Yoga Class & Wellness Program
Where: Balboa Park Activity Center
When: Thursdays 6:15 PM
Time Needed: 1 hour
Beginner-level yoga classes for adults 18 years or older. The Wellness Program segment of each class includes nutritional and activity tips plus recipes. Sign up at SDRecConnect.com
Where: on the corner of 6th & Laurel street on the grass within the park.
When: Sundays 11:00 AM and Wednesdays 6:00 PM (May 1 – Labor Day) 
Time Needed: 1 hour
Relaxing Vinyasa yoga with live acoustic music. All experience levels welcome. Bring your own mat. Wear comfortable clothing that allows maximum flexibility for different poses. These sessions are free, but donations are welcomed.
Where: War Memorial Building at 3325 Zoo Boulevard, Room 2
When: Wednesdays 11:00 AM
Time Needed: 1 hour
Put a smile on your face, guaranteed! Want to try a different type of stress relief? No need to bring a mat. And you won't be bending yourself into a pretzel. This weekly free class is for all ages and abilities. 
Best Balboa Park Free Hiking Trail
All of Balboa Park's hiking trails are free. But my favorite Balboa Park hiking spot hideaway is in Palm Canyon. It's 2 acres of lush palm trees and blessed shade (much appreciated on hot summer days). There are 58 different species growing here, including some Mexican fan palms that were planted in 1912.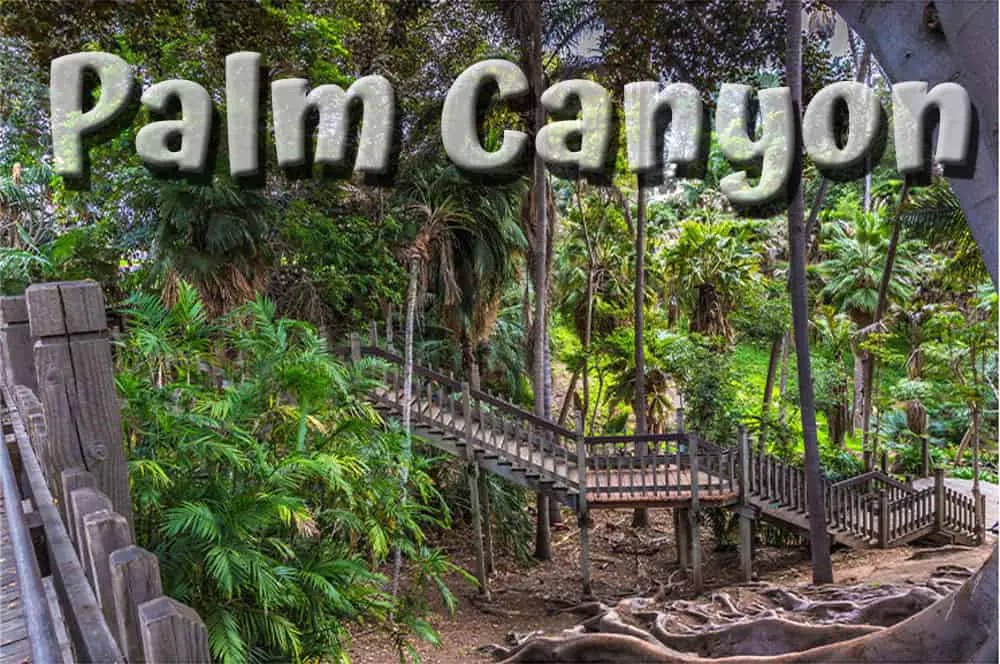 I love the winding paths and the wooden footbridge that goes from the Alcazar Gardens parking lot to across the street from Spreckels Organ Pavilion. You'll pass through Palm Canyon if you're following any of the three Balboa Park trails that come off of the Park Trails Gateway (pdf map); #31, #33, or #34.
There's another page here on my website where I've reviewed all the trails in Balboa Park. You'll find the best paths for families, dogs, running or hiking newbies
Balboa Park Playgrounds Are All Free
There are 5 playgrounds throughout Balboa Park full of play equipment like swings, climbers and slides. Balboa Park Playground off of Sixth Avenue is the most popular. The sixth, the Nature Exploration area, isn't an official playground. It's a place where kids can build their own play structures.
Best For All Ages
Pepper Grove Playground (located west of Park Blvd, between Centro Cultural de la Raza and the Fleet Science Center)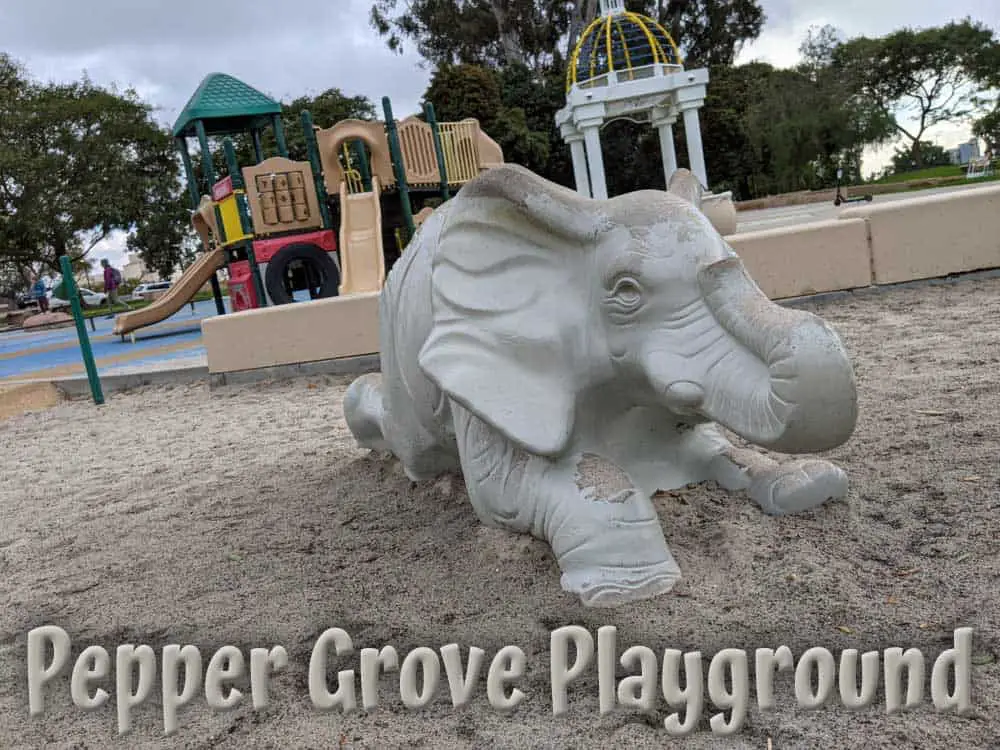 This playground's divided into two main areas. The kids under 5 section has a giant sandbox, swing sets, plus climbing and sliding structures. Fall-friendly ground covering helps keep the fun going and the bumps and bruises to a minimum. The older child section has a challenging jungle gym, a faux zip-line and one of those barf-inducing centrifugal merry-go-round rides. 
This is also a great place for a family picnic because there's plenty of tables and beautiful views.
The closest bathrooms are at Centro Cultural de la Raza.
Sixth Avenue Playground (3201 Sixth Ave, San Diego, CA 92101)
You don't have to worry about big kids jostling your toddlers. There are two separate play areas here. The fire-engine themed under 5 years area has a small-sized jungle gym with climbing bars, ropes, and slides. The Jetsons-looking section for older kids has many obstacles with ropes and more challenging climbing structures.
Bathrooms can be found in a little grove of trees just north of the playground close to the intersection of Thorn and Sixth Avenue.
Best For Toddlers 1 – 3 Year Olds
Bird Park at Upas (Northeast side of Balboa Park in between Pershing & Upas Street)
The Bird Park at Upas is otherwise known as the 'Tiny Tots playground'. This is a small, simple playground. It has a simple ladder and slide structure within a low circular seating wall where you can rest and watch your toddler run wild. It also features a swing set and a couple of climbable animal sculptures. Soft rubber surfacing keeps tumbles from turning into tantrums.
Bathrooms are located close to the Bocce Ball courts near Jacaranda Street.
Discover more cheap fun for toddlers on my Sesame Place San Diego discount ticket deals for everyone page.
Best For 2 – 5 Year Olds
Bird Park at Cedar (Located on the east side of Balboa Park near 28th Street & Cedar Street)
This is a small fenced-in play area geared to kids aged 2 thru 5 years old. There's a rugged yellow and green jungle gym, with many slides and climbing opportunities over soft sand and playground soft surfacing. 
There aren't any nearby public restrooms. Make sure your kids 'go' before playing here.
Best For 5 – 12 Year Olds
Morley Field Playground (Located south of Bud Kearns Memorial Swimming Pool on the northeast side of the Morley Field Sports Complex.)
This medium-sized playground is ideal for those who love playing sports and families with dogs. There are slides, monkey bars, swings and a rock-climbing wall to enjoy. It is surrounded by fun places like a swimming pool, dog park and tennis courts. There are a few benches and picnic tables where you can have lunch or just sit and relax while watching the kids. 
The closest public restrooms are visible from the playground by the baseball field.
Nature Exploration Area – Build a Fort!
Kids (and their adult companions) can explore, build and play in a safe, natural environment. There aren't any plastic climbing structures, shredded rubber surfacing and metal swing sets. But there's boulders to scramble on, logs for making lean-to's, soft wood chips and sand to build on. See what you can construct from imagination and natural materials. Expect to get dirty! 
The nearest bathrooms are located close to the east side of the Tennis Stadium just south of the regular tennis courts. 
Balboa Park Free Dance Classes And Events
Check out the Balboa Park Dance Groups webpage for current information on lessons and events where you can learn and enjoy ballroom, samba, Louisiana Cajun dancing, and many more.
Art & Dance on the Lawn
At 2:00 PM Sundays. Music and dance performances in traditional costumes. Indulge in foods. Look at arts & crafts as well. See this link to check what country is hosting the program this week. 
Free Folk Dancing Lessons for Beginners in Balboa Park
Learn a new dance at the Balboa Club Building, 3:30 to 4:30 p.m on the 3rd Sunday of every month. These sessions are family friendly and all ages are welcome.  (Contact Jeanne Cate 858-278-4619)

Céili (Irish folk dancing)
Céili (pronounced kay-lee) is an Irish dance party. The Pride of Erin Irish Ceili Dancers welcome beginners who want to learn the distinctive 'threes' and 'sevens' footwork that characterize Irish dance. It's easier than it looks and you'll be dancing in no time. They meet every Wednesday evening from 7 to 9 p.m. in rooms 204 and 203 of the Casa Del Prado building in Balboa Park. 
Cabrillo International Folk Dancers
Take a free first lesson each Tuesday 7:00 – 8:00 p.m. in the Balboa Park Club Building. Contact the teachers: Georgina Sham gbsham@gmail.com 858-459-1336 and Chin Yu yuegenia@yahoo.com 858-722-0489.  
San Diego Folk Dancers
The San Diego Folk Dancers welcome those who want to learn. The first session is free. Come on Mondays, 7:30-9:00 p.m., at theBalboa Park Club. Contact: Jean 858-278-4619 or jcate@nethere.net.
Morris Dancing
The Moreton Bay Fig Morris dancers jokingly refer to themselves as 'Drinkers with a dance problem'. This is an athletic dance where you hop, skip, wave flags, and toss sticks in complex patterns. Its origins are in the agrarian Cotswold region of England and you dance to Olde English style music. Join them on Tuesday evenings in the War Memorial Building. Everyone's welcome to come & give it a try. 
Balboa Park Dog Parks – Free Play
Grape Street Dog Park
(Located at Grape and 28th Streets in South Park. 28th street forms a T-shaped cul-de-sac.)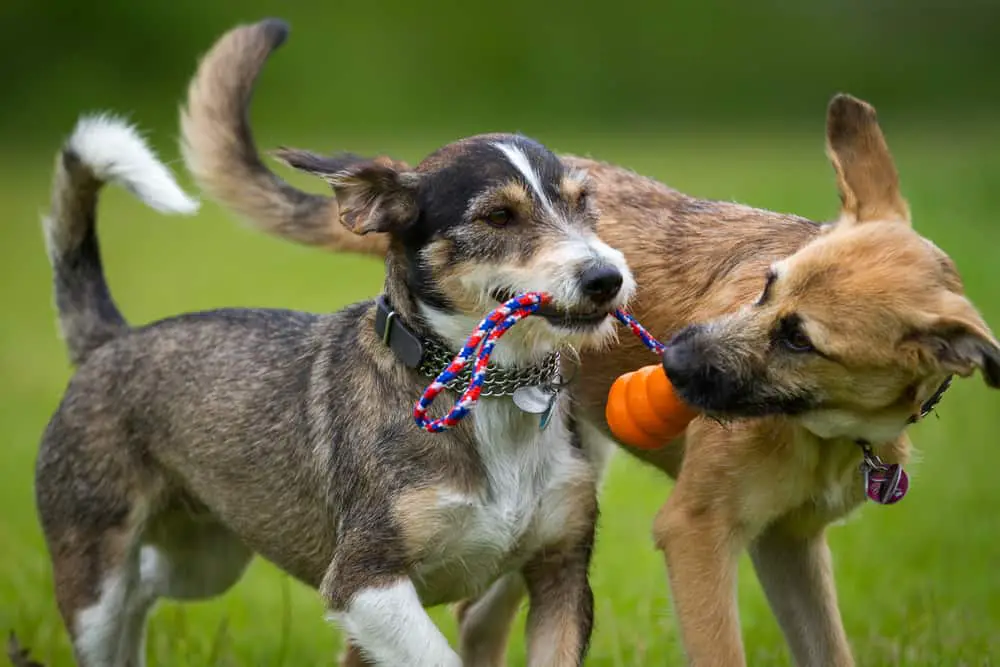 Grape Street Dog Park is the largest and most popular Balboa Park dog park. Its 5 acres of grassy fields have several dog fountains and benches for people.
If your dog is a runaway, don't let them off-leash. This dog park has no safety gates and no enclosed spaces, just a split rail fence between the park and parking lot and street. There are coyotes in the nearby canyon and they are especially active after sunset. However, most of the time dogs are so excited to be playing with the Grape Street pack that they stay put. 
There are plenty of car parking spaces in the lot.
Convenient public restrooms can be found in the dog park. 
Morley Field Dog Park
Morley Field Dog Park is an open field, off-leash area. The big field is not enclosed. It has a dog fountain and several poop-bag dispensers. There are no wood chips so no splinters in your puppy's paws. There's lots of room to throw a ball. It can get a bit dusty, but the dogs don't mind. Hiking opportunities abound in the nearby Florida Canyon. However, your dog does need to be leashed on the trails.
It's easy to find parking for your car here. 
Restrooms are located just past the Tennis Stadium.
Nate's Point Dog Park
(Located south of El Prado/Laurel Street on the east side of Balboa Drive)
Nate's Point Dog Park is fully enclosed and ok for off-leash play. It's a 2.3-acre dirt lot with a few shade trees and a dog fountain. Wear shoes because it can get dirty. There are a few picnic tables to sit at with some great views of the Cabrillo Bridge and the California Tower at the Museum of Us. Closed Wednesday mornings for cleaning.
There's street parking on Balboa Drive. 
The closest public restrooms are south of the dog park where 8th turns into Juniper. They're about 0.2 miles away or a 4 minute walk.
Which Sports & Games are Free In Balboa Park?
Watch Velodrome Bicycle Races
Velodrome bike racing in Balboa Park is fast and exciting. There's no admission fee needed to watch bicycle racers fly around the Olympic-style 27 degree banked 333-meter oval velodrome track. Tuesday nights mid-April thru mid-September feature the fastest, most experienced riders. Racing starts at 6:45 PM.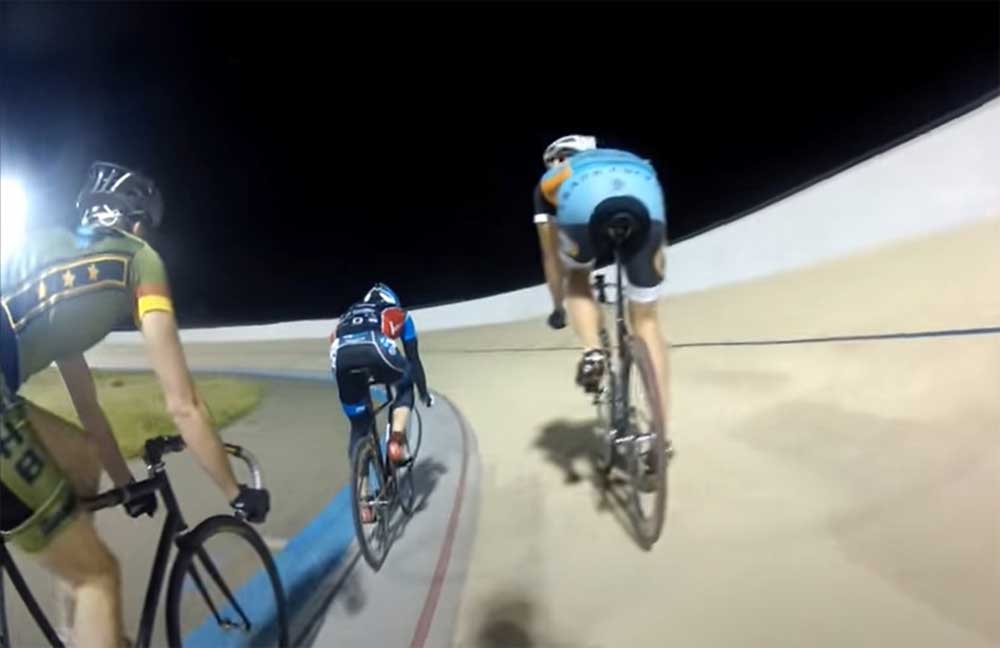 The Friday Night Racing Series goes from mid-April thru mid-September. On the last weeknight the newer riders and "grass-roots" cyclists race. They're gaining experience with a tilted surface. You're biting your fingernails worried about their insane speed on those turns.
Free Lawn Bowling Class
Lawn Bowling looks sedate and easy, but it's not. Insiders define lawn bowling as a mysterious and ancient game played by people old enough to know better, using oblong balls carefully designed to go in the wrong direction. Schedule a free class at the San Diego Lawn Bowling Club page. And wear flat shoes with no heels to keep the greens flat.
Learn to play Petanque
The San Diego Petanque Club in Balboa Park teaches lawn bowling with a French twist. It's also an obsession. The object of Petanque is to get your boules closer to the jack (or Cochonnet – French for "piglet") for points. It's even better when you cause the other team to fanny. 
Translation: You toss a hollow metal ball as close as possible to a smaller wooden ball to get a point. The ultimate is when your team causes your opponents to end the game scoreless ('to fanny'). Traditionally, the team that fannys had to kiss the bare derriere of a barmaid. But nowadays the losers just buy the winners a round of drinks. 
Play Disc Golf
The motto of Balboa Park disc golf is, "That was perfect! Except for that tree." This course was one of the first frisbee golf courses in the world. It's easy enough for newbies to have fun, but challenging enough in spots for touring pros in beast mode. 
Explore the Ruins of Golden Hill Fountain Grotto
The Golden Hill Fountain Grotto is a 1907 Rustic Arts and Crafts style fountain inglenook listed on the National Register of Historic Places. It features double staircases, walls and a fountain constructed from native stone and concrete. The fountain has not worked for many years and the wood benches have long since rotted away. Watch your step, the concrete is decomposing and some of the rocks are loose. Sounds like fun, right?
Geocaching in Balboa Park
Download a geocaching app using Balboa Park's free wifi and go on a treasure hunt using your phone's GPS. This is a great free activity for the entire family. There are usually about 20 active caches in Balboa Park and the hunt will take you into little known spots. It's a great way to explore and learn more about San Diego's beloved park. 
Balboa Park Free Scavenger Hunt
The Friends of Balboa Park have created a free downloadable PDF scavenger hunt for kids. Your search takes you through the most popular parts of the park to finish the challenges. It's a fun way for you and the kids to get to know the park and each other better.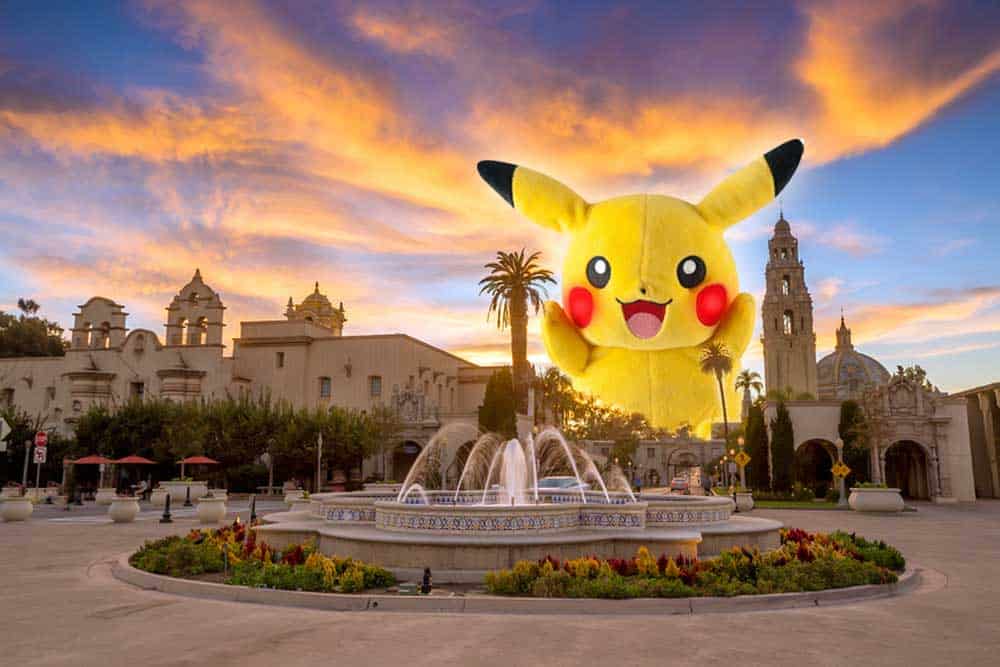 Play Pokemon Go
Looking for a little 'Go' action? Balboa Park's one of the best places in San Diego to find a few players to stage those 5-star raids. You'll find enough spawns and gyms to keep you busy from sun-up until sundown. 
Closing Thoughts
I hope that I was able to help you find some interesting, free activities in Balboa Park, San Diego. With more than fifty things to choose from, you shouldn't have any trouble finding enough to fill several days without spending a dime. Let me know HERE if I've left out one of your favorite Balboa Park free things to do.