You want to See San Diego Zoo and Safari Park on the same day? Here's a 10-point how-to plan, itinerary & maps to help you save time, effort (and your feet!). And also 5 reasons not to do it.
You can see both San Diego Zoo & Safari Park if you're physically fit, have a plan, and go during extended summer hours. However, most regular attendees say that it's difficult because both are full-day attractions. They're 30+ miles apart. It's a lot to walk. And Escondido weather can be hot.
If you make purchases through the links in this post, I may be compensated. Read my Advertising Disclosure for more info. Thanks! ~ Nancy
*Save with a secret promo code on each San Diego Zoo or Safari Park 1-Day Pass. Go any day. Go directly to the gate. Click HERE to get your code, instructions & discounted tickets by email. By clicking the link above you agree to receive an automated email message. Valid only at aRes Travel, San Diego's local authorized ticket seller. Read my full privacy policy.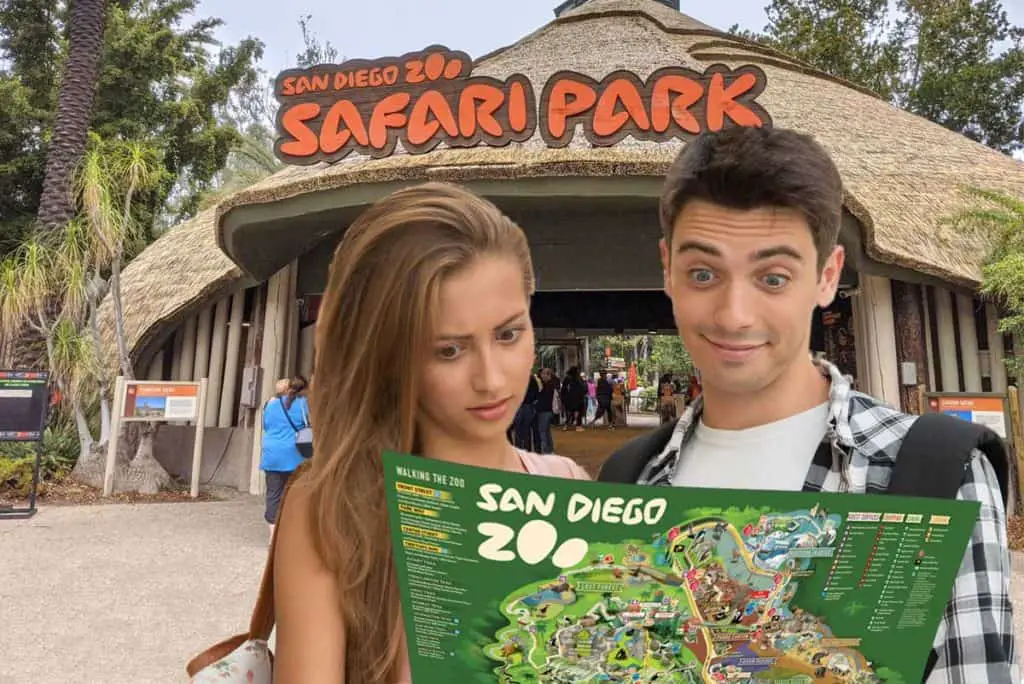 First, let's go through the reasons why visiting both branches of the San Diego Zoo on the same day is a challenge. Then I'm going to share 10 tips that will make it easier. And I've included a detailed itinerary with maps. These will all help you see most of both attractions in 1 day and have a great time doing it.
5 Reasons Why You Shouldn't See San Diego Zoo and Safari Park on the Same Day
Too many animals and exhibits. Both have so many that it is easy to spend a full day at each attraction. San Diego Zoo Global recommends allotting a minimum of 3 to 4 hours for each. But If you're fascinated by animals like me, a half-day is not nearly enough.
Too far apart. These two attractions are more than 30 miles away from each other. In ideal traffic conditions, it will take 35 to 45 minutes by car to travel between them. The Zoo is near downtown San Diego within Balboa Park. The Safari Park (formerly known as the Wild Animal Park) is in Escondido. 
It's physically demanding. There's a lot of walking at both parks. The Zoo has some steep hills to climb. And the Safari Park is spread out. For instance, to get to the African Tram you have to walk almost half a mile. Granted, most of the route is downhill, but it's still a significant distance for many people. 
High Escondido temperatures can reach 90 to 100°F in the summer. Kids may get hot and cranky. Some adults will too.
You'll be rushed. You may want to relax on your vacation, not run around like a crazed meerkat.
10 Tips for Visiting San Diego Zoo & Safari Park In One Day (Without Regrets)
If you want to see both animal attractions in a day you'll need both strategy and an itinerary. You'll find both below: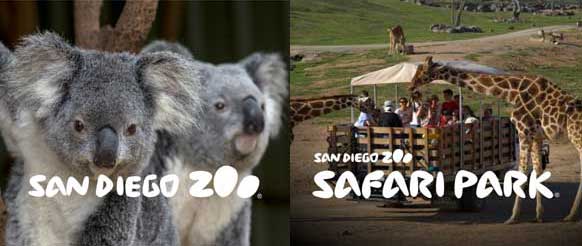 Don't try this with kids under 5 years old. They probably will not have the stamina for a long day like this. Besides, once they see the new Wildlife Explorers Basecamp kids zoo they will not want to leave. You may be there for hours.
Download the San Diego Zoo app. It will show you paths to the various animal exhibits, restrooms, and the bus & tour departure points. All of the map images in this article are Zoo app screenshots so that you can easily follow this itinerary while you are there. The app's available for both Apple and Android.
Schedule this trip during Summer Safari. From late June to mid-August the Escondido park is open from 9 AM to 7 PM (sometimes even until 8 PM). You'll have two+ more hours to spend there than at other times of the year. During fall, winter and spring Safari Park is only open until 5 PM.

Check the Safari Park's hours on their website HERE before scheduling your adventure. Also find the time Cheetah Run at Safari Park is scheduled. You will need to arrive at Safari Park at least 30 minutes before the cat scampers.

Visit the Zoo first. It will help you if you check out my page on which are the top animal exhibits and attractions at the zoo. Then travel to Safari Park. That's because Cheetah Run at Safari Park usually only takes place once a day in the afternoon (except during Sundown Safari when it's run again at 7 PM). Be there. Missing Cheetah Run at Safari Park is like visiting San Diego and not eating a fish taco.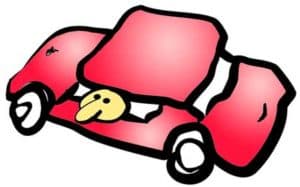 You MUST have a car or be prepared to take one of the ridesharing services like Uber or Lyft. Allow 45 minutes to an hour of travel time (in good traffic). Don't even THINK of trying to take public transportation for this. The minimum amount of time you would need for that is 2.5 hours…one way. The cost of traveling from the San Diego Zoo to the Safari Park in Escondido using ridesharing services is not cheap. Check the current prices here:

Lyft (https://www.lyft.com/rider/fare-estimate)
Uber (https://www.uber.com/us/en/price-estimate/ )

Wear comfortable, broken-in walking shoes! This tour is NOT the time to make a fashion statement. Leave the high heels in your luggage or your feet will pummel you with pain.
Bring a refillable water bottle and some light snacks. Keeping hydrated will boost your endurance and stamina. Both parks allow you to bring along your own food and drinks. You'll save time by not having to stop to refuel at a restaurant. Use small backpacks or hip pouches to keep your hands free.

They do not allow glass, alcohol, or straws to be brought in. Large food storage containers like coolers are also forbidden. 

Don't buy tickets too far in advance. Wait until the 10-day weather forecasts are available. Summer afternoons in Escondido can be sweltering, over 100°F. It may be just too warm to attempt both parks on your chosen day. But when you do get tickets make sure that you get the best legitimate discount possible: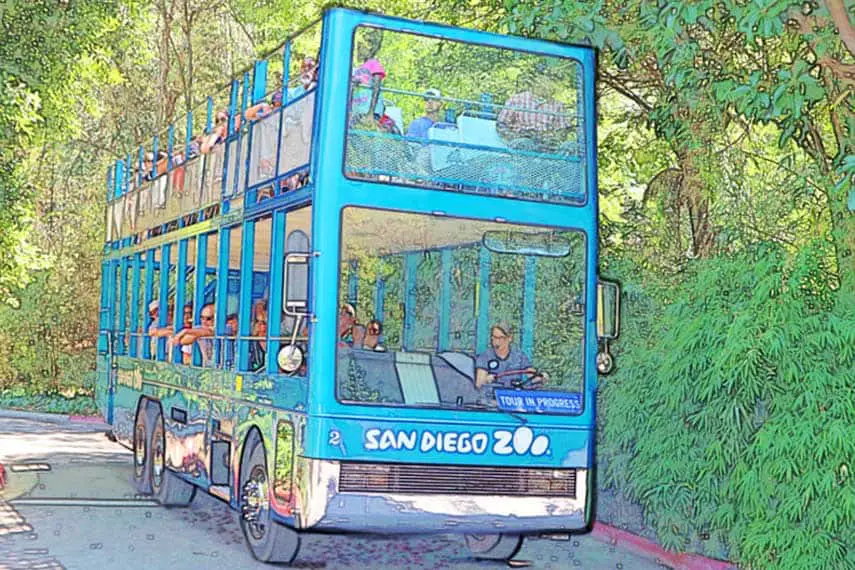 Guided Bus Tours – The double-decked Guided Tours circle through most parts of the zoo. They give you views that you cannot see on foot, particularly those at the Polar Bear exhibit. Catch them near the entrance. Sit on the top deck of the bus. And on the driver's right hand side if you can. You'll be able to see more animals because most of them are on that side.
Kangaroo Express Shuttle buses have 4 stops. They'll help you get from point A to B quickly. You'll see one every 15 minutes. They start their routes at 10:30am. Unlimited Kangaroo Bus rides are included with your admission.
Elevator – The bottom is located on Park Way close to Panda Trek. The top is at the Treetops Cafe and Alberts Restaurant.
Skyfari Aerial Tram will take you from the front of the park to the back. This ride takes you between the Children's Zoo and Elephant Odyssey. 
Lost? Ask the red-shirted volunteers. Ask them your questions at either park. San Diego Zoo Global has a large number of well-trained and informed docents. They love to share their knowledge of the parks, the animals, and the plants within them. They also know all the short-cuts.
For more information, check out my summary pages on What to See and Do at Safari Park and 15 Must-See San Diego Zoo Exhibits and Attractions.
Same-Day San Diego Zoo and Safari Park Itinerary for 2023
Here's a route plan that will allow you to quickly see the most popular animals at the Zoo and Safari Park. It maximizes mechanical transport options. This itinerary also allows you to go downhill on a majority of the Zoo's hilly paths.
The maps on the left side of the illustrations are screenshots of the San Diego Zoo app. Here's a map key to help you get the most out of them. Pink text on a map indicates my notes and comments.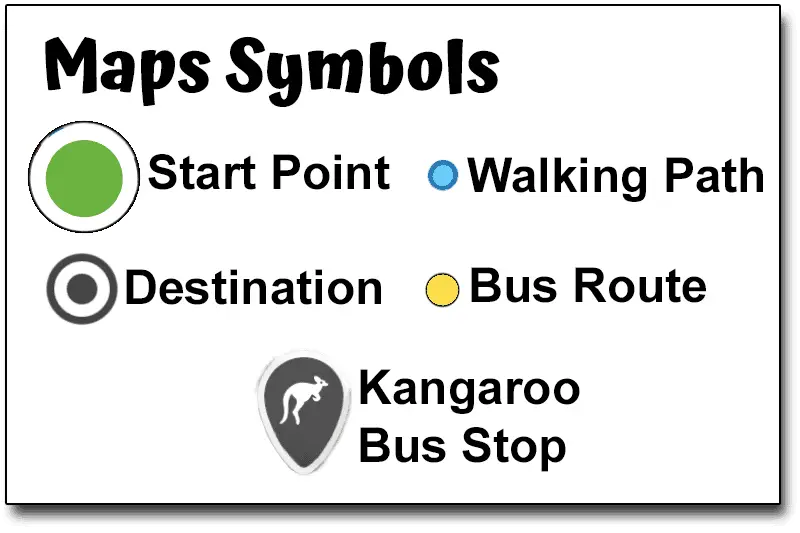 San Diego Zoo – Here's the Most Efficient Way to See It
7:30 AM – Eat breakfast outside of the San Diego Zoo. Indulge a bit, but don't overdo it. You will be moving all day and will burn those calories off. But you don't want to eat so much that you get sleepy. 
8:30 AM Arrive at the Zoo. Getting there a bit early will allow you to find a parking spot close to the entrance. It also gives you time to buy tickets if you haven't already.
San Diego Zoo Bus Ticket Tips
The Guided Tour Bus and Kangaroo Buses are included with your admission. 
At 8:30 AM you'll be able to enter the gates and wait on Front Street for the opening. Pick up a map from the kiosk or one of the red-shirt volunteers. Take a glance at it so that you can easily recognize the red map markers.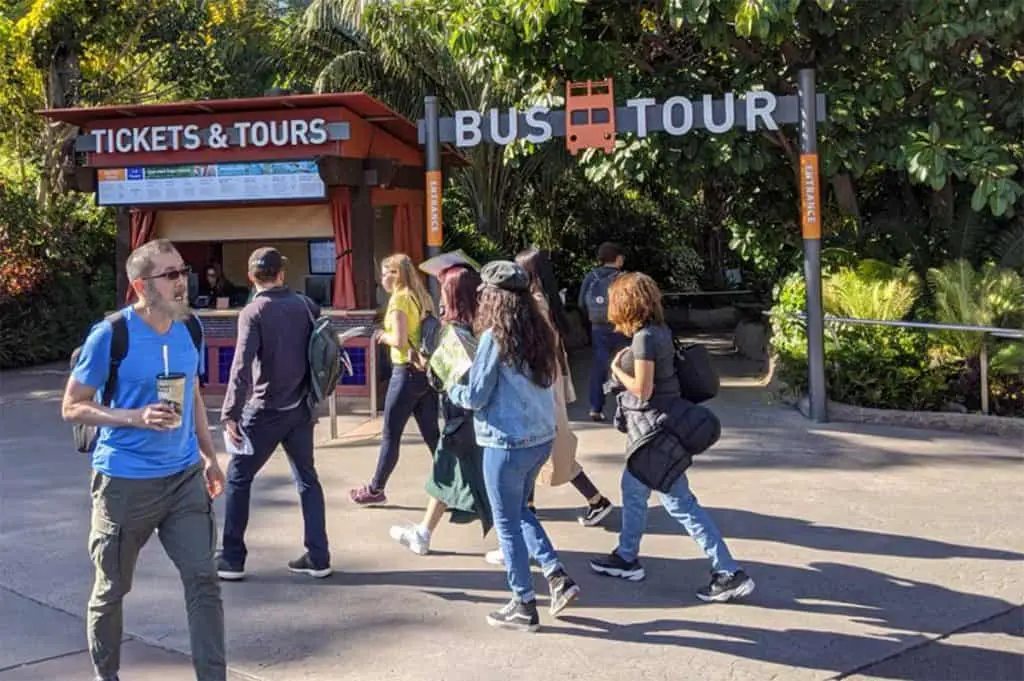 9:00 AM The zoo opens with squawking. Get your camera ready to capture the flock of colorful macaws flying out of an elevated box to their roost. Head immediately across the street to the Guided Bus Tour. The entry is on the left side of Front Street just after Treetops Way (see map marker #5). The tour takes 35 minutes and takes you past almost 70% of the Zoo. 
Guided Bus Tour Exit to Reptile House
9:35 AM The end of the Guided Bus Tour is at the Unloading Station. Exit and turn right on the Front Street path towards the Lost Forest and Zoo Exit.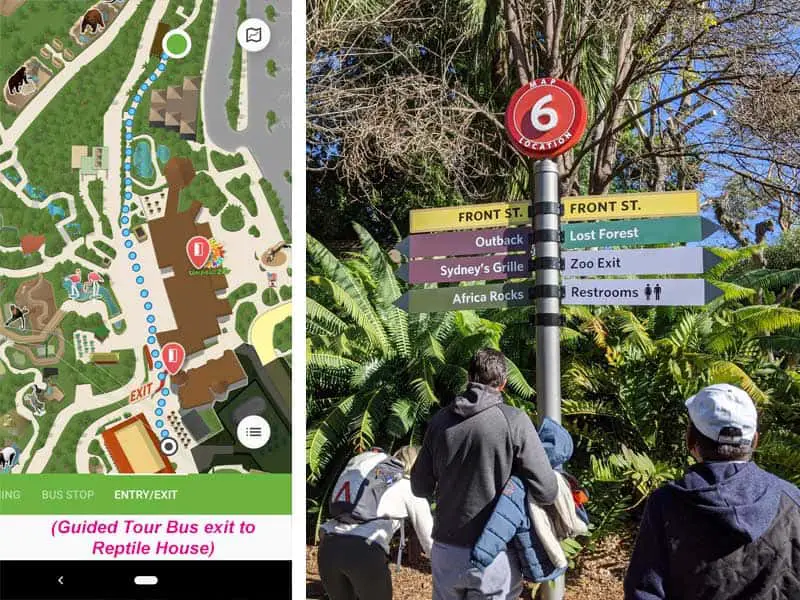 Reptile House & Galapagos Tortoises
Are you a reptile fan? Continue past Map Marker #2, past the Wedgeworth Bowl turnoff. Turn right to explore the Reptile house. Go through the Reptile house and you'll find a cul-de-sac where Galapagos tortoises and alligators live.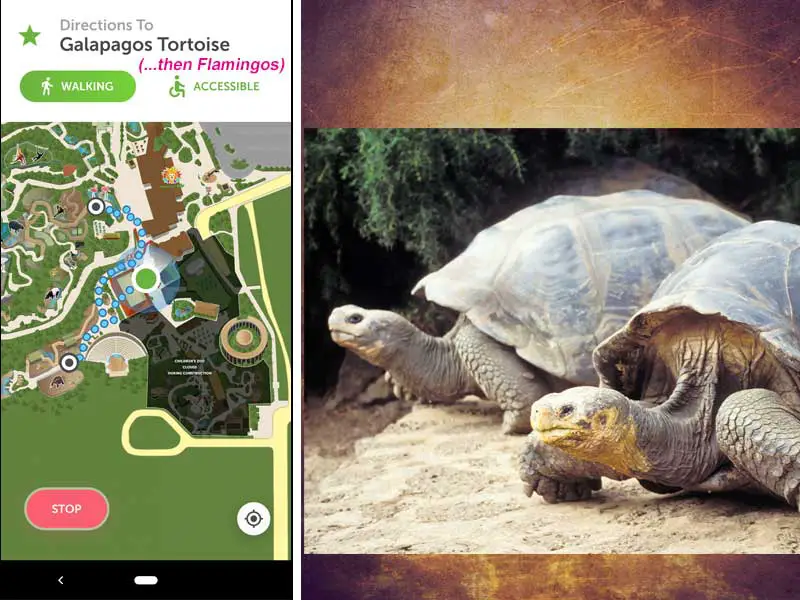 After you've seen them, or if you want to skip the reptiles and the children's zoo, turn onto the Monkey Trail (close to the Zoo map marker #4). Head for the squawking noises. If you see flamingos you know that you're on the right path.
Komodo Dragons and Hummingbirds
Both of these exhibits after the reptiles are worth seeing. The dragons are enormous and even when sleeping they're menacing and make great photographic subjects.
The hummingbirds are typically moving too fast to get a good picture. Just marvel at their jewel-like colors and how fast they zoom by you. There are numerous other birds in this enclosure that are much easier to capture with your camera. And some of the wading birds look spectacular reflected in the lily pond.
Don't Miss Wildlife Explorers Basecamp – Even if You're Not a Kid
San Diego Zoo's children's zoo is worth seeing even if you left grade school decades ago. An adult can go through this 3.2-acre kid-friendly section in an hour. But if you've got kids under 5 years old with you it's going to take MUCH longer.
Go through it in a roughly counter-clockwise direction. Go to the Spineless Wonders building, then Cool Critters, and finally to Wild Woods with the rope bridge, squirrel monkeys, and water splash pads.
I've written an entire page about Basecamp that lists the highlights of each section. I'd make sure to see the prairie dog and burrowing owl exhibit, fennec foxes, squirrel monkeys, and the spectacular "Migration Flyover Experience" at the entry to the Spineless Wonders building.
After you've explored Basecamp head back to the flamingos and the rest of your journey.
Flamingos to Gorillas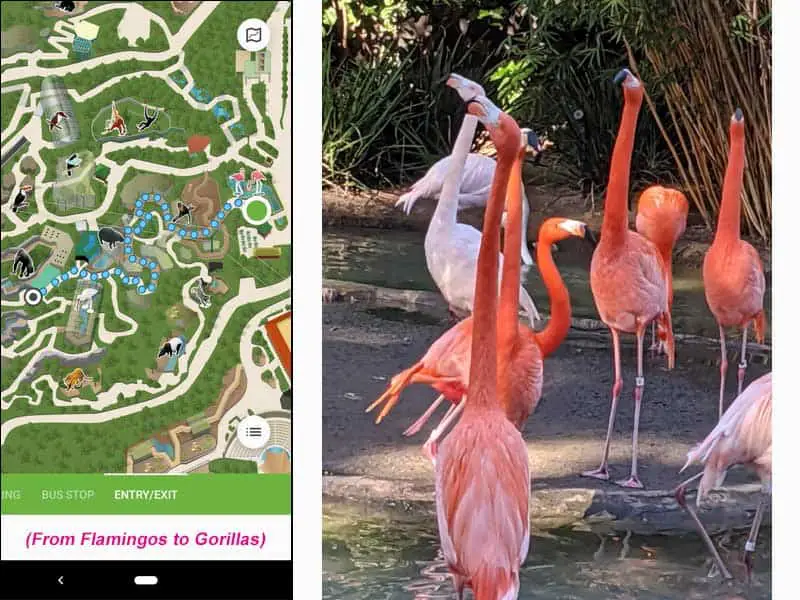 From the flamingos, it's a 15-minute walk on the Monkey Trail past some unusual primates (my favorites are the beautiful Colobus monkeys) to the Western Lowland Gorilla habitat.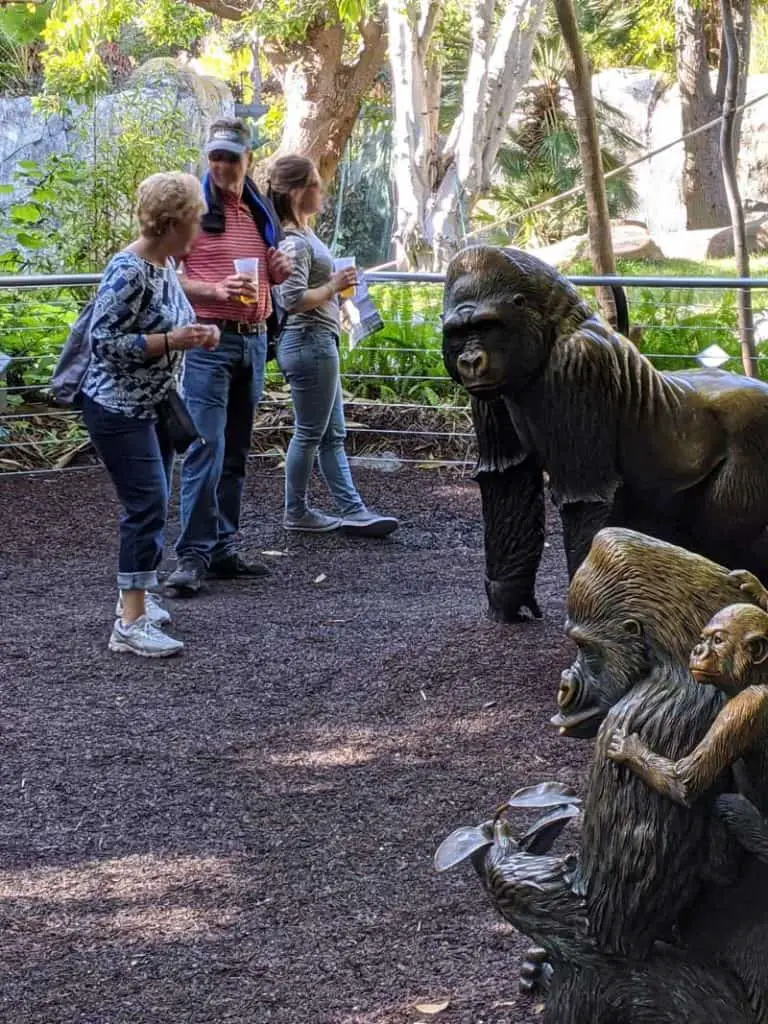 Gorillas to Okapi & Hippos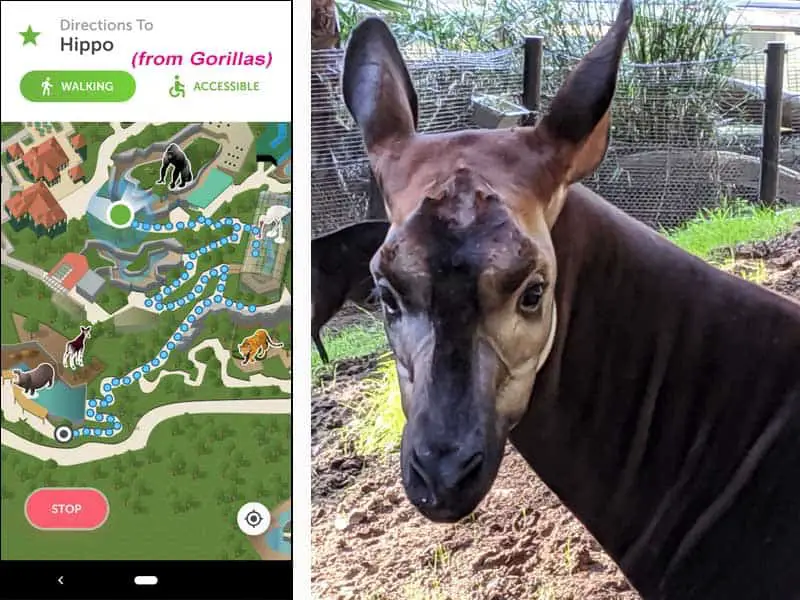 Take the Hippo Trail down the steep stairs. At the bottom of the stairs is the lush Scripps Aviary. Take a look inside at all the jeweled birds and jungle plants. Go out the same way that you came into the aviary.
After you see the birds turn left. You'll see the "let's make love, not war" Bonobos. Take a quick jog to the left to view the back side of the Malayan Tiger habitat. The tiger may be hidden or hard to see. Don't worry too much. You're going to Safari Park in the afternoon and you WILL see tigers there! 
Just before you get to the hippos you'll pass the graceful okapi. I love their striped leggings. Very stylish.
Hippos to Red Pandas & Snow Leopards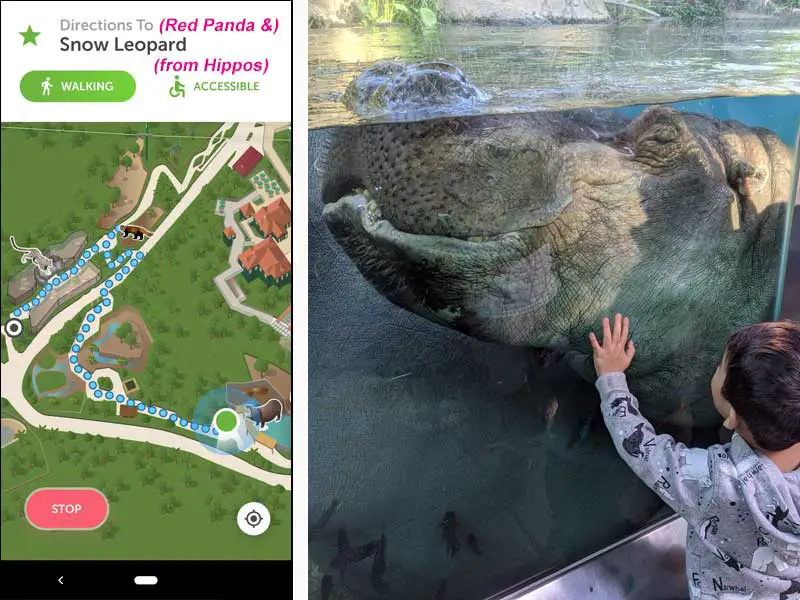 Continue down Hippo Trail past the okapis, hippos, otters and more monkeys.
At Park Way turn right. Walk up to the Panda Trek sign and turn left. Unfortunately the Great Pandas have gone back to China. But don't despair, the exquisitely cute red pandas are still melting hearts here in San Diego. Keep going on that trail to the snow leopards and their cousins the Amur leopards. 
Snow Leopards to Polar Bears…Or Urban Jungle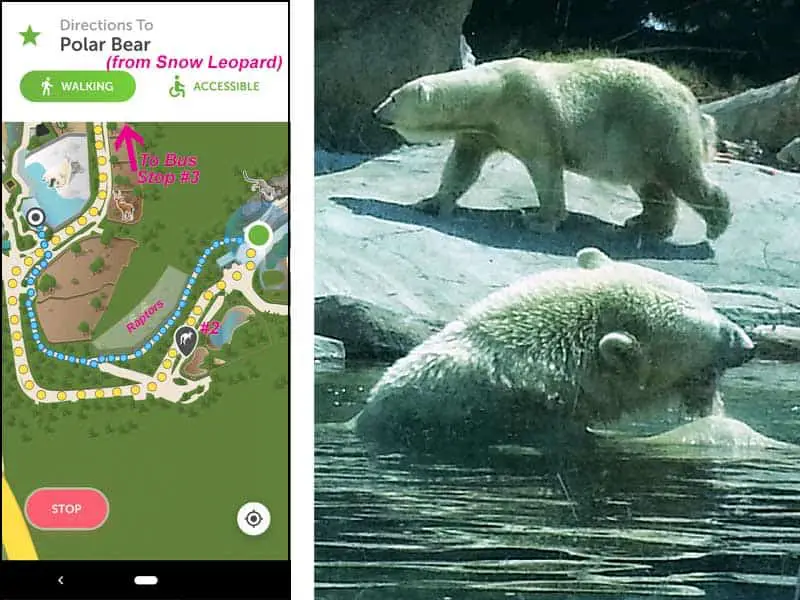 At this point you have a choice. It depends upon whether you're feeling strong and full of energy or if you want to take it easy.
Feeling energetic? Take the blue dot route. When you exit the Asian Cats habitat go straight. Walk up the hill from the cats to Kangaroo Bus Stop #3. This segment is one of the steepest at the Zoo. It starts with some unique hawks & eagles. Follow it up through the Northern Frontier section to the Polar Bear exhibit, Skyfari and the Cougars on the left.
Board the Kangaroo Bus at Stop #3 and take it to Stop #1 in the Urban Jungle. We'll save the Elephant Odyssey for later. 
Conserving your energy? Use the yellow dot route. Walk to the Kangaroo Bus. Take the bus from Stop # 2 to Stop #1 at the Urban Jungle. You'll avoid the lung-sucking uphill climb between Stop #2 and the Skyfari station.
The downside of taking the bus is that it does not stop at the Polar Bear exhibit. So if you want to see those furry clowns close-up you'll have to get off at Stop #3 and backtrack down the hill a bit. Fortunately, the steepest part of the hill is between stop #2 and the bears. So you are saving some energy.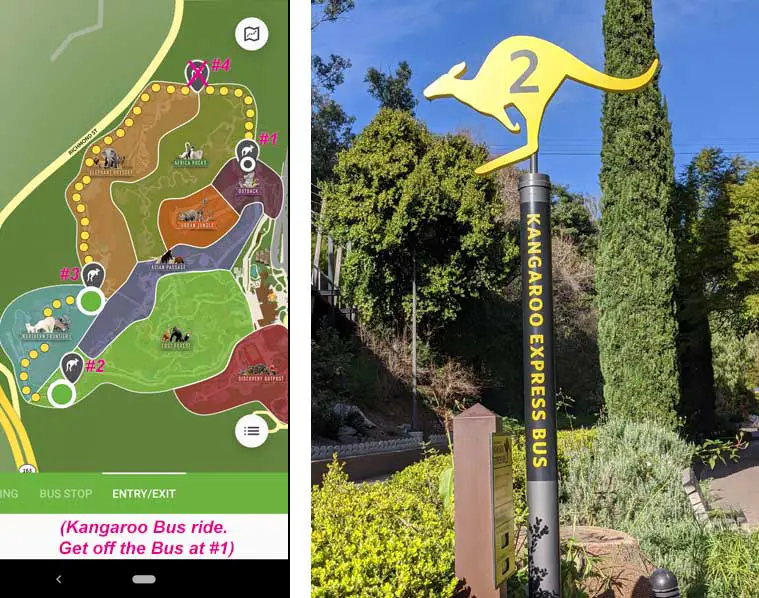 The above Zoo map app screenshot show the Kangaroo Bus route between stops #2, #3 and stop #1 in Urban Jungle.
Chubby Unicorns, Koalas and Bears!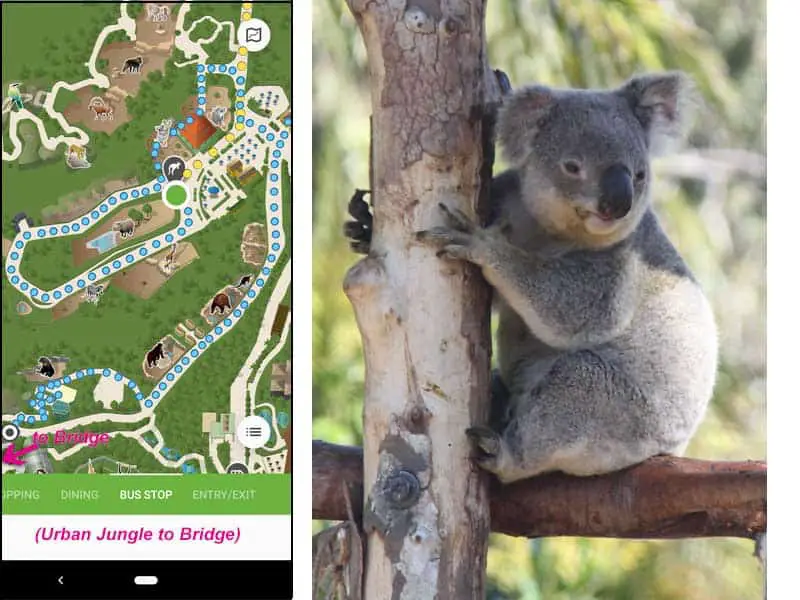 Truth! San Diego Zoo has unicorns in their Urban Jungle area. Their one horned or Indian rhinos call this home. And their scientific name is Rhinoceros unicornis.
Go clockwise around the Urban Jungle loop. You'll spot giraffes, flamingos and animal ambassadors like cheetahs and wolves.
Then turn left into the Australian Outback and the outrageously adorable koalas. Say g'day to the guys and girls and the wallabies. Just after the koalas turn right at the driveway and walk back towards Urban Jungle.
If you want to see more birds and the Tasmanian devils cross Bieler Plaza to see them. Then backtrack and head sharply downhill on Center Street to see various bear species, otters and more.
Take the Bridge to Elephant Odyssey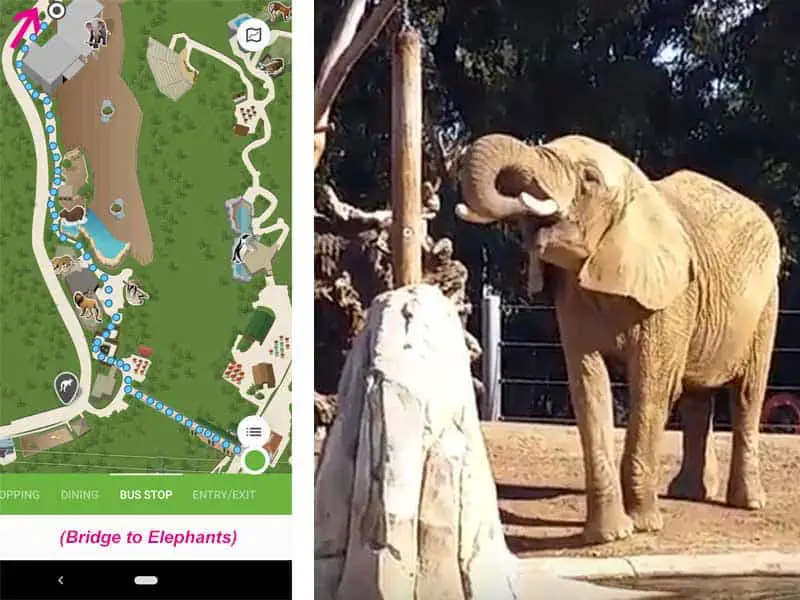 At Park Way, turn left to the bridge. Take the elevator on the left to the top. Then turn right and go across Bashor Bridge.
Once you're across the bridge turn right and walk through Elephant Odyssey. You'll pass a North American fossil exhibit, sloths, lions, and jaguars before the Elephant Care Center. The Center's like a medical clinic for the Zoo's geriatric elephants. You may even get to see a keeper perform a pachyderm pedicure with a wood-shop rasp.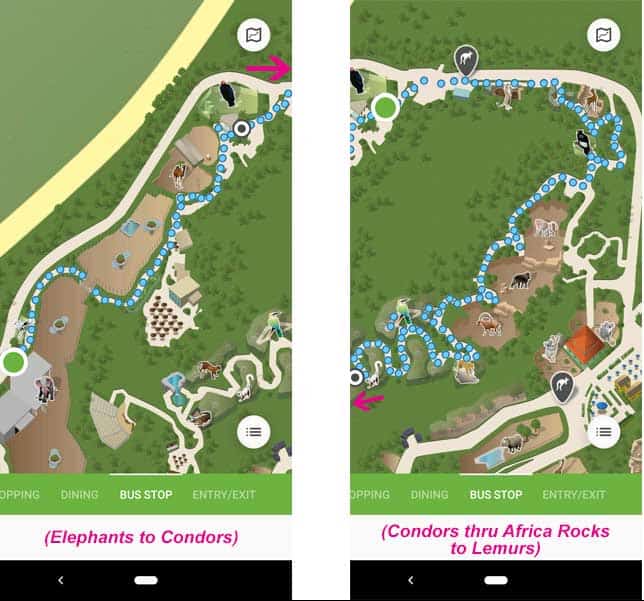 After the condors turn right. Go past the meerkats and take another slight right to see the Kopji Rocks exhibit. Here you'll see the big-eared serval cats and the too darn cuteness of the tiptoe-strutting Klipspringer antelopes. As you continue down a slight incline you'll get to the Africa Rocks area.
Veer right at the Hamadryas baboons and continue downhill. You'll pass the "look at my awesomeness" ibex, yet another great aviary, leopards, and fossa.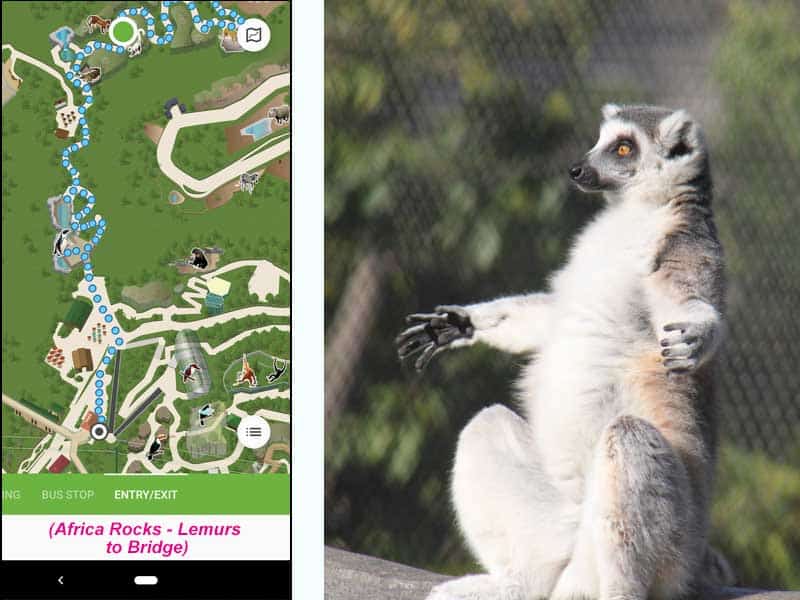 In the morning you'll see lemurs soaking up the sunshine looking like mini furry Buddhas. The lemurs also tease the leopards next door because they know that they can get away with it. That's probably bad dharma, but they don't care. They've got all the food that they want, free top-notch healthcare, and they live in sunny San Diego. All they lack is a good margarita.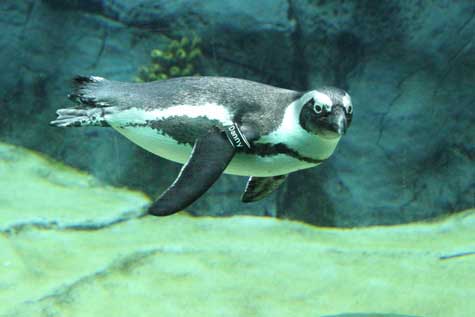 The African Penguin habitat is at the bottom of the hill. It's one of the highlights of the Zoo.
(Due to the threat of avian flu, the penguins have been temporarily moved to a more secure, covered location in Bear Canyon.)
There are rocks and nests above water. But the best part of this exhibit is the underwater aquarium views. Watching those tuxedo torpedoes 'flying' underwater through one-story high windows is mesmerizing. Added bonus; it's a great place to sit down and cool off in the summertime!
After you tear your eyes away from the penguins, walk downhill to the bridge.
Lunch at Treetops Cafè or Albert's?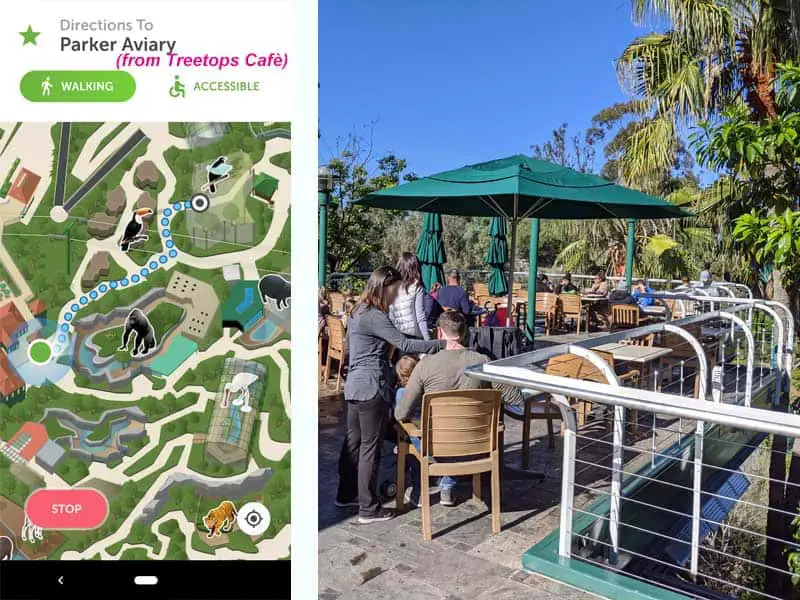 1:00 PM Walk to the bridge elevator and ride it to the top again. This time turn left towards the restaurants and eating areas. Eating at Treetops Cafè will be quicker, but Albert's has better food. Both have great views while dining. Allow yourself about 30 minutes to eat at Treetops, an hour at Albert's.
You don't have to purchase food to eat at the Treetops Cafè dining decks. If you've packed a lunch stop here to eat. Sit down at one of the tables, chow down and enjoy the view!
Also, be aware that there are many other eating options once you get outside the Zoo. Here's an article that I wrote about more restaurants within Balboa Park.
After eating (or not), take Treetops Way to the left. Follow the signs to the Parker Aviary and admire the toucans and other birds in the lush foliage.
After that, you're on the Orangutan Trail. You'll see the orange-furred "men of the forest" and Siamang apes.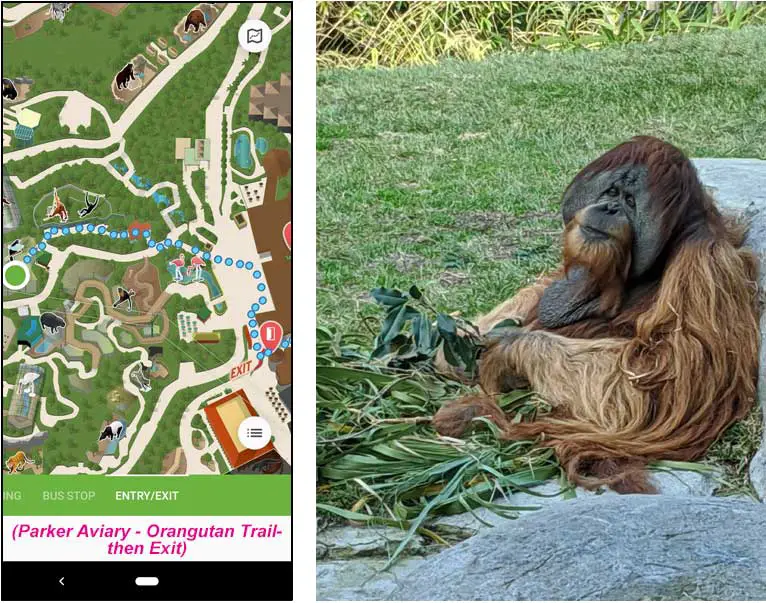 After you see the apes, rejoin Treetops Way and take it to Front Street. Turn left and you'll soon see the Exit sign. 
1:45 PM – 2:30 PM Drive or take a ride-share to San Diego Safari Park. Give yourself at least 45 minutes to make the trip.
Do Safari Park Like a Cheetah
(Elephant viewing may be limited due to the construction of the new, larger 'Elephant Valley' exhibit.)
2:45 PM Enter the park. Pick up a map! If you want to eat at The Watering Hole, find out if it is open that day and when it closes. Call general information at 760-747-8702.
Check the map's ENTERTAINMENT section. If the Cheetah Run starts at 3:30 head there immediately. It takes 15 to 20 minutes to walk there.
Safari Park Entrance to Cheetah Run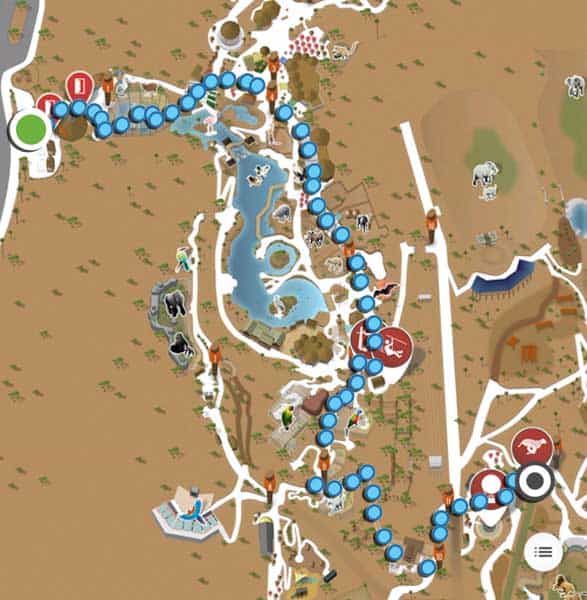 Take Safari Walk, turn right at map marker #4 onto Nairobi Walk. At map marker #6 stay left to keep on Nairobi Walk. At Africa Walk (and the lemurs) turn left then go down the elevator. Shiley's Cheetah Run is near map marker #11 and close to the Africa Tram entrance. If you get lost, ask the red shirted volunteers. 
If you have about an hour to get down to Cheetah Run, at map marker #6 detour into the Hidden Jungle aviary. Then backtrack just slightly to go into the Rainforest Aviary. The birds are spectacularly colorful.
Cheetah Run is a MUST-SEE Safari Park attraction (if it's being held). The event lasts 20-30 minutes. The actual running takes place in less than 10 seconds.
NOTE: this attraction was canceled during COVID restrictions and has not reopened yet. For now, you can only see these spotted speedsters run during the Sun Up Cheetah Safari which takes place before the park opens.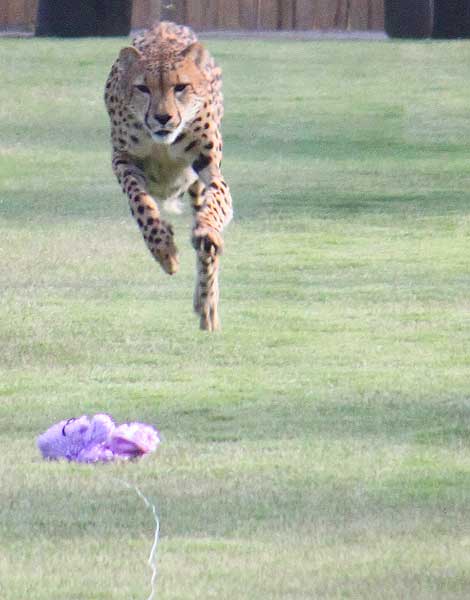 Witnessing a cheetah accelerate faster than a Ferrari and hit 60 mph in three strides is not to be missed. You're close enough to hear its feet hitting the ground, grabbing for traction. Sometimes you can hear it breathing in HUGE gulps of air as it flies by.
And watching the cat skidding to a stop with their tail whipping around for balance and turf clods flying everywhere is almost as impressive. 
After the Cheetah Run is done, head to Lion Camp along the African Loop. There are plenty of spots for great photos of the king (& queens) of beasts. 
Cheetah Run to Lion Camp and Africa Tram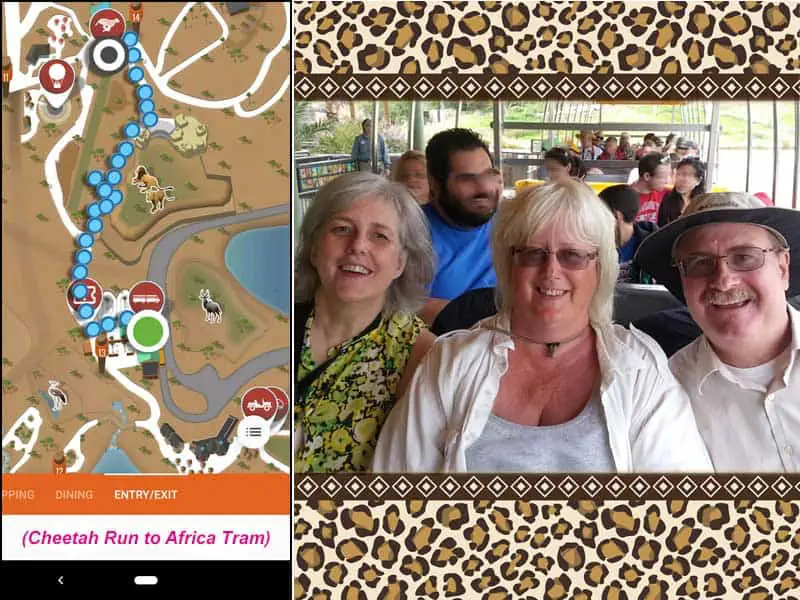 Continue on Africa Loop until you reach the Africa Tram for a guided 30 minute ride through the African Plains exhibit. It can take more than 30 minutes wait to get on board. But it's not bad. The waiting areas are shaded and the park operators turn on misters if the weather's hot.
From Africa Tram to Okavango Outpost, Africa Loop and Okapi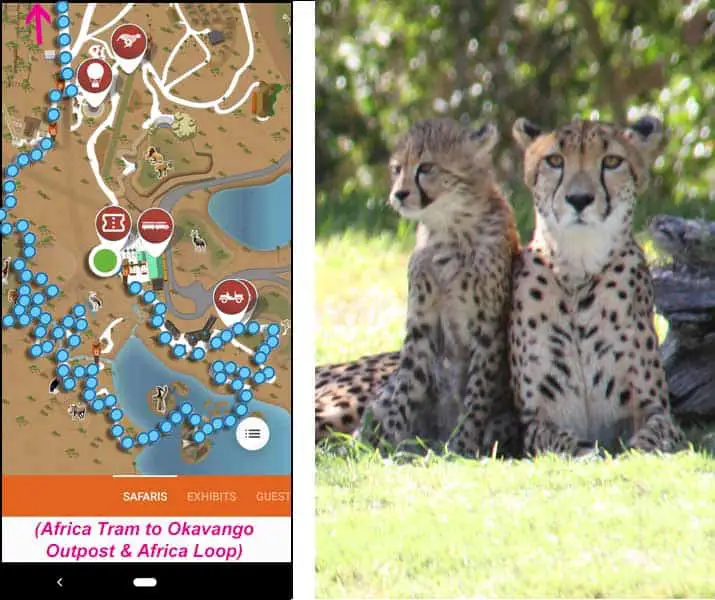 Hungry yet? After riding the Africa Tram turn left and continue down the African Loop. You'll pass the Okavango Outpost restaurant. Grab a quick bite to eat if you're hungry. Or dig into your backpack for some chow. Sit at the tables outside overlooking the lagoon or head further down the path to the cheetah enclosure and eat there on one of the benches. 
Continue on Africa Loop until the end. Along this route you'll see flamingos and colobus monkeys with their gorgeous long black and white fur on the lagoon part of the loop. Further on you'll see many more animals including vultures, giant eland and okapi. When you get to the elevator again go straight and turn left on the Service Road at Map Marker #11.
From Elephant Valley to Gorilla Forest
(Elephant viewing may be limited due to the construction of the new, larger 'Elephant Valley' exhibit.)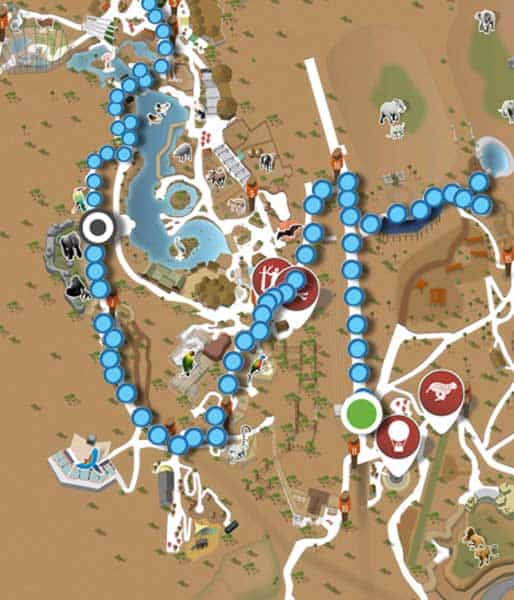 Go up the Service Road to Map Marker #16. From there you can see Elephant Valley. If the pachyderms are not visible, take a detour across Tembo Stadium to the Elephant Viewing Patio.
Once you've filled your eyes (and heart) with memories of these gentle giants backtrack to the Service Road. Turn right and then left to go under the bridge at Map Marker #16.
When you get to the top of the hill at Oasis Deli go left to Map Marker #6. Take Nairobi Walk past the Lorikeets again. But this time turn right at the ring-tail lemurs. Go inside if they're active. Otherwise, continue up to Gorilla Forest.
After you've seen the great apes, keep going in the same direction until you come to the lagoon. Turn left on the Lagoon Loop. Cross the covered bridge and head through the plaza towards Map Marker #2 and Safari Walk which heads up to Tiger Trail (click the link for another article I wrote on what makes it so special). 
Tigers, Kangaroos, Platypus, Condors & More!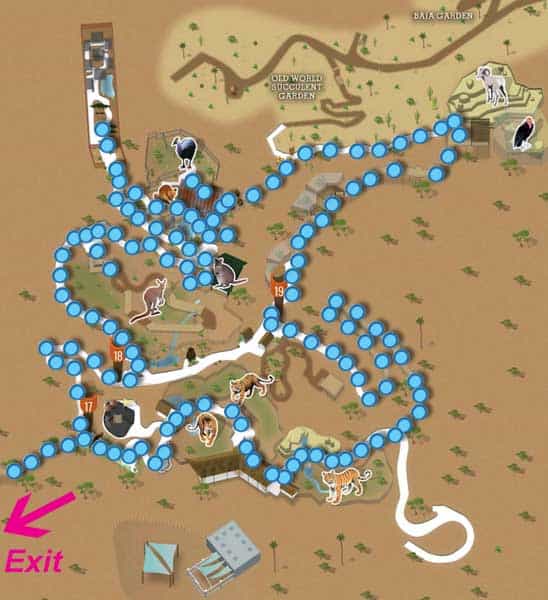 At the Tull Family Tiger Trail welcome arch the rest of the park is one big loop. You can either go right to see Walkabout Australia and Condor Ridge and then see the tigers last or do it in reverse. It depends on how much time you have before the park closing time and which animals you want to see the most.
Definitely make an effort to see the platypus in Walkabout Australia. They're the only ones on exhibit outside of Australia. Besides, they're the most surprising animals at the Safari Park. They're not going to be what you expect.
Remember that tigers are mostly nocturnal and will be more active at twilight or later. The downside is that they'll be a bit harder to see. And flash photography is frowned upon or snarled at. So don't even think about using it.
After seeing the Tiger Trail, Condor Ridge, and Walkabout Australia loop walk back down to the Safari Park entrance and go find your parked car or rideshare vehicle and collapse.
CONGRATULATIONS!
You've done something few people even try. You've seen both the San Diego Zoo and Safari Park in one day!