What are Balboa Park's best gardens? It's an important question unless you have three days to see all 19 of them. Discover where to take great photos of the most iconic, beautiful plantings and garden structures, how long it takes to see them, and which are the easiest to visit. 
Balboa Park's best gardens are the Botanical Building, Japanese Garden, Alcazar Garden, and the Desert Garden. All of them are beautiful year-round, have a large variety of plants, are accessible for strollers and wheelchairs, and can be seen in under 1 hour.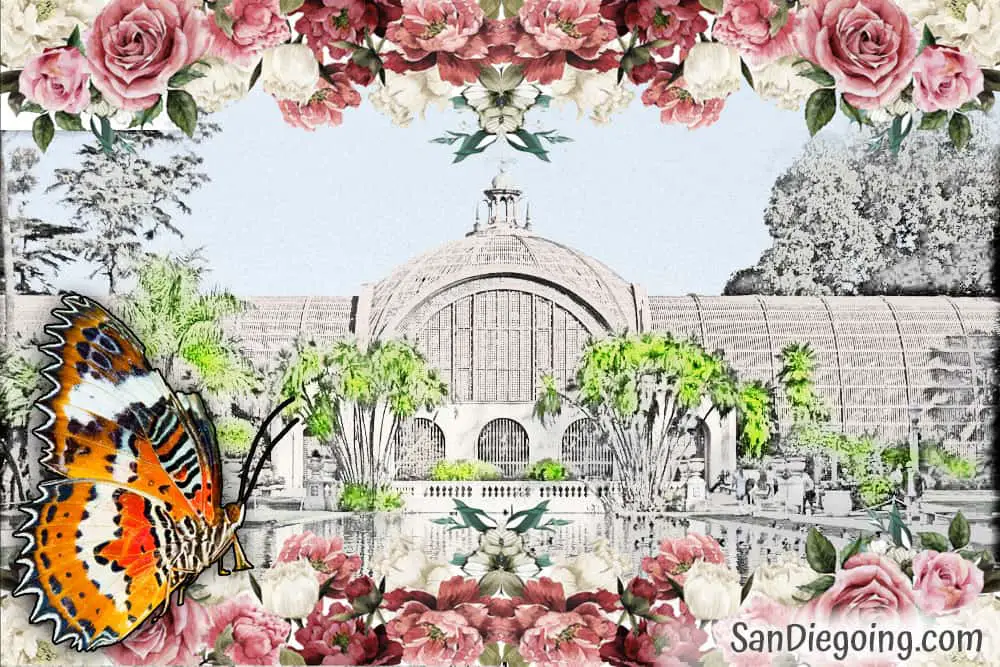 If you make purchases through the links in this post, I may be compensated. Read my Advertising Disclosure for more info. Thanks! ~ Nancy
Top 10 Balboa Park Gardens
Botanical Building and Lily Pond – MUST SEE
Alcazar Garden – MUST SEE
Desert Garden – MUST SEE
Japanese Friendship Garden – MUST SEE
Inez Grant Parker Memorial Rose Garden – Maybe
Zoro Garden – Maybe
1935 Cactus Garden – Maybe
Trees for Health Garden – Maybe
Palm Canyon – Maybe
Casa del Rey Moro Garden – Maybe
HIDDEN BONUS: Administrative Courtyard Garden
I didn't count the San Diego Zoo's collection of 4,500 horticultural specimens. That's because although it's part of Balboa Park, it requires a significant admission fee and most people spend all day there. Check out how to get free and discounted admission to the Zoo and its botanical collection.
*Save with a secret promo code on each San Diego Zoo or Safari Park 1-Day Pass. Go any day. Go directly to the gate. Click HERE to get your code, instructions & discounted tickets by email. By clicking the link above you agree to receive an automated email message. Valid only at aRes Travel, San Diego's local authorized ticket seller. Read my full privacy policy.
Read on to discover what's special about each Balboa Park garden. Find out which garden(s) will appeal to your tastes and interests. But first, use the links below to download the free Balboa Park, San Diego app:
The app has maps to locate the gardens. Eleven of the gardens also have informational pages there.
What Are The Most Popular Balboa Park Gardens?
Balboa Park Botanical Building and Lily Pond is a Must See
This top Balboa Park attraction is now closed for restoration. See the Balboa Park Conservancy website for more details. Construction began in January 2022. The project is scheduled to be finished sometime in 2023.
The Botanical Garden Building and Lily reflecting pond are the top Balboa Park gardens because there's no bloom off-season. The scratch and sniff area is fragrant fun. The lathwork structure lights photos perfectly. And the Lily Pond dramatically reflects the conservatory day or night.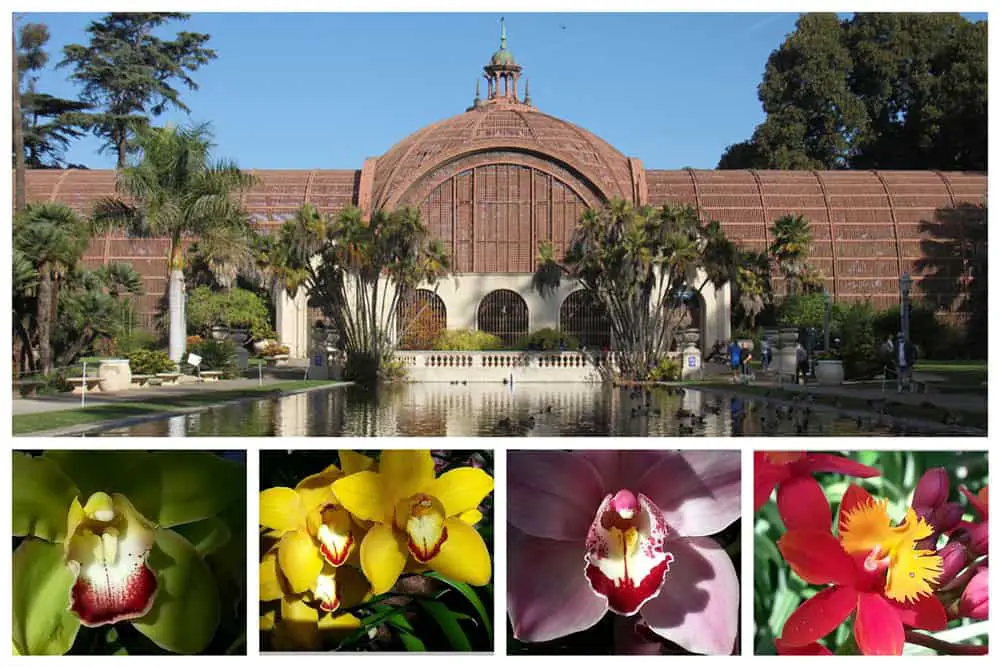 Hours: The building is closed Thursdays, but free to all every other day of the week. The Lily Pond is always open.
Time Needed: 20 minutes to 1 hour 
Accessibility: Paths curve but are level. They're stroller and wheelchair-friendly. You can't bring your pet dog inside (similar to the Zoo's pet policy). But service animals are welcome. It's conveniently located near two of the best Balboa Park art museums and the central plaza.
Garden Style: Formal, flowers, foliage
The inside of this lathework conservatory is jammed with a profusion of tall palm trees, ferns from tiny to tree-sized giants, orchids, Bromeliads, carnivorous plants, and year-round blooms. Most of them are labeled, and there are always docents around to identify species and answer your questions.
People end up staying here for hours taking pictures of beautifully bizarre plants. The lathe structure provides ideal photography lighting.
The reflecting pond is planted annually with water lilies and lotus. You'll also find koi, turtles, and ducks there year-round.
When is the Best Time to See the Balboa Park Botanical Building?
Go any time of the year because they've got seasonal plantings and something is always in bloom. See festive poinsettias in winter. February and March often feature orchids. And there are Calla lilies around Easter.
During the springtime, docents plant monarch butterfly caterpillars on the two bushes on each side of the center entrance. I've counted 30 or more on one of those bushes. 
What's the Best Day to see the Botanical Building?
It's busiest on Sunday mornings. Go early on weekdays (except Thursday) for some solitude. There's also a free docent-led tour. Find out the tour details on my free things to do in Balboa Park page.
Food and drinks are not permitted inside. Plan on eating at one of the many Balboa Park restaurants or picnicking on the lawn.
Japanese Friendship Garden is a Must See
Japanese Friendship Garden is one of the best Balboa Park Gardens. It's like opening your head and pouring in serenity. The 12-acre site immerses you in Japanese culture. You'll want to spend hours enjoying the landscape, waterfalls, boulder arrangements, statues, koi fish ponds, and sukiya-style buildings.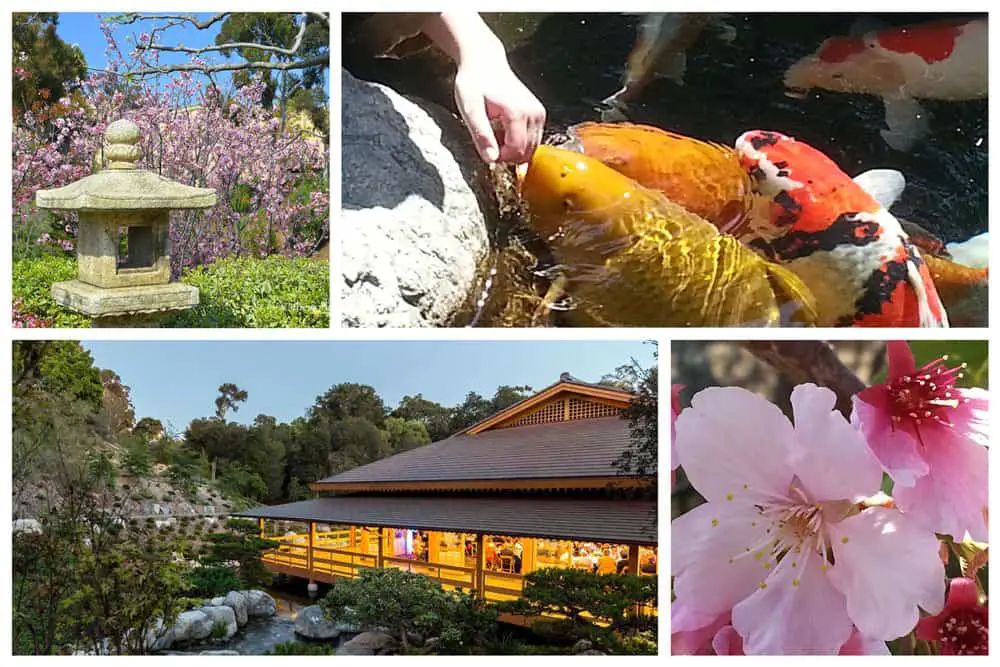 This is the only garden in Balboa Park that has paid admission. But there are free days on the 3rd Tuesday of the month for San Diego residents. Active Military and their dependents are always free. General admission for all others is $12. During San Diego's 'museum month' in February you can pick up a pass from local libraries that will give you half off admission. 
Time Needed: 1-hour minimum. 
Accessibility: There's flat terrain with some narrower paths and some gentle slopes. It's stroller-friendly. Mostly wheelchair accessible, but assistance going up hills may be appreciated. 
Garden Style: Informal, foliage, rocks
The Friendship Garden has many different, harmonious parts. There's a bonsai garden (pronounced "Bone-Sigh", not "Bon-Zi"), 2 koi ponds, a kimono exhibit, a pavilion with rotating art displays, a tea/snack spot in the lower pavilion, and a meditation room. There's also a small gift stall near the entrance. 
Download one or more of their audio garden guides before you go. And if you get the chance, take the docent tour when you arrive. It can be completed in 30 minutes.  
Spring's The Best Time to Visit the Japanese Friendship Garden
Flowers bloom year-round in this garden, although you'll see the most flowers from December through July. In March they hold the Cherry Blossom Festival. Although sometimes the trees start blooming in mid-February. This is also one of the best times to visit the San Diego Zoo also.
You Can't Bring Food or Drink Into the Japanese Friendship Garden
If you're hungry or thirsty the Tea Pavilion Restaurant is just outside the entry gate. But please finish eating and drinking there. 
Moreton Bay Fig Tree
Time Needed: 10 minutes
Accessibility: Wheelchair accessible
The Moreton Bay Fig Tree in Balboa Park is the most famous of all the 16,000 trees in the park. It's more impressive than any tree should be. It was planted for the 1915 Exposition and in over 100 years it has grown to be majestic, godzillian even. It's got a dense canopy big enough to hide a cloud. Its twisting, sprawling, sculpted root system is Instagram-worthy and has enough personality to star in a horror movie.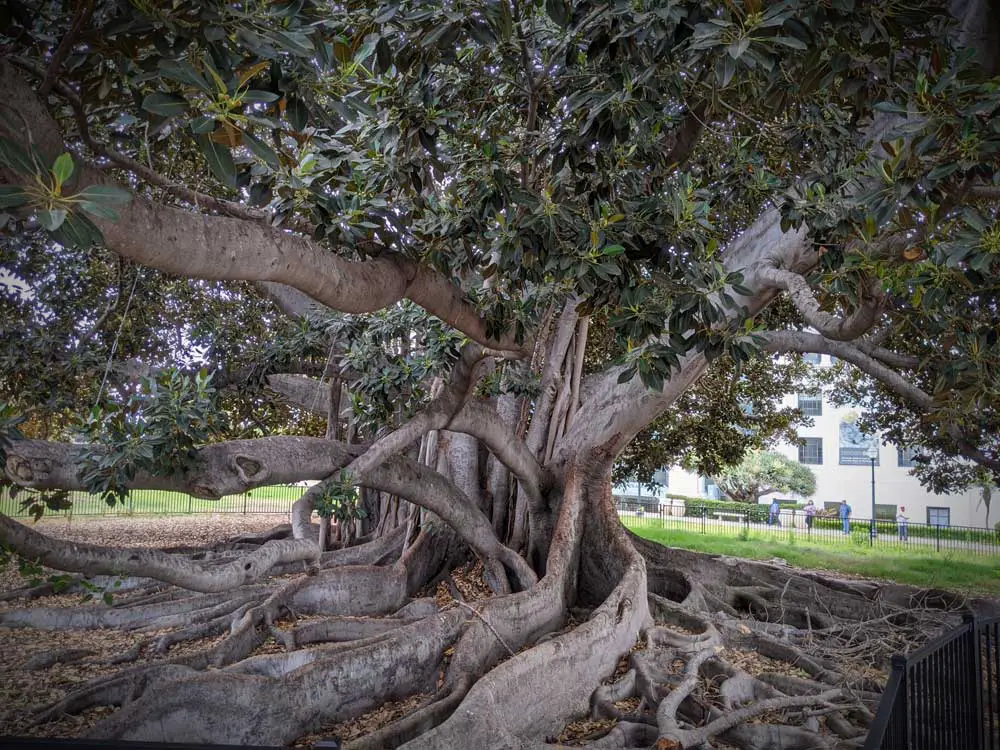 The Moreton Bay Fig tree's taller than 12 average-sized people standing on each other's heads. It would take 70 of those same people holding hands to encircle the 125-foot canopy. And the trunk is 16 feet in diameter.
The viewing deck allows visitors to respect and protect the tree's fragile surface roots without depriving us of the experience of standing underneath it. You can see similar fig trees in Palm Canyon, but they aren't as big.
What Balboa Park Flower Gardens Should You See?
Balboa Park Alcazar Garden is a Must See
Alcazar Garden is one of the best gardens in Balboa Park. Formal clipped box hedges outline large flower beds jammed to overflowing with 7,000 plants. It's known for its pergola, two ornate fountains, and benches covered with intricately patterned tiles. It's best seen from March thru December.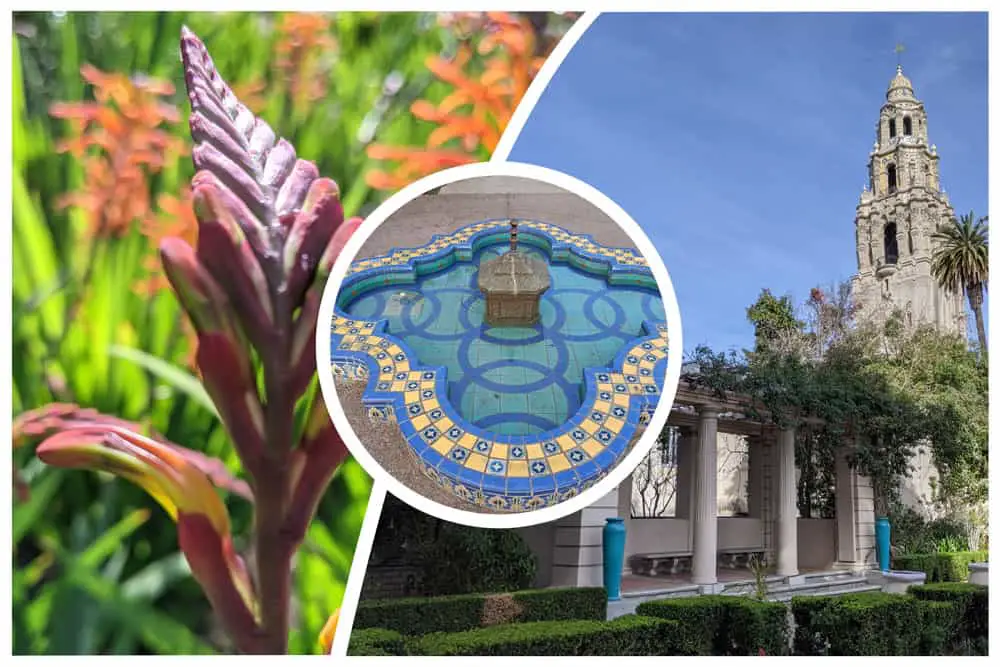 Time Needed: 15 minutes or hours of peaceful contemplation
Accessibility: Wide, flat paths. Stroller and wheelchair friendly.
Garden Style: Formal, flowers, box hedges
Alcazar Garden was inspired by the layout of the 14th century Alcázar Castle gardens in Spain. And when you walk through this gem you'll feel like royalty, whether it's day or night.  Soft lights highlight the foliage at night and the spotlighted California Tower is in the background.
Arrive at Alcazar garden about an hour before sunset and stay into the evening to create some tasty Instagram eye candy.
Casa del Rey Moro Garden
Casa del Rey Moro Garden's a small, formal space located behind El Prado restaurant. A graceful double staircase takes you from the restaurant's outdoor dining patio down past an arched tiled fountain to the formal brick-edged pool with a lion's head fountain. It also has views of the Japanese Friendship Garden, Spreckels Organ Pavilion, and the downtown San Diego skyline.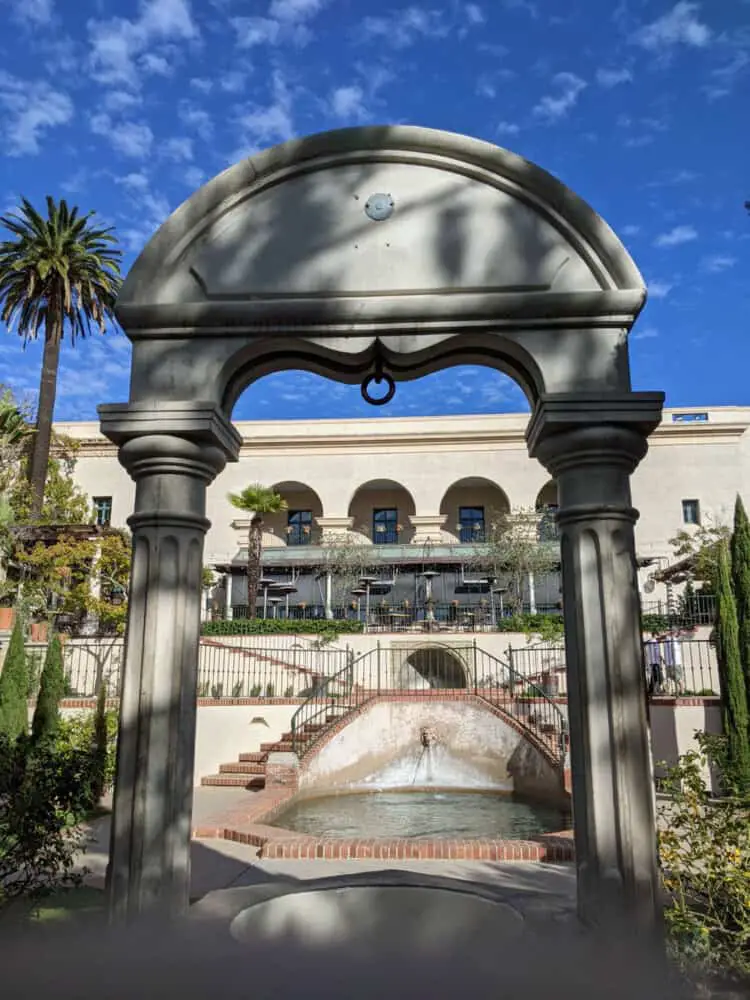 Time Needed: 10 minutes
Accessibility: Generally stroller and wheelchair accessible. It has wide concrete walkways. But there are ramps entering and leaving where wheelchairs may require some pushing assistance.
Garden Style: Formal
Bring a book with a bag lunch and relax on the cool bench surrounding the Doric columned wishing well. This spot is very popular for weddings. 
Marston House Garden
Plant lovers often wander the 4.5 acres of Marston House Garden in Balboa Park for hours. Here you'll find formal English romantic-style gardens with a California Craftsman flavor. There are gently mounded lawns, old perimeter brick walls, staircases, and even an old oven. Best between April and December.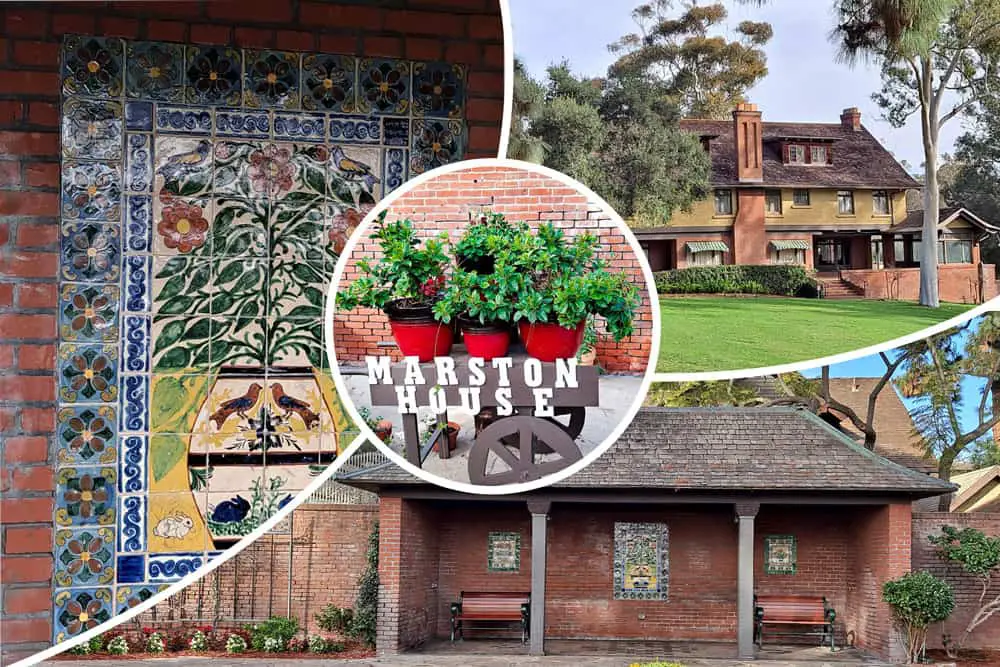 Time Needed: 45 minutes minimum
Accessibility: It's mostly stroller and wheelchair friendly. There are wide walkways, but also uneven flagstones and steps. Park on Quince before you turn left on 7th. 
Garden Style: Both formal and informal gardens are found here
My favorite spot is the columned rose arbor with inside benches where you can read, relax or just enjoy the view. It overlooks the canyon and the 163 freeway.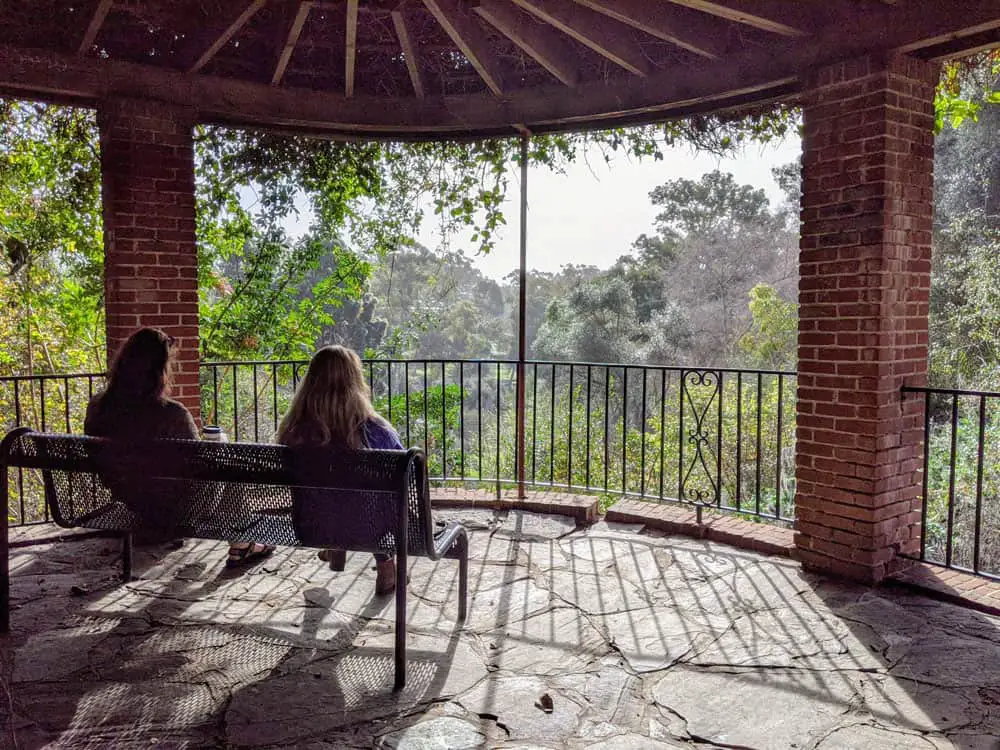 This garden is best from April through December. The lawns and trees are always peaceful and serene. But at the end of the year, the roses are pruned way back leaving bare sticks. They don't start leafing out and blooming again until April or May.
Watch your footing because there are some uneven spots on the flagstone paths.

Love Roses? Check Out This Balboa Park Rose Garden
Inez Grant Parker Memorial Rose Garden 
The Balboa Park Inez Grant Parker Memorial Rose Garden is a Balboa Park must-see for plant lovers, and it's unexpectedly crowd-free. That's because it's on the east side of Park Blvd away from the most popular Balboa Park attractions. 
Time Needed: 30 minutes
Accessibility: Stroller and wheelchair accessible. There's parking on Park Blvd and across the bridge in the main part of the park.
Garden Style: Formal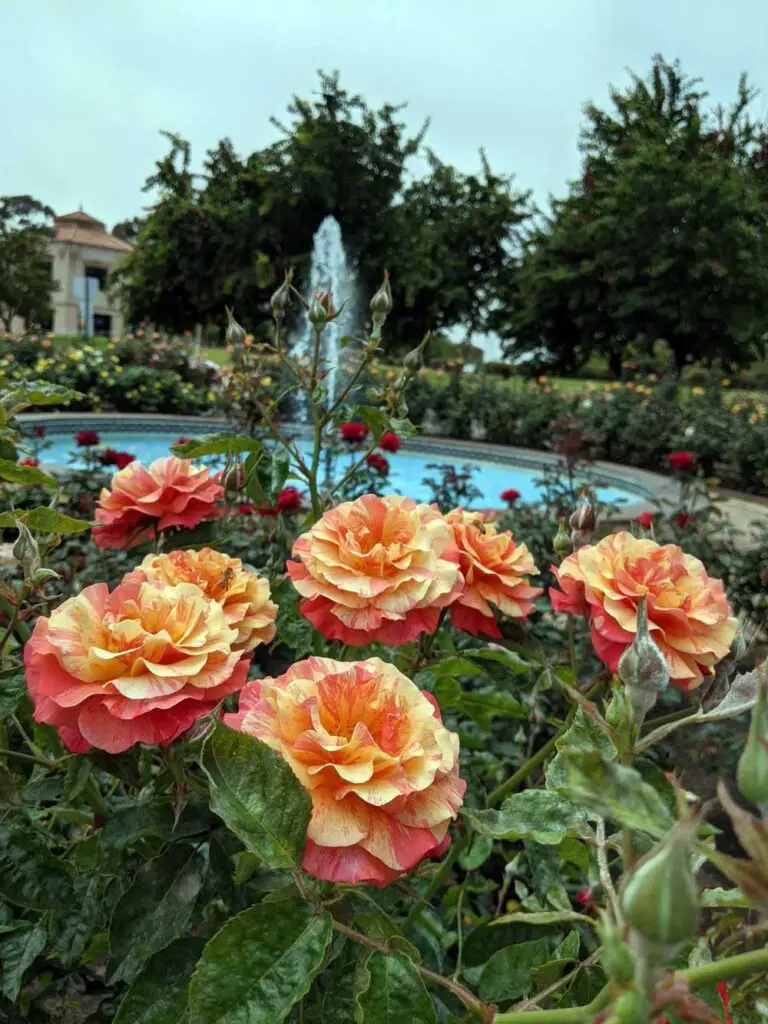 At the Inez Parker garden, peak bloom time for the over 2,400 rose bushes in 180 varieties is from March through May. But there are blossoms here through December when they get pruned. If you're going to be at Balboa Park in January and February, I suggest that you skip this garden and visit the Botanical Building instead. 
One thing I appreciate about this garden is that almost all of the roses are labeled by type and by name. They come in hues that range from white, through yellow, orange down to those that are almost a deep purple. And the smells are so varied. There's everything from a musky floral to licorice and even lemon. 
The round Spanish-colonial-inspired layout has a surprising amount of seating space around a central fountain and on the benches. And when you're not looking at the roses you can admire the view across Florida Canyon.
There's no shade, so you may want to avoid it during the hottest part of the day. Go during the golden hour around sunset for the best photos. 

Crazy for Cacti? Visit The Balboa Park Cactus Garden
1935 (Old) Cactus Garden
Go to the 1935 Cactus Garden for the largest succulents and desert flora in the park. Some of them have been here since they were planted for the 1935 California Exposition.  
Time Needed: 20 minutes
Accessibility: Stroller and wheelchair friendly with wide decomposed granite pathways. It's located at the back of the Balboa Park Club on Pan American Rd.
Garden Style: Informal succulent garden
The best time of the year to see this garden is during the bloom season which is from January through March. Even if they're not flowering, it's fun to look at the unique shapes of the exotic arid vegetation. And if you raise your head a bit further you'll see Cabrillo Bridge and California Tower in the distance.
There are 5 Balboa Park Desert Gardens to Visit
Balboa Park Desert Garden is a Must See
Balboa Park Desert Garden is one of the best gardens in the park. Visiting here is like setting foot on an alien planet. There are over 1,500 Cactaceae and other drought-tolerant plants from around the world in this 2.5-acre space. The bizarrely shaped plants look like they came out of a Dr. Suess book. 
I keep waiting for "Thing 1 and Thing 2" to make an appearance among the barrel cacti and Joshua trees.
Time Needed: 45 minutes
Accessibility: Stroller and wheelchair friendly. There's a main concrete walkway and level dirt paths throughout.
Garden Style: Informal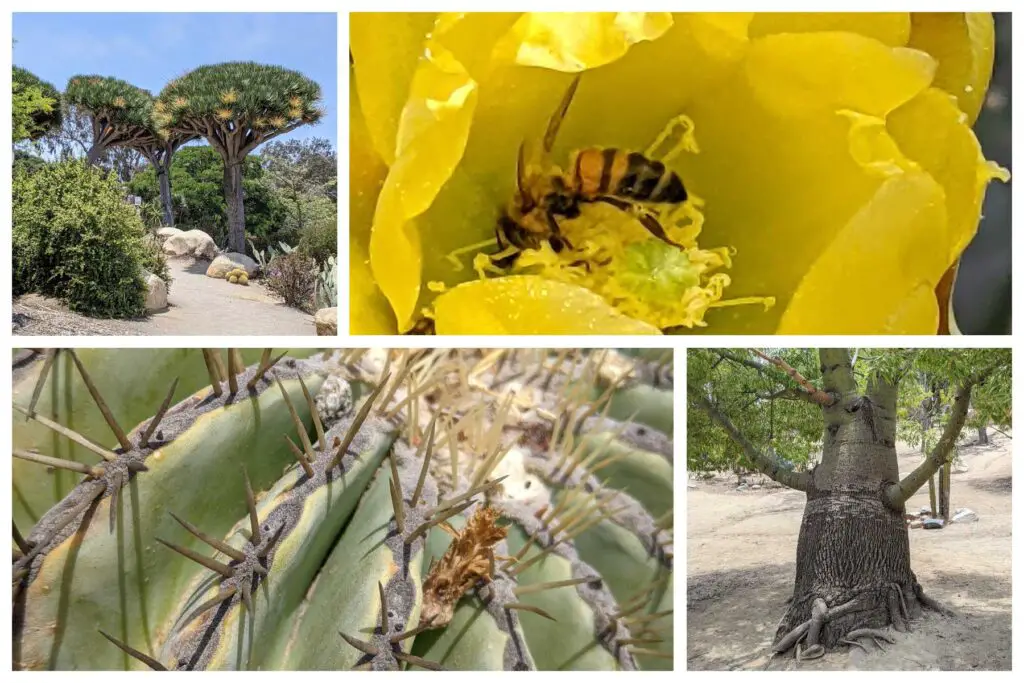 It's quiet here. You'll find this desert garden on the east side of Park Blvd, away from the most popular museums and attractions. It's close to the Inez Grant Parker Memorial Rose Garden. During the January through March peak blooming season, the blossoms rival those of the roses next door. 
Don't miss the great view east over the canyon.
California Native Plant Demonstration Garden
The Balboa Park California Native Plant Garden is the best place to go for free drought-tolerant landscaping ideas for your San Diego property. 
Time Needed: 15 minutes maximum unless you're a garden enthusiast looking for good low water planting ideas. If you are looking for drought-tolerant plant ideas you could spend more than an hour here.
Accessibility: Strollers, you'll burn a few calories pushing your pram here. Wheelchairs may need assistance due to slopes and dirt paths.
Garden Style: Informal 
This small garden only has drought-tolerant native plants. But you'll be surprised at the variety which includes various sages, California Live Oak, and camellias that bloom in the springtime. They'll also attract native butterflies and hummingbirds. 
Florida Canyon Native Plant Preserve
The Florida Canyon Native Plant Preserve allows you to step back in time and shows you what Balboa Park looked like before the 1915 California Expo. The 150-acre garden is coastal sage scrub, which is the second most endangered habitat type in the US. 
Time Needed: 1.5 hours. Many trails and routes to explore.
Accessibility: Not suitable for strollers or wheelchairs except at the top by Desert Garden. Good for kids older than 5 years old. There's an elevation change of approximately 300 feet from the bottom to the top of the canyon. 
Garden Style: Informal reclaimed wilderness
What's surprising is that there's usually something blooming in this arid-looking environment unless you come in the fall when it's very hot. And even when it's scorching, Florida Canyon is an aromatic experience. Brushing up against the coastal sage plants (which can be up to 6 feet tall) releases oils that fill the air with their scent. 
This garden is very popular with hikers. It's only crowded up on top of the trail by the Desert Garden. Once you walk a bit lower, it's much quieter. 
Watch out for unleashed dogs and cyclists on mountain bikes.  
Australian Garden
Time Needed: 10 minutes
Accessibility: Sloped dirt trails may present problems for strollers and wheelchairs. Located north of the Gold Gulch Trail Parking Lot.
Garden Style: Informal
The Australian Garden is a work in progress. The plants were a gift from Australia for the 1976  US bicentennial, but it's still relatively undeveloped. More trails are planned along with an interpretive kiosk. 
Palm Canyon Mirrors San Diego's Lush Canyons
Palm Canyon reminds me of Jurassic Park. This eponymously named garden is 2 acres of lush and shady with 58 species of palms and almost 500 plants. Some of the Mexican fan palms were planted in 1912 and are still growing strong.
Although most people don't think of this densely growing garden as being a desert garden, it's similar to some of the palm-lined canyons in San Diego. These canyons have plenty of water because they drain the tall, flat mesa areas. And since San Diego is technically a desert, I decided to put Palm Canyon under the desert garden category.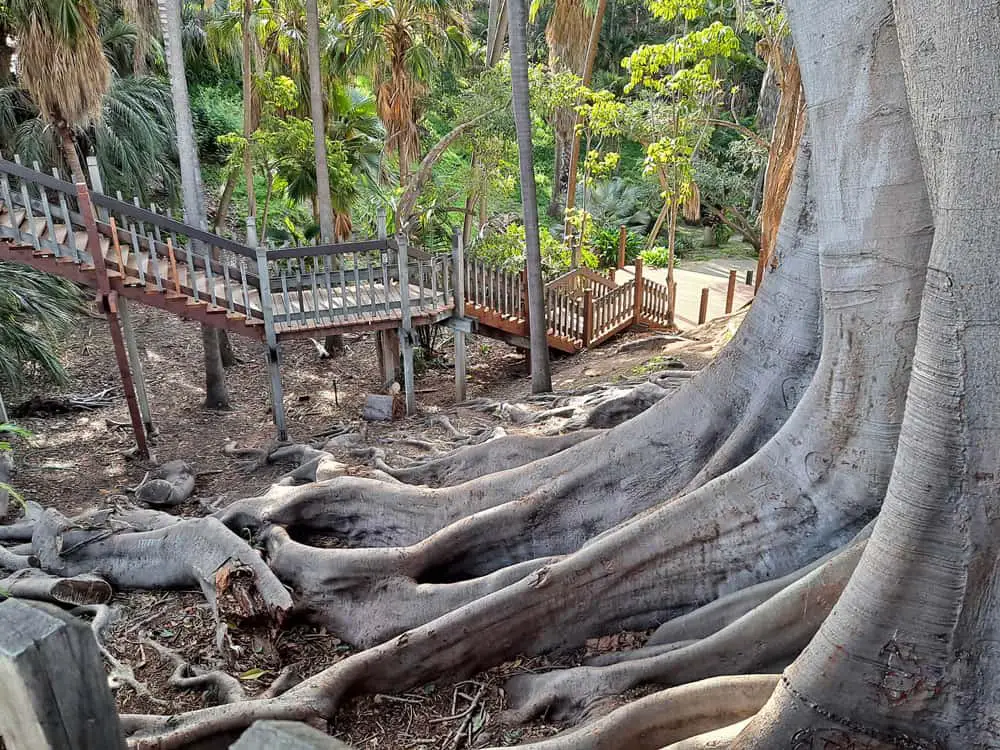 Time Needed: 15 minutes
Accessibility: Limited stroller and wheelchair. There are stairs here. But you can see some of this canyon from the wooden bridge off of the Alcazar Garden parking lot.
Garden Style: Informal
My favorites here are the tall Moreton Bay fig trees with their spectacular root systems. They look as if they're conquering the hillside and may grab you while you aren't looking. You can see them to your right while you're walking across the wooden footbridge and down the stairs toward the Spreckels Organ Pavilion. 
This is a popular photography spot and you'll often see wedding parties here.
2 Balboa Park Sculpture Gardens to Inspire You
May S. Marcy Sculpture Court & Garden
San Diego Museum of Art's Marcy S. May Sculpture Garden has no flowers. But it has 6 works that are better than many art galleries that charge entrance fees. Lie down on the green grass and try to outdo the chill relaxation of Henry Moore's "Reclining Figure: Arch Leg" sculpture.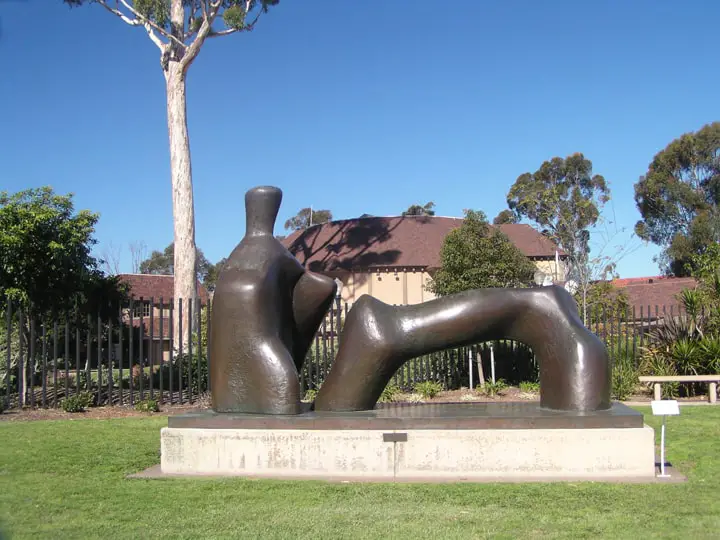 Time Needed: 15 minutes minimum
Accessibility: Stroller and wheelchair friendly. There's only one paved path. But the grass is trimmed very short and the ground is level.
Garden Style: Informal
This is a good spot to wait for your order to come up at Panama 66 cafe. And after you pick up your grub their beer and wine will get you into a "reclining" vibe in no time.
Veteran's Memorial Garden
The Veteran's Memorial Garden is primarily known for its focal point, a 1/6th scale bronze replica of a B-24 Liberator airplane. It has an 18-foot wingspan and floats over a reflecting pool. The sculpture points to Lindbergh Field airport and the site of the former Consolidated Aircraft factory where the B-24s were built.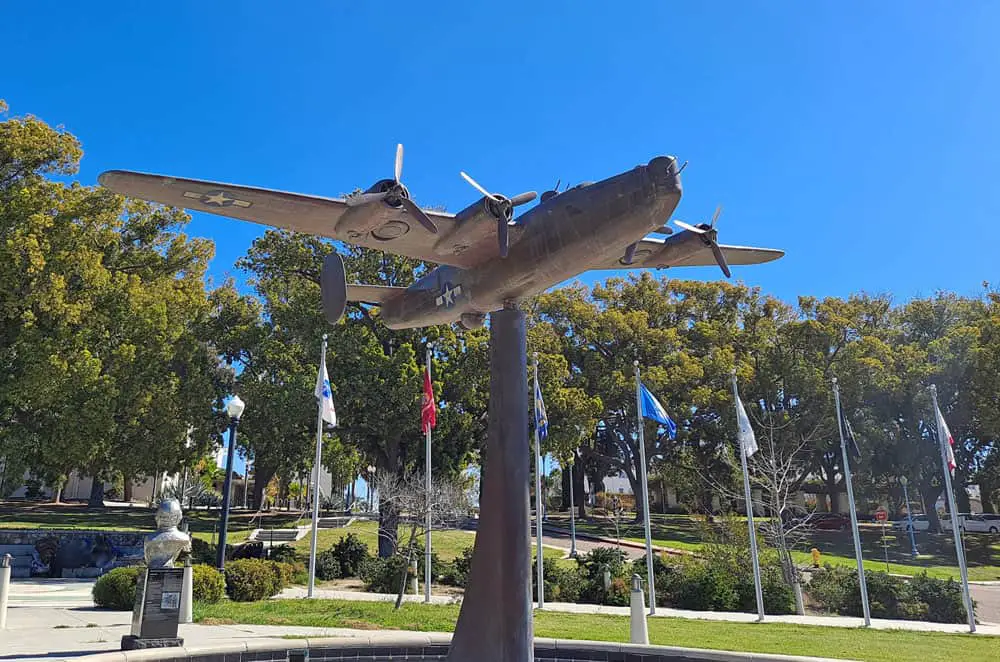 Time Needed: 15 minutes. Add on an hour if you're going to see the Veteran's Museum as well. 
Accessibility: Wheelchair and stroller friendly with concrete walkways. It's just north of the Veteran's Museum at Balboa Park.
Garden Style: Formal
This is not a flower garden. It's primarily grass, concrete paths, and flag-lined walkways. It's divided into three sections, Land, Sea, and Air, to honor those who served in all branches of the US military. It's a serene, contemplative place.
Balboa Park's Butterfly Garden is a Summer Treat
Zoro Garden
Zoro Garden is Balboa Park's only garden where caterpillars are planted on the foliage so that they can grow into butterflies. It's best In late spring and early summer. Then you'll spot many larvae chewing through the foliage and see the new butterflies take flight.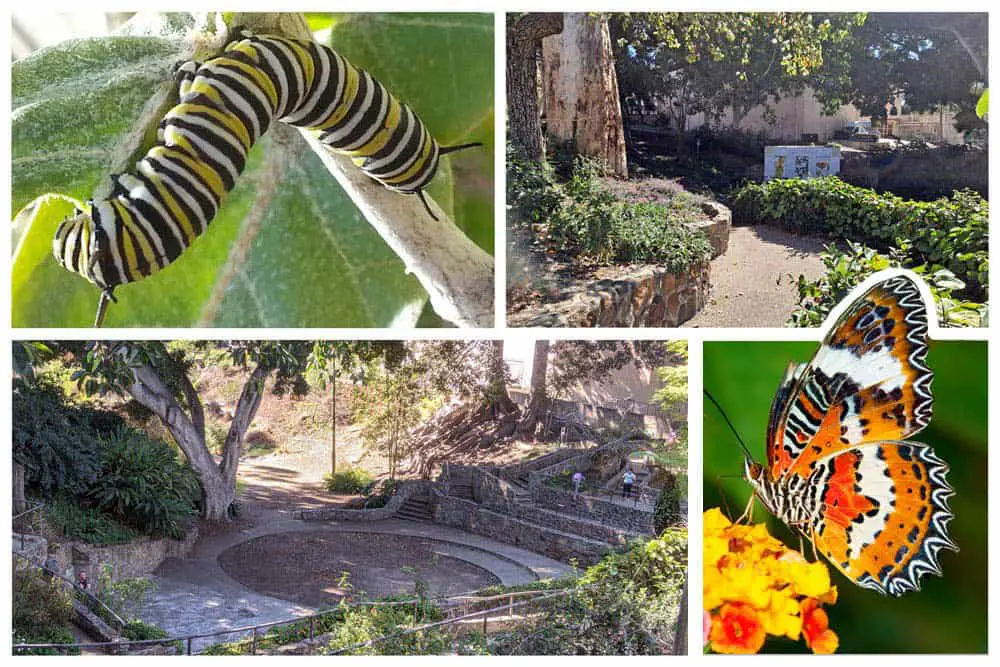 Zoro Garden is also the most notorious location in Balboa Park. It was the site of the 'nudist colony' at the 1935 California Pacific Exposition. Everyone's got their clothes on now, except maybe the caterpillars munching on the plants. 
Time Needed: 15 minutes
Accessibility: Not stroller or wheelchair friendly. Many staircases. However, most of the garden is visible from the sidewalk on the south side of El Prado, between Casa de Balboa and the Fleet Science Center.
Garden Style: Informal, trees 
This garden has everything needed for the lifecycle of a butterfly. Leafy plants for larvae food and flowering ones for nectar. There are also small indentations in the rocks for catching moisture for the adults to drink.
The winding pathways, stone walls, and giant ficus trees with sprawling roots big enough to sit on make this a favorite photo spot. It's also cool and shady in the hot summer months.
Balboa Park Teaching Gardens Are Not Just For Kids
EthnoBotany Children's Peace Garden
The EthnoBotany Children's Peace Garden is home to several terraced plots featuring traditional Kumeyaay indigenous plants native to San Diego. This is also Balboa Park's only sustainable, edible garden. Classes in sustainable gardening are also taught here.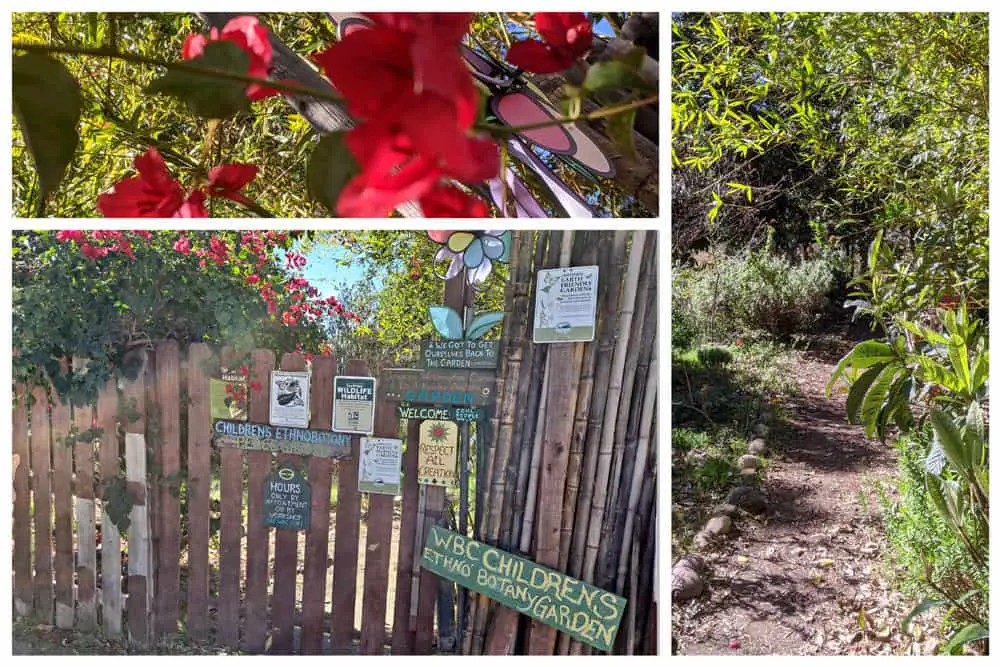 Time Needed: 15 minutes
Accessibility: Strollers will be ok, but limited wheelchair access. Located next to the WorldBeat Cultural Center
Garden Style: Informal terraced
The history of the people who grew and gathered these edible and medicinal native cultivars stretches back over 600 generations or 12,000 years. Do you think that they know a bit about San Diego sustainable gardening? You bet!
If you stop for a meal at the WorldBeat Cafe, you'll probably sample some of this garden's produce in your meal. But if you want to nibble directly from the garden please ask first. Some of those plants aren't for food but instead are potent medicines.
You may see non-human visitors there because it's a Certified Monarch Waystation as well as a Certified Wildlife Habitat. 
Trees for Health Garden
At the Trees for Health Garden, you'll discover a menagerie of medicinal plants from Dogwood and Lionstail to Dragon Trees. What began as a 1993 San Diego Herb Club project to identify and map the medicinally useful trees in Balboa Park and then plant just 15 more has grown into a 150 species gem.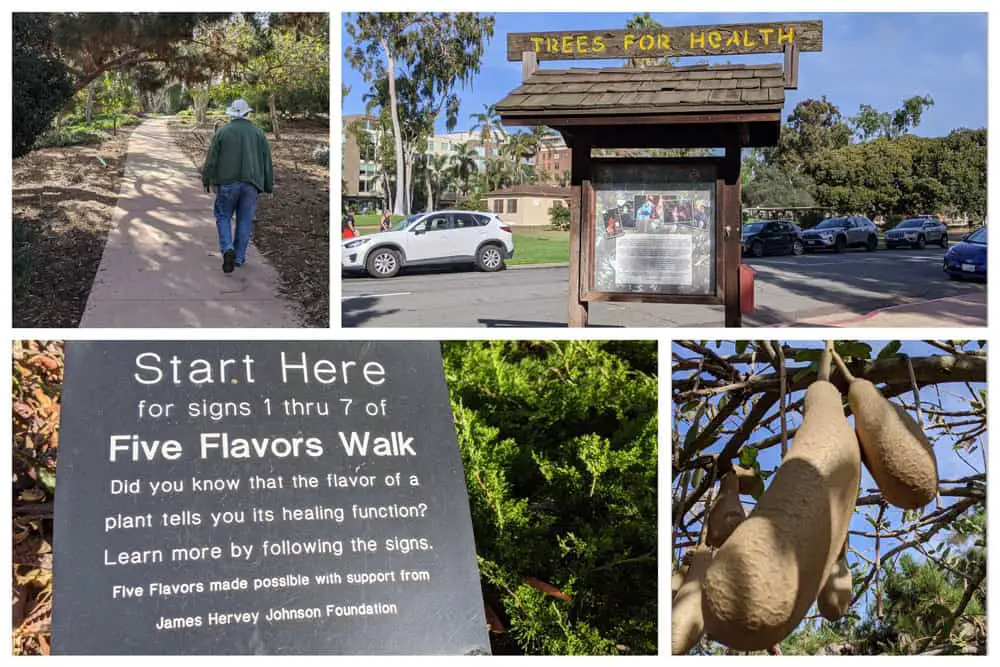 Time Needed: 30 minutes
Accessibility: Stroller and wheelchair friendly. There's a slight incline on some of the trails. 
Garden Style: Informal
Take a taste and smell journey through the Trees for Health garden starting just north of Quince Drive on Balboa Drive, right across the street from the Balboa Park shuffleboard court. The short "5 Flavors Walk" leads you through Bitter, Sour, Pungent, Salty, Sweet, Oily, and Starchy plants. Use the official Plant finder map PDF to identify your favorites.
The Administrative Courtyard Garden's a Balboa Park Secret
Time Needed: 20 minutes 
Accessibility: There's flat terrain with concrete sidewalks. It's stroller-friendly and wheelchair accessible.
Garden Style: Formal, arbors, trees, fountains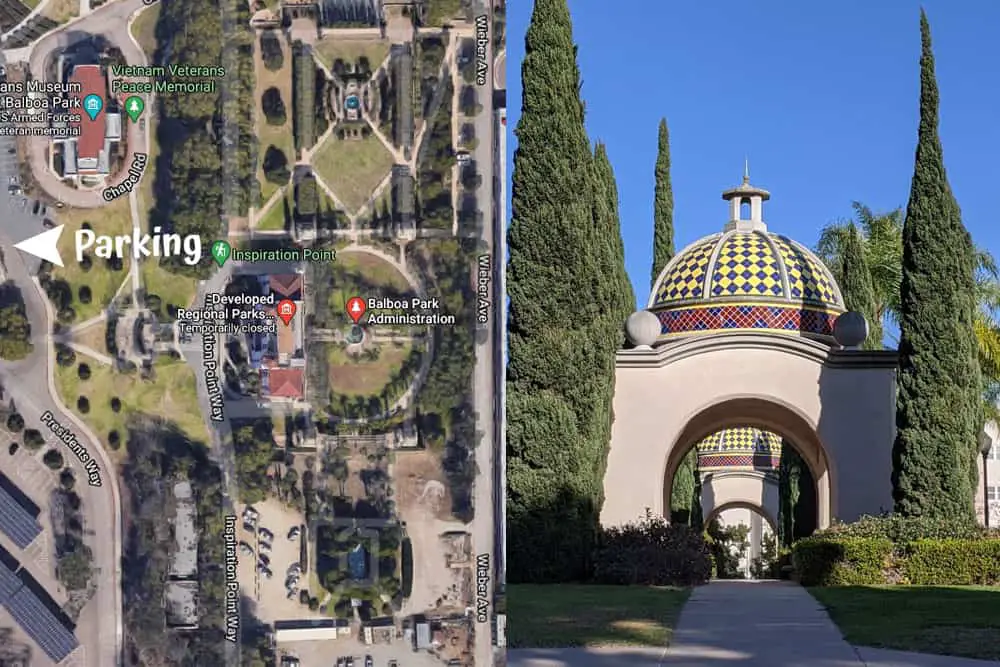 This garden is not listed on the official Balboa Park website. It's hidden away on the San Diego government one HERE. It's located behind the Developed Regional Parks Administration Building at 2125 Park Blvd.
Their website says that it's, "Available for ceremonies only," but they won't kick you out if you go there to sit on the tiled benches and soak up the ambiance. It really should be more publicized because it is a beautiful, peaceful formal space.
There are three tile-lined fountains on a large lawn area lined with flower beds and trees. Two long vine-covered arbors are anchored by solid square pergolas that have wonderful tiled domes.
There are no restrooms here so plan accordingly.
It's best to park your car at the Veteran's Museum/Inspiration Point parking lot. The Administrative Courtyard is located directly behind the museum after you cross Inspiration Point Way.
Did This Make Visiting Balboa Parks Best Gardens Easier?
Balboa Park's a plant lover's paradise that has 19 gardens. But few of us can see them all. I hope that this article helped you choose which of Balboa Park's best gardens to see first. If you have questions or comments please leave them on my Contact Me page.