Choosing between visiting San Diego Zoo and SeaWorld? Here are tips to help you decide, a chart comparing both, and the latest ticket discounts.
San Diego Zoo is chosen over SeaWorld by most seasoned San Diego travelers and locals. The Zoo's a better deal. Tickets cost less. Parking's free. There are more animals, birds & plants from both land and sea. And it's a short walk to Balboa Park's museums, concerts & restaurants.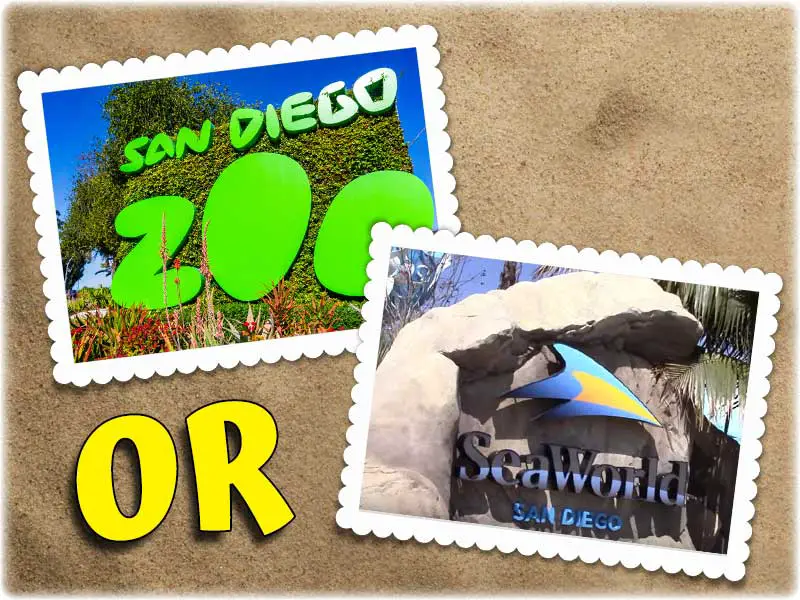 Actually, it's best to visit both. But limits on time, budget, interests, and traveling companions may make that impossible. The chart below will help you figure out which attraction is best for you. Read further for more differences and highlights of these two San Diego destinations.
If you make purchases through the links in this post, I may be compensated. Read my Advertising Disclosure for more info. Thanks! ~ Nancy
*Save with a secret promo code on each San Diego Zoo or Safari Park 1-Day Pass. Go any day. Go directly to the gate. Click HERE to get your code, instructions & discounted tickets by email. By clicking the link above you agree to receive an automated email message. Valid only at aRes Travel, San Diego's local authorized ticket seller. Read my full privacy policy.
Kids Go Free in 2023. FREE child with each full-paid adult!
OR…Save $22 per SeaWorld Adult Ticket and go direct to the gate! – Click this authorized ticket seller link for both deals now. Scroll down for a parking discount too!
San Diego Zoo vs SeaWorld Chart
| BEST OVERALL | ZOO | SEAWORLD |
| --- | --- | --- |
| BEST DEAL | Zoo | |
| BEST FOR WHO? | | |
| ○ Toddlers (12 to 36 months) | Both | Both |
| ○ Kids (3 to 6 years old) | Zoo | |
| ○ Teenagers | | SeaWorld |
| ○ Adults | Zoo | |
| TRANSPORTATION | | |
| ○ Closest to Downtown | Zoo | |
| ○ Easiest to get to | Zoo | |
| ○ Easiest to get around inside | | SeaWorld |
| MOST NEARBY ATTRACTIONS | Zoo | |
| BEST SHOWS | | SeaWorld |
| BEST RIDES | | SeaWorld |
| BEST FOOD | Zoo | |
| MOST EXHIBITS | Zoo | |
What's the Best Overall Experience, San Diego Zoo or SeaWorld?
You will have a more memorable day at the San Diego Zoo. There are many reasons why it has a worldwide reputation as a first-class place to visit. Both locals and vacationers keep coming back again and again because it's beautifully maintained, the animals are well cared for and it's a major force in conservation across the globe.
It should be your first choice because:
You'll get more bang for your travel buck at the Zoo
There's much more to see
It's better for kids of all ages. Teenagers being the big exception.
The food options are both better and cheaper
And it's easier to get to.
And finally, baby koalas. Nothing at SeaWorld is cuter than those. Sorry, Shamu.
Why San Diego Zoo is a Better Deal Than SeaWorld
Zoo tickets are much cheaper Many people consider the San Diego Zoo to be a better value than Seaworld because a General Admission Ticket just costs less. However, aRes Travel (San Diego's local authorized ticket seller) sometimes runs promos. Check HERE for discounted tickets and specials.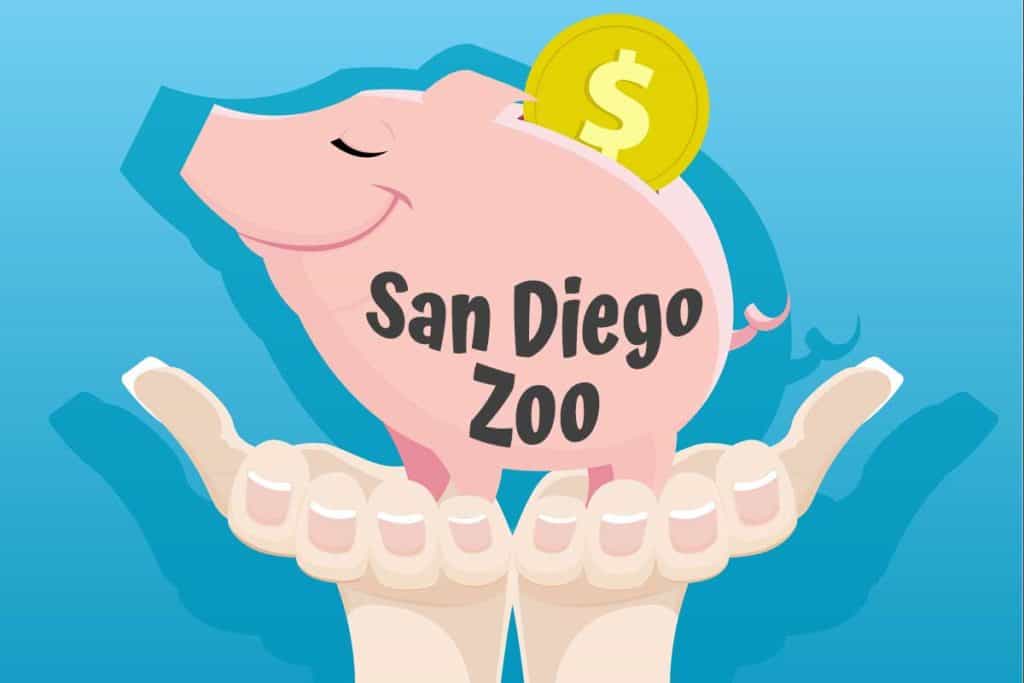 The Zoo's entry fee at the gate is $67 for ages 12 and up. Children are $57 for ages infant to 3 years old. (except in October when they enter free). You can get a deal by clicking on the cute koala below or checking out 30 other ways to get a discount on your San Diego Zoo tickets. You can also buy 2-Visit Passes and save $20.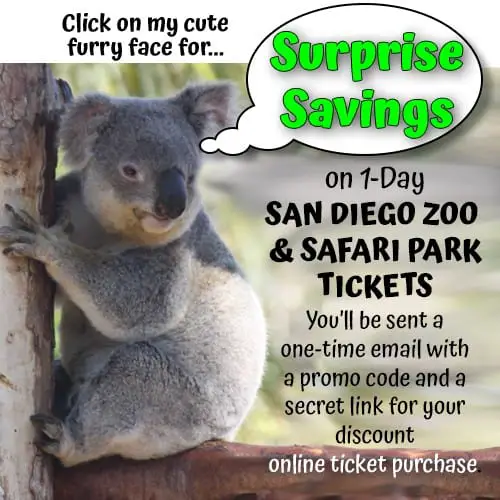 SeaWorld San Diego's ticket costs are generally higher than the Zoo and vary depending upon 3 factors:
Which day you want to visit (peak traffic days cost more)
If your group contains children aged 3 – 9
You are willing to specify the date you will visit
Adult tickets cost $70+.
If you're coming with kids aged 3 – 9, the minimum price for an "Any Day Ticket" is $96. One child can enter free with each adult ticket purchased.
Kids 3 – 9 years old get in free during October. Adults pay from $60 on slow weekdays to $80 on peak days that month.
Parking is Free at the Zoo. You can even park your RV close by on Park Blvd. One thing that you should do is mark your vehicle's parking location on your cell phone's mapping program. At the end of a long day of walking, the last thing you want to do is wander a large parking lot looking for your car.  
You'll pay for SeaWorld parking. It costs $35 or more per vehicle. Verify the current parking fees HERE at the bottom of the page on the SeaWorld website. The SanDiegoing.com reader's cheap SeaWorld tickets offer from aRes offers discounted parking too.
Comparing San Diego Zoo and SeaWorld Tickets
What's Included in a Zoo General Admission Ticket?
One ride on the Guided Bus Tour. Do this when you first get to the Zoo. It will give you an overview of most of the park. It will be easier to orient yourself later when you're finding your favorite animals. Check my San Diego Zoo tours page for more details about the bus tour and which paid ones are available.
Unlimited Kangaroo Express Bus rides. There are five stops around the Zoo. The bus loop travels through approximately 70% of the whole area. These vehicles can save your energy because they can help you avoid the steepest hills at the zoo.
One ride on the Skyfari Aerial Tram. The one ride limit is not enforced except if you are obviously abusing it by riding it many times in a row. The rule is in place to prevent groups of children traveling the Skyfari without adult supervision. If you're a family riding with at least one adult it should be fine.
9 Major exhibit areas spread out over 100 acres:
Front Street – flamingos, peacocks, main stage animal ambassadors shows
Urban Jungle – giraffes, flamingos, greater one-horned rhinos, animal ambassador play areas for wolves and cheetahs
Australian Outback – koalas, wallabies, parrots, kids koala climbing tree 
Africa Rocks – leopards, monkeys, baboons, lemurs, fossa, meerkats, tiptoed klipspringers, tuxedo-clad South African penguins, and many more
Elephant Odyssey – elephants, California condors, secretary bird, jaguars, camels, wise-looking capybara, lions, and again more
Northern Frontier – carrot-eating polar bears, reindeer, arctic fox, mountain lion, zebras, lesser kudu
Asian Passage – outrageously adorable red pandas, takin, porcupine, snow leopard, lion-tailed macaque, colobus monkeys, sun, sloth, Andean and brown bears
Lost Forest – orangutans, mandrills, siamang gibbons, okapi, harpy eagle, Allen's swamp monkeys, Malayan tigers, river hippos, pygmy hippos, and lowland gorillas, plus others
Discovery Outpost – Reptile House, Reptile Walk and Wegeforth Bowl where visitors see animal ambassadors and their keepers in the Wild About Animals show
6 Aviaries with free-flying birds. These walk-through exhibits are large enough for the birds to breed. And there are enough bushes and concealment to make it easy for them to surprise you. 
3 Shows & Numerous Keeper Talks
Main Stage – It's located to your left as you enter the Zoo. You'll see a wide variety of Animal Ambassadors demonstrating natural behaviors for you. During holidays there are often musical performances there as well.
Wild About Animals – This show takes place in the Wegeforth Bowl which is close to the Reptile House. 
Dr. Zoolittle Explores Australia – shows off the special abilities of critters from Down Under. You can see this production only on Saturdays & Sundays at 1pm. It takes place at the Boardwalk Beer Garden across from the Koalas.
Keeper Talks take place throughout the day at different locations in the Zoo. Check your Zoo map for the times and exhibits where the keepers will speak. Some of the ones that I've seen are the Koalas, Hamadryas Baboons, Leopards, Penguins, Red Pandas, Lions and cleaning Elephant feet.
Your Ticket Supports Worldwide Conservation Projects – San Diego Global is a non-profit dedicated to ending extinction. They sponsor more than 130 animal and habitat preservation programs on all 7 continents.
What's Included with SeaWorld General Admission?
IMPORTANT NOTE: Parking is NOT included with SeaWorld General Admission. It's an additional fee that's paid at the entrance to the parking lots. Check the most up-to-date parking rates on their website here.
General admission to SeaWorld exhibits & shows spread over 189 acres:
Pet bottlenose dolphins at Dolphin point
Killer whale underwater viewing
Wild Arctic features Walruses & Beluga Whales 
Explorer's Reef – interact with sea life
Ocean Explorer Animals including a giant pacific octopus and the huge, creepy Japanese spider crabs
Antarctic Penguins – so darned cute!
Shark Underwater Viewing Tunnel – a slightly scary walk through a toothsome aquarium
California Sea Otters – rescued and hand-raised otters swim & clown around
Turtles & tropical fish aquariums
All 16 thrill rides:
6 are rated as good for small children
5 High thrill rides
2 Medium thrill rides
2 Water rides
2 View Rides. The Bayside Skyride gondola is included with your general admission ticket. The SkyTower will cost you $6 extra. But it's worth seeing the 360° view of San Diego county and the ocean from 320 feet (92m) up.
Shows
Orca Encounter – You'll see killer whales showing off their natural behaviors. If you don't want to get wet, stay out of the splash zone.
Sea Lions Live – Zalophus californianus duo Clyde & Seamore and an otter called OP do a TV comedy show
Dolphin Days – In this show, playful dolphins and pilot whale jump and play
Stage shows and parades – An ever-changing lineup of seasonal performances by musicians, acrobats, and other artists. These sometimes feature Sesame Street characters.
Your visit also helps support SeaWorld's animal rescue and conservation efforts. They are the go-to place when local marine animals are found in distress on San Diego beaches.
Is San Diego Zoo or SeaWorld Better for Kids?
Whether the Zoo or the marine park is better for you will depend upon the ages of those in your party. Let's break it down for you here.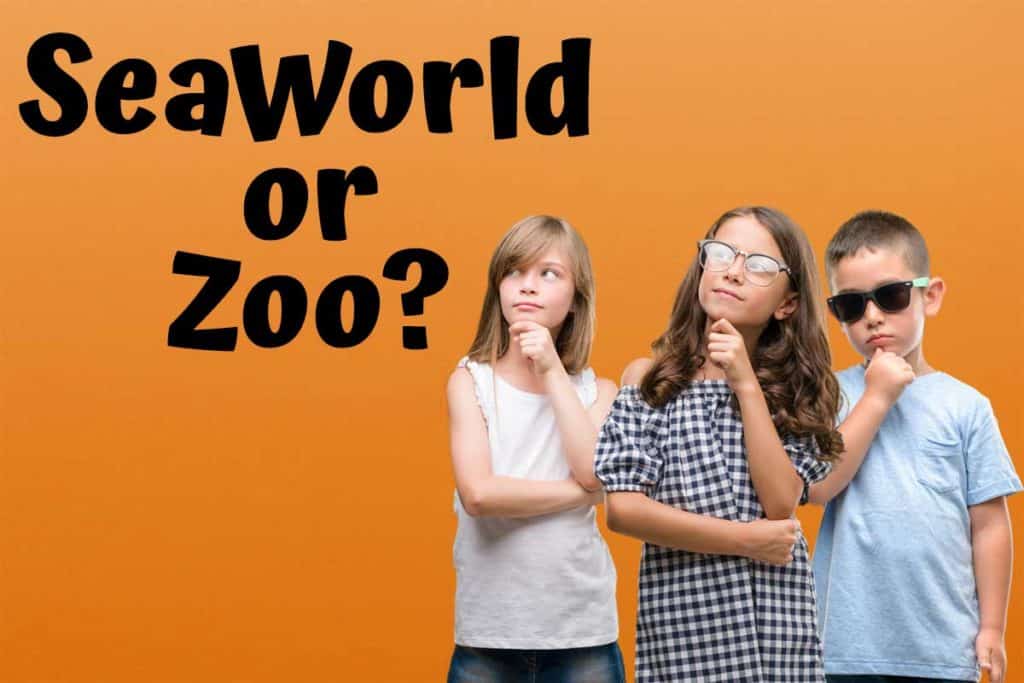 Do Toddlers Have a Better Time at SeaWorld or the Zoo?
They'll have a great time at both places. Since children 12 to 36 months 'toddle', they aren't very mobile and are often being pushed in a stroller. Each of the parks provides enough distracting eye candy for them to be happy. And there's plenty of room for the little ones to run around, tire themselves out, and go back to sleep in the stroller. 
The main question then is how to please those pushing the stroller? If you want to avoid hills, go to SeaWorld. If you want to see more animals and get away from a noisier park atmosphere go to the Zoo.
Is San Diego Zoo or SeaWorld Best for Kids 3-13 Years Old?
The Zoo is a better choice for young children and pre-teens unless they're total marine animal geeks. Kids like the double-decker bus ride. They like watching the giraffes' long tongues grab leaves as they eat. Gorillas & other monkeys are also big favorites.
Kids also love watching the penguins 'fly' through the water at the South African Penguin aquarium. Sharks that share the tank are fun in a shivery way too. Don't worry, they don't eat baby penguins. 
Some kids really enjoy the Reptile House and the insect exhibits. Some adults may find these animals a bit creepy and unsettling. And that's probably why the kids like them!
SeaWorld has more hands-on animal attractions. There are 4 pools where you can touch the sea creatures in Explorer's Reef. They'll marvel at the rock-like sea stars and squeal at the texture of sea cucumbers and sponges. And yes, they will get wet.
You and the kids can pet and feed the bottlenose dolphins at Dolphin Point. Go first thing in the morning. The smiling finny critters will be a lot more curious and friendly. Later in the afternoon, they're tired of meeting their adoring fans and just want a bit of quiet time. 
Which One's the Top Choice for Teenagers?
Take your easily bored and oh-so-jaded teens to SeaWorld. It's more like a traditional amusement park. The "high thrill rides" really are. And they'll appreciate the high-energy, carnival-like atmosphere.
The hands-on animal exhibits, stage shows, and nighttime fireworks will keep them more interested than they would be at the Zoo. During the winter they can ice skate and enjoy Christmas-themed activities. The animal interactions and behind-the-scenes opportunities will be especially engaging for those teenagers who live in landlocked areas.
Do Adults Enjoy SeaWorld or San Diego Zoo More?
San Diego Zoo will probably be a better experience for those old enough to have a beer. It's more educational. And adults will be more interested in the backstory of each species and its unique survival characteristics. The Zoo animals range from big cats, monkeys, orangutans, and polar bears to Komodo dragons and naked mole rats. 
There are some excellent marine animal exhibits at the SD Zoo. The Africa Walk exhibit has a spectacular South African Penguin exhibit which gives you very clear above and below water views of the penguins, leopard sharks, and various colorful fish. There are more swimming creatures at the Zoo; two types of hippos, crocodiles and alligators. Don't miss the well-named Polar Bear plunge. The bears love to dive off the rocks into the cool water.
The Zoo's also a beautiful place to walk. In addition to having a world-class animal collection, it's also got a stunningly large collection of exotic endangered plants. Check out the one below: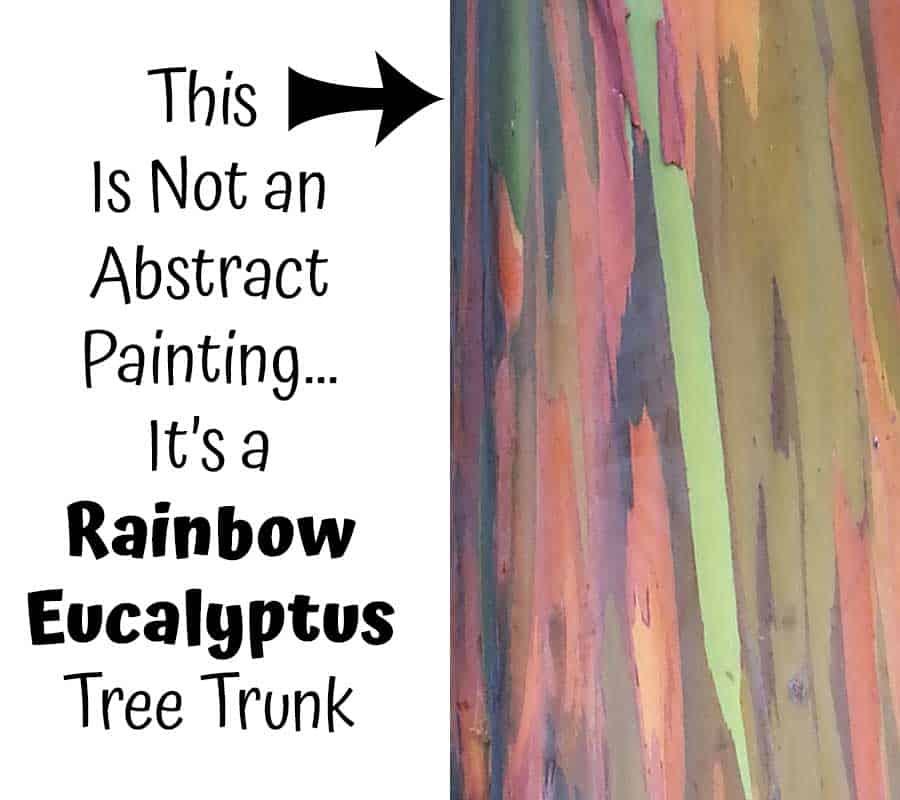 When should adults choose SeaWorld over the Zoo? Sometimes you just want to ride a roller coaster and scream your lungs out. And if you've visited many zoos but are not at all familiar with marine life SeaWorld may be more interesting for you. 
Is It Easier to Get to and Around SeaWorld or the San Diego Zoo?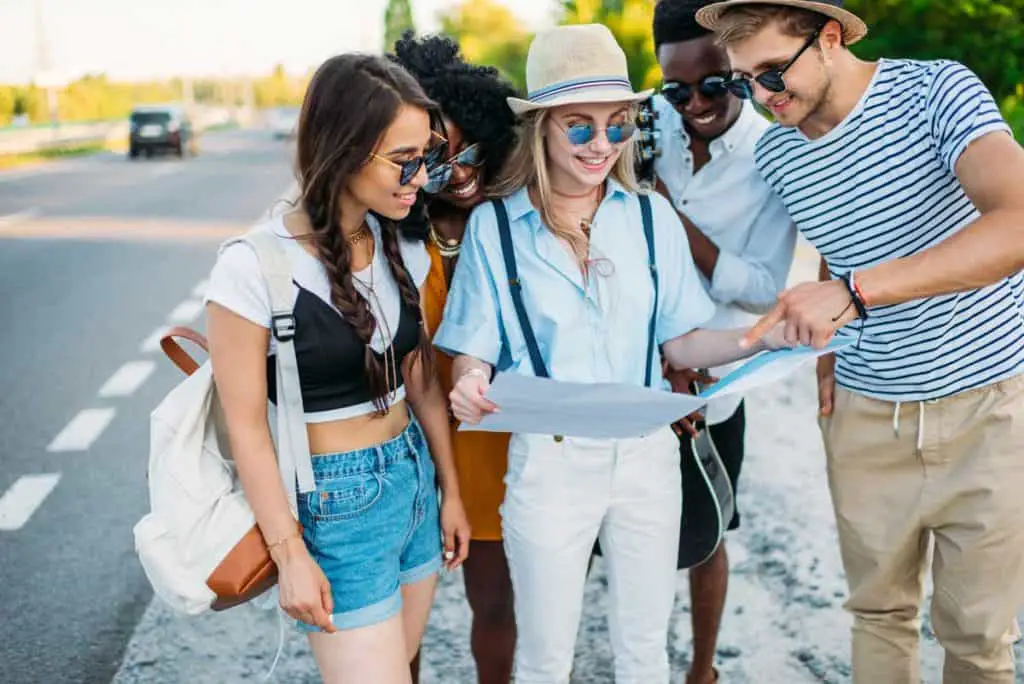 Which Is Closer to Downtown?
The Zoo is a bit closer to downtown San Diego and all of its cultural and social activities. It's 3 miles from the center of the city to the Zoo. SeaWorld is about 7 miles away.

Which Is Easiest to Get To?
The San Diego Zoo is easier to get to via public transportation than SeaWorld is. The bus stops only 0.2 miles (a 4-minute walk) from the entrance.
To ride the bus from downtown to the Zoo take the # 7 University & College line and get off at Park Blvd. & Zoo Place. Then walk about 4 minutes (0.2 miles west to the Zoo entrance.
SeaWorld is more accessible by car than it is by public transit. If you take the bus or trolley there's a 25 minute (1.2 miles) walk to the gate. It's located on the south end of Mission Bay.
To take a bus to SeaWorld from Downtown, board the Old Town-Pacific Beach Bus line and get off at the W Mission Bay Dr & Quivira Rd stop. From there you have a 25-minute walk (1.2 miles) to the entrance.
Is the Zoo or SeaWorld easier to get around inside?
SeaWorld is much easier to navigate once you're inside the gates. The terrain is flat. This will appeal to you if some of the adults in your party are elderly or if others have mobility limitations. The Zoo has some very steep hills and your group will end up walking a lot more there. 
Are there more attractions close to San Diego Zoo or SeaWorld?
There's much more to see and do just outside of the Zoo than at SeaWorld. The Zoo's located within Balboa Park. It's a short walk to 16 museums, free concerts, theater, beautiful gardens, restaurants, street performers, and artists making and selling their creations.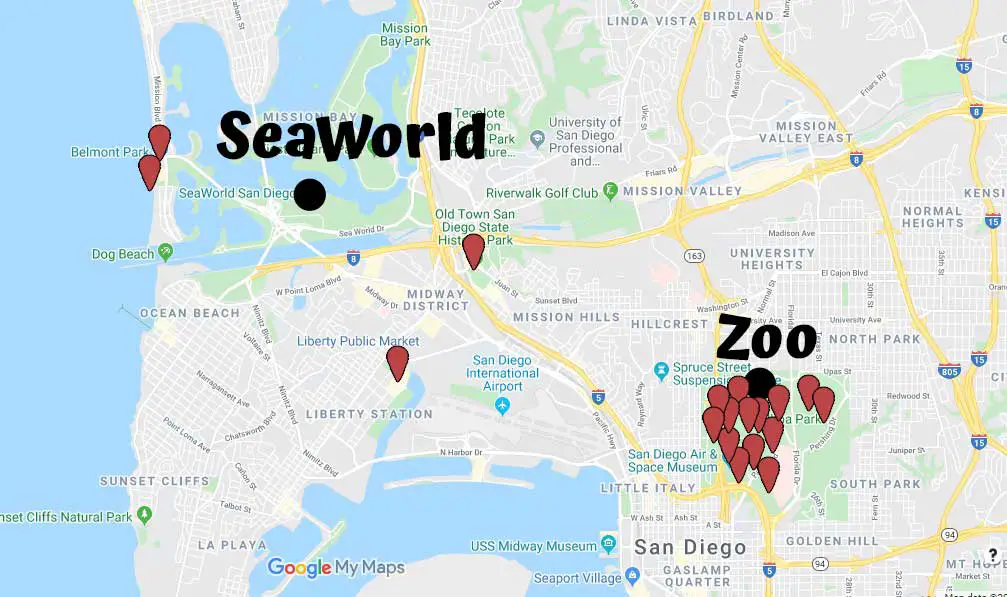 SeaWorld is located on a peninsula within Mission Bay. You'd have to take a car or bus to get to any other attractions. The closest attractions are Belmont Park Amusement Park on Mission Beach, Liberty Public Market, and Old Town San Diego. All of these are best reached by car or bus from SeaWorld because the routes were not made pedestrian-friendly. 
Does the Zoo or SeaWorld have better shows?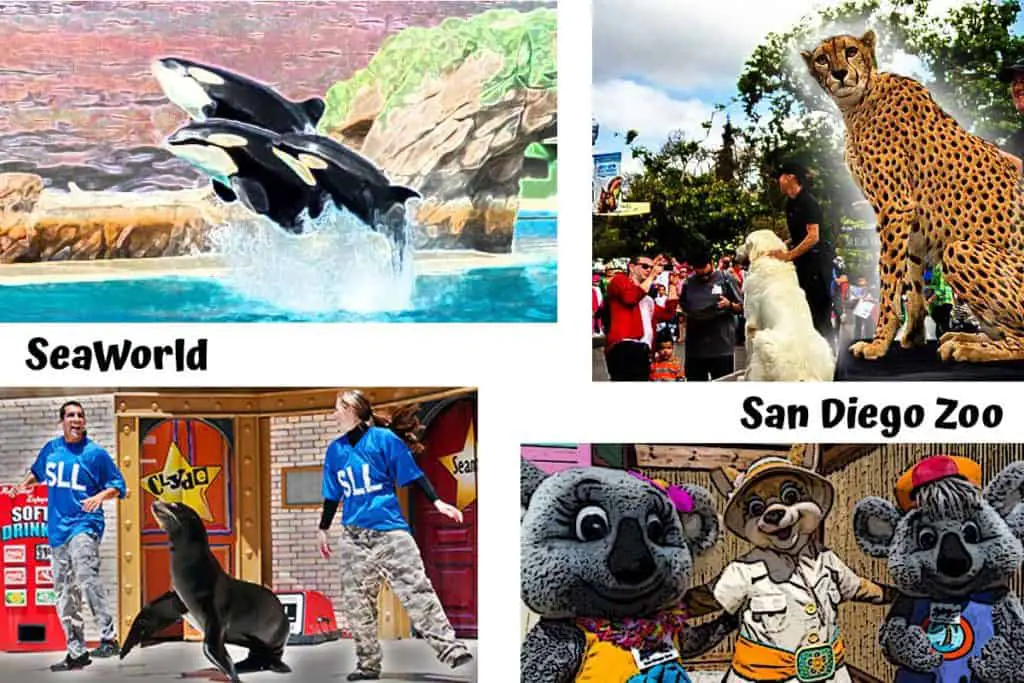 SeaWorld's shows are more entertaining and generally flashier. The Zoo is primarily a conservation and educational institution. So its shows are based more on displaying natural animal behaviors. 
There are 3 regular shows at SeaWorld that feature animals. There are also seasonal-themed stage shows and parades. 
Orca Encounter – Killer whales are HUGE. And there's nothing quite like sitting close to the tank in the 'Splash Zone' as one of them comes down from a jump. Awe-inspiring. There's nothing like this at the Zoo.
Sea Lions Live – Seal Team Clyde & Seamore and their impish sea otter friend OP are cute and silly. The Zoo used to have a similar show in Wegeforth Bowl. But the bowl is undergoing renovation and there's a much smaller show temporary show at 3pm outside the amphitheater.
Dolphin Days – A pilot whale and bottlenose dolphins show off their intelligence and grace. Neither of these species is at the Zoo.
Stage shows and parades – Many different types of performances depending upon the season. SeaWorld also has a partnership with the owners of the Sesame Street characters. So your small kiddos will be charmed by themed rides and the chance to meet Big Bird and the Grouch. 
The Zoo also has shows, but they're not usually as flashy and Las Vegas-like as SeaWorld's. And the only big birds that you'll see there are the condors and secretary birds in the African Odyssey. 
The Zoo may be improving its shows once Wegeforth Bowl is completed. They've already stepped up their game with their winter Jungle Bells events. Their December 2021 "Aurora" production was eye-meltingly beautiful with costumed performers and a light show projected on Bashor (Canopy) Bridge and the surrounding trees.
Which one has the best rides?
There's no contest here, it's SeaWorld. You'll find a wide variety from Sesame Street-themed kiddie rides to scary, spinning, diving, and stomach-twistingly innovative roller coasters. Adults might want to pack one of those airline barf bags.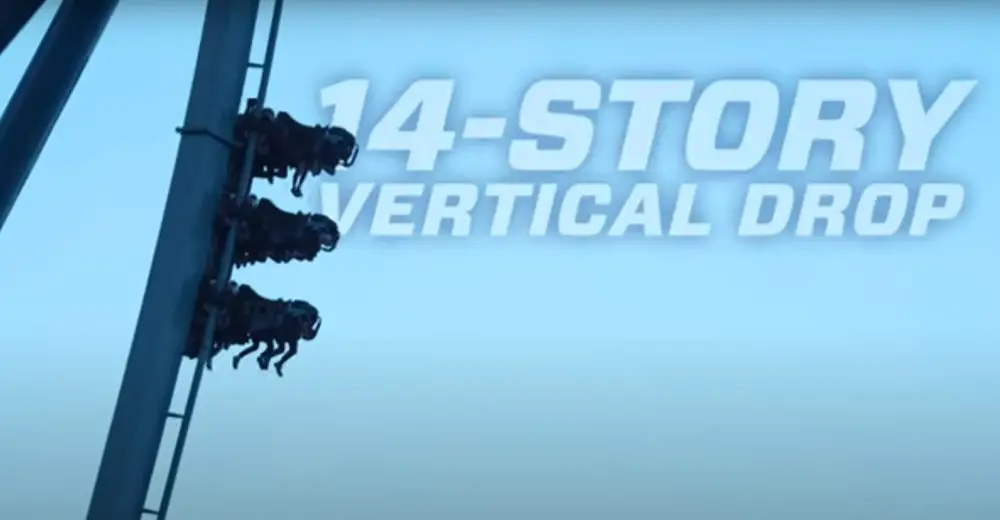 Don't miss the Emperor coaster. Imagine pausing just long enough to look down before jumping off the Arc de Triomphe in a 90° drop. Just before you go splat you're whisked horizontally. Then while you're going as fast as a cheetah you climb again into 3 inversion loops and come to a stop almost half a mile away.
Lest you think I'm exaggerating, at 153 feet high this coaster's almost as tall as Napoleon's famous French landmark. You'll hit 60 miles per hour. And the ride is 2,500 feet long.
Where's the best food?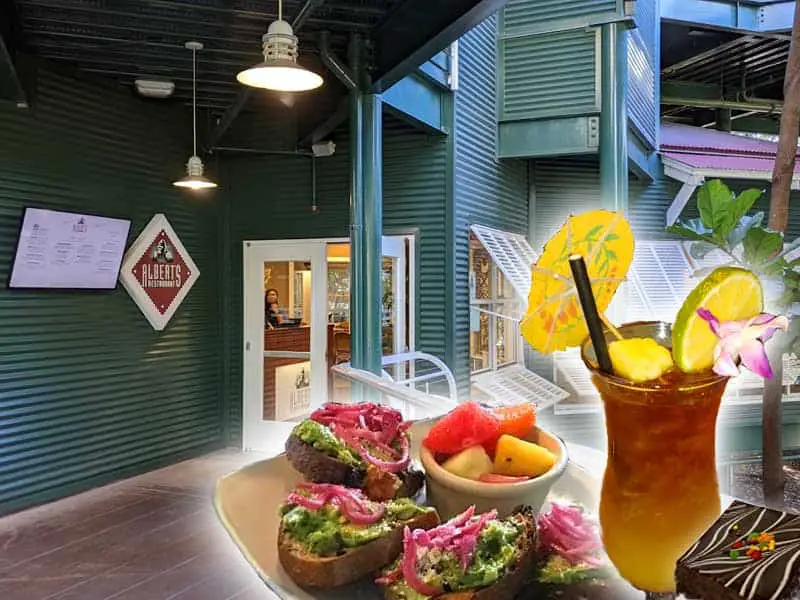 The Zoo has both better food and a larger number of on-site eateries. And there are more within a short walk. Read my article about other restaurants within Balboa Park.
Albert's Restaurant at the Zoo has the best food at both attractions. See this page on the best food at the San Diego Zoo for more on Albert's.
Many people call it the Zoo's hidden gem. It's fine dining on a patio with a waterfall. Or you can eat inside (but why???). The menu's upscale but the prices aren't outrageous for a good San Diego dinner. Your waiter can make wine and cocktail suggestions from the full bar. You must make reservations because it fills up quickly. If you've got more than 10 people in your party call 619-685-3200 to make a reservation. They also have kids' meals and vegetarian options.
There are also 18 other places to get food and drinks at San Diego Zoo. They range from Icee and snacks shacks to coffee shops and sit-down dining at 8 other restaurants in addition to Albert's.
SeaWorld has a total of 8 dining establishments. They range from BBQ at Calypso Bay Smokehouse, burgers & chicken sandwiches at Explorer's Café to flatbreads & fry cones at Pineapple Pete's. The Shipwreck Reef Café is the most entertaining. The decor features nautical items from old vessels. And you get to watch riders get splashed at the end of the Shipwreck Rapids ride. 
Both parks have special dining experiences that you pay extra for in addition to your entrance fee. The  SeaWorld has "Breakfast with Orcas" and "Dine with Orcas" at a private poolside patio. Both are hour-long experiences available 7 days a week. These events are popular and often sell out. Reserve your "killer' meal at this link (https://seaworld.com/san-diego/dining/dine-with-orcas/ ).
Can You Bring Your Own Food into the Zoo or SeaWorld?
You can bring all kinds of food and drinks into the San Diego Zoo as long as you carry them. No coolers, glass bottles, straws, or alcohol are allowed. Bring your favorite treats and have a picnic at one of the many tables placed throughout the park. Choose one with a great view, like Treetops Café or Sabertooth Grill.
SeaWorld only allows you to bring in water bottles and baby food. You can only eat your own food in the picnic areas outside the park entrance. 
SeaWorld has one way to save on food costs that the Zoo does not. It's their Ticket + All Day Dining Bundle (check current prices on the SeaWorld dining page). All you can eat at SeaWorld San Diego for one price ($30). You can drop in once every hour to any of the participating restaurants and get 1 entrée, 1 side or dessert, and 1 non-alcohol beverage. Restrictions may apply.
You can also save on the dining bundle by buying at aRes' special discounted tickets page for SanDiegoing readers. You'll find the dining bundle deal by scrolling to the bottom of the page after you click the link.
Which Has the Most Exhibits?
San Diego Zoo has many more exhibits, species, and numbers of animals than SeaWorld does. There's a good reason why it's world-famous.  It has nine major exhibit areas that cover the globe. You can find more than 650 species and subspecies of mammals (including tigers), birds, reptiles, and even exotic insects here. The number of individual animals exceeds 3,500 animals. There's no way that you will be able to see ALL of them in one day. But it is fun trying!
(Want a fun challenge? See San Diego Zoo and Safari Park on the same day!)
SeaWorld is chartered as a marine mammal park and is also an oceanarium. There are probably less than 100 marine species in residence there. Among the standouts are:
Orcas
3 species of dolphins
Walruses
Beluga Whales
Sea Lions
Harbor seals
Octopus
Rays
Sharks
Crabs
Starfish
Fish, fish, fish…
If You Have To Choose, Visit the San Diego Zoo Rather Than SeaWorld
For most people, the San Diego Zoo will offer you the best experience for your limited time and money. It's a destination that's a favorite with both visitors and locals. But if you have time, visit San Diego SeaWorld too. Here's a deal for SanDiegoing.com readers that will save you more than $25 on the combined ticket cost. You won't be disappointed.