Spanish Village Art Center is Balboa Park's hidden treasure. Here's how to have a memorable visit beyond just viewing the pottery, paintings & glass. If you're into different experiences, you'll love this place.
The seven best things to see and do at Spanish Village in Balboa Park are:
Shopping
Free Guided Historical Tour
Glass-blowing
Coffee on the Plaza
Watch Artists at Work
Take an Art Class
Visit Gallery 21
And one more bonus…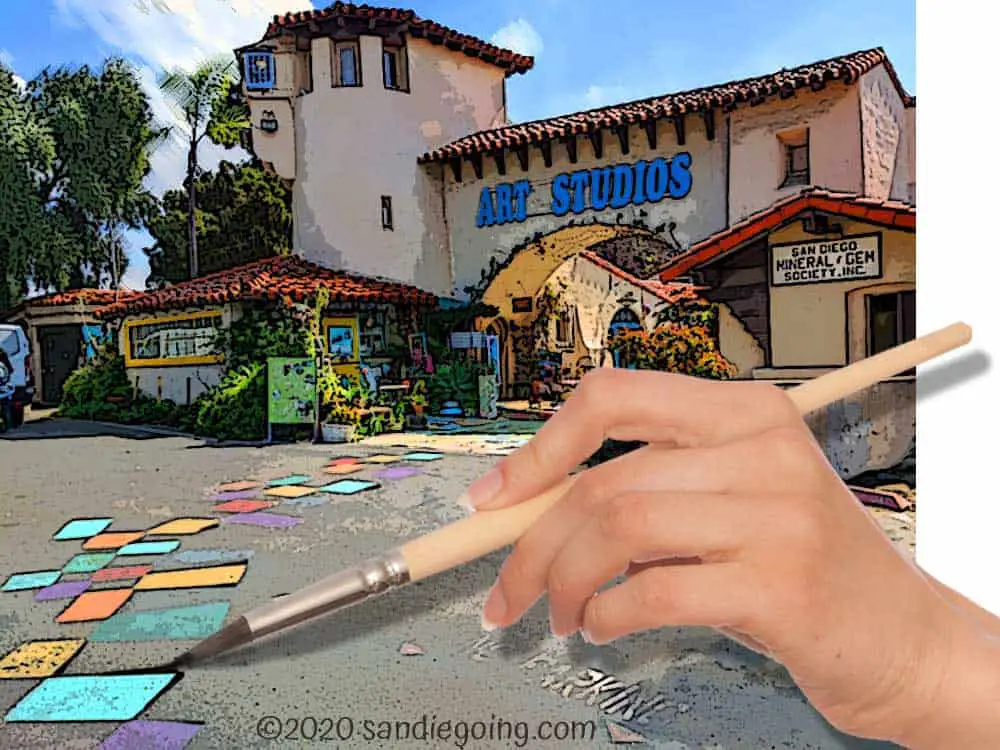 So what are the must-see and do things at this under-rated Balboa Park attraction?
If you make purchases through the links in this post, I may be compensated. Read my Advertising Disclosure for more info. Thanks! ~ Nancy
*Save with a secret promo code on each San Diego Zoo or Safari Park 1-Day Pass. Go any day. Go directly to the gate. Click HERE to get your code, instructions & discounted tickets by email. By clicking the link above you agree to receive an automated email message. Valid only at aRes Travel, San Diego's local authorized ticket seller. Read my full privacy policy.
#1 Shopping at Spanish Village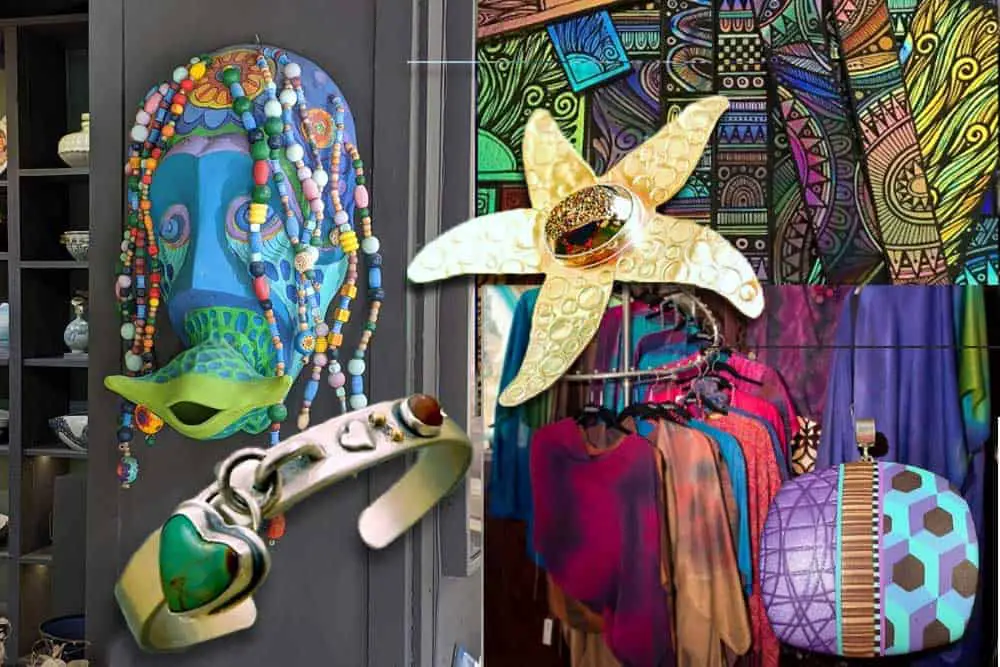 So what makes Spanish Village Art Center a shopper's paradise? First, admission is free. Then…
There's an amazing variety of different types of artwork:
| | | |
| --- | --- | --- |
| Basketry | Batik | Clay |
| Felt | Fiber | Glass |
| Gourd Art | Jewelry | Metalwork |
| Oil Painting | Paper Mache | Papercutting |
| Pen & Ink | Photography | Polymer Clay |
| Watercolor | Weaving | Woodworking & more |
Don't expect much avant-garde "art" here. The artists at Spanish Village specialize in works that you will be proud to take home and treasure for a lifetime, not narcissistic artistic stunts. But that doesn't mean that you won't find fun pieces here!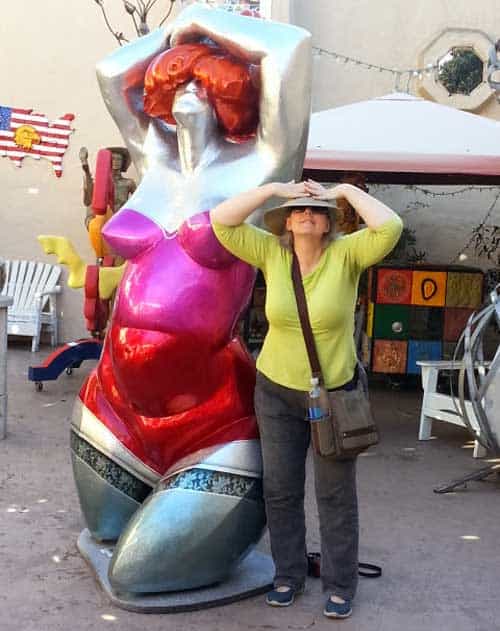 Great Prices! The costs are often surprisingly low for original artwork. The artists can afford to do this because their studio lease costs are well below San Diego's insane rental rates. The city owns the land and the buildings and the studio lease arrangement dates back decades.
All the art is produced by the San Diego artists that work in these shops. No mass-produced tchotchkes from off-shore sweatshops are permitted. The perspiration that goes into these items comes from 100% genuine So-Cal creative juices. Per their charter granted by the City of San Diego, all the shops are required to only sell original artwork. The exception is the Gem & Mineral shop. It's rather hard to "create" a geode or a quartz crystal in less than a few thousand years.
You can meet the artists. Every piece of art in the Village has a story. You can learn about the materials and techniques that were used to make it. And what inspired the artist to create it. Most of the artists will also work with you to design a one-of-a-kind commissioned piece for you or as a gift for someone special. 
You'll Find San Diego Themed Art Here. Why take home a mass-produced souvenir? Buy a one-of-a-kind treasure that reminds you of the wonderful time that you had in San Diego.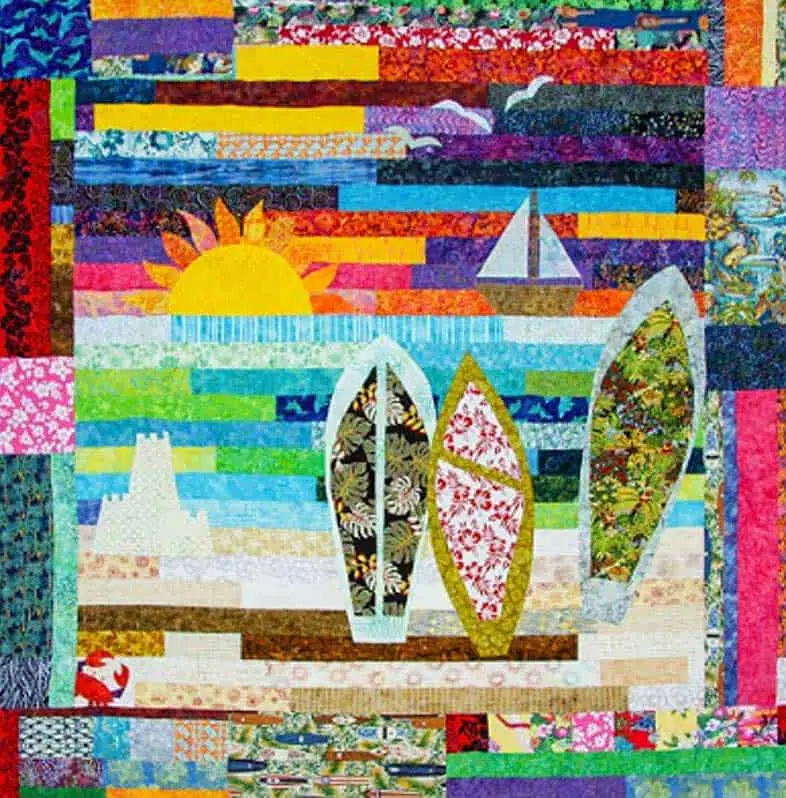 Spanish Village artworks often feature local landmarks and attractions. You'll see paintings inspired by stunning sunsets over Pacific beaches, waves crashing on rocks, back-country flower fields, historic structures and even animals from the San Diego Zoo next door. There's also jewelry, pottery and sculptures which have forms derived from the anatomies of sea life and local plants.
NOTE: The name "Spanish Village" is a bit misleading. Some visitors expect to see Mexican style crafts and tortilla making demonstrations. If you are looking for that type of experience visit Old Town San Diego or one of the San Diego Missions.  Others are offended that there isn't more Hispanic-centric art. If that's what you want to see go to Chicano Park instead to admire the beautiful murals there.This is a fine art colony and the works that you find here have a more universal and eclectic appeal. 
#2 Take a Free Guided Historic Tour of Spanish Village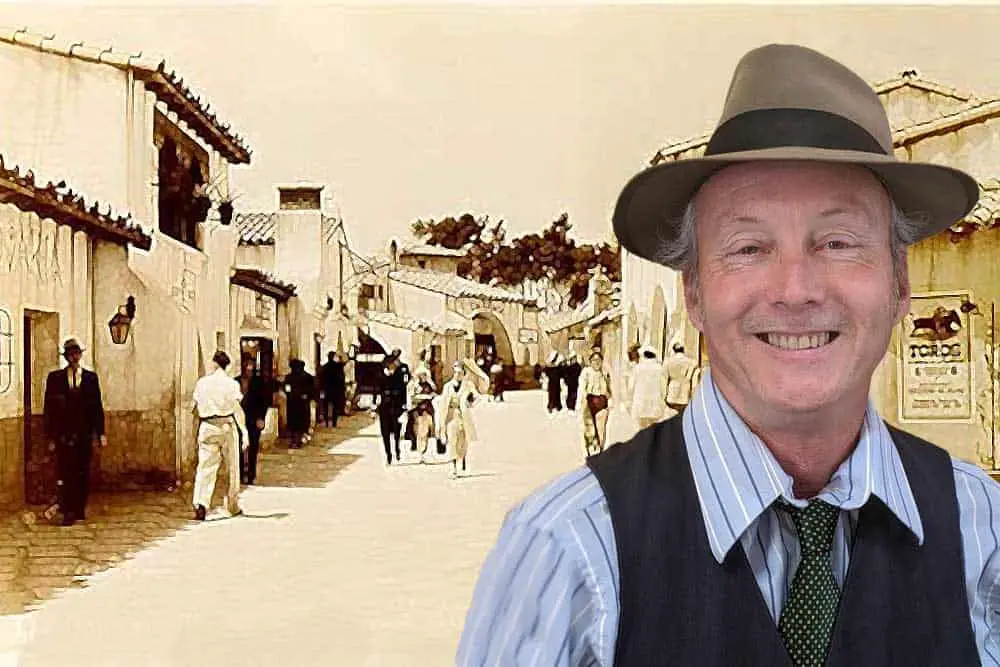 This is the best way to see the Spanish Village Art Center. Jeffrey Iles has been offering tours explaining the history and architecture for many years. You'll be informed and amused by his stories about the quirky personalities and changes to Balboa Park's art colony since it was built in 1935.
Reservations: Call the Spanish Village Office at 619-233-9050 to request an individual or group tour. Or email Jeffrey at ilesjeffrey@yahoo.com.
Don't worry about not being able to recognize him if you've made a tour reservation. He'll be the man with the big smile dressed in a dapper 1940's vintage suit and fedora.
Days Offered: Mondays. Call a couple of weeks in advance if you'd like to arrange for a different day of the week and Jeff will try to accommodate you. 
Tour length: The tours last 1 hour. They are sometimes longer if you ask particularly interesting questions or are an architectural or history buff.
What's on the Tour? Jeff will fill you in on the history of the Spanish Village Art Center and its architecture. What inspired the design. How it was never intended to last this long. That it was mostly a facade, like a movie set, with just a few shops. And how it grew into the thriving artists' community it is today.
On your walk through Spanish Village, you'll be introduced to some of the artists in the different studios. Some of them are descendants of the original founders and they have their own stories to tell. Jeff's tours are fun, informative and a great way to get to know some of the artists.
There are companies that offer paid tours, but Jeff's is free. And even if it wasn't, it would still be the best. Why? He's the husband of Linda Iles, one of the Village artists who does wonderful jewelry & stained glass in Studio 34A. So he's got the inside scoop because all the artists know him.
#3 Watch Balboa Park Glass Blowing or Try it Yourself
Glass-blowers are like the high-wire performers of the art world. It's dangerous—they're working with 2,000°F molten glass! Watching liquid glass being transformed into cups, vases, plates and other vessels is mesmerizing and rather intimidating. Even if you've seen this process on video, hearing the noise of the furnaces and feeling the heat takes the experience to a whole new level. 
Glass blowing takes place in front of Studio 19 Wednesdays thru Sunday afternoons before 4 PM.
If you want to give glass blowing a try, Andy Cohn offers her introductory glass-blowing classes for $250 for a 3-hour class session. They are very popular. She's taking class reservations 6 months or more in advance. Book a class and make some amazing memories with molten glass. Or call 619-338-0441 for more information.
#4 Have Coffee on Spanish Village Plaza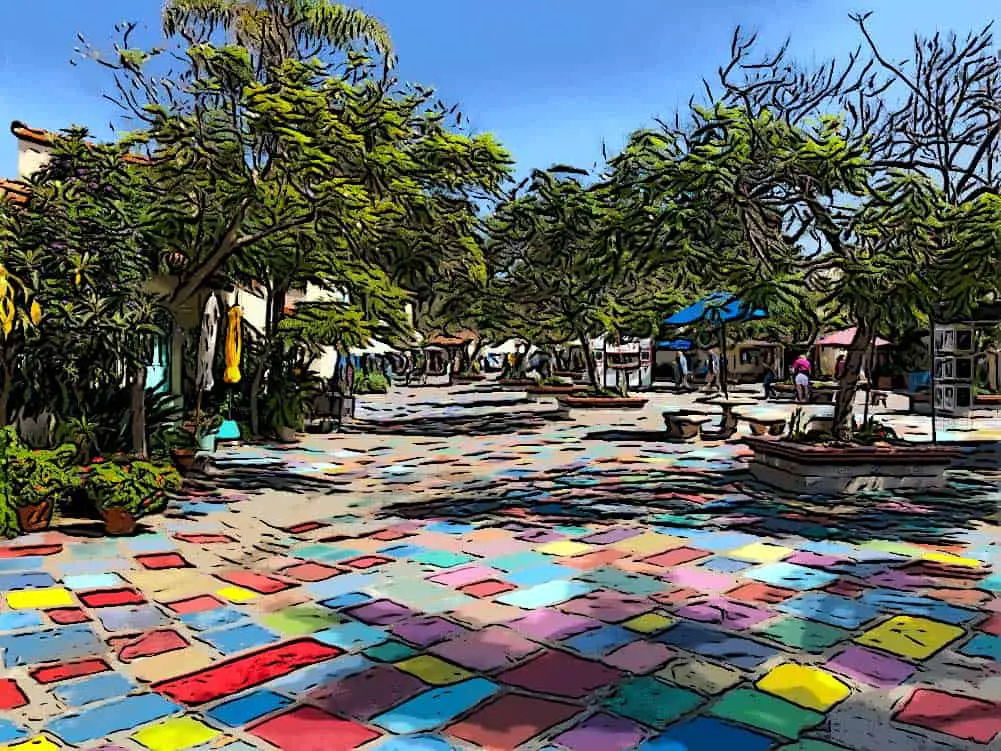 The vividly colored Balboa Park Spanish village plaza is unique in San Diego. Take a break from the hustle and bustle and just relax here amid the cobblestone tiles, shaded benches, and picturesque artist studios. People often spend hours on the patio just enjoying the ambiance. Visitors from Latin America and Europe often tell Jeff how much the space reminds them of the plazas, piazzas, or town squares at home.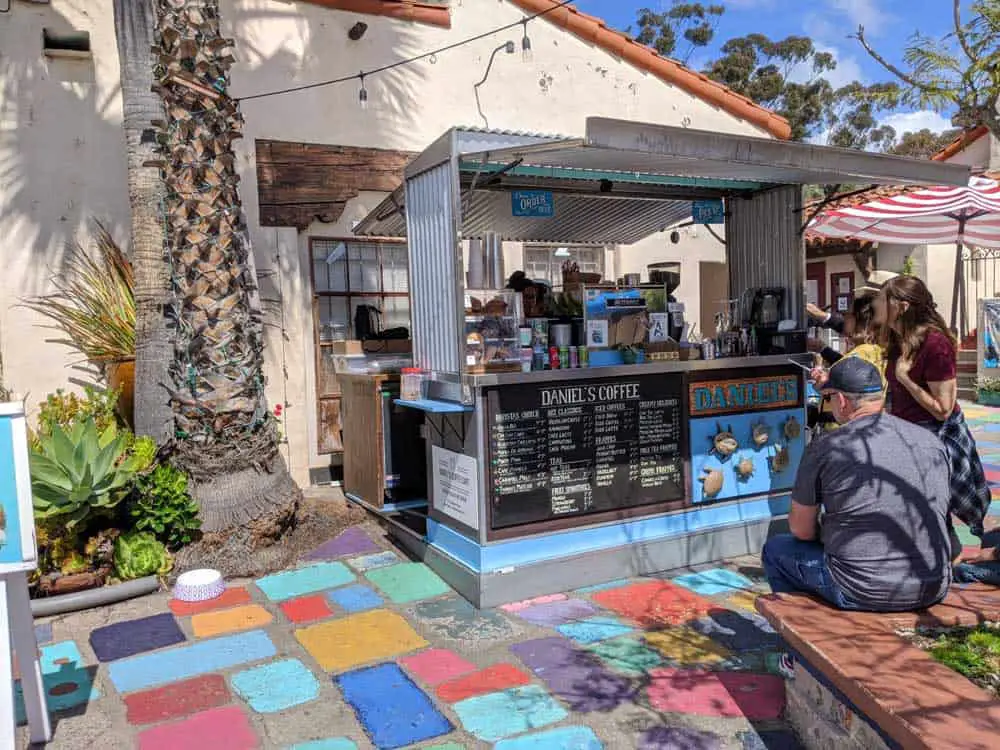 Daniels Coffee in Spanish Village is special. They've got a devoted following of San Diegans who crave their lattes, teas, and pastries. For many of us, a trip to Balboa Park is not complete without a drink and a Daniels sweet. Check the following link to go to my article on more Balboa Park restaurants and eateries.
Adding to the rich atmosphere are musicians that often play guitars or sing in the courtyard. They're most often there on weekends, but you'll hear them on many weekdays as well.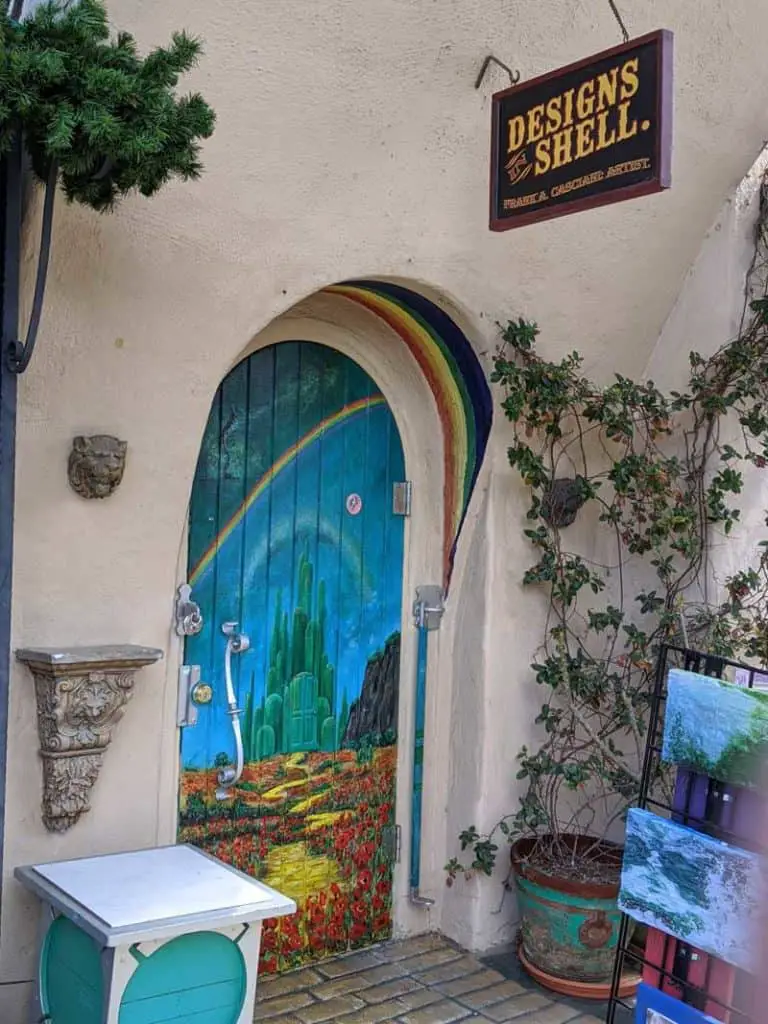 The walkways and plaza are beautiful to photograph day or night. One reason why the plaza is so eye-catching is that the artists are encouraged to personalize the cobblestones and doors in front of their studios and their interior spaces. hcirluycnan. However, they cannot alter the outside structures because of their historical designation, so the walls remain a faded, slightly peeling (in spots) off-white. It all adds to the old-world charm.
The colorful tiles were originally a standard terra-cotta color. They came from buildings that were knocked down in San Diego prior to the 1935 Pacific Exposition. The rubble's been painted by successive generations of artists in this Balboa Park art village. 
#5 Watch Artists at Work
There are 230+ juried local artists sharing 36 historic studios in Balboa Park Spanish Village Art Center. Part of the purpose of Spanish Village is community art outreach. Their lease with the city of San Diego requires that they work on-site creating original handcrafted items and educate the public about different mediums and ways of creating art. Every Spanish Village artist that I've met loves talking about what they do and how and why they do it. 
This page of the Spanish Village website has a listing of artists by art medium and studio number. So whether you're interested in watercolor, weaving, woodworking, pottery, glass forming or almost any other type you can find them easily.
Please ask questions. But be polite about it. You are in their personal workspace. Treat them like you would a friend who has invited you over to cook dinner for you. 
Ask them if it's OK if you interrupt. They might be in the middle of something that requires intense concentration. 
Whatever they're doing, it's not as easy as it looks. If you think that you can create the same thing for less than they are asking, keep that thought to yourself. Feast your eyes. Be inspired. Then go home and get creative. 
#6 Take an Art Class in Spanish Village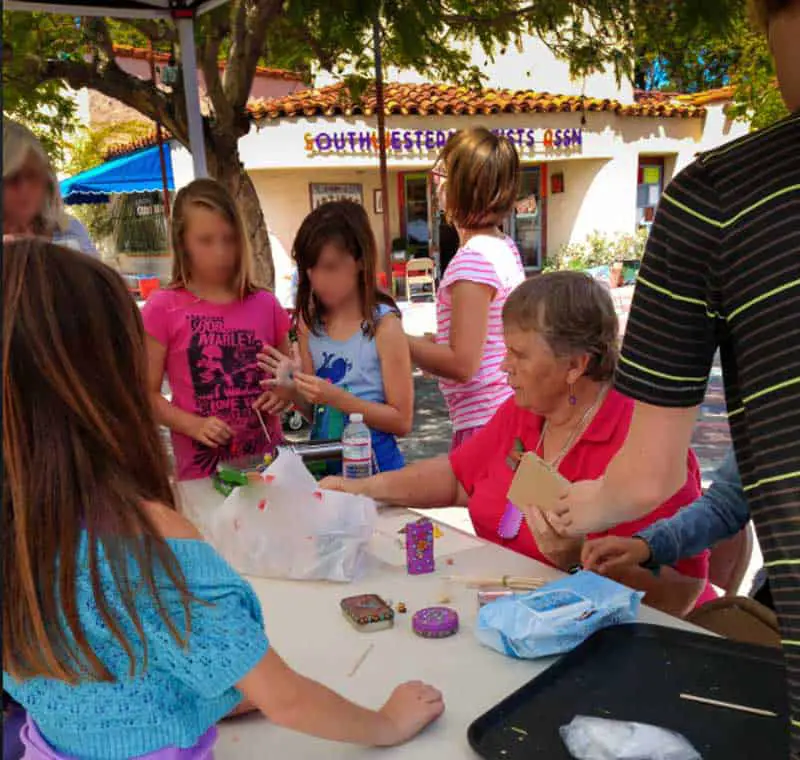 Try something new. The center offers classes for all ages year-round. They even have Summer Art Camps for Children and Adults. Check out the Balboa Park Spanish village art classes offerings here while you're planning your San Diego excursion.  
The last time I checked their list of Balboa Park art classes I found: 
Chinese brush painting
Ceramics including hand building, potters wheel & glazing
Watercolor painting
Polymer clay (a unique colored 3D artists medium that you can cure in your home oven)
Glass blowing, fusing, and stained glass construction
For more classes check the websites for the 6 art guilds that are in residence at Spanish Village:
#7 Visit Gallery 21
This Balboa Park artists' village gallery has new exhibits every two weeks. It's ever-changing space showcases new and internationally known San Diego artists as well as open shows by local artist organizations.
This space is wonderful because you never know what you'll see here. There are no limits as to media, trends or style unlike many galleries that you'll see elsewhere. Come into this space with your mind as open as your eyes and you'll be pleasantly surprised. 
Things to Know Before You Visit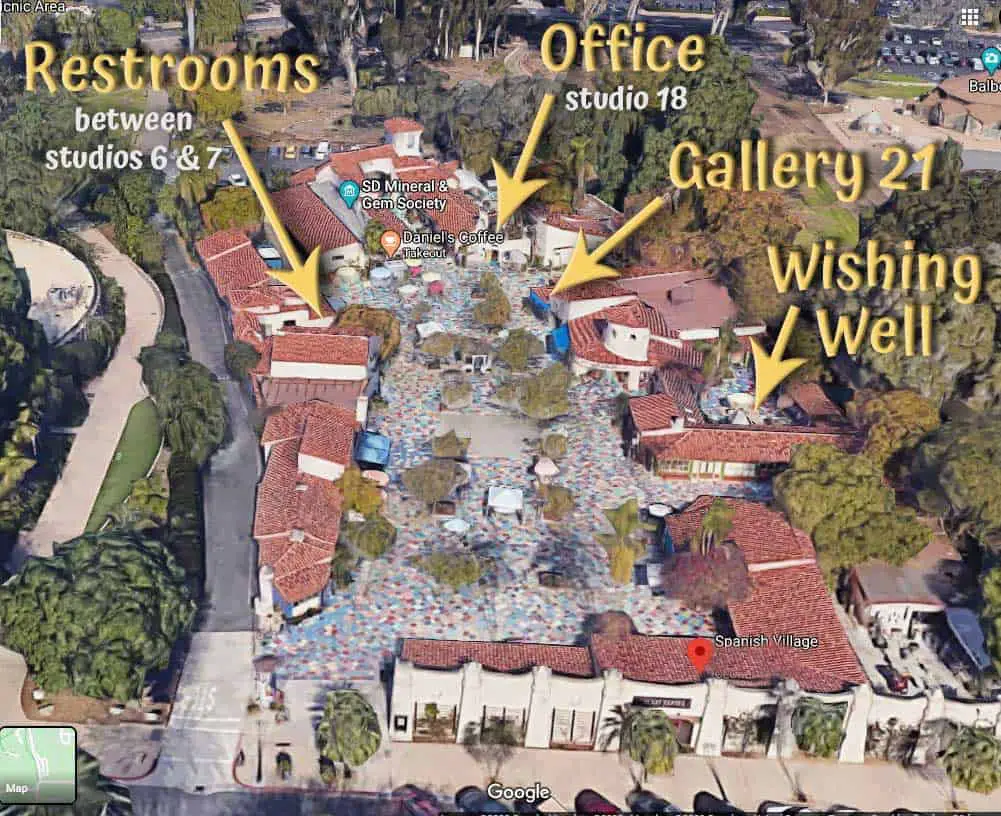 Spanish Village Admission is FREE.
SPANISH VILLAGE ART CENTER HOURS: Think museum hours rather than retail. This artists' enclave is open 11 AM – 4 PM, 7 days a week, 365 days per year. You do not need to book in advance to see Spanish Village Art Center unless you want to take one of Jeff's guided historical tours. 
Spanish Village Office phone#: 619-233-9050. It's in Studio #18.
RESTROOMS: They are located between studio 6 & 7. See the aerial view above. 
SPANISH VILLAGE ART CENTER EVENTS
Check the Spanish Village's website calendar page for specific dates and times.
Spring and Fall Free Patio Shows:
Other free weekend shows are organized by the other 4 artists guilds. Check their websites for more details on the dates and times of these Balboa Park arts and crafts shows.
Halloween Events (usually the Saturday just before Halloween)
Trick-or-treat bag decorating 
Studio trick-or-treating (accompanied by a responsible adult)
Doggie Costume Contest & Parade
What Other Attractions are near the Spanish Village Art Center?
All of the following are located within a third of a mile of the Village. The routes are level and accessible. Parking is close and plentiful. And there's a bus stop for the #7 and #215 downtown routes very close on Park Blvd (see the San Diego Metropolitan Transit Services map PDF)
One Last Thing To Do…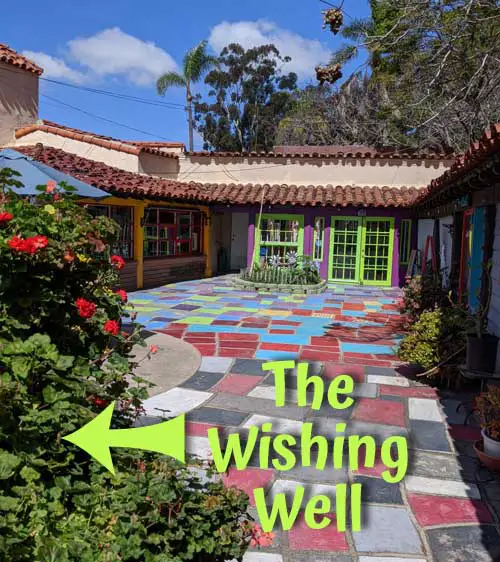 Before you leave Spanish Village Art Center make a wish at the Wishing Well garden. Go into the patio where studios 24 through 27 are located. The well is marked on the aerial photo of Spanish Village above. You'll see the old well to your right.
No need to throw a coin into it. In fact, you can't. It's been filled in and made into a beautiful, petite container garden. But it still has the 85-year-old metal pulley assembly. 
Just stand in front of the colorful well garden, take a selfie, and make a wish. Even if you don't get your heart's desire, you'll have great memories of Spanish Village Art Center that will last a lifetime.