Free, cheap, and The Del are not words that are usually connected. But I'm going to show you 19 ways to have a good time at one of San Diego's best resorts without going broke.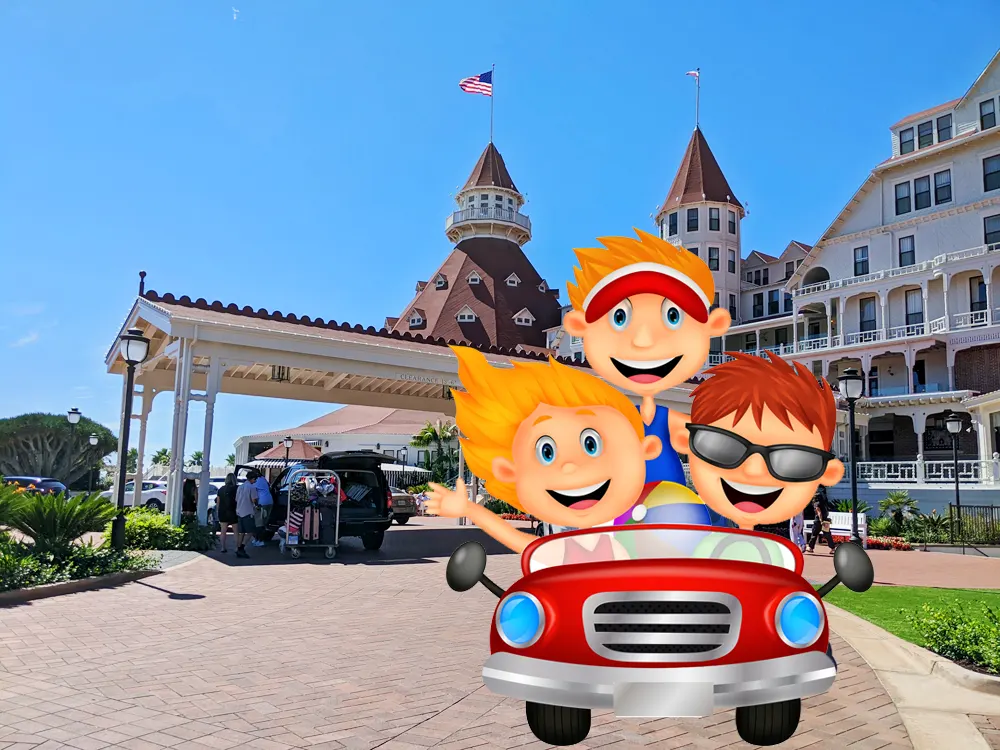 11 Things to Do For Free at Hotel del Coronado
Here are eleven activities to enjoy for free at The Del. Most are available daily. Read through them all and mark your calendar for seasonal events. 
Enjoy Coronado Beach
Coronado Beach is consistently rated as being one of the top beaches in the United States on TripAdvisor.  I've found that it's not usually crowded. There's plenty of parking both paid and free. It's a great beach for swimming, grabbing a snack, or just lazing around on the glittering white sand. 
You can also rent sand chairs, umbrellas, and all types of water sports gear from wetsuits to surfboards from the hotel, even if you aren't staying there. Check their website HERE for prices and seasonal availability.
What to bring to Coronado Beach? 
Towels
Sunscreen
Water
Bathing suit cover-ups
Shoes or scandals
Beach Toys
Chairs and Umbrellas are available for rent
You can use the bathrooms on the hotel's beach level if you're not a paying guest. However, you'll need to wear resort attire inside the hotel which means a bathing suit cover-up and shoes. There are small foot washing stations by the beach.
Smoking or vaping is not allowed on Coronado Beach. California law "prohibits smoking and vaping tobacco and marijuana in most areas of California state parks and beaches and the disposal of cigars and cigarettes in a State park or beach unless it is into an appropriate waste receptacle. Violators can be fined up to $25." 
The Del's property portion of Coronado Beach is the only place in San Diego where you can drink on the beach. Alcohol is no longer allowed on any of the public parts of San Diego beaches, including Coronado and South beaches. Order adult beverages from Beach & Taco Shack and enjoy your refreshments on their beachside patio and the portion of the beach that belongs to the hotel. 
Is it safe to swim at Coronado beach? Most of the time. But sometimes storm runoff or spillage from a Tijuana sewage plant pollutes the water. Check Coronado Beach water quality at http://www.sdbeachinfo.com/ . This website is run by San Diego county and features an interactive map with hazard markers for the county's beaches. 
Build a Sand Castle at Hotel del Coronado
The golden sand on Coronado Beach in front of The Del is perfect for creating epic sculptures. It's fine enough to pack tightly when slightly damp which makes it ideal for carving and shaping. This is an activity that the entire family will enjoy.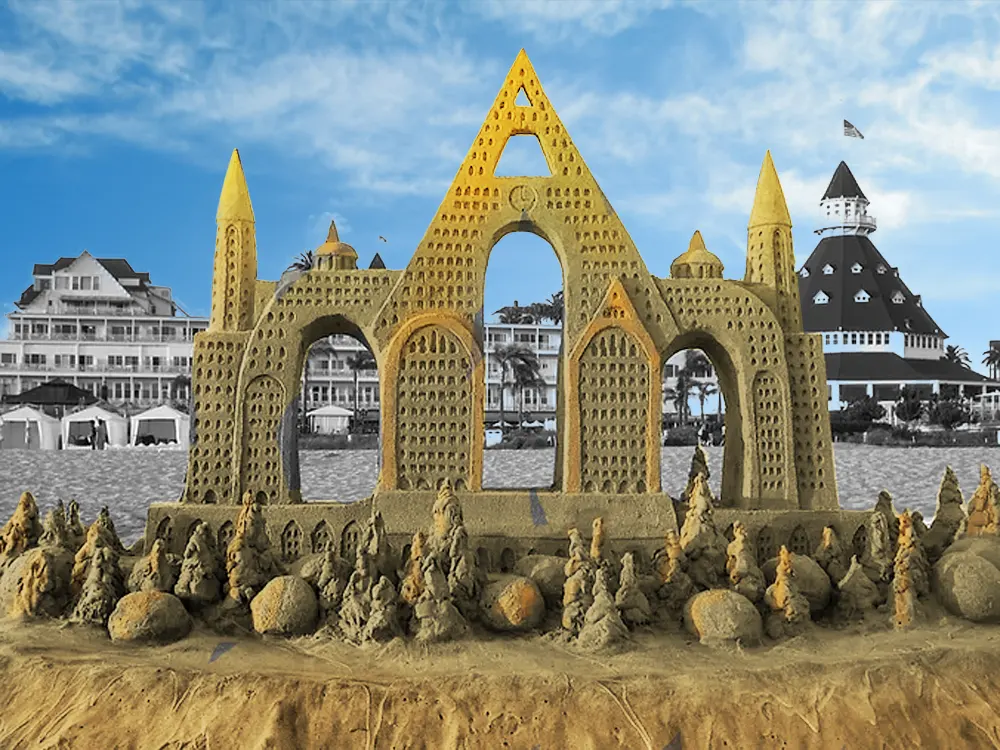 You don't need a lot of fancy equipment. Here are the basic tools you'll need to form your fantastic fortress:
A small sand shovel (plastic is ok)
A larger plastic or metal shovel
A drinking straw or two. Stainless steel ones are great.
Ice cream scoop or melon baller
Frosting spatula or palette knife
Wooden-handled paintbrush
1-gallon buckets 
There are 4 steps to building a super sand structure. You can watch this video by Andy Hancock of SandcastleLessons.com to get started.
Use plenty of water to saturate the sand that you'll be using. Sloppy sand is good.
Build pyramid style. Broad at the bottom. Narrow at the top.
Give the sand time to drain before you start carving. Soupy sand will not hold a shape. Wait at least 5 minutes.
Carve and shape from the top down. 
If you don't feel like making your own sand castle you can always watch the Sandcastle Man at work. Bill Pavlacka is a professional sand sculptor who specializes in artwork for weddings, celebrations, and corporate events. He also gives lessons. Check out his portfolio and classes HERE. 
Hunt for Sea Shells on Coronado Beach
I've found plenty of shells and sand dollars on the beach in front of Hotel del Coronado. The best time to search is during low tides, otherwise, pickings can be slim. Find the best times by looking HERE. Don't worry that the page says it's for Point Loma. That's the closest official measuring station to The Del.
Make sure that the shells that you collect are empty. If there's something living in there, put the whole thing back into the environment. Otherwise, the animal will die in the shell and start decomposing on your way home. Within days the smell will be sinus-stingingly putrid (don't ask how I know…). Empty shells smell clean. 
You can identify the shells that you find using "A Guide to San Diego Sea Shells" by Nancy Lee (the link goes to Amazon). She's a local watercolor artist and the book is both charming and informative.
Go Tidepooling
Visit the tidepools If you're looking for something different at the Hotel del Coronado. There are alien-looking lifeforms living right at your feet in these low-tide attractions. These pools are among the most kid-friendly in all San Diego.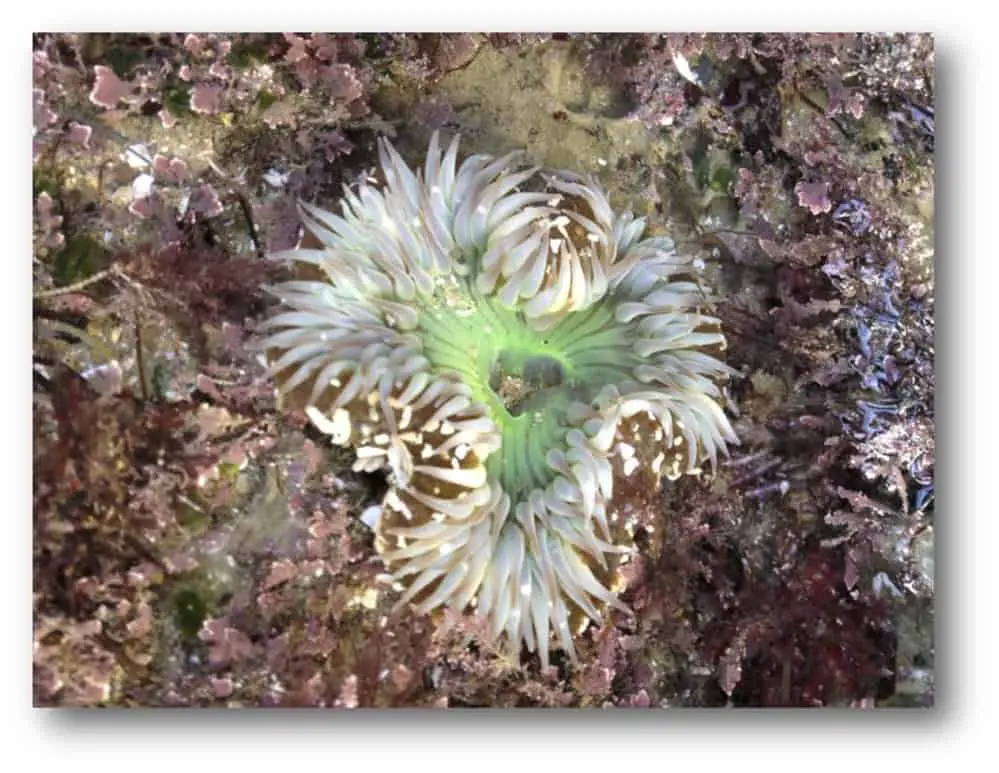 The best time to visit tidepools is when the water is at its lowest levels. This typically happens once a month at the new moon. Negative water level numbers are best. If the water's too high the depressions in the rocks where the aquatic creatures live will not be visible.  Here's today's tide chart:
src="https://www.tidespro.com/scripts/f2fc016e944d43ae8d7d43a7f8031e84/tidechart/us/california/point-loma">
The best tidepooling months are from November thru March. That's because the lowest tides occur during the day instead of at night in these months. To find a good date and time click this pick my day link. It goes to TidesPro.com. Don't worry that the page says Point Loma. That's the closest official measuring point to The Del. Enter the date after clicking the PICK icon. See the screenshot below.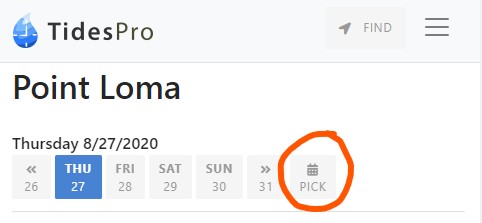 Bring your camera or cellphone for great pics. For the very best photos, you'll want to be there during the hour before sunset. This 'golden hour' bathes everything in warm light accented with strong contrasting shadows. 
Explore a Shipwreck
Climb on the wreck of the SS Monte Carlo. It's a 300-foot mob-owned gambling ship that sank in 1937. The hulk's exposed off Coronado Beach during extremely low tides. It's located just south of Avd De Las Arenas in the ocean across from the Coronado Shores Condominiums.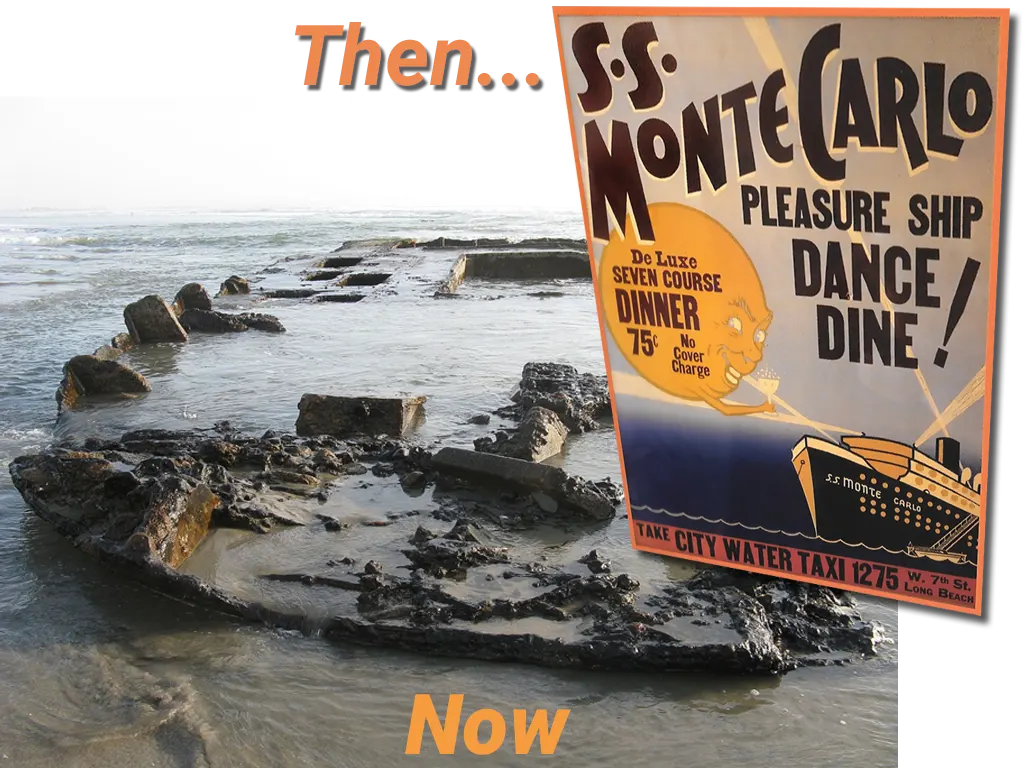 The only time to see it is during a supermoon when the moon is closest to the earth during a full or new moon. Here's a chart that lists all of the Supermoon dates from 2021-2027.  More of the structure is revealed if there's been a recent storm. 
People are lured here because of persistent rumors of gold and coins that went down with the ship. It also has a racy reputation because it was known to host prostitutes. The SS Monte Carlo was advertised in the 1936 San Diego Union Tribute as the best place to enjoy, "Dining, Dancing and Dames."
If you do get aboard, be careful. Make sure that you wear shoes or rock climbing sandals. This is a rusting metal hull and it may be fragile in spots. There's exposed rebar. Keep alert for random large waves that can cause you to lose your footing. Finally, go with a buddy, because shipwrecks can be dangerous.
Visit the Ice House Museum at Hotel del Coronado
The free Ice House Museum is packed full of fascinating artifacts and photographs from more than 100 years at The Del. And it's the only place in San Diego where you can get a selfie with Marilyn Monroe.
I was fascinated by the craftsmanship of the early communications equipment.  They have a 1910 switchboard, a telegraph from the late 1800s, and a 1914 Burroughs adding machine that initially sold for $225. It was quite an expensive piece of equipment at that time. The average annual wage that year was $750. 
A couple of other items also caught my eye. They had the hotel's guest register from their opening in 1888. I was struck by how artistic and elaborate the guest's signatures were. Only professional calligraphers write like that anymore. 
There was also a gold-embossed bone china place setting made especially for the hotel's centennial celebration in 1988. It had 17 different pieces for each person to keep track of, including the napkin. That includes 3 different types of forks and four different glasses. That level of formality at mealtimes must have been exhausting. An In-And-Out burger in a paper wrapper is much less stressful.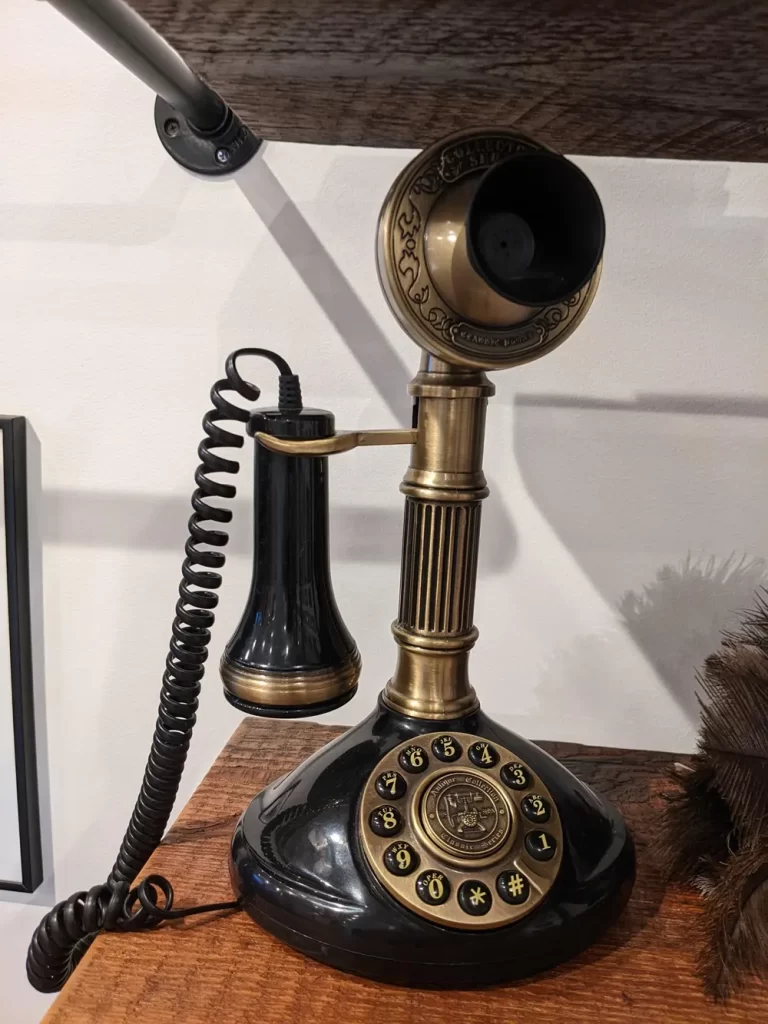 Not everything in the museum's authentic. I fell in love with a Roman Column 1897 Candlestick rotary telephone in a display case. I was later shocked to discover that I could buy it on Amazon because it was a replica. However, don't let one reproduction keep you from having fun exploring the Ice House. 
Ride the Birdcage Elevator
It's fun to ride the elaborate 1888 Otis birdcage elevator and see the structural features of the hotel fly by you as you rise 5 floors. Little boys especially like seeing the cables and the large motors that drive the elevator in the lowest (Tunnel) level.
This restored and renovated elevator is an example of gilded-age extravagance and is a perfect accent for the dark wood of the Hotel del Coronado's lobby. It's called the birdcage elevator because the walls are not solid but are made up of brass grillwork in a floral pattern.
Up until 2020, this was one of the only elevators in San Diego that still had an operator. As part of the hotel's 2020 – 2022 renovation, the manual operator's panel was replaced by an automatic system and the metal grill doors were replaced by glass ones. 
Die-hard elevator enthusiasts were disappointed at the modernization. But I appreciate how smoothly it runs now and how much safer it feels. It's still fun to see the staircases and floors flow by through the grates when you're in it. 
Go Ghost Hunting
Ghosts have been spotted throughout the older Victorian sections of the hotel as well as on the beach. Haunted spots include the lobby at night, the basement where the old pharmacy used to be, the fourth and fifth-floor hallways as well as several different guest rooms.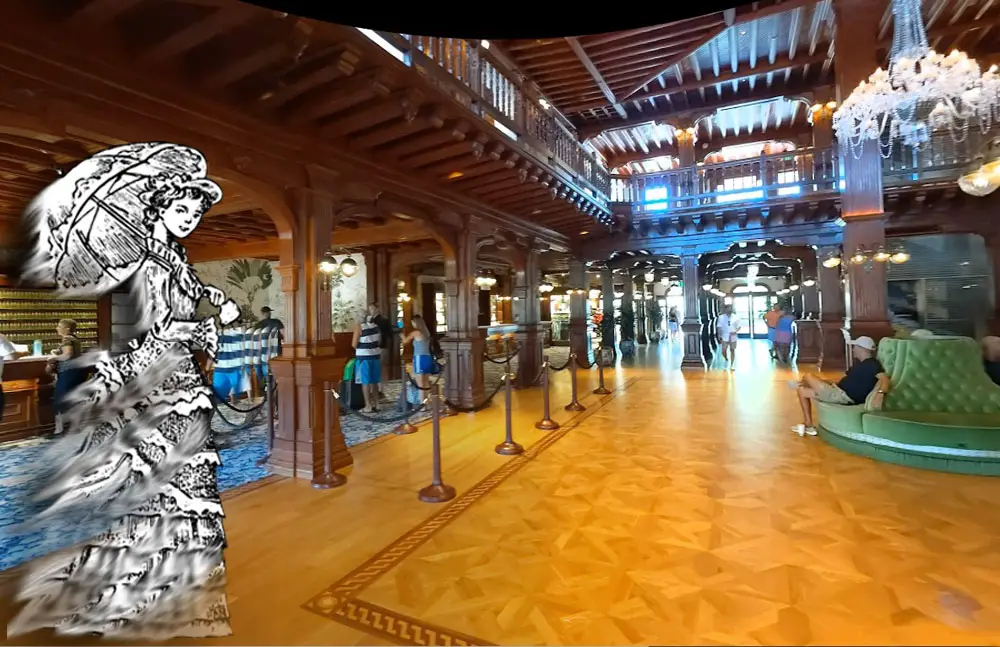 Spooky sightings at Hotel del Coronado are common enough that their Heritage Department wrote an official guidebook. "Beautiful Stranger: The Ghost Of Kate Morgan And The Hotel Del Coronado" chronicles the tragic story of Kate Morgan, other local specters, and those who have crossed paths with them. 
Paranormal activity is not limited by season. But there are special activities and ghost tours during October and November. See my article on Halloween at The Del for more details. 
If you do have a spectral encounter, don't be embarrassed to report it. Very credible people have witnessed unexplained phenomena here. A member of the Secret Service staying at The Del had an eerie experience that was unsettling enough to make him change rooms. Your story will be added to their historical official records with barely a raised eyebrow and add to the mystique of this San Diego landmark.
Listen to Live Music at Hotel del Coronado
There are musicians playing daily in several places throughout The Del. You can listen to outdoor live music from 3:00 – 6:00 PM every day at Beach + Taco Shack. And from Thursday thru Saturday  6:00 – 10:00 PM, you'll hear tunes played by local musicians at Babcock & Story Bar
There's also plenty of live music throughout the hotel during the Christmas holiday season. And that period officially starts on Community Day.
Enjoy Holiday Festival 'Community Day' Concerts 
The Hotel del Coronado Holiday Festival or Community Day takes place on Wednesday during the first week of December. This year it's on December 7th and features many free performances, an over-the-top Santa arrival, and ends with fireworks. 
Click on the following link to read my in-depth article on Hotel Del's Christmas and holiday season activities.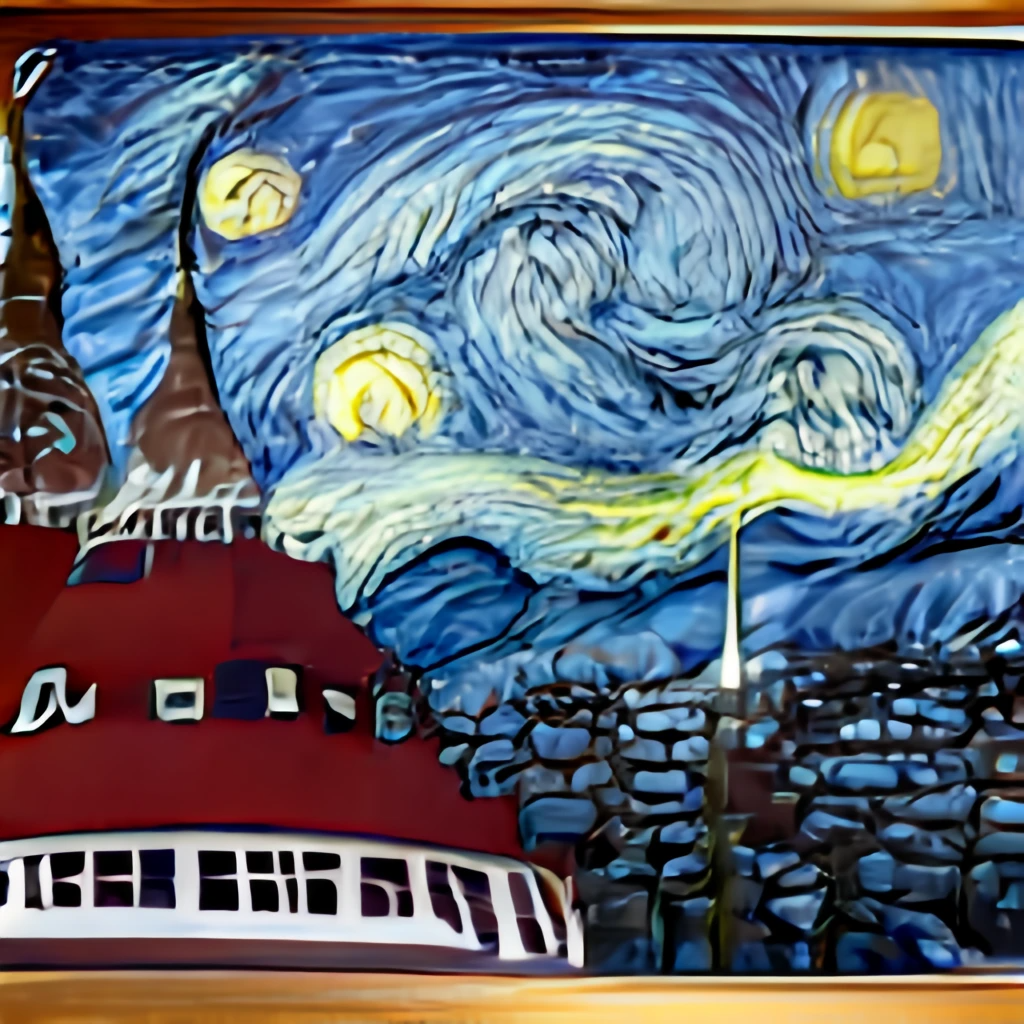 Starting in the mid-afternoon there's a full slate of concerts presented by local schoolkids and other groups. The Coronado youth will be singing their favorite songs and spreading holiday joy. You can also watch ice skaters glide on San Diego's only beachside rink (skating requires a reservation and a fee – see HERE). 
Free Santa Photo at Hotel del Coronado
On Community Day photos with Santa are free to the public. On any other day, photos with Santa at The Del require a paid reservation. You'll need to get a Santa Express Pass instead. 
Arrive early (before 3:00 PM) to the Holiday Festival. Check HERE for the day's schedule and the time for Santa's arrival which is usually posted in mid-September. First, go to Del Beach which is a 3-minute walk from the parking elevators. Look for Santa's tent. Once you're there, ask an employee (or elf) for a Santa Express Pass. 
8 Cheap Activities at The Del (for $30 or Less)
Here are eight activities you can enjoy at Hotel del Coronado for under $30 per person. You don't have to be a guest to participate in these activities. But for many of them, you will need reservations. Read on for more details.
Rent a Bike and Ride Around Coronado Island
Beach bicycle cruisers are available from the Activity Cove next to The Views at Hotel Del. Hours are daily from 10 AM to 4 PM from May through September. Check HERE for rates which vary by season.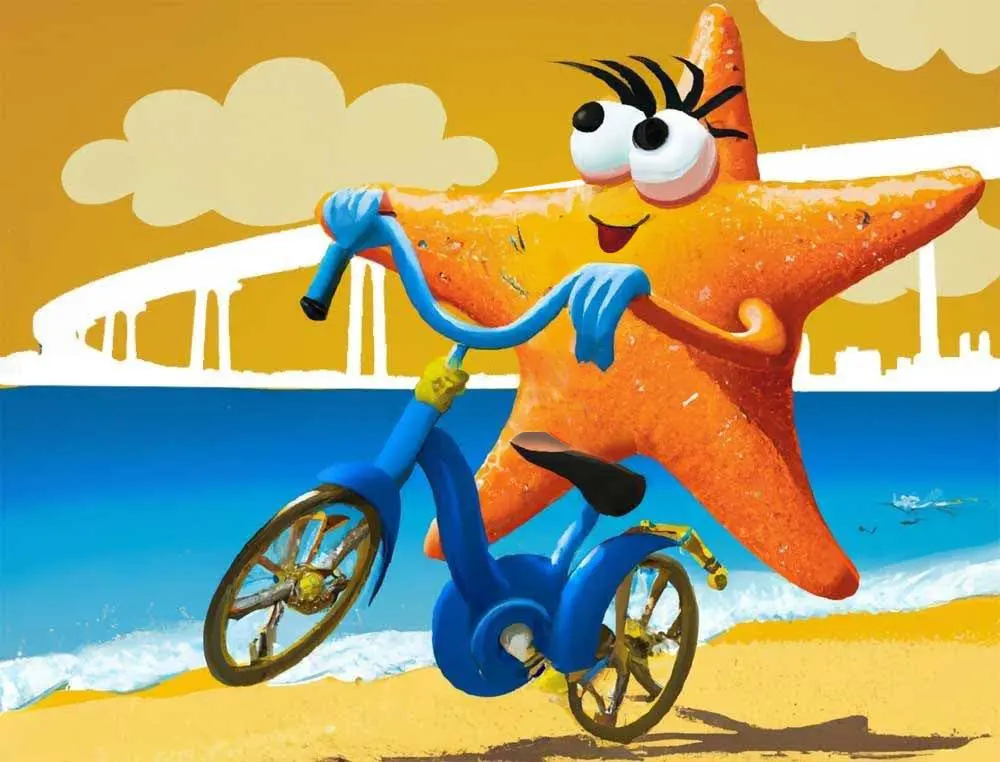 Check out Little Sam's Island & Beach Fun for an alternate bike rental resource.  It's just north of The Del across Orange Avenue. You'll see it off Orange in a storefront located on the first floor of the El Cordova Hotel. Look for the blue-tiled Spanish fountain off the street. Phone: 619-435-4068
Coronado is very bike friendly. There aren't any challenging hills. You'll find the most restaurants and shops along Orange Avenue and the bayside near the  Coronado Ferry Center. The paths along Ocean Blvd and Coronado Beach are the shortest and easiest. 
Take the path south along the Silver Strand to Imperial Beach for a longer and more physically challenging ride. Keep an eye out for Seals. They often run on the beach as part of their training.
You can also explore downtown San Diego and Seaside Village. Take a 9-minute ride north on Orange to the ferry landing and ride the boat across the bay. 
Self-Guided Audio Tour 
Explore Hotel del Coronado via this audio guide through reenactments of guest and staff experiences during the last 100+ years. The tour's based on oral histories, official hotel records, and original letters. 
The tour usually takes 60 minutes and costs $25 per person. You can pick it up at the Ice House Museum.
Haunted Happenings Tour
This guided tour at Hotel del Coronado explores the mysteries of why Kate Morgan died there in 1892. It also reveals some of her secrets that could explain why she still wanders the halls. You'll also hear about and visit some of the most haunted areas of the hotel where people have encountered Kate and numerous other specters. 
The Haunted Happenings Tour takes 60 minutes and costs $30 per person. Sorry, this is only for those 12+ years old. 
If you're interested in more ghostly tours plus many other spooky activities see my article on Halloween at the Hotel Del Coronado. 
Halloween Pumpkin Carving
Get the entire family together and carve Halloween Pumpkins at The Del. You'll get everything you need to cut and scoop out your jack-o'-lantern. I've included helpful tips on how to make the most of this event on my Hotel Del Halloween page.  
Pumpkins are $25 each. Reserve them HERE.
Beach Yoga at Hotel del Coronado
Do a Sun Salutation or Downward Dog on the sparkling golden sands of Coronado Beach in front of The Del. Experienced teachers guide you through a relaxing flow of exercises to greater strength and inner peace.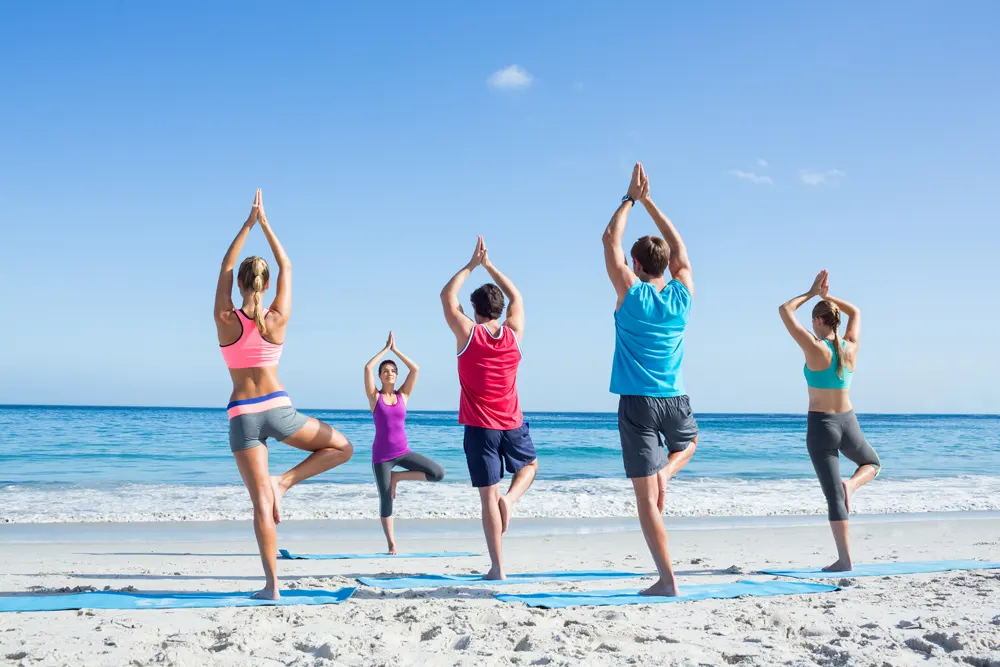 Wed, Sat & Sun at 10 AM – $25 per person. Free for hotel guests. You must have a reservation. Make one HERE. Sign in at the Member Platform on Del Beach at least 10 minutes before class. I've found that it takes less than 3 minutes to go from the parking elevators to the check-in area. Easy. 
Watch Movies on the Beach at Hotel del Coronado
The Del hosts seasonally popular movies on the beach all year long. Recent features include Hocus Pocus for Halloween and Home Alone for the Christmas season. You will be provided a relaxing Del Beach sand chair. Food and drinks are available at Eno Market & Pizzeria and the Sun Deck. Unfortunately, you cannot bring your own food or beverages.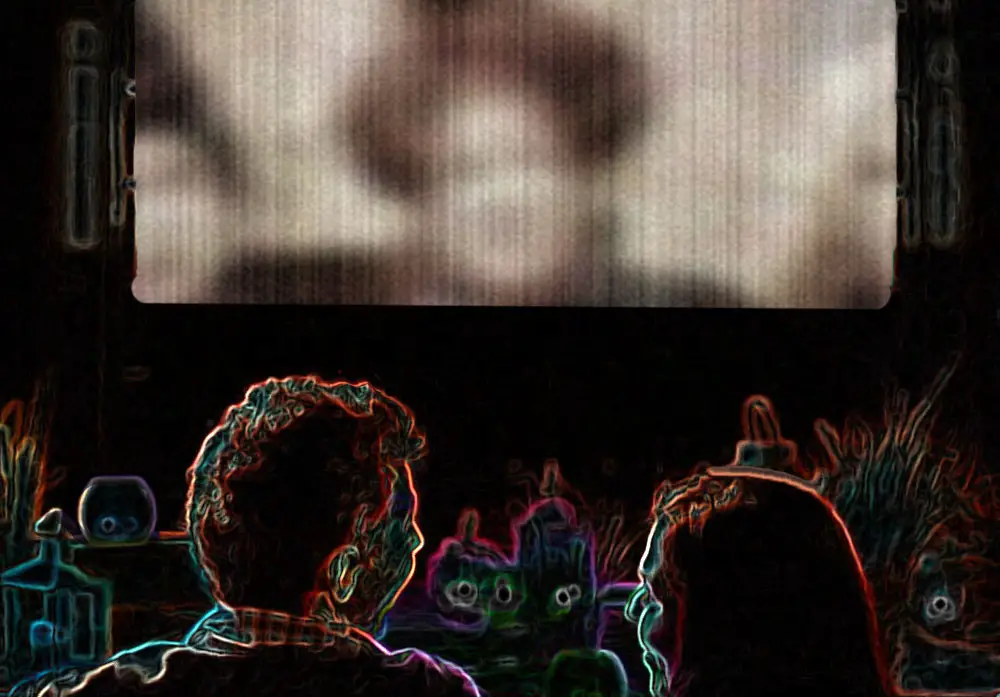 $25 per person fee. You must reserve a spot in advance so they know how many chairs to have available. See their movies page for their schedule and reservations. There's also an upgraded VIP Family Movie package for 4 people that includes a beach bonfire, s'mores, two beach chairs, and a daybed. Check this option out on the movie page.
Visit Sundaes For Delectable Deserts
Sundaes at the Hotel del Coronado is a bright, cute shop that specializes in gourmet gelato, sundaes, sorbets, customized dipped ice cream, and paletas. The long glass cases display a rainbow of colorful frozen goodness. There are so many choices that it's hard to make up your mind. And you'll definitely spend less than $30 per person!
Check their Sundaes web page for a complete menu.
Unfortunately, they don't give out samples. But I understand why. If they did, the lines would be out to the ocean instead of only out the door.  So be adventurous and just pick something. The chances are excellent that you'll enjoy it.
I love the Lemon Paletas here. Just the right amount of punch in the popsicle juice. The counter server  suggested that I take mine covered with a condensed milk drizzle. I know that combination sounds weird, but it was perfect for a hot day.
One downside is that there are no seats or tables inside the shop where you can enjoy your frozen treats. I suggest that you take your desserts upstairs to the front porch. You'll find comfortable whicker chairs there to relax on. Or take that sweetness out to the boardwalk at the beach. There's a planter wall there that you can sit on that has a beautiful view of the ocean. 
Enjoy Sun Deck at The Del for Sunset Dining
Dinner at Sun Deck restaurant in Hotel del Coronado is a perfect way to end your inexpensive getaway. Enjoy a glorious sunset view over the Pacific Ocean while savoring locally inspired California dishes. 
Most Sun Deck entrees are priced below $30 (see their menu). They've got everything from burgers to octopus. If you're looking for something tasty to share, try the Loaded Hoisin Fries. It's got Asian-style barbeque chicken, a zesty chili aioli, cilantro, cabbage, and freshly pickled cucumbers. It's a bit messy but tasty for two. They also have a good selection of cocktails, wine, and locally brewed beers. 
Make sure that you bring a sweater or cover-up if you're planning on eating after dark. The wind often picks up at sunset and it can get chilly here.
Final thoughts
I hope that I've convinced you that you don't have to be wealthy to enjoy a day at The Del. Now get going to the Hotel del Coronado and enjoy all the free and inexpensive things that you can do there.