Why do Halloween at Hotel del Coronado? Staying in haunted rooms, carving pumpkins, taking ghost tours, beach bonfires, and riding the birdcage elevator are just some of the uncommon activities that are available at this San Diego landmark. It's spooktacular all October!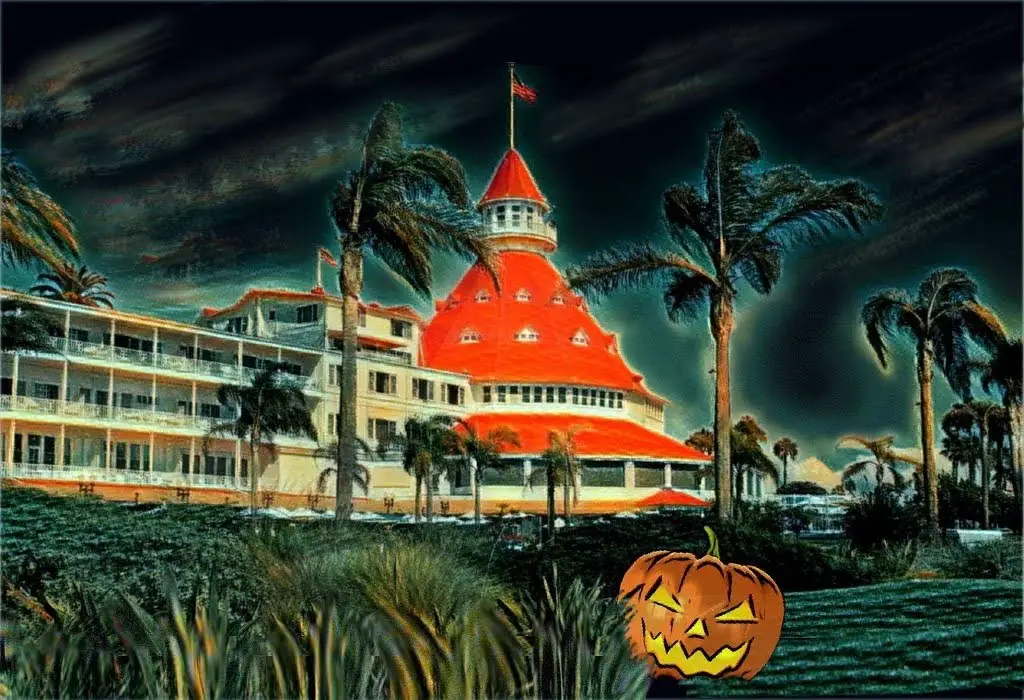 Read on for tips on enjoying the most popular Halloween Hotel Del activities. I've included prices, dates, times, and advice on which activities to do first if you're planning to spend a day. Here's a chart of the Halloween activities and events to get you started.
If you make purchases through the links in this post, I may be compensated. Read my Advertising Disclosure for more info. Thanks! ~ Nancy
HOTEL DEL HALLOWEEN ACTIVITIES
DAYS
COST
Stay in a haunted room
Any day
Special Rates & Packages HERE
Ride the 'Birdcage' Elevator
Any day
FREE
Eat Halloween Treats
October
See restaurant menus
Pumpkin Carving
Oct. 15, 22, 29, & 30th
$25 per pumpkin
Ghost Roast Beach Bonfires
Oct 1 – 31
$195 per firepit
Haunted Happenings Tour
Oct thru Dec
$30 per person
Paranormal Tour
Oct 21
$75 per person
Room 502 Tour
Oct 15 and 29
$75 per person
Beautiful Stranger Anniversary Tour
Nov 24
$75 per person
Halloween Movies on the Beach
Oct. 22 & 29
$25 per person
If you're serious about having a supernatural Allhallows Eve you'll want to check in for a night…or two.
#1  Sleep in a Haunted Room at The Del
There are many rooms in the older Victorian section of Hotel del Coronado that you can share with resident spooks. But you don't necessarily have to stay in any particular room to experience the supernatural. Specters have also been spotted in the lobby, halls, basement, and outside on the beach as well.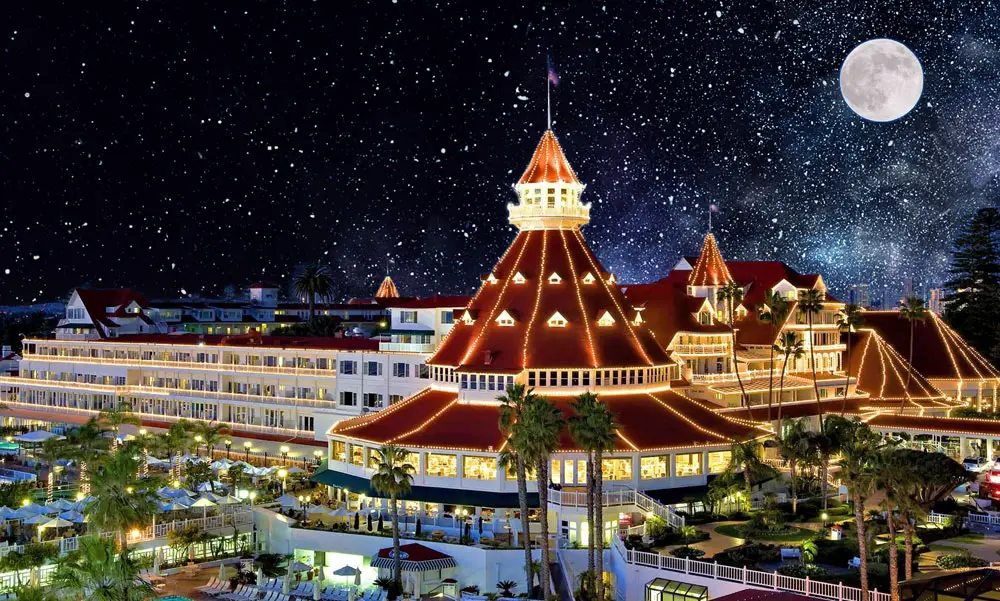 Click HERE for special room and package deals for SanDiegoing readers at Hotel del Coronado
They're active all year long, not just at Halloween. In fact, the staff saves a spot for Kate Morgan during the Christmas Eve dinner, one of many holiday season events at the Hotel Del.
A detailed list of locations where eerie things have happened is kept by the hotel's historian. The record is always being added to as guests, employees, and others continue to report mysterious occurrences throughout the hotel.
The 4 Most Haunted Rooms in Hotel del Coronado
The spookiest rooms in The Del are #3327, 3519, 3517, and 3284. However, those are not the current numbers. As a courtesy to the hotel's guests staying in those rooms, I'm using the numbers given in "Beautiful Stranger: The Ghost Of Kate Morgan And The Hotel Del Coronado" by the Hotel Del Coronado's Heritage Department.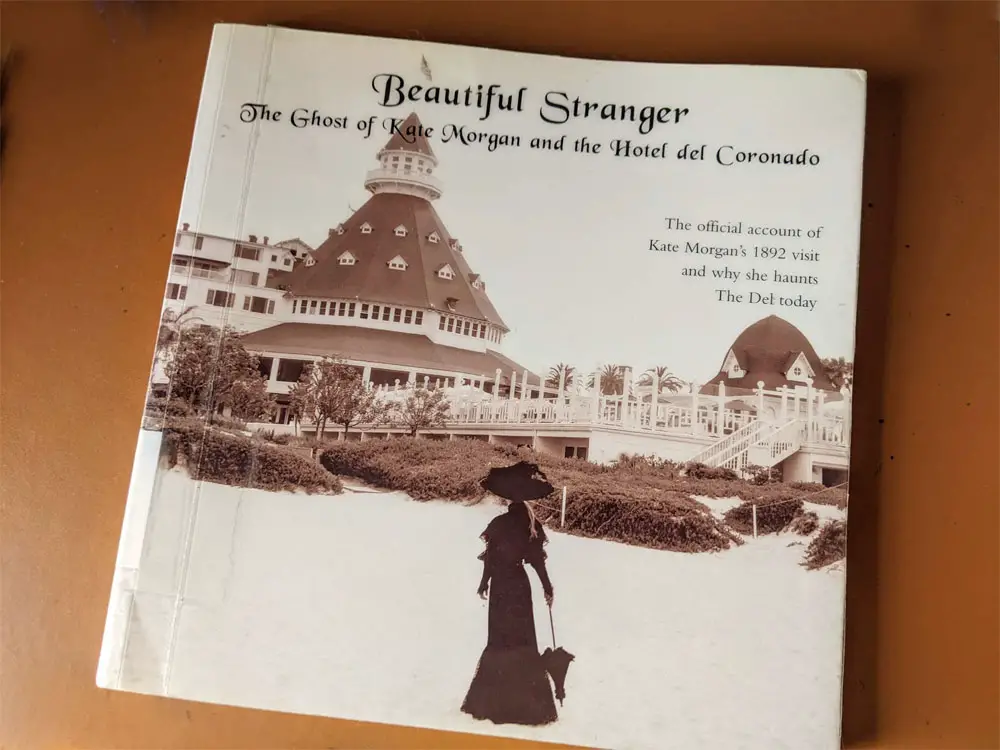 Please don't be rude and knock on strangers' doors asking for private tours. Guests in those notorious rooms deserve their sleep (as much as the ghosts will allow). If you want to take a haunted room tour I've described three of them HERE.
With the information in this article, you'll find it easy to describe where you'd like to stay to anyone taking your room reservation.
Room 3327 is said to be the home of Kate Morgan's spirit. This is the most infamous guest room at the Hotel del Coronado. It's also the most requested room at The Del. You may see it referred to on the internet by two other numbers, 3312, and 3327.
Kate Morgan checked into this room under an alias on Thanksgiving Day 1892. On November 29th she was found dead with a bullet to her head on an outside staircase leading to the beach. She still haunts various parts of the hotel and the shoreline. 
Perhaps she's still looking for a lover who never showed up, leaving her alone and in despair. There were rumors that she had been pregnant, but the coroner said no.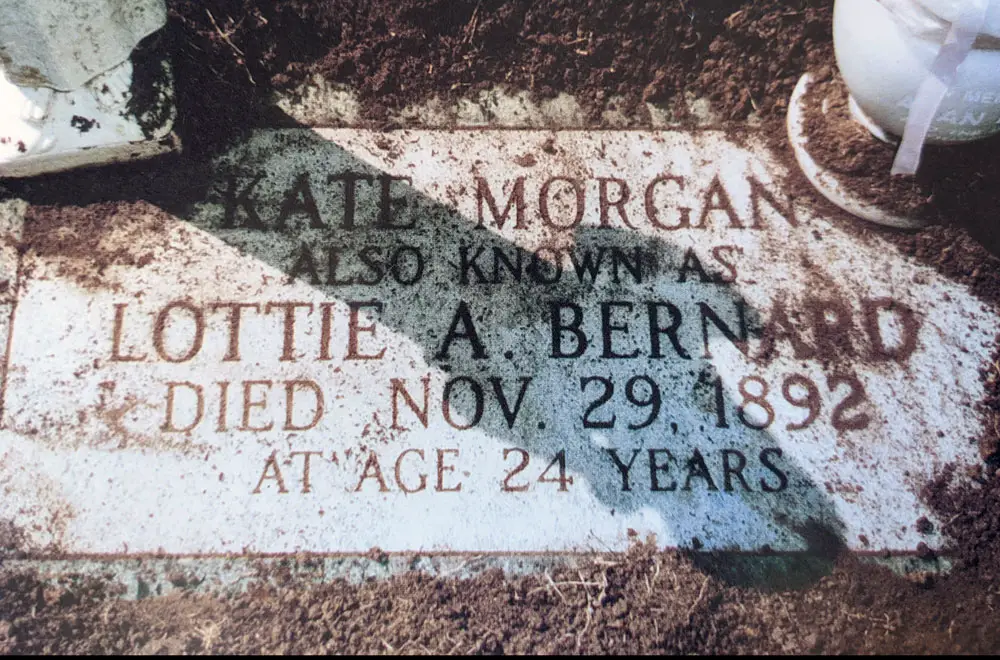 Numerous people have reported odd happenings in Rm. 3327. In 1992 a writer staying there reported finding a wadded-up towel in her tub. It was smeared with a shade of lipstick that the author never used. And she hadn't used a towel that day. 
In this room, lights flicker. Televisions turn themselves off and on. People have been woken by the sound of sobbing. And covers have been pulled off sleepers by a woman standing at the foot of the bed who then vanishes. These are just a few of the uncanny happenings that have been reported from Room 3327. 
Room 3519 This room's not as famous as Kate Morgan's 3327. But if you are looking for a Hotel del Coronado spooky experience, this is where you're most likely to have it. You'll also see it on the internet as 502, 3502, and 3519. 
In 1992, this room was part of a year-long, high-tech 'ghost-busters' operation by parapsychologist Christopher Chacon (imdb.com). Their electrical, magnetic, infrared, and temperature measuring devices were triggered 400 times in this room throughout the 365-day study. One day the investigation team recorded 37 "abnormalities" in 24 hours here.
This room is said to be haunted by the mistress of Elisha Babcock (Wikipedia), the builder and owner of The Del. She's rumored to have taken her life shortly after learning she was pregnant. The body disappeared. Maybe it was a cover-up?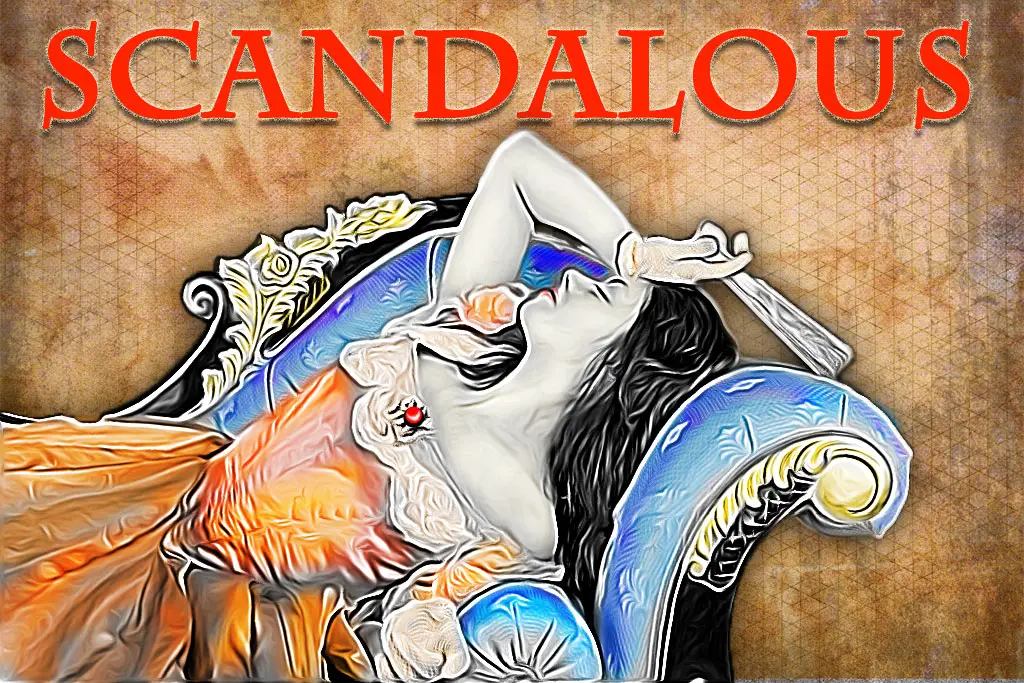 A secret service agent was staying in room 3502 for a 1983 visit by then vice-president George Bush (Youtube). He complained about stomping noises and loud voices from the room above. When he found out that there weren't any rooms overhead, the agent immediately requested and was given a different room. 
Room 3517. The fifth floor at The Del was originally set aside for the hotel staff. A seamstress employed by the hotel had fallen asleep while working in her room. She was jerked awake by someone knocking on the headboard. There was no one there. 
Later when she and her roommate were sleeping, they heard a voice telling them to get up and go to the window. When they did they saw a beautiful sunrise. After each thanked the other for the wake-up, they realized neither one had done it.
Room 3284. In October 2001, a wife was woken by loud talking and laughter in their room. The noise came from 6 shadowy phantoms in old-fashioned clothing including a woman in a bonnet. Her husband saw the same group that night, but not at the same time.
Maybe the specters were also responsible for the television switching on and off and spontaneously changing channels?
Whether or not you're planning on checking in for a scary night at The Del, everyone should do the following free activity at least once. 
#2  Ride the 'Birdcage' Elevator at the Hotel Del
This classic 1888 Otis elevator gives you a taste of the gilded opulence that Victorian ladies and gentlemen expected from this hotel. Plus, it's a bit scary. There are no walls, just an elaborate cage that allows you to see the building's interior structural supports outside of the elevator through a golden mesh. 
The holes in the elevator cage grid are large enough to stick an adult finger into them. If you have toddlers I'd hold onto their hands or carry them during the ride between floors. I don't know about you, but I had absolutely no desire to stick my fingers through the golden mesh while the lift was in motion. 
At the Tunnel level, you can see the bottom drive traction motors that power the cables moving you from floor to floor. Kids (especially little boys) love this. 
Until 2020 it had a human operator. When he retired the hotel updated this classic. The hand operator controls were replaced with an electronic unit that blends well with the brass finish on the grilled walls. And the mesh metal doors were replaced with glass ones on each floor. 
When you get tired of riding the birdcage elevator, you might be feeling a bit peckish. Go satisfy your Halloween cravings at The Del. Unless you're a zombie. I didn't see brains on any restaurant menu there.
#3  Eat Halloween Treats With Scary Sips at Hotel Del
The Del's bartenders, baristas, and chefs have plenty of Halloween goodies for you to choose from.
Sundaes – This frozen treat emporium has several selections that will appeal to your inner trick-or-treater. Check out their cotton candy and the s'mores-flavored gelatos. The double scoop is served in a sugar cone or cup and can easily satisfy two adults.  
Sun Deck – Satisfy your scariest chocolate urges with their decadent Chocolate Date Sticky Toffee Pudding à la Mode. It's a super rich warm flourless chocolate pudding, with chopped dates, caramel pecan gelato, plus a maca chocolate drizzle. It's almost death by chocolate!
Babcock & Story Bar – Get some classic Halloween cocktails here at their lovingly restored vintage mahogany bar. 
Try a Blood and Sand cocktail. It's made with Dewar's White Label whiskey, Cherry Heering liqueur, sweet vermouth, and fresh blood orange juice. 
Or select an Elysian Night Owl Pumpkin Ale to quench your thirst. It packs a decent punch with 6.7% ABV. 150 pounds of pumpkin, pumpkin seeds nutmeg, clove, cinnamon, ginger, and allspice go into this brew. See more details at BeerAdvocate.com. 
Click HERE for special room and package deals for SanDiegoing readers at Hotel del Coronado
Having a bit of ale in you may help to loosen up your creative juices for the next activity.  
#4  Halloween Pumpkin Carving at The Del
Invite your family and friends to join you to carve and decorate their own spooky cool jack o' lanterns. The Del provides plump pumpkins and carving supplies. Best of all, they do all the clean-up!
Dates: Oct. 15, 22, 29, and 30th
4:00 PM 
on Founders Lawn
$25 per pumpkin (15 – 20 pounds)
Reserve HERE
This event used to be known as "Hotel del Halloween on the Lawn". But no matter the name, it's still fun. They still include knives, scoops, stencils, serrated sawing knives, and more sculpting supplies to make this event something the entire family will enjoy.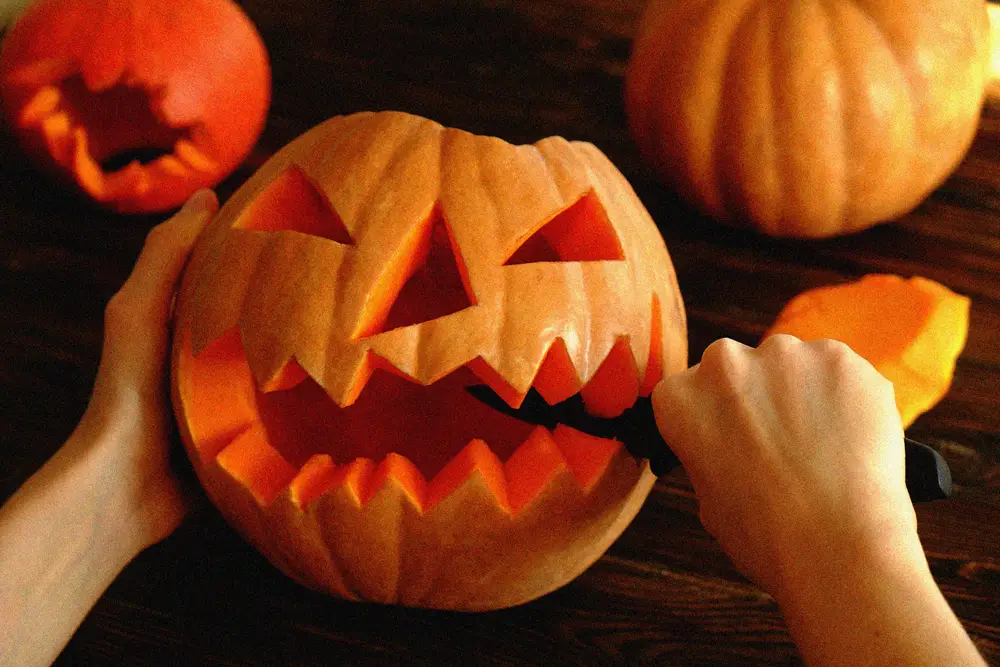 When's the Best Day to Carve Your Pumpkin?
Get your pumpkin carving reservations as close to Halloween as possible. According to The Salt at NPR, carved pumpkins only keep for 5 to 10 days. But if an early carving date is your only option, read further down this page to discover how to preserve your pumpkin.
3 Del Coronado Jack-O'-Lantern Carving Tips
First, bring masking tape to attach your stencil pattern to the pumpkin. Second, transfer your chosen design to the pumpkin by scoring or poking something sharp through the paper design. Third, use a sawing motion to cut out your shapes. Saw slowly and gently. A small serrated saw is best for details
The Hotel del Coronado supplies stencils, but you can also bring your own. Try KidsActivitiesBlog.com to find 35 pumpkin stencils resources including Disney patterns and easy images for young kids to carve.
7 things to Make Your Hotel Del Jack-o'-Lantern Last Longer 
NEVER move your pumpkin by grabbing the stem. It could break and you'll smash it. Always support a jack-o'-lantern from the bottom
Bring a box or lid for transport. A 24-inch square corrugated cardboard box will fit most pumpkins of this size
Choose a pumpkin without soft spots
Spray a mild 1:32 bleach solution inside and out to retard fungus growth. Download bleach mixing instructions from the University of Florida College of Veterinary Medicine website.
Rub petroleum jelly (Vaseline) on and around cut areas of the pumpkin. You can also use an edible cooking oil like olive or coconut. 
Keep your carved pumpkins away from heat. Definitely bring them inside on hot San Diego days. The best temperature for storage is from 50 to 55°F 
Use a glow stick or flickering battery-powered LED light instead of candles to light your spooky gourds. Heat speeds up pumpkin rot
What to Do After Pumpkin Carving at The Del?
Extend your Hotel del Halloween experience with a beach bonfire ghost tour or a movie on the beach. The 5:30 edition of the Ghost Roast beach bonfire with s'mores takes place just after jack-o'-lantern creation. At 7:00 PM, you can take the Haunted Happenings ghost tour to end your spooky day at the Hotel del Coronado. Or you can head to the beach for a classic spooky movie which starts at 7:30 PM. 
#5  Ghost Roast Beach Bonfires Spooky Fun
Gather around your personal firepit with family and friends for gooey s'mores and reading spooky tales. The hotel will provide haunting stories or you can get some classics free at AmericanLiterature.com. 

Oct 1 – 31
5:30 & 7 pm
Duration: 60 minutes
Where? On Del Beach in front of the Paseo Lawn
$195 per pit
Reservations are required. There is a 10-guest maximum at each fire pit. Make your reservations HERE at the hotel's official website.
Each firepit gets a substantial s'mores kit with everything needed to make that gooey treat; marshmallows, chocolate, and graham crackers. Don't worry if you run out of ingredients. Helpful attendants are eager to get you more marshmallows, or anything else you may want. 
If you're hungry for more substantial fare you can buy a wide variety of beach-friendly food from ENO Market & Pizzeria or the Beach + Taco Shack. You cannot bring your own food to this event. 
What's the best time for your Ghost Roast at The Del? 
5:30 pm is the best time for pumpkin carvers because the beach bonfire starts shortly after you finish creating your crazy Cucurbita pepo (Wikipedia link). Remember that there is no carving scheduled for the 8th. 
The earlier time slot's also best if you want to take the 7:00 PM daily ghost tour or see the Halloween Movies on the Beach. 
If you're not doing either of those activities then your best time comes down to personal preference and schedule. 
For both times you will need warm clothes and maybe a blanket. Coronado's October evening temperatures average is 62°F (according to USClimateData.com). And there's usually a brisk onshore wind which will make you colder.
You also may encounter unexplained cold spots in the next Hotel Del Halloween activity…
#6  Haunted Happenings Tour
Hear the official stories of what happened to Kate Morgan in 1892 and others who've checked into this 'Hotel California' and never left. Explore the most haunted spots in this lavish hotel. Visit the places where others have witnessed The Del's otherworldly permanent guests.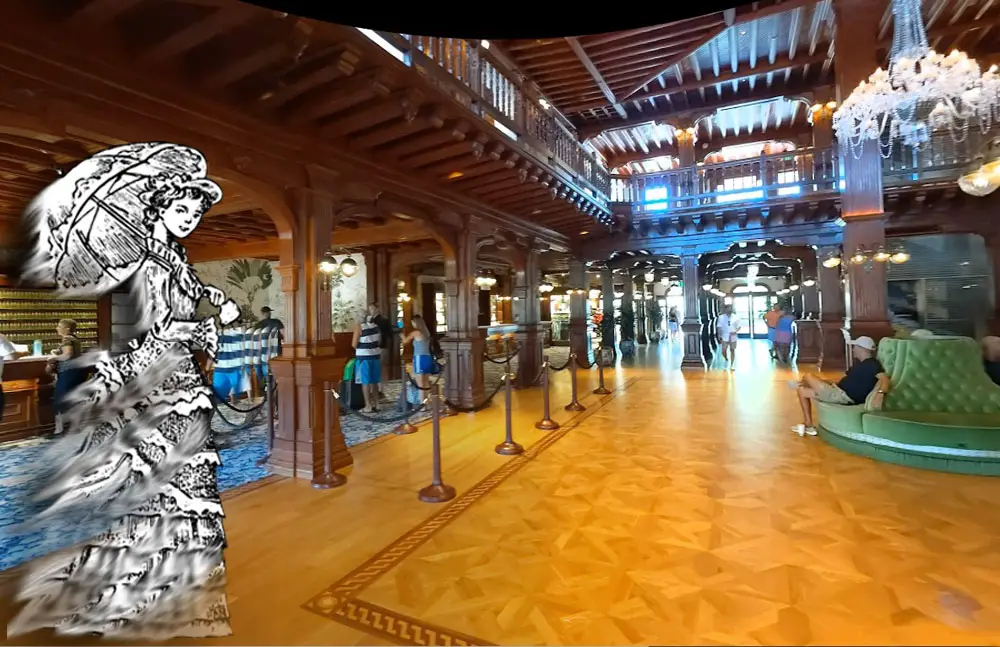 Nightly in October thru December. Check their website for other dates.
7:00 PM (arrive at least 10 minutes early)
Duration: 45 minutes
Where? Check-in at the Icehouse Museum
$30 (click HERE to make your reservations)
Ages 12+
Group History Tours: If you have a larger group (between 20-100 people) you can arrange for a private tour. The cost is $30 per person. Call the hotel and ask to speak with Gina Petrone, Heritage Manager. (619) 522-8040 or gina.petrone@hoteldel.com. 
Because they are a working hotel they cannot guarantee access to specific rooms during your tour. 
If you want more ghostly experiences you may want to take an extended, more in-depth tour. 
#7 Paranormal Tour
See what parapsychologist Christopher Chacon and his team discovered during their 1992, year-long investigation of 'anomalous' phenomena at The Del. Explore the most haunted room at the hotel, number 502. And view some of the footage from 400 different freaky occurrences that were documented in this room during that year. 
Oct 21
7:30 PM (arrive at least 10 minutes early)
Duration: 1 hour
Where? Check-in at the Icehouse Museum
$75 (click HERE to make your reservations)
Ages 12+
Learn about magnetic field measuring devices, infrared cameras, and other gadgets that they used to record almost 10,000 hours of content. And what ghost hunters are using now, twenty years later. 
You'll see enough evidence of paranormal oddities at the Hotel del Coronado on this tour to make your neck hairs stand on end permanently. 
Probably the spookiest tour is the following one where you can get a close-up look at their spookiest room.
#8  Room 502 Tour at Hotel del Coronado
Investigate the most haunted room at The Del, #502 (now renamed as 3519). Learn the results of the confidential year-long 1992 inquiry into paranormal phenomena that documented hundreds of weird occurrences in this room and other places throughout the hotel. Discover what experts think really happened to Kate Morgan during her Thanksgiving 1892 visit.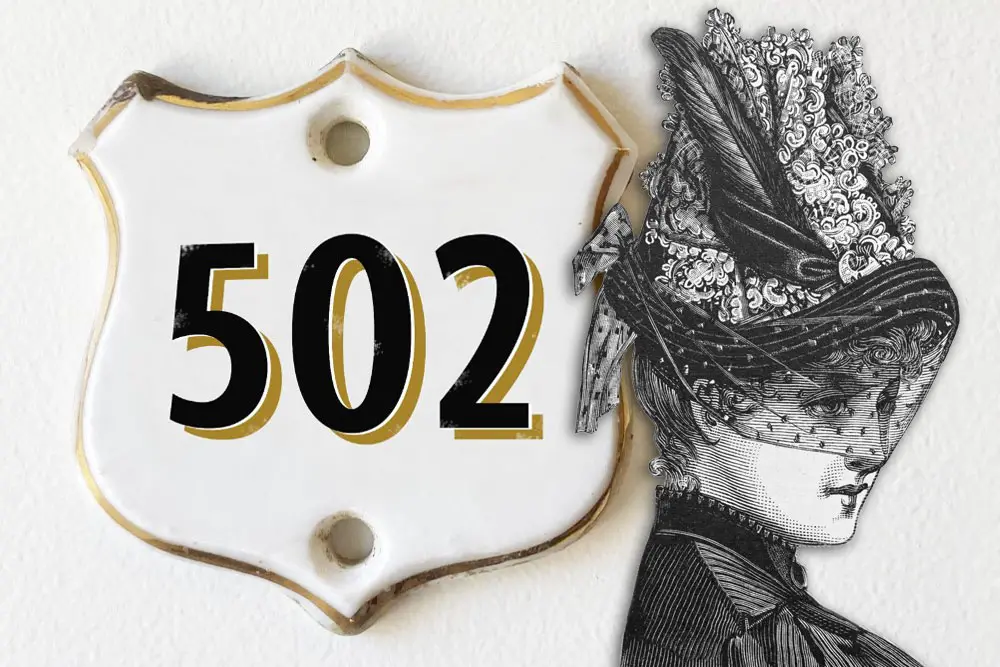 Oct 15 and 29
7:30 PM (arrive at least 10 minutes early)
Duration: 1 hour
$75 (click HERE to make your reservations)
Ages 12+
#9  Beautiful Stranger Anniversary Tour at The Del
2022 is the 130th anniversary of the death of Kate Morgan at the Hotel del Coronado. The Beautiful Stranger tour gives you access to Kate's room and other haunted locations in the hotel.  You'll examine some of the clues pointing to the reasons why this 24-year-old woman died. And hear the stories of the many people who have encountered her since she became a permanent guest here. 
Nov 24
6:00 and 7:30 PM
Duration: 60 minutes
$75 (click HERE to make your reservations)
Ages 12+
And lastly, here's a more mellow Halloween Hotel Del activity that anyone can enjoy. You can relax because the scary stuff stays up on a theater screen. 
#10  Halloween Movies on the Beach at The Del
Grab your comfy Del Beach sand chair and settle in to watch classic family Halloween movies like Hocus Pocus and Beetlejuice in an open-air beach theater. Outside food & drinks aren't allowed. But there's a great selection of to-go items at Eno Market & Pizzeria and the Sun Deck. Dogs on leashes are welcome.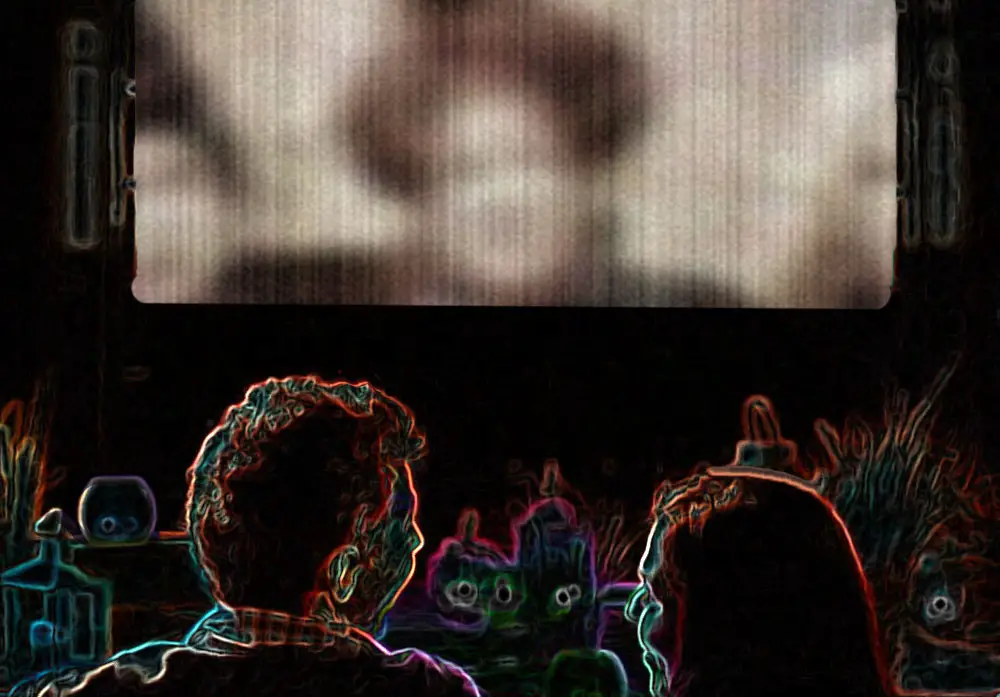 Oct. 22 & 29
7:30 PM (doors open at 7 PM)
Duration: 90+ minutes
Where? North Beach
$25 (click HERE to make your reservations)
Upgrade your beach movie experience with the VIP Family Movie Package. You can have up to 4 people. You'll get your own private firepit, enough s'mores for your quartet, two Del Beach chairs, and a Del Beach daybed. The last time I checked this package was $350. But confirm their price HERE by clicking their orange "Reserve Now" button.
Click HERE for special room and package deals for SanDiegoing readers at Hotel del Coronado
Final Thoughts
From haunted rooms to ghost tours and pumpkin carving you now know how to scare up some fun at this iconic San Diego landmark this October. Now you know why Hotel del Coronado is a great place to celebrate Halloween!