Get your top Cabrillo National Monument questions answered including; What's it cost? Any free days? What to see & do? Are dogs allowed? Best hike? Where to eat? Become a super-informed first-time visitor to this gorgeous Point Loma park.
Planning a Cabrillo National Monument trip? Park hours are 9 AM to 5 PM. Entry's $10 for pedestrians & bicyclists and $20 per car. A daily schedule's posted at the Visitors Center. The best hike is Bayside Trail. And dogs are only allowed on the Coastal Trail, on leashes shorter than 6 feet.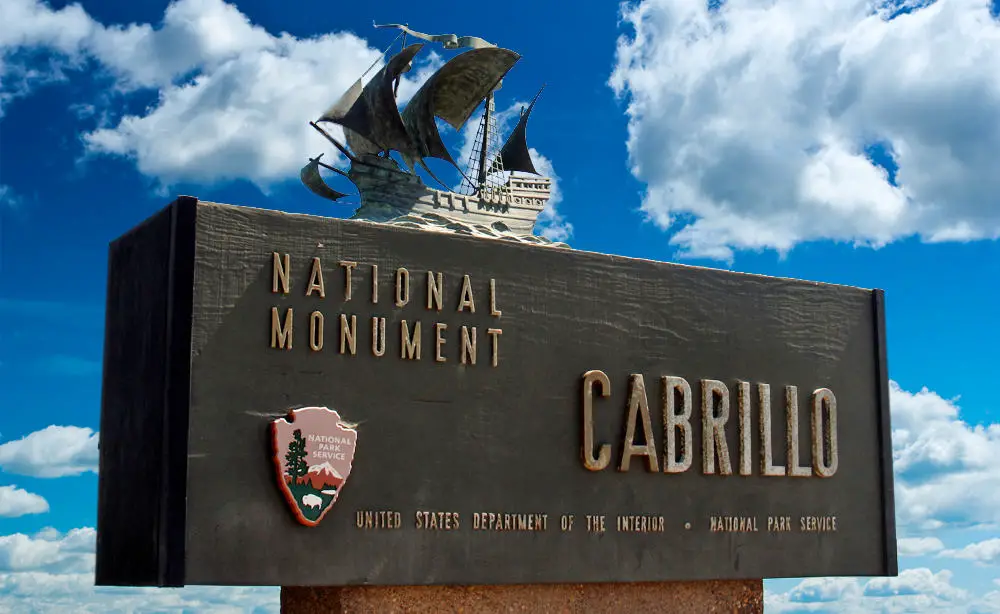 Of course, you've got plenty more questions than I could answer in a single paragraph. Read on to discover everything a first-time visitor needs to know about this park.
If you make purchases through the links in this post, I may be compensated. Read my Advertising Disclosure for more info. Thanks! ~ Nancy
Here's the park's address and contact information:
1800 Cabrillo Memorial Dr, San Diego, CA 92106
(619) 523-6485
Now to answer your top questions…
Is Cabrillo National Monument Open? 

January, 4 COVID-19 Update: The park's hours are 9 AM to 5 PM seven days a week. Restrooms, outdoor facilities and trails are open. But most indoor spaces like the Lighthouse, the Visitor Center, and other inside exhibits are still closed. Public tours, programs, walks and films are on hold because of San Diego County's restrictions on gatherings. 
You can confirm the hours on the day that you want to visit on the official website page. 
How Long Do Most People Spend at Cabrillo National Monument?
Most people spend between 1.5 and 3 hours visiting this park. 
Do you want to see the sunset from Cabrillo Point? Since the park usually closes at 5:00 PM, you'll have to visit between November 1st and January 10th. In between these dates, the sun sets earlier than 5:00 PM. The ideal dates are from around November 19th through December 17th. That's because the sun sets before 4:45 PM, giving you time to enjoy the whole experience and still have 15 minutes to get to your car and leave by the 5:00 PM park closing time. 
Check TimeAndDate.com for the exact times for sunset in San Diego on the date that you'll be visiting.  
If you are not visiting when the park is open for sunset go to the eponymously named Sunset Cliffs instead. It's got gorgeous views also. But you may have to walk a couple of blocks to get there on the weekends because parking is limited. 
What Does It Cost to Enter Cabrillo National Monument?

Cabrillo Monument Entrance Fees Are: 
$20 per car (non-commercial vehicle). Good for 7 days.
$15 per motorcycle. Valid for 1 week.
$10 per pedestrian or bicyclist. Groups of up to 4 people are capped at $20. The pass is good for 7 days. 
Children 15 years old and younger are admitted free of charge.
$35 for a Cabrillo Monument Annual Pass. 
Check HERE for costs and conditions for commercial and vehicles with large numbers of passengers. You can also purchase the pass online HERE at the official National Parks Service website.
IMPORTANT NOTE: You can't just park along the road and walk in. Legitimate parking spots along Cabrillo Memorial Drive are scarce. Illegally parked cars are swiftly ticketed because of the high volume of visitors. No one wants the only way in and out of the park or the Navy base blocked by empty cars in case of an emergency.
Where Do You Purchase Tickets?
Buy passes at the Cabrillo National Monument Fee Station at the park's entrance. They are for sale until 4:20 PM daily. Credit cards are preferred to cash. Checks are accepted if you give them a  valid Tax ID number or your social security number.
They will not give refunds because of your inability to see the tidepools due to high tides. Likewise for the views being blocked by fog or other weather conditions. 
Is Cabrillo National Monument Free For The Military?
Active duty US military personnel and their dependents are eligible for a free annual pass. You need proper identification (CAC Card or DD Form 1173) to get it. It's valid for 12 months from the date that it's issued. 
Is There a Discount for People with Disabilities?
The National Parks Service offers a free Access Pass to those US citizens and permanent residents with permanent disabilities. It's a lifetime admission and discount pass. 
Is There a Senior Discount?
There are two different options for US citizens and permanent residents who are over age 62. 
$20 Senior Annual Pass – Valid for 12 months after issue date.
$80 Senior Lifetime Pass – This pass provides lifetime admission to this monument and all national parks and federal recreation lands. It's officially called the "America the Beautiful Pass" but often is referred to as a  "Geezer Pass". I don't care what it's called. It's a great deal and also offers a 50 percent discount on some amenity fees charged for facilities and services such as camping, swimming, boat launch, and specialized interpretive services throughout the federal park service lands.
However, it generally does NOT cover or reduce special recreation permit fees or fees charged by concessioners. No half-price meals just because you're over 62 years old. Sorry.
Don't lose your senior pass. There are no replacements. You'll have to buy another one if it's misplaced or lost.
Does Cabrillo National Monument Have Free Days?
There are typically 5 free days per year at this park:
January 17, 2022 – Martin Luther King, Jr.'s Birthday
April 16, 2022 – First day of National Park Week
August 4, 2022 – Anniversary of the Great American Outdoors Act
September 24, 2022 – National Public Lands Day
November 11, 2022 – Veterans Day
You can check for updates and specifics for free admission on the Free Entrance Days in the National Parks webpage on the official National Parks Service website.
Are National Parks Passes Good at Cabrillo Monument?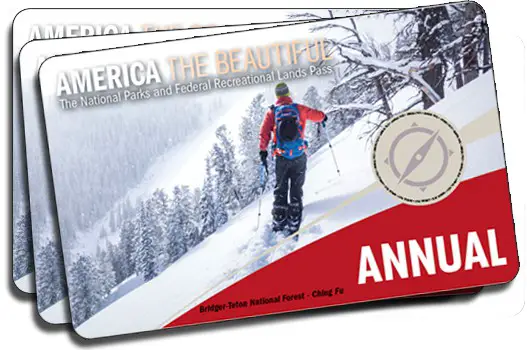 Your America the Beautiful pass is good for entry into Cabrillo National Monument all year. 
What's There to Do At Cabrillo National Monument?
When you get to the parking lots, you don't see much except the sky, California sage scrub, the statue and the Visitors Center. At first glance it looks like your Cabrillo National Monument "what to do" list could be crossed off in about 5 minutes. But you'd be missing out on some unique experiences. Read on and you'll find activities that will keep you busy all day!
NOTE: During the COVID-19 pandemic please call the Visitor Center at (619) 523-4285. They have the latest updates on which buildings are open, available programs, tours and accessibility information.
10 Fun Things to Do
#1 Stop In At The Visitors Center
Go here first. The Rangers and volunteers will help you find out what's happening and when at the park so that you don't miss out. In addition, you can: 
Get a Cabrillo Monument stamp on your National Parks Passport book
Your kids can become Cabrillo National Monument Junior Rangers and get badges. Download and print this PDF from the National Parks website. Have them do the activities, answer the questions, then fill out and sign it. Return it to a ranger at the Visitors Center at the end of your visit. It's a good excuse to go shopping at the gift shop!
Try out some 16th-century navigational instruments
Get a feel for the armor worn by Cabrillo and his men
Go shopping at the Cabrillo National Monument Gift Shop. Pick up unique gifts and souvenirs like coffee mugs, t-shirts, posters, and jewelry. They also have a wide variety of books about the park and its history. There's also a good selection of books on Point Loma and San Diego. 
#2 Enjoy magnificent views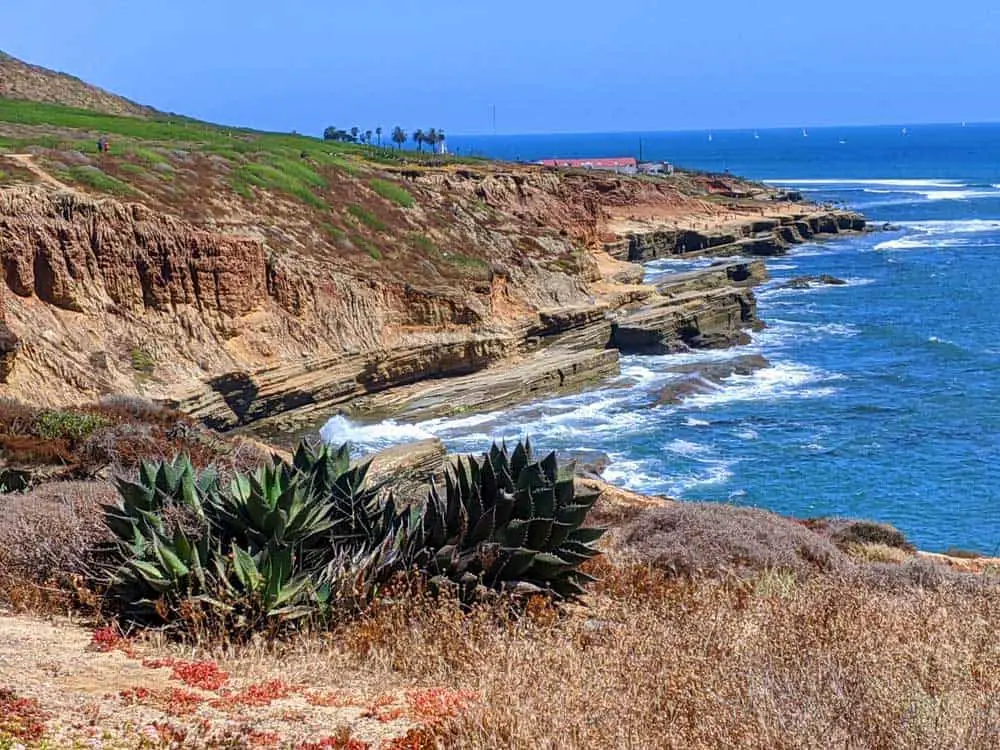 Cabrillo National Monument is famous for panoramic Pacific Ocean, San Diego Bay and downtown skyline vistas.
#3 See The "Kidnapped" Cabrillo National Monument Statue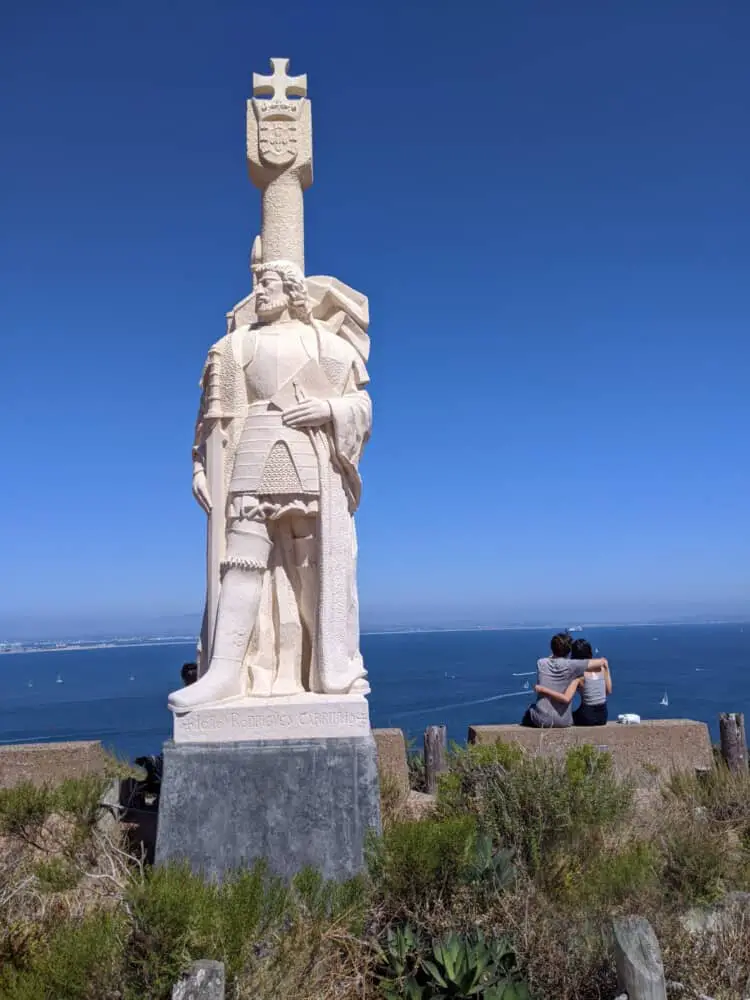 The original 14-foot tall sandstone statue was commissioned by the Portuguese government for display at the 1939 San Francisco Golden Gate International Exposition. The artist Alvaro de Bree created it. But it arrived too late to display at the fair. A smaller 6-foot replica was featured instead.
How it got to San Diego in 1940 is a long story involving legislative shenanigans and a recent widow who just wanted the 7-ton statue out of her garage. (Can you really blame her?) You can read the whole saga of the statue's "kidnapping" in this 2008 Union-Tribune article. (link to PDF)
Once it got to San Diego, the sandstone material did not weather well, especially after it was moved twice. It also suffered "visitor abuse". It was replaced with a much stronger limestone replica in 1988.
#4 Explore the Cabrillo National Monument Lighthouse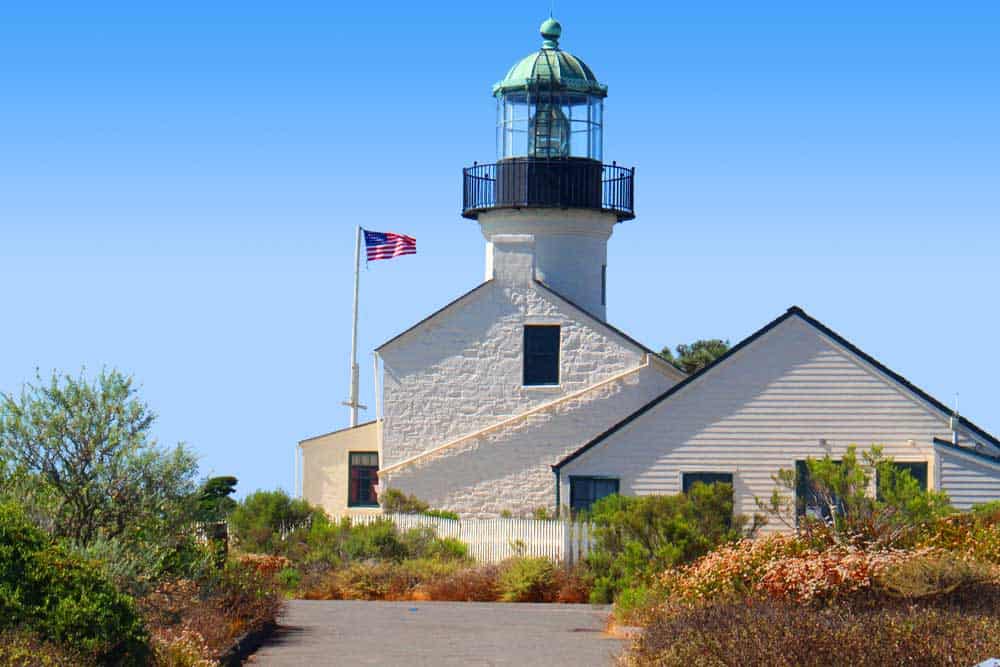 Visiting the Old Cabrillo LIghthouse is like going back into the late 18th century to see how the lighthouse keepers and their families lived. The small building is displayed as if the family had just stepped outside to admire the sunset. The odd-shaped bedrooms, small living room, dining room, and kitchen are filled with period furniture, utensils, and knickknacks.
There's a cottage next door for the assistant lighthouse keeper that used to be a wood and oil storage shed. There's also a catch basin and cisterns for capturing and storing precious rainwater. The property is enclosed by a white picket fence.
The only times that you can view inside the lighthouse tower is during scheduled "Open Tower Days". Here's the link to the National Parks Service page with the schedule. The tour lasts 30 minutes and is scheduled between 10 AM and 3:30 PM.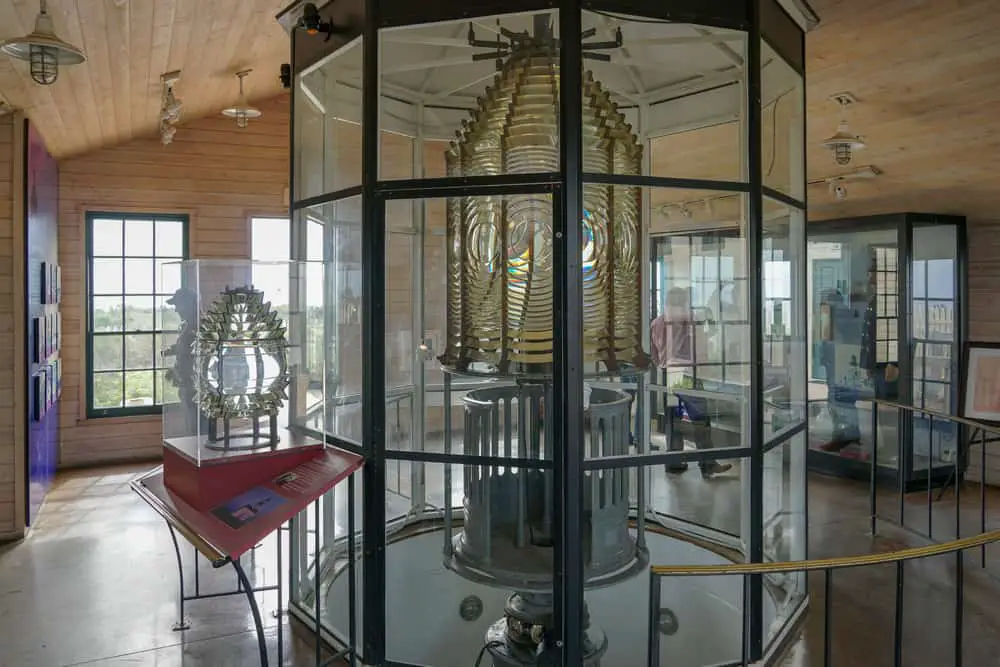 You'll need to pick up a ticket from the ticketing table near the lighthouse on the day of the event. No sandals will be allowed, only wear closed-toed shoes with a back. If you aren't comfortable climbing stairs and climbing up ladders unassisted this tour is not for you. Stay downstairs and pepper the volunteer historical interpreters with questions about the unusual implements in the restored late 1800's kitchen.
#5 Visit The Cabrillo National Monument Tide Pools
The best time to see the Point Loma tide pools is during the lowest low daily tide in the winter months. The ocean level needs to be at 0.7 feet or lower for you to safely view the creatures in the intertidal zone. Keep in mind that the tide pools area closes at 4:30 PM.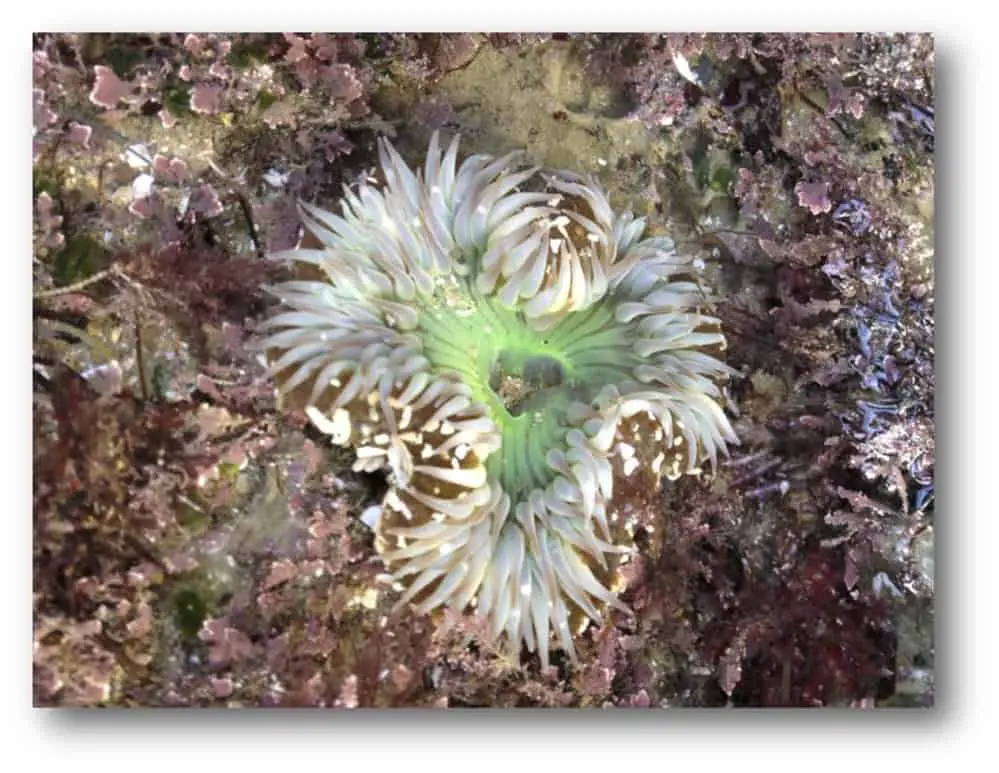 There are actually two low tides each day in San Diego. But the lowest low tides during the summer take place very early in the morning before the park's opening time.
When is the low tide at Cabrillo National Monument? Check today's tide chart below.
If you want the tide chart for the day that you will be visiting Point Loma, click this pick my day link. That will take you to the complete TidesPro.com website. Enter the date after clicking the PICK icon. I took a screenshot and circled the correct icon in red for you.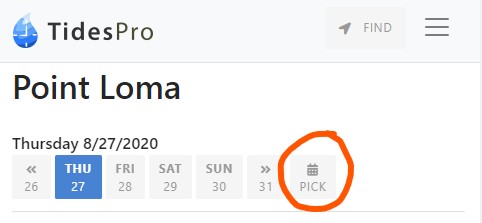 You can get wonderful photos whether it's sunny or cloudy. However, for the very best photos that show 'golden hour' light reflecting off starfish or sea anemones, you'll want to be there during the hour before sunset.
Check TimeAndDate.com for San Diego's sunset times.
What to Wear? You'll need something like these highly rated Keen 'bump-toe' water sandals on Amazon.
Exploring tide pools means climbing over wet rocks that may be covered with seaweed, so footing can be treacherous. The rocks can be sharp and stubbing toes is a common hazard here. You'll want a good, grippy tread pattern. A closed-toe design like this one is best. 
These shoes are sized for men, women, and kids. Choose from 6 different color combinations. And they're perfect for the beach as well. 
What are the Cabrillo National Monument tide pool rules? All of the plants and animals in these intertidal pools are protected by federal law. Try not to touch them. And definitely DON'T move them, you could kill them.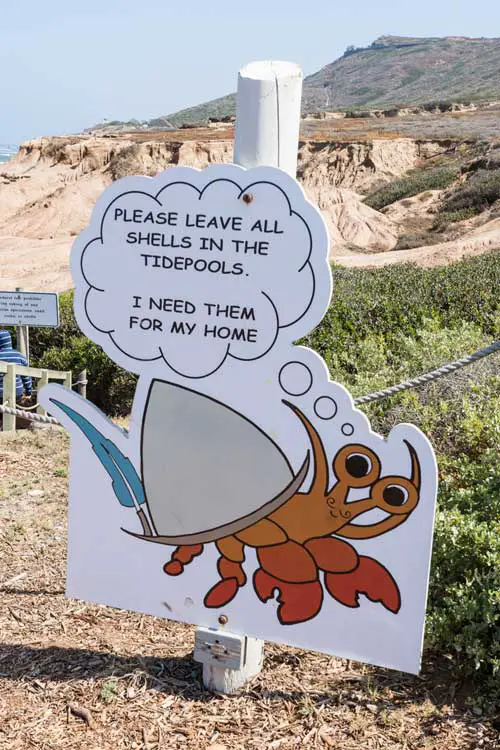 Most People Will Want to Drive to the Tide Pools. There are no shuttles or public transportation in the park. Walking to the tidepools from the visitor center is easy. It's all downhill. Hiking back is strenuous. Plan on spending the entire day if you'll be walking to and from the entrance to the tidal pools.
There is no cell phone reception at the tide pools. If you are planning to have someone pick you up, make all the arrangements beforehand. Otherwise, you could be stranded there. 
What if the tide pools aren't open when you're there? Go to SeaWorld San Diego. There you'll see some of the same intertidal creatures. And at that attraction, you're actually encouraged to touch the marine animals in many of their exhibits. There's also a small, touchable tidepools exhibit at the Aquarium of the Pacific in La Jolla.
#6 Hike Cabrillo National Monument's Best Trail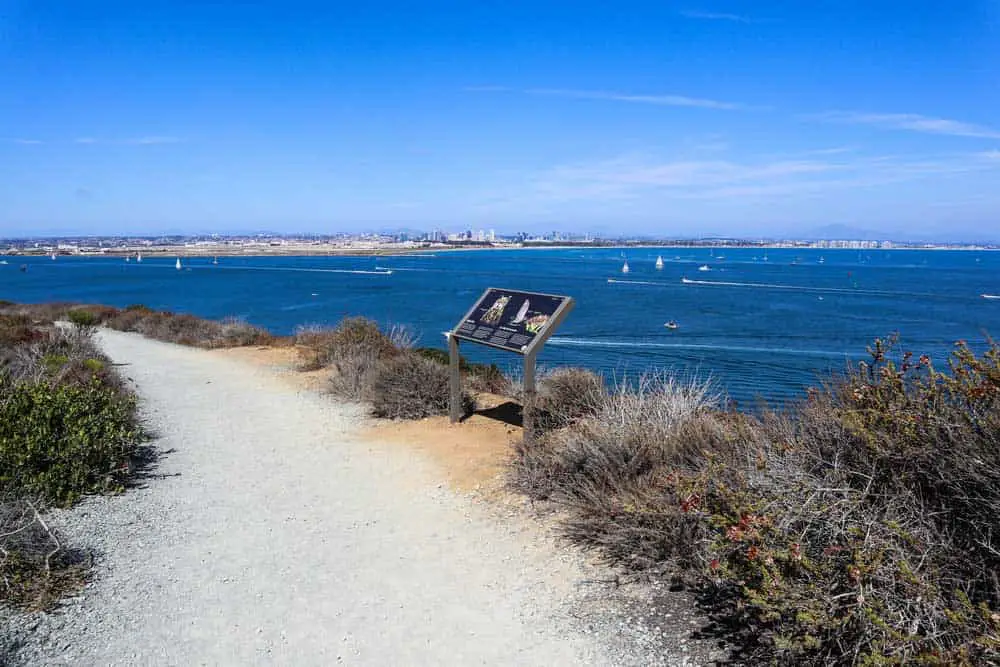 Cabrillo National Monument Bayside Trail is considered the best Point Loma trek. It's a 2 mile out and back trail from the trailhead off of Humphrey's Road. Coming back you'll be climbing 305 feet up. It takes about an hour to complete. It's kid-friendly but may raise your heart rate a bit on the way back. 
In the springtime and early summer, there are plenty of wildflowers along this path. The area is home to coyotes, foxes, small reptiles, bunnies, ground squirrels, and many types of birds including raptors like osprey. See more details on this AllTrails review page.
The other main trail is the Point Loma Bluffs and Tidepools Trail. This path is about 1 mile long and it's on the Pacific Ocean side of the peninsula. You can walk this trail in less than 30 minutes. Look for fossils in the rock walls by the path between the two north parking lots.
Cabrillo National Monument trail map I've downloaded the official National Parks Service brochure map for you. The Bayside Trail is marked in green. The tide pools trail runs alongside the road from the Tidepool Access parking lot to the first parking lot north of it.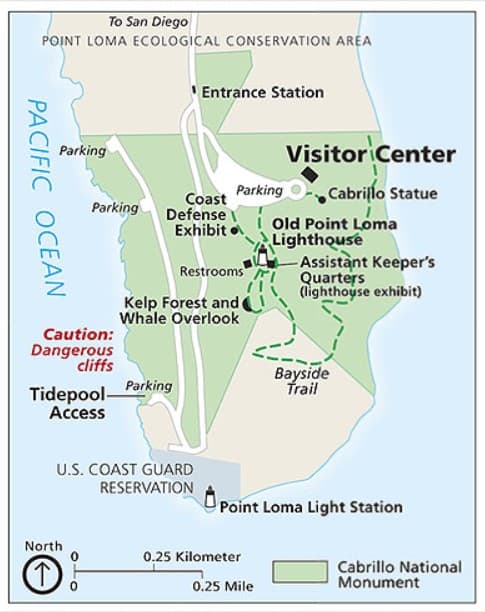 The Cabrillo National Monument cave hike is closed. The area has frequent landslides and ground collapses due to the eroding soft sandstone. 
There are also guided Nature Walks and an Upper Monument walk. They cover the flora, fauna, and history of the national park. Check the National Parks website calendar page for the most up-to-date programs and tours. 
#7 Cabrillo National Monument Whale Watching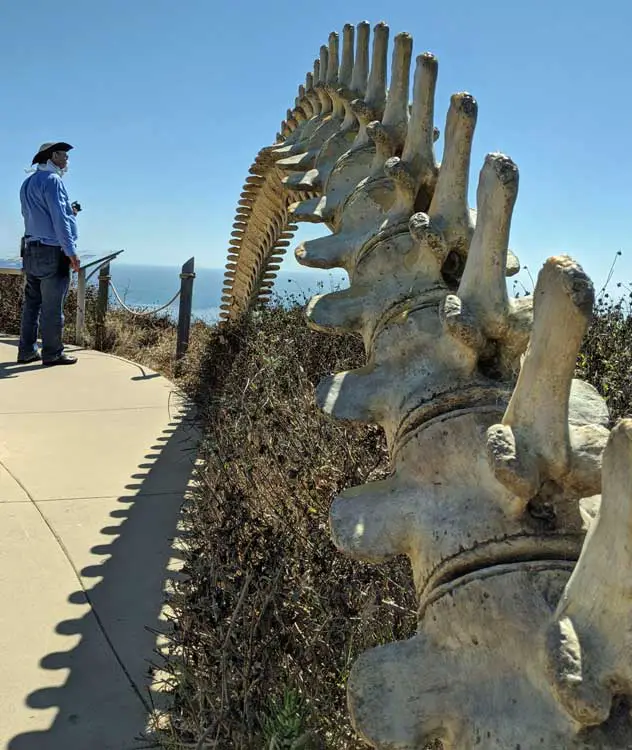 Tips For The Best Whale Watching Experience:
January and February are the best months to see the Gray whales because they're on their northern migration from Baja California.
You can borrow binoculars for FREE by handing over your driver's license at the visitors center. 
For the best views, go to the Kelp Forest and Whale Overlook. It's a little more than 700 feet from the Old Lighthouse on an almost flat path.
Look beyond the kelp beds for whale spouts or 'blow'. These marine mammals shoot hot moist air about 15 feet into the air when they surface and exhale. This spout is very visible against the colder ocean air.
You can see the closest living relatives to whales at the San Diego Zoo hippo exhibit. Surprisingly, the hippo is more closely related to cetaceans than any other present-day animal. 
The best viewing experience is at the "Baleen and Brew" events every Saturday in February from 10 AM to 11:30 AM. Go to the overlook for hot coffee, tea, or hot cocoa, and guides will help you spot gray whales. Enter "Baleen and Brew" in the search widget on the official National Parks Cabrillo National Monument page for more details.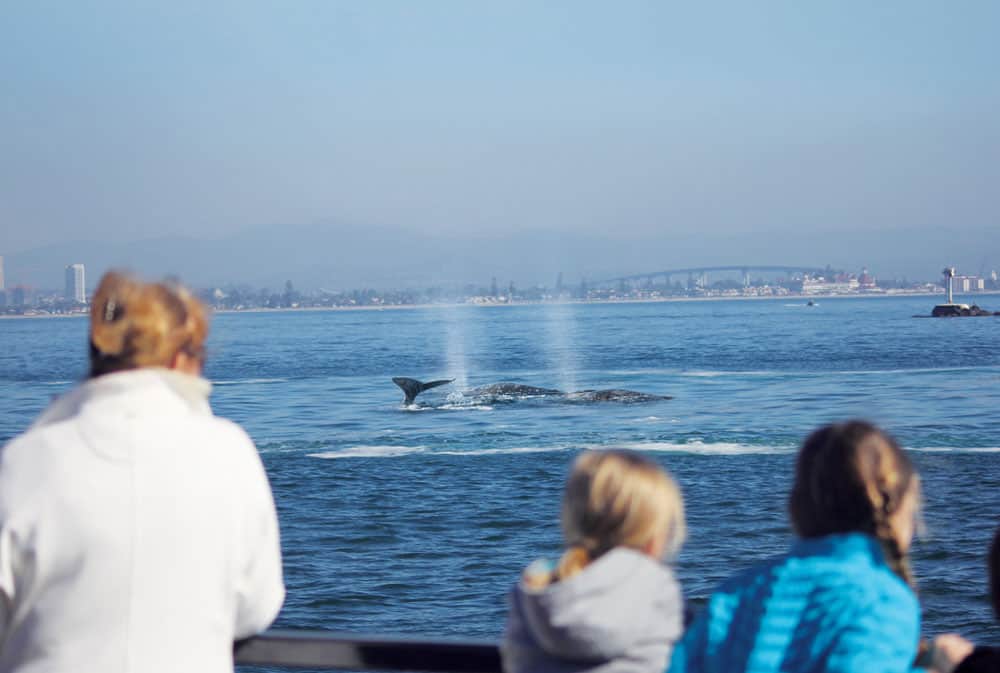 Save 30% off a Whale Watching Tour with San Diego-based Flagship Cruises & Events. They've partnered with Birch Aquarium at Scripps to provide a fun, informative experience. The tours depart twice daily aboard the Marietta, a comfortable, two-story whale-watching yacht, featuring 360-degree views from the main level and upper sundeck, multiple restrooms, and free guest WiFi.
Or travel up the southern California coast and take a Newport Landing Whale Watching & Dolphin Cruise to view blue whales among others. Both reduced-priced ticket links are provided by Ares Travel, San Diego's local, long-time authorized ticket resource.
#8 Bird Watching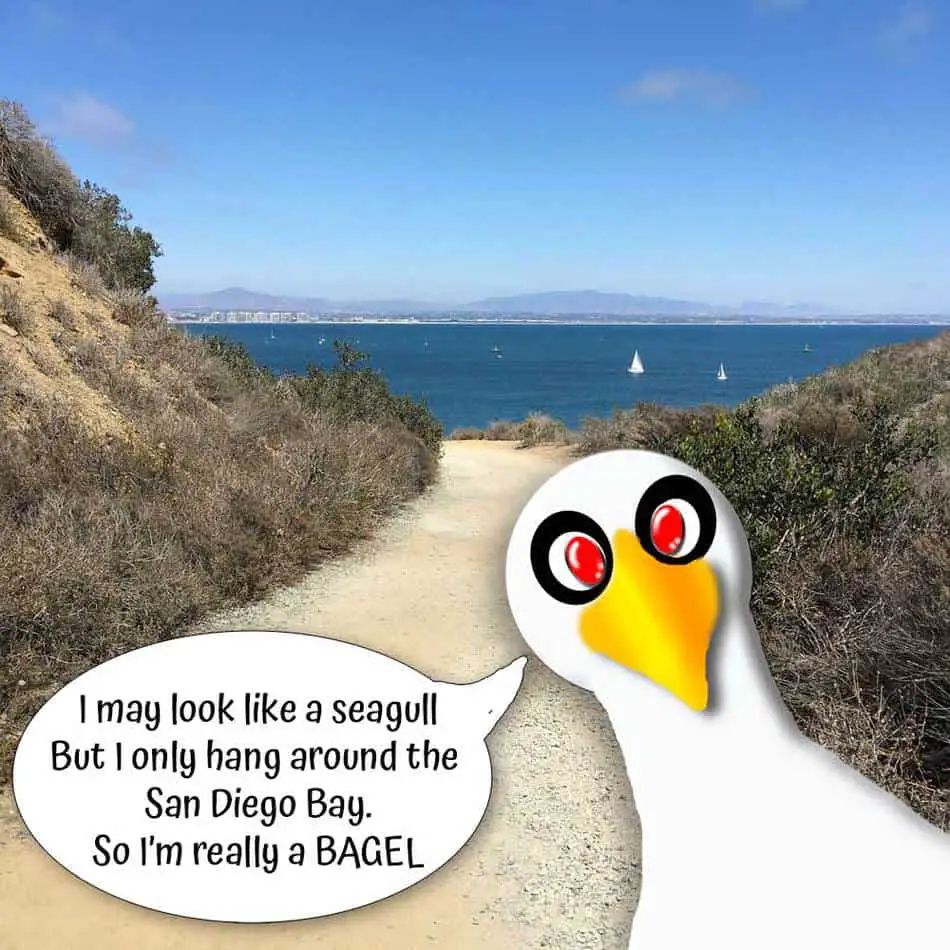 Cabrillo National Monument is one of the premier spots for birding. Over 270 different species have been seen there. Bring your binoculars and have the National Park Service's Cabrillo Birding Guide open on your mobile device before you go. 
#9 Tour the Cabrillo National Monument Bunkers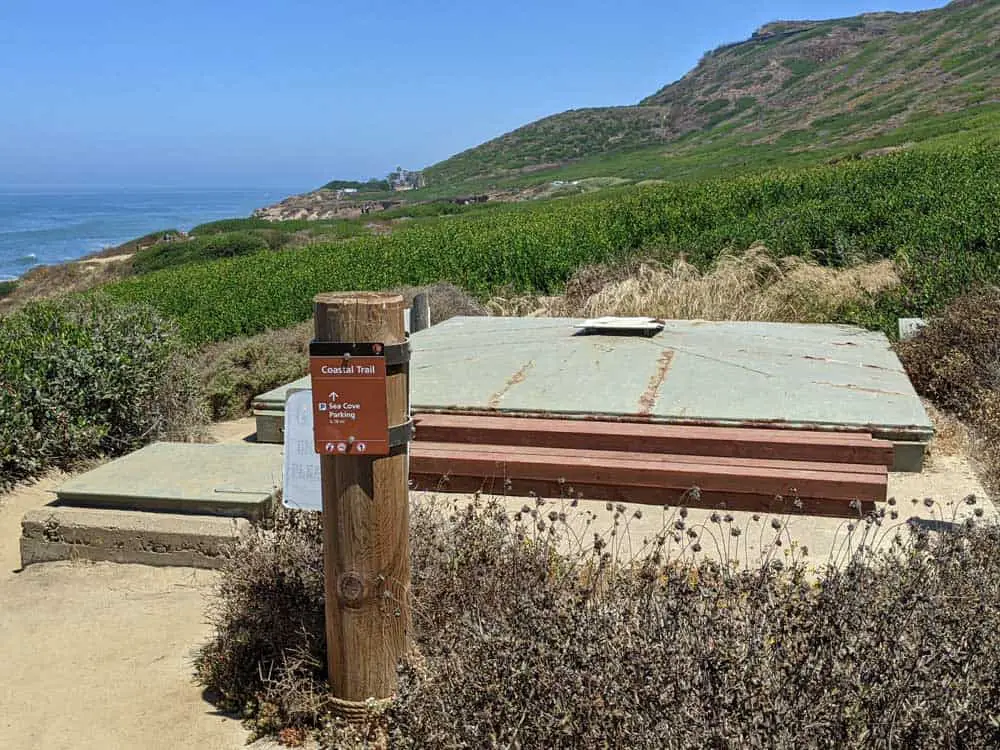 'Open Bunker' tours take place on select Saturdays from 9 AM thru 2:30 PM. Volunteer guides will show you the dug-in defenses, implements, and how soldiers lived at Fort Rosecrans during World War II.
#10 Be Humbled by Cabrillo National Monument Cemetery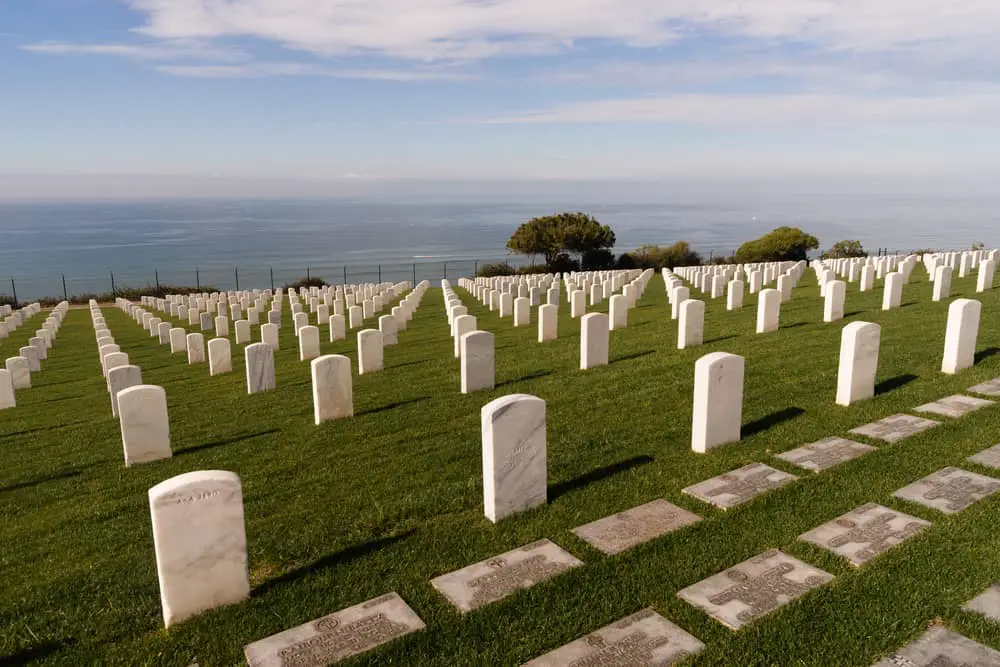 Fort Rosecrans National Cemetery is impossible to miss on your way to the park. You'll see endless rows of white markers running across the green rolling hills on either side of the road in this federal military cemetery. It's the final resting place of 112,000 people from wars and conflicts since the 1800s. At least 23 winners of the Medal of Honor are buried there. It's very special to me because my Dad is interred there also.
Can You Eat On The Beach At Cabrillo Monument?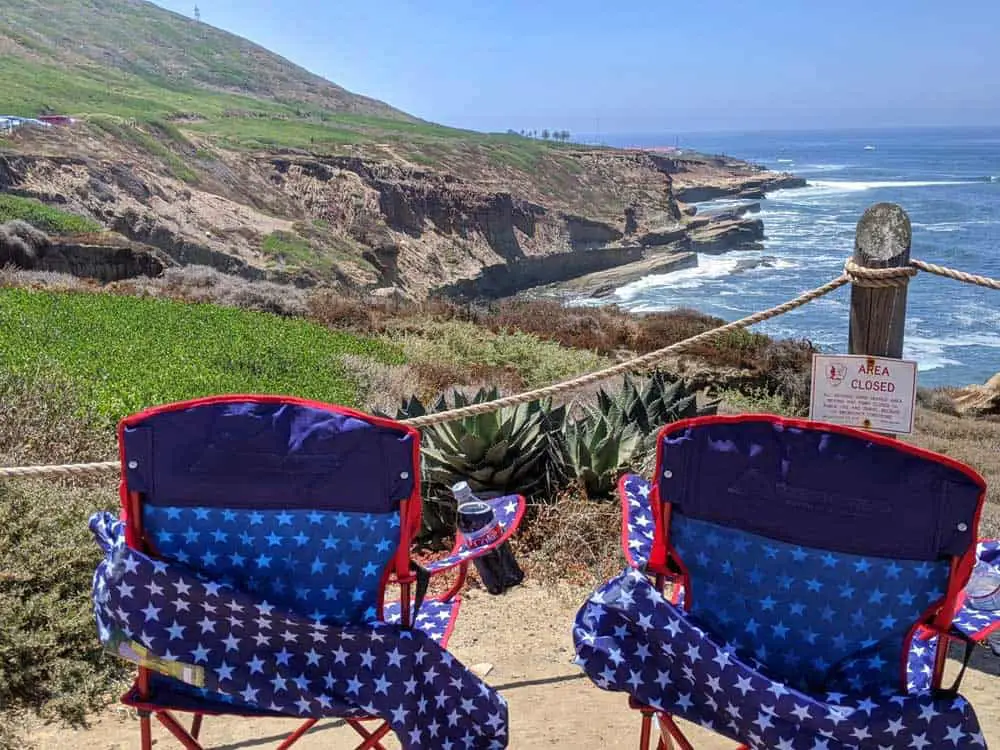 You can picnic or eat on the beach (if the tide's out), or perched on the top of the sandstone cliffs along a trail. But there are no trash cans to dispose of your waste. The park is a "pack it in, pack it out" facility. Bring an extra-large plastic bag or two to collect your leftover wraps, cups, and napkins. 
There are no restaurants within the park. You can buy snacks and some bottled drinks on weekends by the Visitors Center.  
Check out my 10 Drool-worthy Places to Eat Near Cabrillo National Monument page. It covers the best restaurants, fast food, and take-out spots close to the park in Point Loma. Go get some food to eat at Cabrillo that will be as memorable as the scenery. 
Are the Cabrillo National Monument Sea Caves Open?
The Cabrillo Monument sea caves and the surrounding areas are closed indefinitely. They are extremely dangerous. The sandstone walls and ceilings are very eroded and may come crashing down at any time. The caves are used by seals and are under the jurisdiction of the Marine Mammal Protection Act.
Don't go there. If you do it's a violation of US Federal Law and you could go to jail. Don't be an idiot.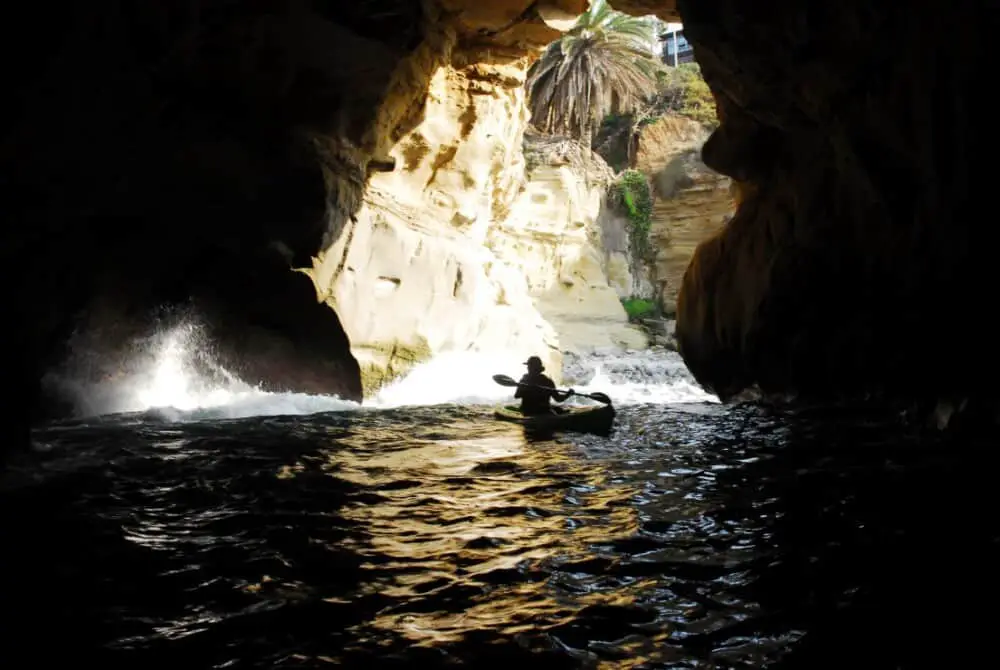 If you want to explore sea caves, take this kayaking tour in La Jolla. The link is provided by Ares, one of San Diego's premiere authorized ticket sellers. The guides at this local family-run company are excellent. The scenery is spectacular – the Seven Caves of La Jolla! And you won't be risking life, limb, and your freedom. 
Can You Camp at Cabrillo National Monument?
Cabrillo National Monument camping is not allowed. The nearest tent camping spots in San Diego are at Kumeyaay Lake Campground and Santee Lakes Campground. They are approximately 30 minutes away and 21 miles by freeway.
The closest RV Camping sites are at Campland on the Bay. Campland is located 10 miles away on Mission Bay and it will take you 25 minutes to get there by car. 
Can You Swim At Cabrillo National Monument?
Swimming is not allowed at Cabrillo National Monument. The shore is too rocky and the waves too dangerous. You will see surfers off the coast very close to the shore. But they arrive using the boats and Skidoo jetskis that you'll also see moored offshore there. 
Does Cabrillo National Monument Allow Dogs?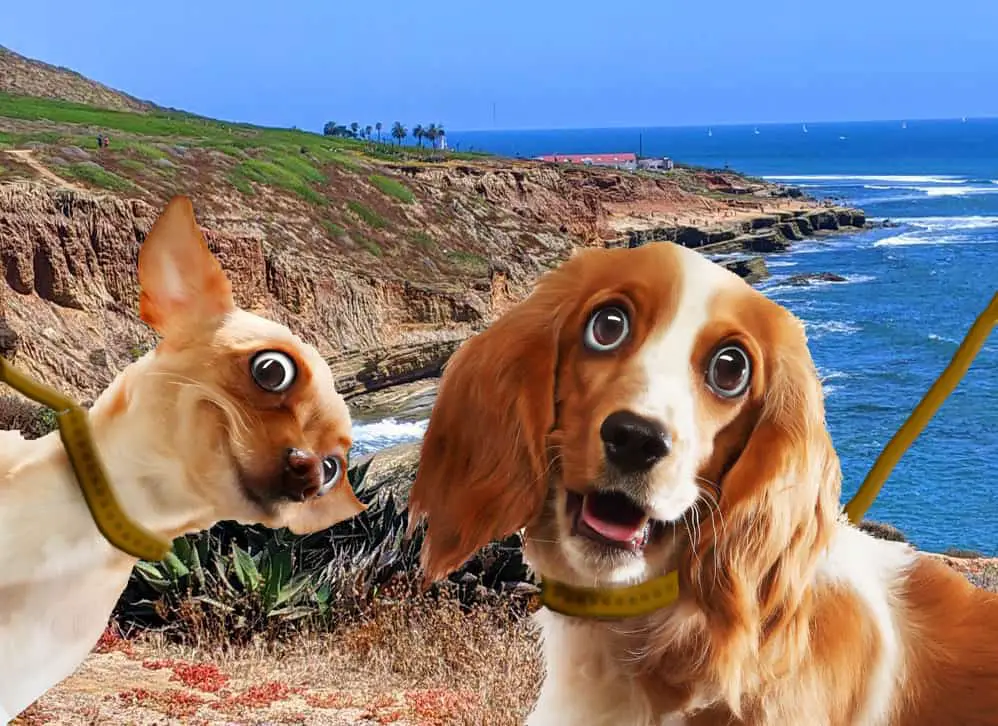 You can bring dogs here. But Cabrillo National Monument pet policy states that dogs are only allowed on the Coastal Trail. Do not take them off the trail into the tidepool area, or on Cabrillo Road, or any of the following areas: Lighthouse, Whale Watch Overlook, Event Bluff, Statue, Visitor Center, Bayside Trail, or surrounding areas. They must also be kept on a leash of 6 feet or less. Bona-fide service animals are permitted on a leash anywhere in the park.
Remember to bring water. The sun may not seem hot at the coast, but the breezes will dehydrate you and your dog faster than you would think.
Also, pack tools and containers for removing your doggie waste. This park is a "Pack It In, Pack It Out" area. You can be cited and fined for littering if you don't.
Ensure that both you and your four-legged friend have a good time here by reading all of the Cabrillo Monument pet information webpage.
Closing Thoughts
This beautiful spot inspires my imagination and just makes me feel good about life. Maybe it's the sea air? So I couldn't help having a little fun with one of the stationary viewing scopes that can be found around this park.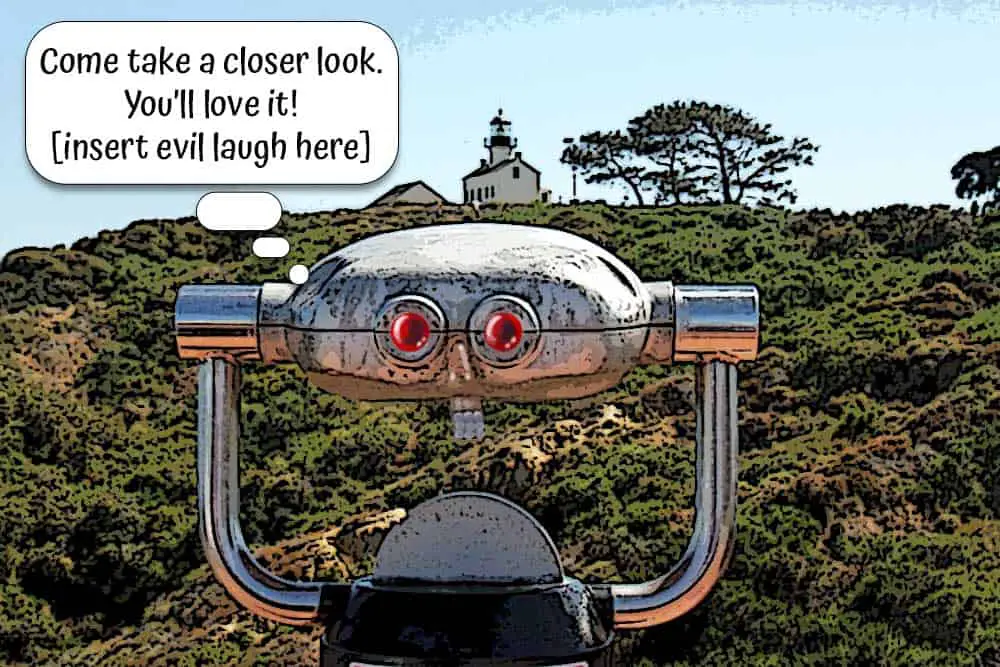 Enjoy. Take a closer look at this beautiful park. I hope that I've helped you get the most out of your first visit to Cabrillo National Monument.